David Haye vs Tony Bellew – Ringnews24 Writers' Predictions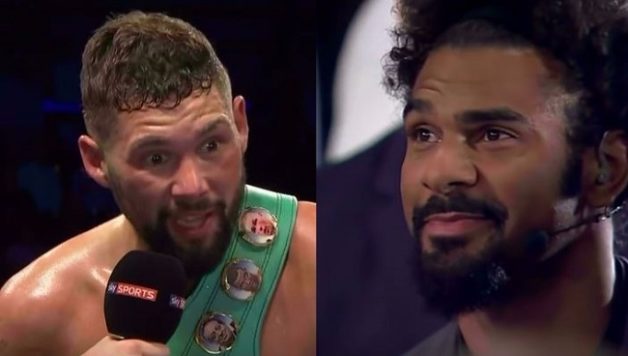 Introduction by Lee Skavydis
Egos will collide when former heavyweight champion and current cruiserweight titleholder Tony Bellew fight on March 4th at the 02 arena in London next year. The fight will be broadcast live on Sky Sports Pay Per View.
There is speculation that Shannon Briggs was originally going to face Haye in September earlier this year although things suddenly went quiet on that front. The Londoner and Liverpudlian have some history together, although, however much of it is true is up for debate. Bellew claimed that he got the best of Haye in the gym when he was still only an amateur while Haye was contesting for the British professional title.
Furthermore, he has also criticised Haye's current training techniques, claiming his body frame does not look "right" for a boxer, as well as his olden situations with Wladimir Klitschko and his former plan to fight Briggs. But Haye seems to be taking it all in his stride.
"It is like a chihuahua fighting a pitbull," Haye has been quoted as saying. David Haye
Barbara Pinnella
Some might feel that the fight with David Haye going against Tony Bellew is a tough fight to predict. The only real difference in their records is the knockouts, with Haye being on top in that category. But if you look past that, Bellew is a cruiserweight moving up and facing a true heavyweight in Haye. And that heavyweight has a lot of power, bringing with him 26 knockouts in his 28 wins.
I don't see any way that Tony can win this fight, and I think it will be over early. Look for David to put an end to the contest in no more than five rounds, and I am being generous in saying it will go that far. David Haye
Jack Sumner
It's pretty hard to imagine Tony Bellew – dropped by Ovill McKenzie and brutally stopped by Adonis Stevenson – being able to take clean power shots from the cruiserweight version of David Haye, let alone at heavyweight. Couple that with Haye's advantage in speed, and I genuinely think this fight will be over as early as Haye wants it to be. Haye might finish it in the opening round, but certainly within three. Haye to win by KO in rounds 1-3. David Haye
Anthony George
Both guys are not natural heavyweights. Although Haye had made a nice transition from cruiser to heavy. Haye has the reach advantage, experience and has been active. Bellow is tough and will make a fight out of it for as long as he can. But it is a tank against a machine gun. Haye in 4. David Haye
David Murphy
An easy showcase for Haye, if the fight goes off (always a concern with Haye).  Bellew is just too small and way too slow, Haye will beat him to the punch all night long. I'd love to see David Haye lose, but I just can't imagine a situation in which Bellew comes out on top. Beating BJ Flores is one thing, David Haye quite another.  It WILL be interesting while it lasts, but IMO it's a mismatch.  Haye TKO 4. David Haye
Bobby Mac
Skint David Haye to be the favourite for all the obvious reasons, however he has shorted his chances by not challenging himself for many years. Scouser Bellew may have the uphill battle, but he's been on an upswing with a self belief that defies the odds, so I'm going against the grain to pick the fighter wanting it the most, Tony Bellew. Tony Bellew
Rob Day
Really looking forward to this fight. Haye has slowed a bit and not done many rounds, in recent years, but still holds the advantages in skill, speed, ability and power. Bellew really seems to have gotten under the "Hayemaker's" skin and it is not going to help him. I can't make a case for an upset win by Bellew. Haye by brutal KO within four rounds. David Haye
James Tonks
It's hard to gauge how good David Haye is. Since his return to the ring he has fought two mediocre fighters while Tony Bellew has fought at a decent level. The has been rumours Haye has returned for the money. I don't think Bellew is fighting Haye for money and he will be hungry for the W. Bellew needs to fight at distance and not get dragged into a war or it will be a very short nights work for Haye. I can't see Bellew being able to stop Haye from landing over 12 rounds. Haye by stoppage in the middle rounds. David Haye
Tracey Langley
Haye's been ring rusty but he's got speed and punching power, he could catch Bellew. This will be a test if Bellew can take the power if caught properly but I'm predicting Bellew will keep a tight defence and beat Haye on a stoppage win, mid to late rounds. Tony Bellew

Alan J Kindred
My pick in this fight is David Haye by TKO in the mid rounds over Tony Bellew, but it is not a pick I make without reservation. At first glance it seems like a slam dunk pick for Haye, he has been at heavyweight longer, and Bellew has been stopped at light heavyweight before picking up a Cruiserweight world title. There is a decent chance at an upset here though I feel. Mainly because Haye has been inactive, except until recently, and his opposition coming back despite having good records were not elite level. Bellew seems to be the hungrier fighter at this stage of their careers, and wouldn't be absolutely shocked if he pulled it off, but that said I'm still going to gamble on Haye's power bailing him out of any trouble he might find. David Haye
Michał Jurczyk
"Hayemaker" Haye or "Bomber" Bellew? As their nicknames suggest this one should have knockout punches flying, and most likely will be short and sweet. Bellew is making a brave move into the heavyweight division, to face one of the fastest and strongest heavyweights in the division today. Much can be said about Haye, but no one can deny his natural talent and ability. Expect both fighters to have a quiet first round, with more taunting than fighting, as both will be looking to land counter-shots. From the second round onward, the fight should break out, and in the end, the bigger, stronger, faster David Haye should get the victory in the 4th round, with Bellew is in no condition to continue. David Haye
Stuart Bruno-Brown
Haye, Bellew, a combination of names that screams entertainment. Even if this proves to be a short lived affair it's a fight that's grabbed the public's imagination.
I like Bellew, but am admittedly a big fan of Haye. Haye's power, speed and importantly established experience at heavyweight will see him through. Shane McGuigan will ensure any lingering ring rust will be truly lubricated away. Bellew has power, but for me Haye within three. David Haye
Scott Graveson
I'll admit I've long been bored of Haye and his mouth, and although he was a sensational Cruiserweight his career as a Heavyweight has been highly forgetable, the stoppage of Dereck Chisora aside. He repeatedly talked more than fought and rubbed me up the wrong way. Despite that he is a good fighter with excellent explosiveness and in my eyes against Tony Bellew that explosive power and speed will be the difference with Haye drawing a lead from an emotionally charged Bellew and then landing a "Hayemaker". Bellew has impressed in recent years, with several good wins, but they haven't come against anyone as good as Haye and that will show when the two men are in the ring together, with Haye just being too good for the "Bomber". David Haye
Jeremiah Preisser
There has been a lot of verbal jabbing going on among these two men, though I think only one of them is going to be doing the physical landing come fight night. That, of course, is David Haye, the tried and tested heavyweight veteran. Haye holds all the cards here: power, speed, experience, size, you name it. Bellew, for his part, is quality…at cruiserweight. But he'll never be a major player above 199 like Haye is, even if by some miracle he pulls this off. He simply doesn't hold Haye's prime or post-prime gifts. Haye gets Bellew out quick. I'm thinking no later than round 5. David Haye
Martin Theobald
This fight signifies where boxing has gone wrong, the freak show over the fight.  Bellew hasn't solidified at cruiserweight.  As much as it may be a natural weight he has beaten a single significant name in the division and decided that it's time to take on a man who, despite inactivity, is still one of the hardest hitting heavyweights on the planet.
The contrived rivalry, the press conference antics and all that jazz will no doubt draw in viewers but as a sport it adds nothing. Adonis Stevenson, weighing some 60 pounds lighter than Haye will enter the ring, demolished Bellew with his power.  Bellew had no answer, went into his shell and paid the price.  Haye may not be what he was and there will be questions over his longevity in both fight and career, but this is a five round demolition job for him. David Haye
Ringnews24 Writers' Predictions
David Haye 13
Tony Bellew 2