Haye vs Bellew: Bomber wins dramatic fight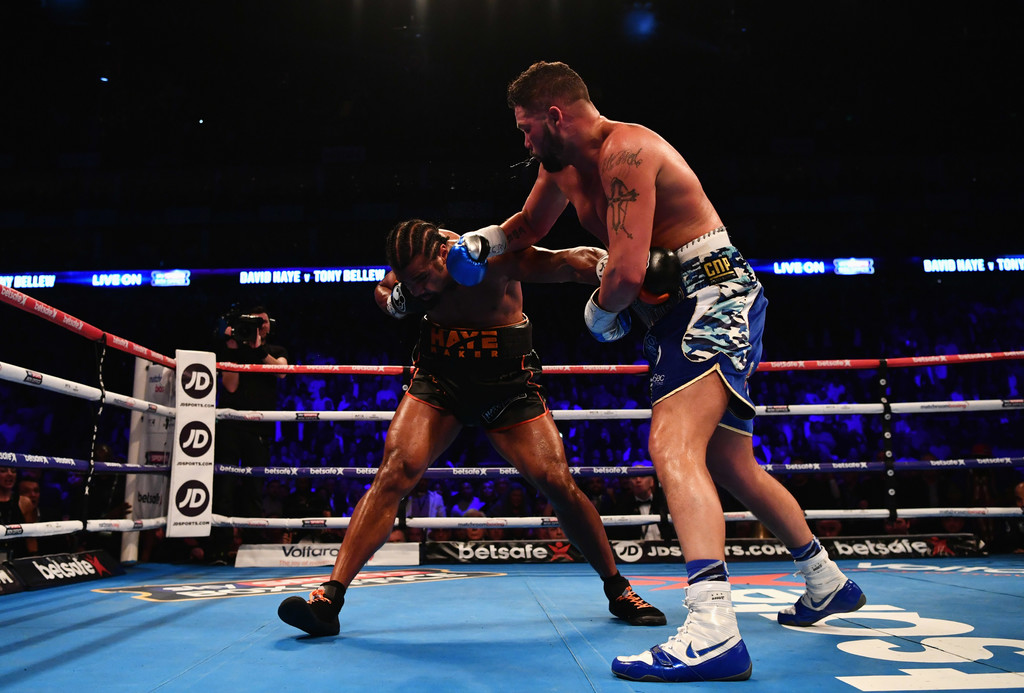 David Haye (28-2-0) vs Tony Bellew (28-2-1), O2 Arena, London, 4 March 2017
Achilles Slain
'Hayemaker' Haye fell in shock 11th round KO loss to WBC World cruiserweight champion 'Bomber' Bellew.
Build-up
Much had been written about the build-up to this one. Cruel threats were made on both sides and some of the Bomber's fans certainly went too far in the abuse of Haye in fight week.
The fight
As is usually the case when two big men face one another the fight started slowly. Haye was too eager in his work, throwing crazy 'Hayemakers' from the off. There was little in the way of build-up, few feints just massive swings that would've surely seen Bellew tumble to the floor if they connected. Haye's timing just didn't seem to be what it once was. Saying that Bellew did very little and Haye did land some glancing blows. Bellew's slippery movement impressed.
Round six. Haye seemed to fall over and although no knock-down he looked to struggle standing. Down he went once more, again no knock down but he looked in trouble. Down for a third time, this time called a knock-down. Something was seriously wrong. Somehow Haye mustered the heart and courage to get through the round, despite Bellew's best efforts.
Round seven and Bellew went for it – I thought I was witnessing the end of Haye, it looked like he couldn't move a step. Some Bellew fans were berating Haye at this stage, saying he didn't want to know – fools. Haye was clearly seriously injured.
Round eight onwards and Haye, to me, seemed to come back into it, he was landing some strong jabs and fighting through the pain barrier to put together some combos.
Round eleven. Again Haye seemed to start ok, but was clearly in agony. After a scuffle he was bundled through the ropes and despite a monumental effort rising to his feet his corner threw in the towel and the fight was over. Bellew against all odds had defeated Haye. Only a gambling genius could've picked that one at 100-1 (You know who you are!).
Haye
I am unashamedly a huge fan of David Haye and probably with this rose-tinted perspective thought there wasn't a chance in hell Bellew would win. Against the David Haye of old I'm sure that would still be the case. However, Haye's timing looked off, he didn't look to have the same speed as in the past and I would question his power is still there. He did land punches on Bellew that have knocked established heavyweights out in the past, yet Bellew, who only last May was soundly planted on his backside by a cruiserweight absorbed everything thrown at him.
Saying that, again in my opinion, if it wasn't for Haye suffering from such a devastating injury I feel he would've done enough for either a late stoppage of his own or a points victory.
What's next for Haye? Very difficult to say. It's not just a case of him losing due to an injury, he didn't really look himself, at least like he once did. We all age and it looks like time may have caught up with Haye. I can't see him performing against the giants of the division, the Joshuas, Klitschkos and in my opinion the true king of the heavyweight division Tyson Fury. Back to cruiserweight? Not a chance. He's been there already and could only darken his legacy at the weight. Plus, it wouldn't generate nearly as much income. Bellew again? Maybe. To me this makes the most sense. It would make the pair of them millions once again and would be winnable for Haye. Of course there's always retirement. Haye is aging and is looking to be increasingly injury prone.
Haye is one of the greatest fighters the UK has produced and went a long way last night to dispelling thoughts that he's a quitter, no bottle etc. It is looking increasingly likely that he was suffering from an Achilles issue prior to the bout, but this time nothing was going to stop him getting in the ring.
I wish him all the best and hope he makes the right decision.
Bellew
Huge, huge credit must go to Bellew. Few gave him any chance, including myself. I think it was too easy to think of Haye as the blistering quick KO specialist, but that was in the past. Bellew is a current WBC world champion.
I have to mention that Bellew's slippery defence was a big surprise to me. I've seen him in the flesh a few times and never seen him move so well. He had too, if he's been a sitting target he'd of been destroyed in a few rounds. He was particularly smooth off the ropes and showed impressive punch resistance to boot.
He too suffered a nasty injury, a potentially broken hand as early as the second round and without this could have potentially taken Haye out sooner.
Bellew has an abundance of possibilities for his next bout. Haye again? Maybe. Cruiserweight? Maybe. Heavyweight? Maybe. Haye would be a guaranteed seven figure pay day against a fighter he's already defeated. Cruiserweight would be a move back to his world championship, however, looking at risk vs reward a fight against a dangerous cruiserweight such as Usyk would be very unlikely to bring in the same payday as a Haye rematch or a high level heavyweight contest.
Bellew has noted that he only wants to fight for another 12 months, so 1 or 2 more fights. The purse is all important.
Do I think he could reign at heavyweight? No. Against the giants, against the big, big hitters I think he'd be defeated, but I thought that about Haye and I was most certainly wrong.
Overall
Highly entertaining fight and I hope both fighters still have 1 or 2 nights ahead of them in the ring.
Congratulations to Bellew.
Other contests
Ohara Davies moves to 15 undefeated after a destructive performance against Derry Mathews. I thought Davies would win, but the speed and power shown was another level. Mathews looks likely to retire after a bruising career. Davies to move onwards and upwards.
Sam Eggington looked very impressive with his ninth round KO of veteran Pauli Malignaggi from a crushing body shot. Eggington always impresses and has only one recent blemish. The skill he showed in opening up Pauli's defences was superb and I fully expect him to move up the levels once more. All the best to Malignaggi in retirement, however I think we've heard this one before….
Katie Taylor took her third victory over Monica Gentili with an impressive flurry of head shots in the fifth.
Lee Selby kept busy with a good KO win over stubborn Spaniard Andoni Gago with a ninth round TKO.
David Allen was impressive in defeating David Howe by second round KO following, Ted Cheeseman fought to a hard won points victory over Jack Sellars and Jake Bonallie won over four rounds against Craig Glover.
Conclusion
This was my first time at the O2 – a very impressive arena and space. Like the Manchester arena's high achieving child.
I don't think things are quite over for Haye, but dreams of regaining a world heavyweight crown may be at an end.
Bellew – the world is his oyster and I'm very exciting to see what he'll do next.
Davies, Eggington, Taylor, the best is yet to come.
Stuart Bruno Brown
In attendance at the O2 for ringnews24.com