Can David Haye Beat Tony Bellew In A Rematch? Haye's Keys To Victory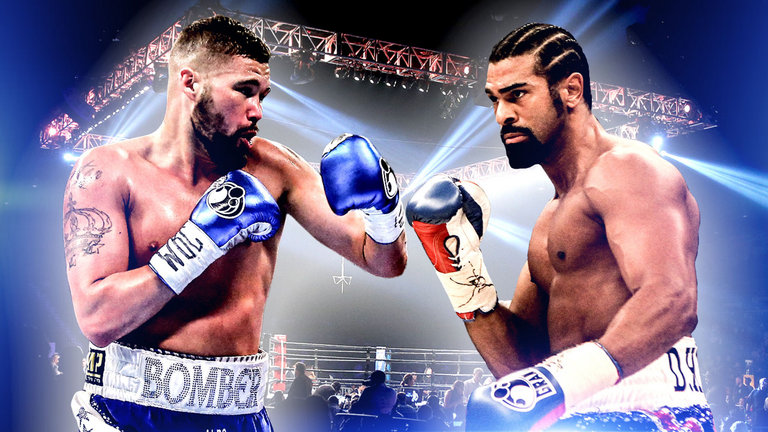 In what was one of the biggest upsets in British heavyweight boxing, David Haye sensationally lost to Liverpool's Tony Bellew by way of an 11th round technical knockout when Haye's corner threw in the towel. The Londoner became injured in the sixth after suffering an acchiles heel injury, which has now received surgical treatment. The former heavyweight champion is currently resting at home.
Eddie Hearn has hinted that winner Bellew may be able to fight for a version of the heavyweight crown in the not too distant future, although Haye wants a rematch and has stated that it can be staged in Bellew's city of Liverpool. There is no doubt that Bellew's name has now gained much more stock than it had on Saturday while Haye will probably remain a big name in the sport, at least for the time being while fans consider the possibility that the reason he lost was because of the injury. But how would a rematch fare for both boxers?
Let's look back at what happened on Saturday. Before the sudden events that occurred in the sixth round, David Haye's timing was painfully off! Cruiserweight champion Tony Bellew contributed toward that by comfortably swerving out of the way of Haye's widely thrown hooks while laying on the ropes. Bellew, surprisingly, exchanged with his foe at certain times throughout the bout and used his lateral movement while landing jabs and single power shots upstairs, which soon frustrated the formerly retired heavyweight.
Of course, once the injury took place midway through Bellew was able to land quite easily on a stumbling David Haye up until the 11th when the contest was called to a halt.
If a second bout was arranged, you would have to wonder what the psychological mindset of David Haye would be like after losing to somebody that many had him beating in just a couple of rounds despite all the hoopla that occurred before the bell rang. Is it a possibility that the injury that occurred on Saturday would mentally bring down Haye's confidence and make him think that the same could happen once again? And what about the fact that he lost to somebody he "should have" beaten?
Physically, the Hayemaker would have to make some serious adjustments to his approach. He cannot just wade in and expect one of his fists to knock Tony Bellew clean out. The Bomber proved he has a strong chin which could at least take a singular strong punch from his rival. The jab would have to be employed to set up his famous hayemakers upstairs.
Bellew's strategy seemed to be to wait for Haye to throw and then counter him while using the ring to his advantage. Feints would be one of the main keys to victory. If he makes Bellew throw into nothing but air then Haye can turn his own gameplan against himself and become the counter puncher. One of the disadvantages of a style like David Haye's is that a boxer can tire himself out after 4 or 5 rounds if the pressure they have set has not been taking effect. And Haye has proven that a lack of stamina can lead to his defeat, as Carl Thompson showed many years ago.
Single punches while evading any backfire could see David take the fight on points if he was to outbox Bellew and get himself in the frame of mind that the fight would have to go all of 12 rounds in order for him to come out the winner.
The points have been written. But in all likelihood, at 36 can David Haye modify his boxing style to such an extent? It is not likely. He is too in love with his knockout power and retirement away from the ring for four years has seemingly done more damage than what was suspected against fodder like Mark De Mori and Arnold Gjergjaj.
It would make a lot of sense for Haye to hang up the gloves but pride and ego will most likely see him carry on and give it one more try. And although the world probably will not be watching, a domestic rematch will sure lure the Brits in for at least another 30 minutes.
Read more articles about: