Weekly Asian fight results (13/03 to 19/03): Stamp Kiatniwat, Srisaket Sor Rungvisai, Gennady Golovkin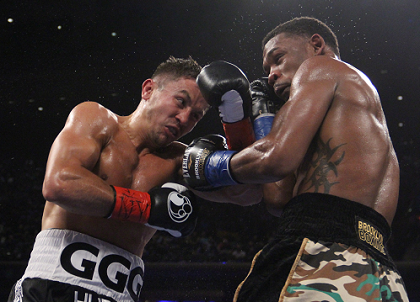 This past week has been a relatively busy one in Asian boxing circles with a number of notable names in action and several title bouts.
March 13th-
The action kicked off on Monday with a card at the Korakuen Hall. The show, broadcast over the A-sign Boxing service, wasn't a huge card, but it was an historic one.
The historic moment saw Japanese female boxing star Naoko Fujioka (16-2, 5) become the first 4-weight world champion from Japan as she recorded a 10th round TKO win over Mexican visitor Isabel Millan (18-3-1, 8) to claim the WBA female Flyweight title. Fujioka, who had previously won titles at 105lbs, 115lbs and 118lbs, was fighting in her third Flyweight world title fight and finally claimed the win as she dominated the naturally taller Millan, and forced the referee to save the Mexican in round 10.
On the same card fans saw Akihiro Kondo (28-6-1, 15) record a 2nd round KO win over Thai veteran Patomsuk Pathompothong (33-7-1, 20). These two men had met last year, with Kondo claiming a TKO win over the Thai, and it was clear that both men came for a fight. Sadly for the Thai he was simply unable to cope with the power of Kondo here. Although Kondo is the WBO Asia Pacific champion he wasn't defending his title here, but did make it clear after the contest that he wanted to have bigger fights next year.
March 15th-
Fujioka wasn't the only Japanese female fighter to score a notable win Ayumi Goto (6-0, 4) taking a hard fought 8 round decision win over Kim Actub (4-7-1, 3) to win the OPBF female Super Bantamweight title. The unbeaten Goto, a former model, had chased a title fight with former champion Tomomi Takano but Takano vacated leading to this bout with Actub for the vacant title. Goto used her size and energy well but in the end did struggle with her Filipino opponent, and Goto is a very long way from a world title fight, in the relatively shallow female Super Bantamweight division.
March 17th-
The busiest day of the week was Friday with a number of significant bouts. Whilst the show did have a lot of bouts there was a handful that stood out as more notable than the others.
On paper the most important, at least in Asia, was an OPBF Super Bantamweight title bout that saw former world title challenger Hidenori Otake (28-2-3, 12) take a unanimous decision win over Filipino Jelbirt Gomera (12-2, 6). Otake started slowly but scored a Knockdown and seemed to dominate the middle rounds en route to the victory. Otake, the much bigger man, rarely looked phased by Gomera and did make it clear that he wanted to get a second world title bout. Although coming up short here Gomera did impress, and a potential move to Bantamweight would serve his career well going forward.
On the same Japanese card fans got an unexpected treat as Moon Hyun Yun (18-4-3, 4) scored a 7th round technical decision over Shusaku Fujinaka (15-7-2, 10). The bout, which won't register internationally, was a nail biting war which saw Yun doing too much for Fujinaka, before cuts forced an end to the contest. Prior to the cuts, the contest really was an enthralling war, and is well worth watching online, with the video for the contest up.
The week certainly saw some poor decision, one of which came in Russian and cost Al Rivera (17-3, 15), who seemed to out fight, out box and out slug Russian Aik Shakhnazaryan (20-2, 10). Rivera, a massive Filipino puncher, started slowly but got better from round 3 and by the final round certainly deserved the win, but fighting away from home it wasn't to be. Although Rivera was the boss for the most part his limitations were shown up here as Shakhnazaryan made the most of his movement. Although quick on his feet Shakhnazaryan spent much of the fight running and certainly won't have impressed international fans who had hunted down a stream for the bout.
In Thailand earlier in the day fans saw former world title challenger Stamp Kiatniwat (16-1, 6) bounce back from his 2016 loss to Kazuto Ioka. The Thai youngster dropped Rajesh (0-1) numerous times en route to a wide decision win.
Also in action on Friday was Czar Amonsot (34-3-3, 22), who retained his Interim WBA Oceania Light Welterweight title with a knockout win against Zsigmond Vass (12-5, 2). Fans may remember Amonsot for his thrilling 2007 battle with Michael Katsidis. Amazingly since that loss, which many suspect would end the Filipino's career, he has gone 16-0-2 (12) and is potentially on the verge of a world title fight.
March 18th-
Although their had been fights through the week it's fair to say that most fans were more looking forward to Saturday than any other day during the week. Whilst the attention was there anyway we did have two notable Asian fighters in action.
One of those was Thailand's Srisaket Sor Rungvisai (42-4-1, 28), who scored the biggest upset of the year so far, as he out battled Nicaraguan great Roman Gonzalez (46-1, 38) to take the WBC Super Flyweight title. The Thai had come in as a massive under-dog, and was a total unknown for many fight fans, but proved his ability instantly and not only backed Gonzalez up but also dropped him in the opening round. It took a while for Gonzalez to find his groove, but when he did he looked great and really hurt Srisaket in the 6th round but couldn't sustain it and Srisaket swung the bout back in his favour. The final round was all Gonzalez but it was too little too late for the Nicaraguan who was deemed the majority decision loser.
The second Asian on the card was Kazakh Middleweight Gennady Golovkin (37-0, 33) who saw his long stoppage run come to an end, and a lot of shine being taken off his luster, as he narrowly over-came Daniel Jacobs (32-2, 29). Golovkin started slowly, and struggled to land more than just his stiff jab, though came alive in spurts and dropped Jacobs in round 4. Despite Jacobs being perceived as a chinny fighter and Golovkin as a monster puncher the Kazakh only really rattled him one other time, late in the bout, and instead it was Jacobs who seemed to land the better shots. The bout has split fans opinions, and will likely be one of those long debated bouts, but for me Golovkin was certainly fortunate to come away with his WBC, IBF, IBO and WBA "Super" titles.
(Scott Graveson covers the Asian boxing scene for www.asianboxing.info)