Weekly Asian Boxing results (17/04 to 23/04): Kazuto Ioka, Tetsuya Hisada, Marlon Tapales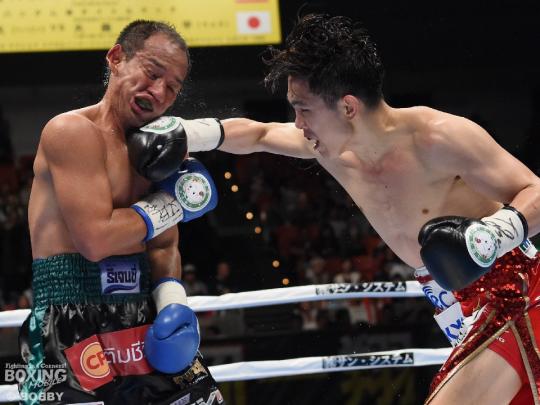 It's fair to say that this past week in Asian Boxing has been a bit of a hectic one, despite a slow start it built and built so that we got a huge dollop of action of action over the weekend. Here's my look at the more notable results from the week
Monday –
The action began on Monday with a small card in Japan. There was several fighters of interest domestically on the card, but the one that stood out for me was youngster Ryusei Kawaura (2-0, 2), who put away Thai visitor Anucha Pleengam (0-3) inside a round. On paper it may not look an impressive result, but given the Thai had gone 5 rounds with the touted Masayoshi Hashizume in 2015 and 3 rounds with recent Japanese champion Kenta Nakagawa last year the win is a real statement from the 23 year old.
Thursday –
It wasn't all bad for Thailand and one of the more notable results of the week saw former world title challenger Fahlan Sakkreerin Jr (32-5-1, 17) pick up a 7thr round win against Indonesian visitor Oscar Raknafa (13-14, 5), and claim the IBF Pan Pacific Light Flyweight title. The under-rated Thai will likely be looking for another world title bout in the near future and a win like this, whilst not massive, will help endear him with the IBF, whom his team are close with. It may not be his next fight but it's hard to imagine Fahlan being more than 18 months from another world title shot, potentially a match with either Akira Yaegashi or former foe Milan Melindo.
Friday–
In Japan on Friday we saw the weekend kick off a little early with a host of action. The most significant of those bouts saw veterans Tetsuya Hisada (28-9-2, 17) and Kenichi Horikawa (32-15-1, 7) clash for the vacant Japanese Light Flyweight title, which had been vacated recently by Ken Shiro. The bout was the third meeting between the two men, with Horikawa having won the first two, this time around however it was Hisada who bossed the contest, boxing well behind his jab and using his speed to keep Horikawa at range. Things went from bad to worse for Horikawa as he was twice deducted points for infringements, including a headbutt in round 4, and was dropped in round 7. For Hisada the title is a crowning achievement for a long career and something many in Japan felt he deserved, and likely wouldn't have got had he faced Ken Shiro as originally planned.
On a separate Japanese card fans saw Japanese based Dominican Vladimir Baez (22-3-2, 20) score a 7th round TKO win over the previously unbeaten Daishi Nagata (8-1-1, 4) in what was a thrilling encounter. Baez, fighting in Japan for the first time, went out like a man looking to make a statement and continually used his power and physicality to put Nagata under-pressure. The local had his moments, but was saved in round 7 when his corner threw in the towel. By that point he was looking swollen and beaten.
On the same card as Baez's big win was a very good showing from mega-talented youngster Izuki Tomioka (3-0, 1). The talented youngster scored his first stoppage and really shone as he took apart the durable Shun Shimazaki (8-9-1, 3). The youngster really looked the part and showed a bit of everything, from boxing on the move to standing his ground in the pocket and managed to drop Shimazaki before finishing his man off.
In the Philippines the under-rated Ernesto Saulong (20-2-1, 8) scored a notable domestic win over Jestoni Autida (9-7, 4). On paper this looked like it was a mismatch but the reality is that Autida is much better than his record suggests and he was always a live under-dog.
In China fight fans saw a couple of unbeaten locals score notable wins. One of those locals was Alimu Wushouer (10-0, 7), who took a 6 round unanimous decision over Venson Delopere (5-1-3, 2). The promising Wushouer is one of the most promising fighters in China and this was a notable win for him. The other was the heavy handed Yongqiang Yang (7-0, 6), who stopped Indonesian Geisler AP (9-10, 6) with a body shot near the end of the opening round of their contest.
Saturday–
On Saturday action picked up significantly with title bouts, debuts and a former world title contender all in action.
The biggest bout, for an Asian at least, ended in disappointment as talented South African Zolani Tete (25-3, 20) took a wide decision over Filipino Arthur Villanueva (30-2, 16) for the WBO "interim" Bantamweight title. The Filipino, fighting in his second world title bout, never got going and was dropped in round 11. Interestingly the full version of the title is now vacant, suggesting Tete is set to be upgraded almost instantly and could be facing off with Omar Narvaez in a mandatory defense later in the year.
The biggest shock, and the biggest comeback, saw unheralded Thai Ratchasi Sithsaithong (8-3, 6) stop world ranked Light Middleweight Yutaka Oishi (14-6, 7) and claim the OPBF title in a remarkable turn around. The Thai was dropped in round 2 and was a mile behind when the open scoring was announced at the end of round 8. Despite that he turned it on in the final stages and stopped Oishi, who was later taken to hospital after collapsing. At the time of the stoppage Oishi was up 106-101, 105-102 and 109-98 and only had 84 seconds to survive!
In better news for Japanese boxing Terumi Nuki (9-1, 6) claimed the OPBF Super Flyweight title as she scored a 3rd round TKO over Thai veteran Nongbua Lookpraiaree (10-14-1, 2). On paper the win was expected but Nongbua was a proven tough gal and this was just the second time she had been stopped in her 25 fight career.
In the US fans saw the debut of Olympic champion Fazliddin Gaibnazarov (1-0, 1), from Uzbekistan. The Uzbek was matched relatively tough for a debutant, against Victor Vazquez (7-3, 3), and yet was expected to win with ease. That however looked in some doubt after just 20 seconds, with the Uzbek being dropped in a shocking moment. Despite the early set back Gaibnazarov managed to regroup and went on to stop Vazuez the following round.
Whilst Ratchasi's stoppage of Oishi was a huge shock it was perhaps matched in Thailand when Young Gil Bae (28-6-1, 22) fought to a draw with debutant Kittisak Boonchaiming (0-0-1), in a show promoted by Bae! Little is known about this bout, though boxrec do list it as a 6 round draw, with only the KBA having any mention of it in Korea, where they stated it was scheduled for 12 rounds.
Sunday–
Although action picked up in Saturday we saw it go to a different level on Sunday with 3 cards across Japan featuring 2 world title bouts, a Japanese title bout and a littering of world ranked fighters.
The most notable of the bouts saw WBA Flyweight champion Kazuto Ioka (22-1, 13) claim his 14th win in a world title bout as he over-came Thai veteran Noknoi Sitthiprasert (62-5, 38), with a wide 12 round decision. Noknoi brought a 61 fight winning run to the ring and whilst he never looked like winning here he really did show his grit and determination to survive the distance, with round 11 being a particularly torrid round for the challenger.
The other world title bout saw a world title being left "vacant". That title was the WBO Bantamweight title which Filipino Marlon Tapales (30-2, 13) lost on the scales on Saturday morning. The talented Filipino was involved in a real humdinger as he took an 11th round TKO win over Japan's Shohei Omori (18-2, 13), in what was a rematch between the two men. The two had fought in late 2015, when Tapales bounced Omori off the canvas for fun on route to a 2nd round TKO. This time however Omori fought a much better fight and had Tapales in trouble, before being caught by a monster shot in round 10, which dropped him. He made it to the end of the round but was stopped very early in round 11.
On the same card there was wins for a relative whos who including WBA #1 ranked Super Flyweight Sho Ishida (24-0, 13), former OPBF Bantamweight champion Takahiro Yamamoto (19-5, 16), touted Japanese prospect Masayoshi Hashizume (13-0, 10), who all stopped over-matched Thai's. A much more intriguing bout from the same card saw Japanese based Korean Teiru Atsumi (13-1, 6) take a decision win over Filipino Neil John Tabanao (13-4, 9) in what was a stand under-card bout.
In a Japanese title bout fans in Aichi saw Kosuke Saka (16-3, 13) claim the title as he battered Shota Hayashi (29-6-1, 17) in 3 rounds. Saka, the mandatory for Hayashi, had come in to the bout in really impressive form and his confidence shone through as he battered the defending champion and ripped the title straight out of his hands.
In Hyogo fans saw world ranked Minimumweight Ryoki Hirai (9-4-1, 4) score his second successive win of note as he stopped the heavy handed Ryoya Ikema (11-4, 10) in the third round. Ikema had been downed twice in round 2 before the Hirai forced the stoppage in round 3. Although not a major name Hirai looks to be one of the most improved fighters in the sport today and riding a 4 fight winning run, including a massive upset win over Takumi Sake last December.
(Scott Graveson covers the Asian boxing scene for www.asianboxing.info)