Can McGregor really beat Mayweather? Here's what he has to do to beat Floyd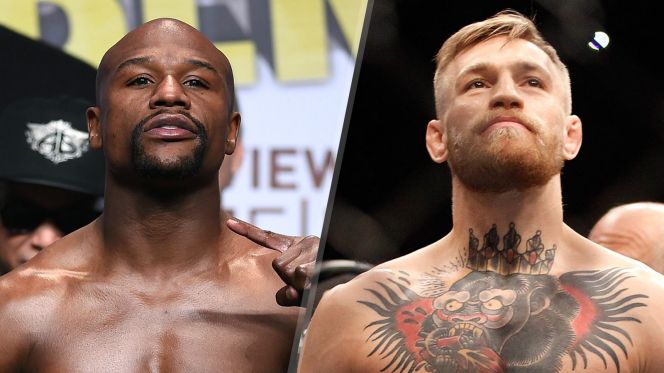 After what feels like years of speculation, it's finally happening. On the 26th of August, history will be made no matter the outcome of the fight. Boxing fans and former professional boxers all around the world have slammed the event, calling it the biggest mismatch in sporting history. At this point, the majority of the UFC fans ruling McGregor out of the fight but some are not so quick to rule him out just yet.
One of the biggest factors in play that works in McGregor's favour may be the fact that Floyd isn't as young as he used to be and at the age of 40, you have got to wonder if has what it takes to jump back into the ring and do the job. There is no doubt Floyd is one of the best boxers of his generation, if not in history and I believe even the biggest McGregor fan can at the very least acknowledge all that Mayweather has achieved in the sport of boxing but it will be close to 2 years since his last fight against Andre Berto and that has got to come into play as a big disadvantage, especially with the Irishman at the top of his prime and having a few fights in UFC within the last past 12 months.
McGregor goes into the fight the taller man and also has the reach advantage, which used correctly can play a massive factor in creating an upset. McGregor will be able to utilise his speed combined with his favourable distance fighting to land a few shots. Mayweather has rarely fought taller men in his boxing career and will not be able to rely on his normal reach advantage in this fight so if Conor is able to keep a distance between Mayweather to avoid Floyds counter punches and slowly break down his incredible and at times unbreakable defense, he will stand a solid chance of stopping the undefeated boxer.
The hunger McGregor possesses is arguably greater than any other fighter in the current day in all of the combat sports and with that, it is a sure thing that we will not be seeing Conor giving up or losing focus. The Irishman is in a massive win-win situation with no pressure while Mayweather has not just his own legacy on his shoulders but his entire sports credibility. I am sure nobody would slam McGregor for losing on his professional debut in a completely new sport against one of the best boxers of all time but Floyd Mayweather Jr, however, has never been stopped having faced the best boxers of his era and a loss to a man making his debut will shatter his image forever. This will undoubtedly play a big part in the fight and may determine the result of the fight.
Dana White made the point that Jeff Horn's victory over Manny Pacquiao shows that worlds legends of boxing can be beaten and thinks people should keep that in mind before determining the result of McGregor v Mayweather claiming that 'Conor is a madman' and 'He's gonna let Floyd know what he's gonna do and how he's gonna do it and everybody's been saying to me this whole time, 'Do you think that Conor can really beat Floyd Mayweather?' Pacquiao just got beat by a school teacher, okay.' Dana has not made a secret of his support for his UFC fighter claiming 'I stopped doubting Conor McGregor a long time ago,'
The best opportunity that McGregor has against Floyd is if he gets the job done quick and early and to do so he will need to land one of his famous big lefts within the first 3 or 4 rounds because after that McGregor will very likely have little left in his tank to get the job done and not enough to go the distance and win by decision. Mayweather has an incredible boxing brain and IQ to clock on and figure out his opponent to come out on top.
Artem Lobov, the Irishman's sparring partner claims the undefeated Floyd Mayweather will be beaten on August 26 stating 'Just look at all the stats – Floyd hasn't faced anyone significant for a few years now. When he fought Manny Pacquaio it was five years after Manny's prime, he was on the way out basically. Conor is bigger, stronger, younger, and has a longer reach.' Artem has been working very closely with Conor which could possibly mean a bias point of view. Lobov said 'If you look at Mayweather's fights he often likes to get into the clinch, but what is a boxer in a clinch against a wrestler, an MMA fighter? Boxers are absolute novices in the clinch, get a boxer and get him wrestling for a minute or two – the arms get so heavy, filled with blood, they can't even hold them up anymore, they can't box.' Most interestingly he said 'He has incredible power, a power that nobody else has. I've never seen anyone hit that hard, you won't see many other training partners around – only a Russian-Irishman can take those bombs. That's why I'm there, from the start until the end.'
With these words of confidence behind him, McGregor will definitely be up for the occasion and he has constantly reported his prediction of knocking out his opponent within just 4 rounds and that falls in line with what many say is his only chance. Without a doubt, Mayweather will take this on board and be cautious of being knocked out until he can break McGregor down which will prove insanely difficult and frustrating for the Irishman but Conor definitely has the composure to overcome this. Many see the fight going one way. Floyd making Conor miss and punish him for it with counter punches until CM either gets frustrated and loses focus or become worn out and eventually getting knocked out, which would be Floyd's KO victory since 2011 but this falls into Conor's lap as he craves proving people wrong and one thing no one can doubt and that is Conor is true to his word on these things.
Conor arguably has the psychological edge in the fight due to a large number of factors that will, without a doubt, play a part in the fight. Firstly, as mentioned before is the win-win McGregor has coming up to the fight but not only that, Mayweather has agreed to a lose-lose fight. It's weird to call a fighter who will be making the insane amount of money that is expected a lose-lose but if he wins, it doesn't really change anything because it is a debutant he is fighting rather than a reputable boxer making noises currently in the boxing world and will likely still be ridiculed due to not winning in a certain way or doing certain things during the fight but if he loses, that is a whole different story as he will never recover his reputation again and he risks tarnishing the name of boxing for years to come.  Secondly, you could say McGregor got into Floyd's head during the press tour that visited 4 cities in 3 different countries. Conor had this to say about the tour 'I smoked him all four rounds.' Not many people would disagree with the statement from McGregor as tonnes of people attending and tuning in saw Conor go in on Floyd over the course of the 4 days. Floyd has always been the king of mind games and the whole world was excited to see who comes out on top when he faced UFC mind game king and it didn't disappoint for the most part. It will be interesting to see if Floyd can keep his cool himself as every is predicting the opposite.
Conclusion:
The fight the fans craved, is now becoming a reality and we should all take a moment to appreciate both the McGregor and the Mayweather team and everyone who has been involved all that has gone into making this fight happen. Whatever the outcome of the fight may turn out to be, it will be an entertaining historic night made up with an exciting under card and the main event.
If McGregor is to win he will have to utilise the advantages he has in his reach and height to break Floyd down and go for the early knockout. This will be his biggest shout but Floyd and his team may have already anticipated that so a different game plan may be required.
It's possible both fighters will take it easy for the first few rounds, keeping distance between themselves, to get an understanding of the approach their opponent is taking before really getting into the fight where Conor could keep distance and pick some shots of with the reach advantage and put the pressure on Floyd to get Mayweather to become the aggressor where Conor can use his own counter attacking style and either go for the 12 rounds or the knockout.
A lot of mind games have and will continue to come into play where McGregor has and will continue to dominate which may affect Mayweather's focus during the fight. Conor will have a lot of confidence that will only grow and grow before eventually feeding of Floyd's pressure.
It's very difficult to score his chances as it depends on what Conor McGregor and what Floyd Mayweather show up. It could be a 50/50 fight. It could be a 60/40 fight in favour of Mayweather. It could be a 100/0 fight in favour of Mayweather. At this point, it's too hard to tell the way it will head but one thing is guaranteed and that's it is a once in a lifetime sporting event that will break multiple records and will be remembered for decades to come.