A Look Back At Miguel Cotto's Career As Retirement Looms
It seems that retirement is fast approaching for Miguel Cotto when he stated that 2017 will be his very last in boxing. The four weight champion said that, no matter the result of his proposed December fight, that he will be calling it a day. Cotto has won the hearts of many for being a hardened warrior who had a great left hook to the body, an underappreciated jab and great discipline to see through his toughest moments without resorting to underhanded tactics.
This article is going to take a look back at some of his most significant wins and defeats that established a vibrant career.
Miguel Cotto v Kelson Pinto – September 11th, 2004
A swift barrage of punches near the start of the 6th round was what it took for Miguel Cotto's rise to the top to begin! He won the vacant WBO light-welterweight crown, a portion of the championship that he would go on to successfully defend six times. Pinto attempted to use his mobility but would dare to trade at times with the then 24 year old Puerto Rican, which ultimately saw him being put down in the 5th and overwhelmed in the next round.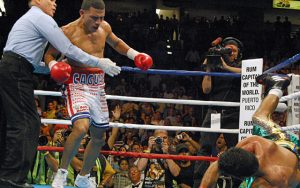 Miguel Cotto v Ricardo Torres – September 24th, 2005
Cotto faced one of his toughest opponents yet in Colombian challenger, big punching Ricardo Torres. Coming in with 26 KO's out of 28 wins, Torres had Cotto in trouble and down in the 2nd round as well as delivering some daunting moments in several others before succumbing in the 7th. Cotto was put down himself in the 1st, 4th, 6th and 7th rounds. This bout is remembered as one of Cotto's most exciting battles!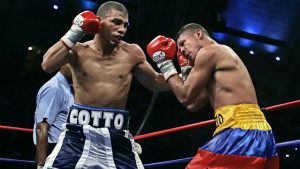 Miguel Cotto v Antonio Margarito I – July 26th, 2008
Things took a turn for the worst for Miguel Cotto in 2008 when Mexican Antonio Margarito stopped him in the 11th round after he was looked to have been outboxed for the majority of the fight. The former light-welterweight champion was forced to take a knee and then rose to take a few more wallops before his corner threw in the towel.
Miguel Cotto v Antonio Margarito II – December 3rd, 2011
After being medically cleared fit to fight, Margarito rematched Cotto three years later in Madison Square Garden. This time, he was no competition for the man that he previously got the best of as his right eye was cut and made to swell which forced him out of the contest in the first of what is known as the championship rounds, the 10th. There were accusations that Margarito used illegal handwraps to defeat Cotto in their first encounter, so victory was sweet for many fans!
Miguel Cotto v Floyd Mayweather – May 5th, 2012
Floyd Mayweather finally gave the fans one of the fights they had been demanding for many years when he faced Cotto at the MGM Grand. The Michigan born modern legend won the fight on a points decision but not before having his nose bloodied by many of Cotto's jabs. Mayweather v Cotto is considered to be one of the most physical fights of Floyd's career!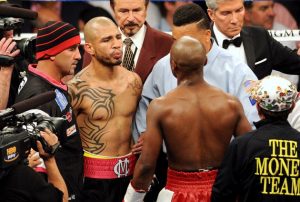 Miguel Cotto v Sergio Martinez – June 7th, 2014
It was largely thought that Cotto's days as a champion were numbered and that Argentine Sergio Martinez was going to finally deliver the finishing blows to his career. But with Martinez' body giving up on him, he was shockingly put down in the 1st and 9th rounds multiple times. Known for his two thrilling fights with Paul Williams, Martinez never came out for the 10th, and Miguel Cotto became the new WBC and Ring Magazine belt champion.