All Time Great Second Round Knockouts
Just what is it about the second round in fights and amazingly brutal finishes? Let's take a look at five of the most devastating second round stoppages ever seen in the ring.
Tommy 'Hitman' HearnsvsRoberto Duran
World Light Middleweight Title – 15/06/1984, Caesars Palace, Las Vegas.
Hearns (38-1-0 32 KO, 153 1/4lbs)
Duran(77-5-0 58 KO, 154lbs)
Coming into the fight with Hearns, Duran had never been KO'd, indeed he had never even looked in the remotest danger of being stopped. That includes going the full fifteen round distance against the Undisputed World Middleweight Champion, Marvelous Marvin Hagler. After twelve completed rounds two of the judges had Duran ahead on points, he certainly gave Marvin a tough fight that night.
Hearns and Duran met in what should have been a unification clash, but this was scuppered by the WBA, who stripped Duran of their title, the moment he climbed into the ring to face Hearns.
Tommy had great boxing skills and it was expected that he would box at range and keep himself out of trouble. Nothing could have been further from the truth.
Hearns came out at the opening bell and began to pepper Duran with fast left jabs, his eleven inch reach advantage telling as he kept Duran at range. Halfway through the round, Tommy landed his right hand and began to back up Duran.
A stunning right hand suddenly put Duran on the canvas, and once up, Tommy resumed the attack and had Roberto down a second time with a left-right combination to the body. This actually lifted Duran up off his feet before he fell to the mat.
At the end of the round, a dazed and confused Duran went to the neutral corner instead of his own, he didn't know what had hit him. Tommy was living up to his epithet of 'Hitman' with a brutal display of power that had everyone gasping for breath. Especially poor Roberto!
The barrage of heavy punching from Hearns continued in the second round, Duran was forced back to the ropes, and a massive barrage of punches from Hearns left him dazed and with nowhere to hide.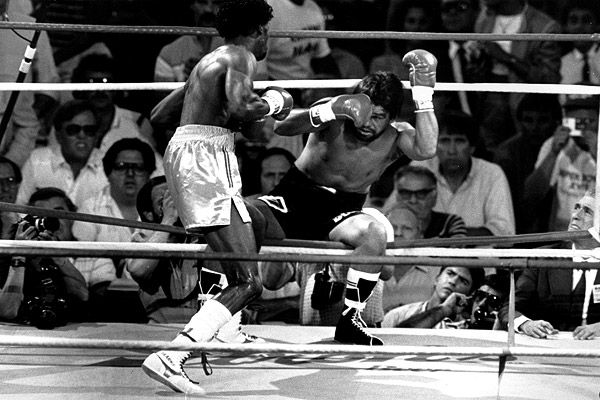 Roberto made it off the ropes, but was pinned back against them by two fast jabs from Hearns, and then BOOM! A huge, savage and lightning fast right cross connected with Duran's seemingly granite chin.
Poor Roberto crumpled to the canvas, totally out, and he needed his corner to pick him up off the canvas. The referee hadn't bothered to count, he immediately waved the fight off.
It was the first time Duran had ever been knocked out. Hearns had achieved what many thought impossible, and in doing so, scored what is generally regarded as the most devastating KO in ring history.
Manny 'Pacman' Pacquiao vs Ricky 'Hitman' Hatton
Ring, Lineal & IBO World Light Welterweight Titles – 2/05/09, MGM Grand, Las Vegas.
Pacquiao (48-3-2 36 KO, 138lbs)
Hatton (45-1-0 32 KO, 140lbs)
In his first fight at 140lbs Manny Pacquiao took, what looked on paper, to be a tough fight against Hatton, a man who was unbeaten at the weight, and had reigned for four years as champion. The fight itself though, proved to be an easy night's work for Manny, and a very painful one for the British hero Hatton.
Manny boxed beautifully in the first round, throwing sharp, hard punches that seemed to be guided by radar to Hatton's head. Pacquiao sent Hatton to the canvas with a superbly timed right hook inside the final minute of the round, and floored Ricky again right at the end of the round. Things were beginning to look very ominous for the champion, he seemed to have no answer to Pacquiao's concussive and accurate punching.
Things looked a little better for Hatton in the second, as he began to land a few of his own punches, but it was a false dawn. With seconds left in the round, a superbly timed left cross from Pacquiao hit Hatton square on the jaw, and poor Ricky collapsed to the mat, completely unconscious from the moment the punch landed. The referee didn't bother with the count, and immediately waved the fight off.
Hatton lay motionless for what seemed an eternity, and received medical attention whilst still comatose on the canvas. It was a very worrying situation indeed, Ricky lay there with eyelids trying to flutter open, he looked in a very bad way.
Eventually Ricky made it to his feet, and much to everyone's relief, he was seen to be ok. Hatton had been taken out by an incredibly well placed punch, with all of Pacquiao's weight fully behind it.
It was a stunning display of Manny's power and speed, and it sent ripples through the sport. Nobody expected the fight to end in such a savage way, with a former Flyweight knocking out a Light-Welterweight, it was sensational.
---
'Iron' Mike Tyson vs Trevor Berbick
WBC World Heavyweight Title – 22/11/86, Las Vegas Hilton.
Tyson (27-0-0 25 KO, 221 1/4lbs)
Berbick(31-4-1 23 KO, 218 1/2lbs)
One of the most spectacular demonstrations of how a heavy punch affects the central nervous system was seen on the night 'Iron' Mike Tyson despatched Trevor Berbick to win the WBC crown, making himself the youngest ever World Heavyweight Champion in the process. He was a mere twenty years, four months and twenty-two days old when he ripped the crown from Berbick in a hugely savage display of power punching.
At the first bell Berbick came out and tried to trade with the younger challenger, but Trevor's reach advantage was no problem for Tyson as he got inside Berbick and battered his head and body with savage combinations. It was a messy round at times with a lot of mauling, but toward the end of the round Tyson finally got through with a nice combination that had the champion reeling across the ring.
Tyson set upon Berbick as soon as the bell went for the second, and sent him down with some savage right hands. Trevor was up quickly and the action resumed, with more holding than punching, it was again getting messy.
Suddenly Tyson exploded into life and Berbick had a delayed reaction to a left hook to the temple from Tyson, and with this brains well and truly scrambled, fell to the floor.
In attempting to rise, Berbick was too hasty, indeed his legs immediately betrayed him, and he fell back across the ring and into the ropes.
He arose once more, only to stagger wildly across to the other side of the ring, where he fell to the canvas for the THIRD time.
He made it off the floor again, only to fall into the cradling arms of Mills Lane, who stopped the bout immediately, whilst having to hold Berbick up to stop him falling again.
What a display, three knockdowns from just one punch! It was something not previously seen, and served notice that Tyson's punch power was not to be underestimated.
---
Don Curry vs Milton McCrory
Undisputed WBC/WBA/IBF World Welterweight Titles – 6/12/85, Las Vegas Hilton.
Curry (23-0-0 17 KO, 146 3/4lbs)
McCrory (27-0-1 22 KO, 146 3/4lbs)
At this particular time in his career, Don Curry was considered unbeatable and on an unstoppable rise up the P4P rankings. There was talk that he was the man to end Hagler's reign as the champion at 160lbs, and he had looked nothing short of deadly at welterweight.
He was known as the 'Lone Star Cobra', and possessed lightning fast reflexes and a stunning punch. He held the WBA and IBF 147lbs titles, and the only person standing in his way of total domination of the Welterweight division was the WBC belt-holder, Milton McCrory.
McCrory was also undefeated and had beaten the Welshman Colin Jones for the vacant WBC title, after their first meeting resulted in a draw. He was making the fifth defence of his crown, Curry was defending for the sixth time, and was a big favourite to unify all three belts.
Curry came out at for the opening round and immediately forced McCrory onto the back foot with some very sharp punches. Milton tried to counter, but didn't land too much of note, and he looked a little shell-shocked by Curry's power. He needed to back up Curry, but couldn't seem to work out how to do it. Don was just too fast, and in great form.
Curry landed a great left hook that sent McCrory reeling, luckily for him, it was inside the last minute if the round, and Don couldn't take advantage. It was to be but an execution delayed, things were to explode dramatically in the second round.
Midway through the round, Curry landed an amazing left hook that travelled with lightning speed, landing squarely on McCrory's jaw and sending him down hard.
The punch landing made a loud cracking sound as it made contact, and Milton landed flat on his back. The punch was picture perfect, a savagely thrown hook full of venom, it seemed that McCrory would have no chance to beat the count.
Somehow McCrory made it to his feet and referee Mills Lane waved the fight back on. Curry stepped in with a sickeningly vicious right hand, and stretched out Milton for the full count of ten. McCrory was a sitting target and should never have been in a position to have to take the final punch, the referee really should have stopped the fight after the first knockdown.
McCrory received attention whilst on the canvas, he looked in some distress, but was soon back on his feet. It was a case of déjà vu for Manny Steward, McCrory being the second Kronk fighter to lose by knockout in a welterweight unification bout. Curry looked sensational, could anyone stop him? We'd soon have an answer to that question.
---
 George Foreman vs Smokin' Joe Frazier
 Undisputed WBC/WBA World Heavyweight Title – 22/01/73, Kingston, Jamaica.
Foreman (37-0-0 34 KO, 217 1/2lbs)
Frazier (29-0-0 25 KO, 214lbs)
Going into the bout, Frazier was a 3-1 favourite, having made nine previous defences of the title, but the intimidating Foreman was not about to be denied. George scored three knockdowns in the first round, with a brutal and merciless display of punching.
Foreman's right hand was the cause of Frazier's troubles in round one, but Joe's cause wasn't helped by his habit of rising from knockdowns without taking advantage of a longer count. Time and again, Joe would be up in a flash, pride badly wounded, when taking a count of nine might have helped him clear his head. Then again, George's massively heavy blows were doing Joe's cranium no good at all, he was dazed and confused. Things could only get worse.
Poor Joe was floored a further three times in the second, before the referee finally halted the bout, with Frazier somehow back on his feet, but staggering around the ring like a drunk. Frazier showed great guts in arising from each knockdown, but his legs were all over the place, doing strange little skips and jumps before crashing to the canvas. The force of the blows coming from the unbeaten Foreman was plain for all to see, but the hapless champion could do nothing to stop the challenger.
The time of the KO was given as 1:35. Poor Frazier had been totally and utterly annihilated by Foreman, who reminded fight fans of Sonny Liston, with his very menacing manner and brutal punching. This display would be repeated on Ken Norton a year later, and resulted in another savage beating for a top level fighter whom even Ali couldn't KO.
Interestingly, Foreman had an amazing run of second round KO's between September 1971 and March 1974. Nine of his eleven fights in this period ended in second round stoppages!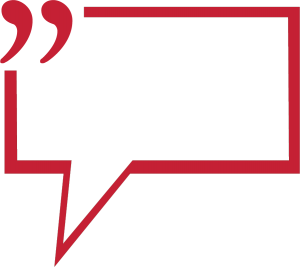 Click Here, If you wish to add a COMMENT to the above article or any of the Ringnews24 boxing articles.