Kovalev crowned in Cardiff – Full Card Report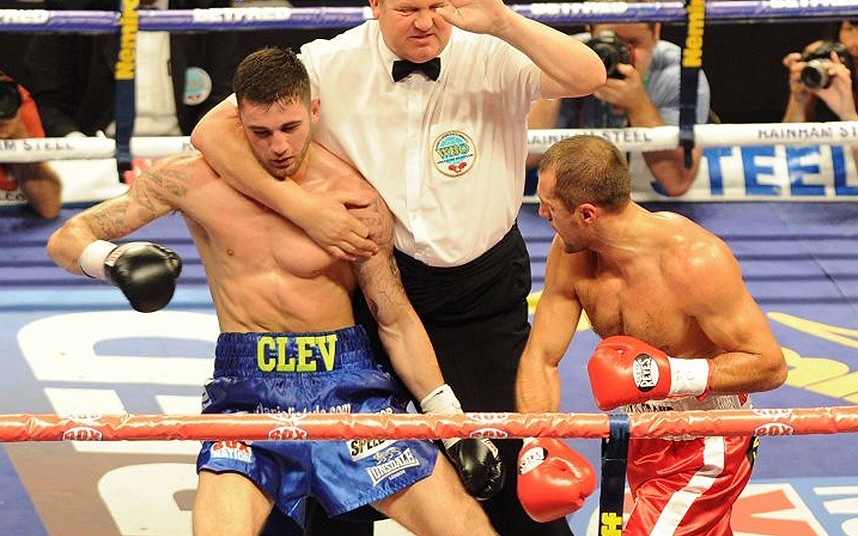 Sergey Kovalev arrived in Wales with an unbeaten record and hard-hitting reputation; he left with the WBO light heavyweight title after a clinical, destructive display in stopping champion, Nathan Cleverly in the fourth round.
A 'home' crowd of approximately 5000 welsh boxing fans saw their man hit the deck, three times in four rounds and, in truth, the welsh hero never got into the fight. Russian, Kovalev found his rhythm from the get-go and his straight right hands and solid left hooks kept piercing the high guard of Cleverly – the thudding left hook, in particular, was finding the target often and the defending champion didn't have an answer.
Kovalev was cut, from a head clash, in the second, but was unfazed and methodically went about his business. Cleverly, was only throwing a double-jab and it was Kovalev who was throwing combinations.
It was a finishing right that registered the first knockdown, in the third, though everything was worked beautifully from the left hand. The left hook was responsible for the second knockdown and this time the Welshman rose on shaky legs. The fight continued and Kovalev sunk in more left hooks to the wailing champion and referee, Terry O'Connor stepped in to wave it off but the bell rang, for the end of the round, and the referee allowed Nathan to finish the round.
The corner then had the job of getting their charge out, in shape and coherent, for the fourth round but against a puncher like Sergey, there was only going to be one outcome and the challenger set about finishing the job with a steady barrage, the brave champion touched down again and the referee called a halt to proceedings.
Kovalev is a machine, he keeps coming and his accuracy is very impressive, he's also deceptively quicker, of hand, than you'd expect. His power is thunderous – the left hand sets everything up. US TV network HBO, were in town to show this one and their faith in Kovalev has been repaid. There are plenty of big fights out there but after another crushing display, it is hard to see anyone willingly jumping, to the plate, and taking on one of the pound-for-pound, hardest hitters in boxing. 2013, has been the year of the knockout, with big punching wins from the likes of Lucas Matthysse, Adonis Stevenson and Gennady Golovkin and Kovalev is right-up there alongside those fighters.
Ex-champion, Nathan Cleverly, just didn't get into this fight and looked a little flat but at only 26-years old, can re-group and rebound from this loss. A defeat, while hard to take, is not the end of a boxing career and he has achieved more than most boxers dream of but for the moment the big fights are on hold.
Sergey Kovalev remains unbeaten at 22-0-1, 19 KOs, while Nathan Cleverly drops to 26-1, 12 KOs.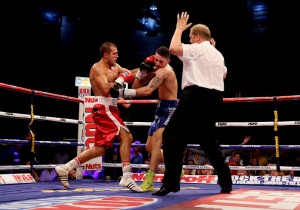 28-year old, Stephen Smith, of Liverpool registered the best win of his career and the knock-out of the night when despatching of Gary Buckland, in the fifth round, with an electrifying right uppercut, that dropped the Welshman hard and out for the count.
The fight was closely competitive with Buckland applying pressure but the sharper shots being delivered by Smith, the contest was nicely balanced and then Smith landed the 'honey' punch proving the old adage "It only takes one punch." The finish produced some scary moments, of concern, but thankfully Gary was ok.
There was a moment in the fourth where the forward pressing Buckland was tagged and you could see it had an impact, though he replied with a solid left uppercut. By this point, Smith had his timing and accuracy, and Buckland seemed to still be struggling to get his best shots home.
The Liverpool man has now added the BBBofC British super featherweight title to his collection; having been the champion at featherweight. He has been in the boxing wilderness, since losing that title, back in September 2011 but has now put himself back on the map.
Smiths record raises to 17-1, 10 KOs while Buckland's drops to 27-3, 9 KOs.
In a thrilling war Ovill Mckenzie and Enzo Maccarinelli again collided for the Commonwealth light heavyweight title and this time the bout lasted a lot longer than the previous one (a controversial, second round stoppage victory for McKenzie).
Swansea man, Enzo fought a brave fight, he absorbed shots but his work was better thought-out and while the rounds were always competitive, it was the Welshman who was putting them in the bag. McKenzie was a real threat, all the way through and would look to land the big counter left and did plenty of times. Both men landed solid shots and traded and at points, it seemed the fight could soon be over. Maccarinelli, seemed to grow in confidence as the rounds went on and often looked to impose his strength on Mckenzie, in close.
Mckenzie seemed to slowdown abit in the fifth and I did wonder if the sting had been taken-out of his attacks but he came back to win the sixth and a big seventh, on my scorecard. The ninth, like previous rounds, had tough exchanges though it was Enzo who was landing the better quality and more often. The tenth saw them trade left hooks, as happened several times in the bout. Ovill was getting pushed back to the ropes and suffering when there, it was along the ropes, in the eleventh, that Maccarinelli, landed hard with lefts and rights thudding home and ended the bout with a sensational left uppercut that had the champion completely out on his feet. Referee, Phil Edwards had no option but to stop the fight, as the Derbyshire boxer was completely defenceless.
It was a scintillating fight and a top quality performance by the former WBO cruiserweight champion.
Maccarinelli is now 37-6, 29 KOs while McKenzie drops to 21-12, 10 KOs.
Undefeated Blackwood fighter, Craig Evans added another win to the record by comfortably out-pointing tricky, Youssef Al Hamidi over eight rounds. Southpaw Evans controlled the tempo and flow of the action, switching effortlessly between defence and attack and veteran Hamidi didn't have any answers.
Evans got another eight-rounder under his belt and moves gracefully around the ring while possessing a full arsenal of shots, I scored it a shut-out for the Welshman and referee Clarke Joslyn scored it clearly in Evans favour, 80-73.
Evans record improves to 10-0, 3 KOs while Hamidi falls to 12-57-3, 1 KO.
Lewis Rees had been scheduled to fight Stephen Haughian, for the Celtic welterweight title but an injury forced the Irishman out. Durable journeyman, Dee Mitchell stepped in and gave an honest effort but was outboxed and outclassed over eight one-sided rounds.
23-year old Rees put in a mature display, took his time and showed a good variety of shots, mixed in with decent hand-speed.
Referee, Reece Carter correctly scored the bout 80-72, all in favour of the Tonypandy boxer and I had it the same, as Rees had complete control of the fight.
Lewis Rees remains unbeaten at 8-0, 5 KOs while Dee Mitchell drops to 9-41-1, 2 KOs.
Liam "Dully" Williams remained unbeaten and proved a point against Guildford's "Dangerous" Darren Codona. The two had exchanged a few heated 'Tweets' in the build-up but come fight-time there was only one man incharge, the 21-year old Williams of Clydach Vale.
The eight round middleweight contest was a one-sided affair, with Liam controlling the tempo and landing the more accurate shots. Codona was plucky but outgunned and outboxed, he did well to finish the fight, as he was fading in the later rounds. The Welshman has an excellent understanding of the ring dimensions and knows when to box and when to attack. Official score was 80-72 in favour of Williams and I saw it the same.
Williams completed the eight round distance for the first time and his record rises to 8-0, 3 KOs while Codona drops to 6-2, 1 KO.
A tough cruiserweight battle between debutants Danni Griffiths, of Nantymoel and Courtney Richards from Plymouth, saw plenty of action and momentum swings. Griffiths started better and was quicker punching while Richards was the pressure fighter and at times was outworking his opponent.
Richards was abit of a bloody mess (nose) by the second round but was having greater success on the inside though both traded well. I thought Griffiths used the jab well followed by uppercuts, in the third, but faded in the fourth. Richards kept plugging away and coming forward. I had it as a draw, after four rounds while Reece Carter, scoring from ringside, had it 39-38 in favour of Richards. Referee was Martin Williams.
Richards opens his professional account at 1-0 while Griffiths is 0-1.
Debutant Rees Evans, of Blackwood, took on durable journeyman Matt Seawright, of Tamworth, over four rounds, and produced a display of blistering handpseed and quick movement. 35-year old Seawright, is always game but was up against a 20-year old, who has a bright future, and was getting 'peppered' with accurate, fast shots and just couldn't keep-up with the youngster.
Light-welterweight Evans is the, younger, brother of Craig and has similar traits as both are extremely quick. The brothers are in good hands, as they are trained by Tony Borg, at St. Joseph's ABC.
Rees opens his professional account at 1-0 while Seawright drops to 5-80-5.
Show opener was a middleweight contest between the Nathan Cleverly managed, Aled Cook, of Maesteg and Telford's Kieron Gray.
Cook, trained by Vince Cleverly, put in a solid display to open his professional account, using a decent orthodox jab and landing sharp flurries. By, the fourth Gray had a badly swollen left eye and took some hard shots. Cook finished the fight strongly and gave a good performance on his debut; he looks a strong fighter, with well-rounded skills and is certainly one to keep an eye on. Referee was Martin Williams. Reece Carter scored, from ringside, 40-36 to the welsh fighter.
Aled Cook is now 1-0 while Gray drops to 5-19-1, 1 KO.
In a light middleweight contest, Oldham's Ronnie Heffron, closed out the show with a six rounds points decision over Max Maxwell, of Birmingham.  Official score 59-56 to Heffron.
Heffron improves to 13-1, 5 KOs while Maxwell falls to 6-24-3, 3 KOs.
'Red Mist' was promoted by Frank Warren and live on Boxnation and HBO. The show had mixed results, in the main events, for the home crowd but it was an entertaining evening, of boxing, that had displays of skill, courage, heart and power and the undercard provided us with glimpses, of the talented welsh youngsters that have the potential, to be headline acts in the future.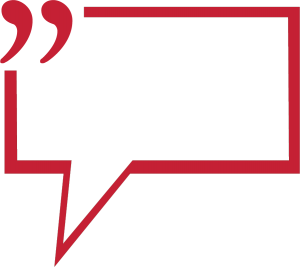 Click Here, If you wish to add a COMMENT to the above article or any of the Ringnews24 boxing articles.