The week in boxing – 2 June 2014: Nonito Donaire vs Simpiwe Vetyeka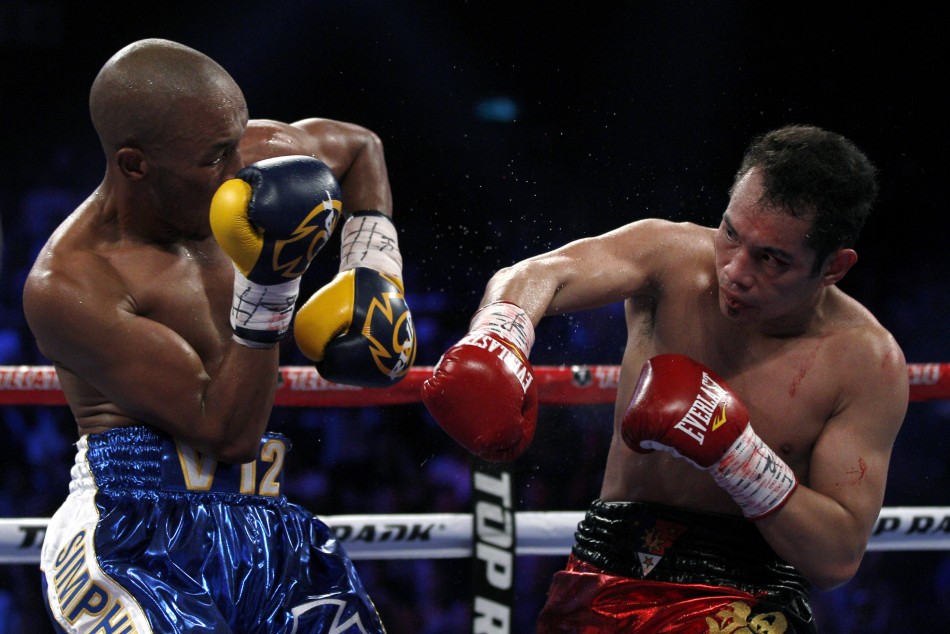 First things first.  Nobody is a bigger admirer of Nonito Donaire than this writer.  I believe that he has been one of, if not the, most exciting fighter(s) in the world since 2007, when he burst onto the scene by knocking out Vic Darchinyan, previously thought to be virtually indestructible.  Time after time Donaire has thrilled the boxing public with his sensational punching power, e.g. leaving a high quality opponent like Volodymyr Sydorenko looking as though he had been hit around the face with a hammer.  Not only that, but he is one of the few fighters who can still compel me to get to my feet, approach the television screen with mouth and eyes similarly agape, helpless with excitement and urging him on.  Nonito's complicity with VADA testing has also been remarkably creditable in a sport where many of the top protagonists are still suspected of taking PEDs.
Now that I have cleared up my views on Nonito, I still have no hesitation in stating that his opponent on Saturday in Macao, Simpiwe Vetyeka, was blatantly cheated out of his WBA featherweight belt.  For those who did not see the fight, Nonito was cut over his left eye at the end of the first round.  It was, and remained, unclear throughout the remainder of the contest exactly what had caused the cut.  To be fair to the officials on site, even after several viewings of slow motion television replays, nothing definitive could be observed.  In the meantime, it was clear that the fight was going to be highly competitive, with the South African outjabbing Donaire in the first two rounds to get off to an early lead, during which time Donaire had undergone two corner inspections of his cut by the doctor.
Nonito showed increased urgency in the third, realising that the cut would preclude him from going deep into the 12 rounds.  He won that round and then sensationally floored his man in the fourth with his always potent left hook.  Another knockout victory looked on the cards.  He went for the finish but the hardy South African was standing his ground and punching back.  This fight was far from over.  Close to the end of the round, Nonito turned away from his opponent, indicating he could not see.  Referee Luis "nobody throw, nobody throw" Pabon should have stopped the fight there and then.  Instead he took Nonito to the doctor for the third time.  Once again, within a few seconds the doctor gave the thumbs up and they finished the round.  After the television coverage had finished showing replays of the action and the pictures went live again, it was immediately apparent that the fight was over.  Pabon was consulting with the WBA officials at ringside and instead of telling them his decision, as he should have been, they were telling him what to do.  This is standard for fights involving this referee.  Where Pabon is involved, almost invariably controversy will ensue.  He is one of the weakest referees in the sport and never has control over his fights.
What had happened was that Nonito and his corner had decided to stop the fight.  They were confident that their man had now eked out a lead on the scorecards and that he would be awarded a technical decision.  The doctor was seen skulking away from the corner, having obviously been coerced into stopping the fight due to the cut.  It appeared to be the same doctor who, just 25 seconds earlier, had put his thumb up to confirm that Donaire was fit to continue!  What had changed in those few seconds?  Nothing of course, other than pressure now being put on the doctor to change his decision.  Sure enough, when the decision was announced, we had a new champion.  Prior to Donaire heading back to his dressing room to be stitched up, his opponent had already experienced a different type of stitch up.  Once again, we saw that officials are only too glad to ensure the right result for the promoter.  Vetyeka and his team looked totally bemused by what had gone on.  They should have been screaming blue murder but seemed more stunned than anything else.  To add insult to injury, the scores were announced as 49-46 in favour of Donaire.  Strange that, when they had only fought four rounds!!  What a shambles.
This incident was almost a carbon copy of the goings-on that occurred in March 2009 at the MEN Arena in Manchester, when all-time-great Marco Antonio Barrera received something other than a warm welcome to the U.K.  In his fight with Amir Khan that night, Barrera suffered a terrible cut to his scalp early on, which his corner could not close, and spent the whole fight blinking away the blood.  It should have been stopped immediately, but was allowed to continue until the fifth round when, lo and behold, the doctor now decided to stop the fight, knowing that rather than a technical draw/no contest, it would now go down as a technical decision victory for Amir Khan.  A scandalous way to treat the great man.
The head of Top Rank Boxing, Bob Arum, is doing an outstanding job in taking the sport to, and "breaking", the Chinese market.  It is the last major outpost which has yet to be introduced to big time professional boxing.  Of course, local flyweight hero Zou Shiming is at the vanguard of this breakthrough.  However, Filipino fighters, who proliferate in today's sport, are playing a big part in these early stages, with Donaire and Manny Pacquiao already having headlined big shows in Macao.  I must admit that this development has always raised mixed feelings for me.  It is great to have such a huge market potentially playing a big part in the future of the sport.  On the flip side, however, is the fact that with so much money at stake, corruption is never going to be far behind.  This was displayed clearly for all to see on Saturday.
One is reminded of the Beijing Olympics in 2008 where numerous, terrible, hometown decisions were given in favour of local boxers.  It is easy to imagine major championship belts soon disappearing into China, not to be seen again for years and years, a la Chris John and his WBA featherweight belt.  Everything possible was done to ensure that the over-rated John retained that belt.  He did not fight a worthwhile challenger for several years and undeservedly went into the record books due to his lengthy "reign".  Expect to see plenty more of this once China is fully entrenched into the sport.
The Macao undercard fights had plenty to interest fans, with two other Top Rank featherweights impressing in different ways.  Evgeny Gradovich successfully defended his IBF version of the title against former European champion, bruiser Alex Miskirtchian.  Gradovich learnt from the first round that if he stood in front of the transplanted Belgian and traded blows, he could very well come off second best.  He adapted extremely quickly and simply utilised good footwork, moving around his flat-footed opponent, spearing him with punch after punch and dominating throughout the remainder of the fight.  He was put down by a jab in round six but this was merely a speed hump in the road for him to overcome.  The Mexican Russian was furious with himself when he got up and rightly so.  The only drawback for Evgeny is his palpable lack of power at very top level.  This will count against him when he faces a top quality challenger.
The other featherweight in question is Jamaican Nicholas Walters, who defended another version of the WBA belt (how many are there???) against ageing Armenian Vic Darchinyan.  It was blatantly obvious from an early stage that the old warhorse had gone a step too far here.  At age 38 and at least 10 pounds over his best fighting weight, Vic was at the mercy of his younger, bigger and stronger opponent.  From the moment that he was floored by a right uppercut in the second round, Vic had a sick look on his face, fearing his coming fate.  It was abundantly clear from that point on that Walters would sooner rather than later lower the big boom on poor old Vic.  Sure enough, that happened in the fifth and it was rather sad to see the brave fighting man Darchinyan so badly knocked out.
Walters looks to be the dangerous floater in the division.  He is listed at 5″7 but looks taller than that and with the kind of punching power he is displaying none of the other top featherweights will be over-keen to take him on.  A final word on Darchinyan – it was a bit disconcerting to see no Aussie presence in the ring with him, either in his corner, or by way of a flag of any kind.  Vic had a totally Armenian corner team and the only flag to be seen was the Armenian one.  It is a shame if Vic has forgotten all the good things that Australia and Australians did for him throughout his career.
I cannot sign off without a final word on the Top Rank TV commentary team, which now consists of "Colonel" Bob Sheridan and Larry Merchant.  These two have a combined age of 153!  Come on Top Rank, is that the best you can do?  Just because Arum is 82 himself, does that mean he has to surround himself with fellow oldies?  The difference is, Arum is still near the top of his game, fighting Golden Boy Promotions all the way, literally to the death.  He is a remarkable man.  The two commentators are most defeinitely not anywhere near the top of any game.  Their performances are now plunging to embarrassing lows and they are fast becoming a parody of Statler and Waldorf, the two old muppets from the 70s.
On Saturday, they had no idea what was going on.  Merchant is taking longer and longer to …… finish ………. his ……. sentencezzzz.  Sheridan introduced Nicholas Walters by saying he must be good, as he had recently scored two big wins over Indonesians – clearly confusing him with main eventer Vetyeka.  Despite being ringside, neither had a clue what was happening with regards to Donaire's cut and whether or not it had been caused by a punch, a headbutt, or whether Nonito had done it shaving.  You are on the scene guys, if you cannot get the attention of the referee, get a member of the team to approach him and ask him what his decision is!  The biggest laugh though was reserved for old Larry's interview with Simpiwe after the main event.  It took him two questions and about two minutes to realise that Vetyeka was not replying to him in English.  It was hilarious but, at the same time, rather sad.
This is one of the reasons why boxing is perceived by some not directly involved in the sport as yesterday's news.  Old men talking about old fighters from the 50s, 60s and 70s.  What is this propensity that boxing people have of continuously dredging up the history of the sport?  There is so much going on in today's boxing world that I, for one, have little interest in talking about all our yesterdays.  Let us enjoy the sport as it is today, still great and still wonderfully exciting.  Get some new, young, blood into these important positions and let us call time on history.
Twitter: @RachelAylett1