Prince Naseem Hamed, Ray Mancini, and Riddick Bowe headline the 2015 International Boxing Hall of Fame Induction Class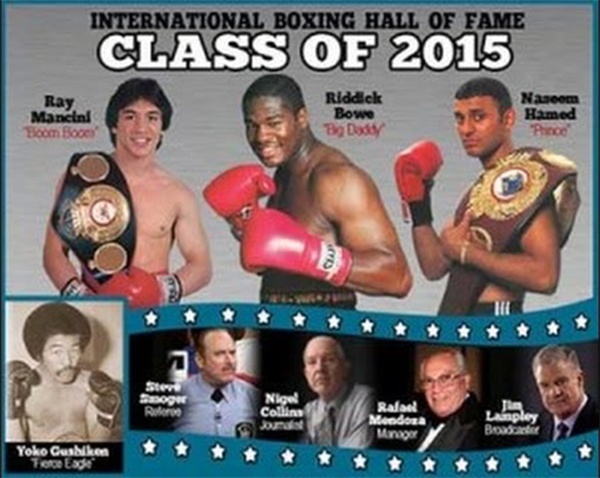 Prince Naseem Hamed, Ray Mancini, and Riddick Bowe headline the 2015 International Boxing Hall of Fame Induction Class
Riddick "Big Daddy" Bowe, Ray "Boom Boom" Mancini, and "Prince" Naseem Hamed lead the 2015 International Boxing Hall of Fame class, as results were announced earlier today. The induction ceremony will be held on June 14, 2015, in Canastota, New York
Other selections
Yuko Gushiken (23-1, 15 KO), a former dominant junior flyweight champion from 1976-81 … Masao Oba (35-2-1, 16 KO), former flyweight champion from 1970-73. Oba is a posthumous inductee. Like Salvador Sanchez, he died three weeks after his last fight in January 1973 in a car accident. … Ken Overlin (135-19-9, 23 KO), a former middleweight champion who fought from 1931-44. Overlin passed away in 1969 at age 58. … HBO commentator and journalist Jim Lampley … Former RING Magazine editor Nigel Collins …. Manager Rafael Mendoza…. and  elite Referee Steve Smoger .
Mancini (29-5), now 53, has worked as a commentator and analyst since he retired from the sport, and has remained a beloved figure in the boxing world. In 2013, an acclaimed documentary called The Good Son: The Life of Ray "Boom Boom" Mancini was released.
Though his career was marked  by bizarre  incidents, the 46 year-old Bowe (43-1) had a Tyson-like prime that was memorable.
Hamed (36-1), now 40, is a former featherweight champion who also had a great prime and became one of the most famous boxing figures of the 1990s. He was controversial, flashy, and provided excitement and incredible pageantry the likes of which few others have ever matched.
As an elector for inductees into the Hall, I can find few faults with this years selections, although each candidate could well be worthy of debate on both sides of the ledger. I do wonder, however, what happened to Eddie Booker.