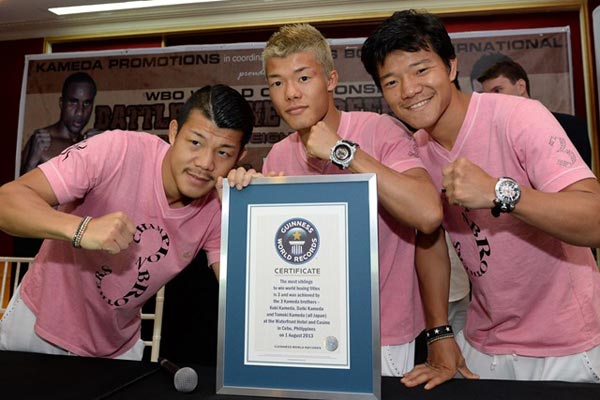 Argentina has had its surge and it's not over yet. Eastern Europe fighters continue to amaze as Golovkin, Kovalev, Klitschko, Lomachenko, Provodnikov, Gradovich and now Beterbiev make great fights in different global locales.
Japan has been no stranger to boxing. With a thriving boxing scene and savvy fandom, many of boxing's premier smaller fighters are Japanese, albeit largely below the featherweight threshold. And this holds true for the past as well. Warriors like Yoshio Shirai, Masahiko "Fighting" Harada, Yoko Gushiken, Masamori Tokuyama  Masao Ohba, Jiro Watanabe, Guts Ishimatsu, the Kobayashi brothers (Hiroshi and Royal), and Shinji Takehara quickly come to mind. In fact some have recently been inducted into the International Boxing Hall of Fame.
The new wave
Koki Kameda (33-1), Tomoki Kameda (31-0), Daiki Kameda (29-4)( and Takefumi Sakata (36-6-2) have been among the  more recent vintage, but the ones who have surged most recently include 21 year-old Naoya "Monster" Inoue (8-0) who has burst upon the scene by doing remarkable things in multiple weight divisions in 2014, and Kazuto Ioka (16-1) who is a former former unified Miniumweight champion holding the WBA and WBC titles and also a former WBA Light flyweight champion, therefore becoming a two-division World champion, Inoue's recent dismantling of Argentina's Omar Narvaez maybe a sign that the passing of the torch has begun in earnest.
Also noteworthy are super flyweight Ryo Matsumoto (13-0),  highly ranked bantamweight Shinsuke Yamanaka (22-0-2), junior lightweight Takashi Uchiyama (22-0), junior flyweight Akira Yaegashi (20-5-0), junior flyweight  Ryoichi Taguchi (21-2-1), strawweight Katsunari Takayama (28-7), and strawweight Ryuji Hara (18-1-0).
While it is relatively rare for Japanese fighters to toil outside of Japan, potential fights involving Roman Gonzalez and other non-Japanese may force the issue. The thought—hope– of a Gonzalez-Inoue face-off has the potential of affirming what every serious fan already knows to wit: the flyweight division is boxing's best division.
Stay tuned.