Boxcino champions return to the ring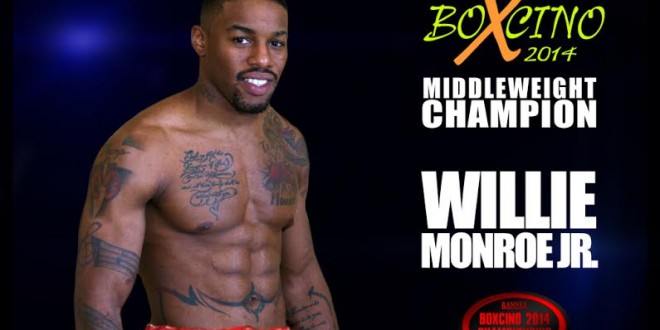 The second show of the new Friday Night Fights season on ESPN this week features the return of last year's Boxcino tournament winners, Willie Monroe Jr at middleweight and Russian Petr Petrov at lightweight.  On last week's show we were treated to a top class performance by Colombian Darleys Perez, who firmly established himself amongst the top lightweights in the world with his victory over Jonathan Maicelo.  This week sees an opportunity for the winners of the two main fights on the card to also stake their claim to be considered world class.  This Friday's show is promoted by Artie Pelullo's Banner Promotions and takes place at the Turning Stone Resort & Casino in New York state.
Both of the two successful tournament winners from last year have major tests in front of them, in fact it is not inconceivable that both could be defeated.  This really is a fine start to ESPN's series and let us hope that this standard is retained throughout the season.
The main event this Friday features Petr Petrov, 35-4-2 (17), who takes on perennial fringe contender Henry Lundy, who once again returns to the lightweight division after a defeat last time out up at light-welter.  Indeed, two of Lundy's four defeats have occurred when he has stepped up to light-welter as his lack of height, for one thing, counts against him at the heavier weight.  On this occasion it is Lundy who will have the slight height advantage, although this is negligible.
Home fighter Petrov came from virtually nowhere in the first half of 2014 to win the Boxcino tournament, with victories over Fedor Papazov, Chris Rudd and, in the final, Fernando Carcamo, last May.  Granted, this is not stellar opposition, but Petrov was clearly the cream of the competition and seemed to get better with each performance.  Even his reputation as a non-puncher was temporarily put aside as he managed stoppage victories in both the semi-final and final of the competition.  Petrov gave Carcamo a terrible beating in the final and it was a genuine relief for all watchers when the referee eventually rescued Carcamo in the eighth round.  The Russian boxed like a seasoned veteran in this fight, moving around Carcamo and hitting him at will from all angles.  He will need a similar performance on Friday if he is to prevail against the smooth boxing Lundy.
Despite Petrov appearing out of the blue on U.S. television, he was already quite well known in Europe, having turned professional there in 2000.  Indeed, he had his first 19 fights in his adopted home of Spain, before venturing to Germany to lose to then-prospect Vitaly Tajbert on points in October 2007.  He then returned to Spain to build up another winning run before travelling to Argentina to face his toughest opponent to date, world class Marcos Maidana.  This was a challenge for Maidana's WBA light-welterweight title but Petrov was firmly put in his place when he was stopped in the fourth round, suffering three knockdowns along the way.
Only once since has Petrov stepped up to similar class, when travelling abroad again, this time Montenegro, to be soundly outpointed by Dejan Zlaticanin, who later went on to defeat Ricky Burns on a trip to the U.K.  A pattern is clearly emerging here, one that indicates Petrov being defeated when he oversteps his bounds.  He is once again doing that this week, as Lundy is at least as good as Zlaticanin, and probably better.
Lundy, 25-4-1 (12), has fought at a very high level for the past five years.  As long ago as January 2010, "Hank" won a disputed split decision over current WBA champion Richar Abril.  Subsequent to that victory Lundy has had an up and down career, played out mostly on U.S. television screens, in which good victories over the likes of Patrick Lopez, David Diaz, Dannie Williams and Ajose Olusegun have been cancelled out by defeats against John Molina, Raymundo Beltran, Viktor Postol and Thomas Dulorme.  That is a high class list of opposition though and it is unlikely that Petrov will be able to show Lundy anything that he has not already seen and, quite often, dealt with.
On studying Lundy's defeats, it is clear that he has never been outclassed.  His stunning eleventh round knockout loss to bitter rival John Molina in July 2010 came after Hank had dominated the action, making the slow moving Molina look very pedestrian indeed as he showcased his outstanding boxing skills.  What this fight did indicate though was that Lundy is vulnerable against hard punchers.  This has been underlined on three separate occasions since, as Lundy has been floored by the aforementioned Diaz, Williams and in his last fight against Dulorme.  It is notable though that the defeat to Molina was the only inside-the-distance one suffered by Lundy, indicating his heart in getting up from the canvas to battle back after being downed.
With only one stoppage defeat staining each fighter's record then, and both of those to known punchers, it looks very likely that Friday's fight will go the distance.  It would certainly appear that Lundy is the more skilled boxer, despite Petrov showing great recent improvement.  At the time of writing, Lundy is listed as a best price 3/4 odds on favourite.  He seems to have the edge in almost every department in this fight and should be expected to take a clear points decision over the 10-round course, perhaps at 97-93.  With the paucity of top talent in the lightweight division (as discussed last week), a solid victory for Lundy should surely see him finally get a deserved shot at one of the major belt-holders at the weight.
The second major fight on the card features Willie Monroe Jr., 18-1 (6), in a cracking middleweight match-up against veteran Brian Vera.  As with Petrov in the lightweight tournament, southpaw Monroe was the pick of the fighters in the Boxcino middleweight competition.  In both his semi-final against Ukrainian Vitaliy Kopylenko and his final against Brandon Adams, he was considered a slight underdog.  However, he defeated both of these opponents handily, boxing superbly in the final to completely bamboozle the youngster Adams, who had, himself, so impressed earlier in the competition.  At one stage in the final match Monroe landed three right hooks in a row, making Adams look rather silly and putting the cap on an outstanding performance.
It must be pointed out that Monroe did suffer an earlier career defeat to veteran trial horse Darnell Boone, when being outpointed on a split decision in March 2011.  However, lest we forget, Boone also has a victory over Adonis Stevenson and scored an early career knockdown against Andre Ward.  Perhaps that one abomination on Monroe's card can be accepted more readily in light of those facts.  One thing which may concern Monroe fans though is that after the victory over Adams he stated that he would move down to his natural weight class of light-middleweight.  This has not proved to be the case and, in fact, he finds himself facing a very big middleweight indeed who often fights at super-middleweight.  Does this contest have the potential then to see Monroe overpowered by a bigger, stronger opponent?
Vera, 23-8 (14), is one fighter that you do not want to give any advantage to.  If he is allowed to get into a fight and gets on a roll he is very hard to deter.  Victories over the likes of Sergio Mora (twice), Serhiy Dzinziruk (albeit a faded version) and, of course, new WBO champion Andy Lee prove the point.  On the flip side, Vera has suffered bad losses to the likes of Craig McEwan and Isaac Rodrigues along the way, whilst also being blasted out by Jaidon Codrington in the second round when appearing in "The Contender" television series way back in 2007.  These defeats indicate the up and down form exhibited by Vera throughout his career.
Probably the best period for Vera to date came during the period April 2012 through to September 2013.  During that time Vera took part in five fights, winning four of them (including the aforementioned victories over Mora and Dzinziruk) and losing the fifth, a highly disputed decision loss to Mexican not-so-golden boy Julio Cesar Chavez Jr.  In fact, that decision was one of the most derided and talked about robberies of 2013.  I actually had Vera winning that fight 97-93 and it was sad to see such a superb effort by the gutsy Texan being washed down the drain.  Vera has appeared only once since, in the rematch with Chavez Jr. last March, in which he was soundly outclassed by the Mexican and well beaten on points.  On the evidence of the rematch it certainly appeared that JCC Jr. may have taken Vera lightly first time around.
Monroe will need to take a lesson from that episode.  One takes Brian Vera lightly at ones peril.  Surely this will not be a mistake that Monroe will make, being so close now to catapulting himself into the big time.  If Monroe performs at his best, the face-first Vera will be the perfect opponent against which to showcase his talents again.  The movement, speed and southpaw skills shown by Monroe in the Boxcino tournament should leave Vera flat-footed and moving the wrong way time and again.  It would not surprise me one bit if Vera pulled off yet another upset (he is a best priced 11/4), but the pick must be for Monroe to take a points decision over the 10-round distance, perhaps overcoming some adversity along the way.
The undercard features unbeaten Ukrainian Taras Shelestyuk, 9-0 (6), taking part in a record-padding exercise against Antonio Chaves Fernandez, 5-20-2 (0).  To say this is an undemanding "test" for Shelestyuk is making a huge understatement.  However, the welterweight from the outstanding Ukrainian Olympic team of 2012 perhaps needs a confidence booster after only managing a split decision victory last time out against another novice, Patrick Boozer.  Shelestyuk has probably been the least impressive member of that Olympic team that has turned professional to date, but he should certainly restore a bit of confidence with a comfortable win this Friday.
Further down the card we get to see the runner-up in last year's Boxcino middleweight tournament in Brandon Adams (mentioned above), in his first appearance since his defeat in the final.  Adams, 14-1 (9), also gets weak opposition in Lekan Byfield, 6-6-2 (1), but may have to go the full eight rounds to get the victory.
Twitter: @RachelAylett1