Frampton goes terrestrial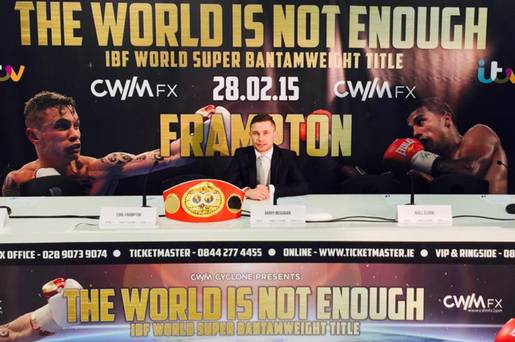 At last, after many years in the wilderness, boxing is making a comeback to one of the two mainstream television channels in the UK.  ITV is dipping its toes back into the boxing water by showcasing Belfast's Carl Frampton this Saturday night on its main channel.  Frampton is in action against American Chris Avalos and is defending his IBF super-bantamweight belt in the process.  Although Channel 5 has been showing boxing fairly regularly over the past couple of years, that channel is still considered subservient to the traditional main channels, BBC1 and ITV.  It is a crucial weekend then for our sport in Britain and who better to represent us than the brilliant Ulsterman Frampton.  The show takes place at the Odyssey Arena in Belfast and, as is always the case, the place will be jumping!
If Chris Avalos has his way, this will be a "one and done" return to the mainstream for us, as a win for the visitor will surely curtail further involvement from ITV.  He is certainly a live challenger for Frampton, who will have to be on his game in order to successfully defend his title.  Luckily for us, Frampton is always on his game.  With the ever popular Barry McGuigan running his camp and Barry's son Shane in his corner, what could possibly go wrong?  Hang on, this is boxing, let us not count those chickens too soon.
Because of all the above there is a lot of pressure on Carl "The Jackal" for this fight.  He has fought under pressure for virtually his whole professional career however, not least due to the hype that McGuigan has heaped around him and put on his shoulders.  From very early on Barry was telling everyone that Frampton was the best thing since sliced bread and was a future world-beater.  Carl has lived up to this hype though, and even excelled because of it.  He seems to be the type of character who is not easily phased.  Avalos will be coming in to try and be the first opponent to seriously bother Frampton, who to date has compiled a 19-0 (13) record.
Avalos, 25-2 (19), brings plenty of ambition to the table.  He is the mandatory challenger for Frampton's IBF belt.  At 25, this is his first championship fight and, to be honest, he is taking a huge step up in class against Frampton.  His opposition has not been the steepest, but at the same time he has not been protected.  In fact, Avalos first made his name on Showtime's ShoBox series, which espouses to pit young prospects against each other.  Avalos suffered his first defeat on this show, against smooth boxing Christopher Martin, in a fight of unbeatens at the time.  It was a split decision but Martin well won the fight, rather taking Avalos to school in the process.  It is ironic that Martin has subsequently amounted to little in the sport whilst here is Avalos, almost at the pinnacle of his division.
On paper, Avalos's best win came in May of last year when he stopped Japanese Yasutaka Ishimoto in an official IBF eliminator.  This bout took place in Macao, China, on the undercard of Nonito Donaire-Simpiwe Vetyeka.  It was a good experience for Avalos, fighting on a big televised show, although his fight was way down the card.  Avalos battered his Japanese rival to defeat in eight rounds, to earn his shot at Frampton.  Ishimoto had earned his high ranking with a victory over Puerto Rican Wilfredo Vazquez.  There is the feeling though that this win flattered the Japanese and, indeed, he has lost again subsequent to the Avalos fight.  Perhaps too much should not be read into this victory.
In reality, the best two fighters that Avalos has faced are Colombian Jhonatan Romero, in what was his record-setting sixth appearance on ShoBox and Filipino Drian Francisco, whom Avalos faced in July 2013 on ESPN's Friday Night Fights series.  The fight with Romero, in December 2011, was a thrilling slugfest.  Romero was the slippery eel that night, pot-shotting the rampaging Avalos, and the tide swung first one way and then the other before Romero took what I thought was a deserved split decision.  Both fighters gave and took punch after punch but, as Avalos has shown before and since, his chin is very sturdy.  Indeed, to my knowledge Avalos has never been floored in his pro career to date.  The only knockdown was scored by Avalos in the opening round but it was not enough to swing the decision his way.
Against Francisco, Chris was facing a fighter who is really a bantamweight but, for whatever reason, stepped up to super-bantamweight to face Avalos.  This was a cracking fight and I made notes at the time of watching that the only difference between the fighters was the size advantage for Avalos.  As usual, Avalos was the aggressor whilst the neat boxing Francisco stood on the back foot, picking off Avalos as he came in.  The strength of Avalos eventually told and in the decisive last round Francisco looked exhausted.  As a result, Avalos had his best round of the fight to take it 96-94 on my card.  Francisco laid the blueprint in this fight for how to beat Chris.  How much better than Francisco is Frampton?  A daunting thought for Avalos and his team.
Frampton is on course to equal, if not surpass, the popularity of his mentor McGuigan.  The exposure he will receive in the UK on Saturday will be immense and, assuming all goes to plan and he gets the win, the general public will surely start to fall in love with the little Ulsterman when he gives his post-fight interview.  He exudes charm and humility and is a fantastic advertisement for the sport.  It has to be said that his challenger's style is tailor-made for him to look good and to display all of his skills against.  With the warrior mentality of Avalos, this cannot fail to be an all action encounter for any lapsed boxing fans and, hopefully, curious newcomers to get their teeth into.
Looking at Frampton's ledger so far, nary a hiccup has been had to this point.  He has almost effortlessly seen off all but one of his rivals.  On closer inspection though, Frampton's opposition has not been any tougher than that of Avalos.  On paper, Mexican Raul Hirales was his toughest opponent when he came to Nottingham to face Carl in May 2012, being unbeaten in 17 fights at the time.  As with a lot of Mexican imports though, his ability did not match his record.  He was very tough, being one of the few to go the distance with Frampton, but he had very little else to offer, losing every round.  Next up was former belt-holder Steve Molitor in September 2012.  Once again, on paper this seemed like a good challenge at that point of Carl's career.  Those in the know however were aware that Molitor was finished at top level and his performance on the night confirmed that suspicion.  He abjectly surrendered and was stopped in the sixth.
Of course, the one opponent of Frampton's that does stand out is Spanish tough guy Kiko Martinez.  The sawn off European has visited Belfast twice, losing to Carl on both occasions, once for his continental belt and, latterly, for the IBF belt that Frampton defends on Saturday.  On both occasions though Martinez was able to give Frampton his toughest tests to date, with his swarming attacks bringing the best out in Frampton, who had to be at his very best to ward off Martinez.  Having said that, although he had to go the full 12 rounds in their second fight, last September, Frampton boxed smartly and won more easily than he had first time around.  He seemed to be boxing to orders in this fight and it was only in the last two rounds that he really stepped it up.  Had he been unleashed earlier perhaps he may have again stopped the Spaniard.
Frampton is the consensus number two at his weight, behind the imperious Cuban Guillermo Rigondeaux.  Rigondeaux is avoided like the plague by all the contenders in the division.  However, at the age of 34 and with a lengthy amateur career behind him, he may start to deteriorate in the not too distant future.  It is quite easy to envisage a time not too far ahead when Frampton will be ready to make the challenge that all the other super-bantams are too feared to.  McGuigan is shrewd enough to spot when that time comes but, in the meantime, there is still the all-British showdown with domestic rival Scott Quigg, which for the good of the sport has to happen.
I cannot see any way that Avalos will scupper these plans.  In my view he is the poor man's Kiko Martinez and will not bring anything to the table that Frampton has not seen, and dealt with, before.  Avalos will bring the heat from minute one – he knows no other way of fighting.  Frampton will employ the same tactics he used in the second Martinez fight, looking to box on the back foot and banging Avalos with his educated counters all night long.  It would be great for the viewers if Frampton were able to force an inside the distance victory.  However, Avalos is very game and tough and will take his lumps well.  For that reason I see the fight going the full 12 rounds with Frampton winning a very wide points decision.
The undercard, which will feature on subsidiary channel ITV4, features some of Barry McGuigan's (Cyclone Promotions) young prospects, along with a veteran former Commonwealth champion in Denton Vassell and a hot-shot heavyweight hope Dillian Whyte.  Vassell, 21-2 (11), is named as chief support to Frampton, as he faces Ukrainian Viktor Plotnykov, 31-2 (15), for an IBF inter-title over 12 rounds.  This looks to be a very good and sensible match for Denton, as he makes a final attempt to justify the hype that surrounded him when he first turned professional over eight years ago.
Denton was English ABA champion way back in 2006 and looked to have the perfect style for the pro game.  He was for a long time considered a future star during his apprenticeship.  However, something went wrong and his progress always seemed to be stalling.  He did win the Commonwealth title against Lee Purdy and defended it in a difficult match against Namibian Bethuel Ushona in March 2011.  By that time there was already a feeling that he was not making the inroads up the rankings that had been expected of him.  Such was the disappointment surrounding him that when he was matched with streaking young Ronnie Heffron in November 2012, in defence of his Commonwealth title, more insiders than not were picking Heffron to upset him.
At last though Vassell showed the best form of his career, stopping the young buck in the sixth round in a scintillating performance.  After having a look at Heffron in the opening two rounds, Vassell went to work in the third and systematically took his man apart.  It looked like Vassell's coming out party.  The long mooted match with British rival Frankie Gavin was now highly anticipated.  That fight took place seven months later and, unfortunately, it was the lackadaisical Vassell that we had previously seen too often who showed up again.  Gavin looked levels above the Mancunian, with Vassell winning only one of the completed seven rounds before being pulled out by the doctor at the end of that round with a suspected broken jaw.
Of course, there is no disgrace in losing to such a classy operator as Gavin, but in Vassell's return fight last September he was beaten again, this time by fast rising newcomer Sam Eggington.  This was a war in which Vassell had his ears boxed off in the first four rounds before hurting Eggington in the fifth and sixth and looking close to a stunning turn around victory.  The youngster survived Vassell's mid-rounds onslaught though and ended up stopping him in the eighth round.  Although Eggington is a good prospect, there is no way Vassell would be expecting to lose this type of fight inside the distance.  It does not bode well for any further progress for him.
Regardless, he is having another go and Saturday's opponent from Ukraine is good, but beatable.  The 37 year old visitor brings decent experience to Belfast, having fought for the European title in May 2008.  He fought creditably in that challenge, losing a fairly close decision against local Jackson Osei Bonsu in Belgium.  To be honest though he has not fought at that level since, taking part in mostly eight-rounders at home.  He might be starting to fray now too, as he lost to unheralded Igor Faniyan on points in December 2012.  To put that into perspective, Faniyan has gone 1-5 in his subsequent fights.  This is a fight Vassell must and will win.  Plotnykov has never been stopped so look for Vassell to win fairly comfortably on points.
Dillian Whyte, 13-0 (10), is a heavyweight prospect.  That these are so few and far between in today's game puts him in the must-watch category.  He is a big banger but, as we know, his notoriety stems from holding an amateur victory over streaking Anthony Joshua.  Despite having more professional fights than his old rival, Whyte is some way behind him in terms of progress in the pro game.  This is mainly due to a two-year ban that was imposed on him for taking an illegal substance, which he claimed was an ingredient of an over the counter product that he took prior to a fight in 2012.  At age 26, the ban will hopefully not have affected his career too much and, indeed, he has wasted no time since his return in November with four early victories added to his previous card.  He faces a Georgian on Saturday night, which should result in a fifth early stoppage in five comeback fights.  Exciting.
Finally, two of Cylone Promotions' hot prospects also get outings and, hopefully, some television exposure.  Both featherweight Marco McCullough, 11-1 (7), and middleweight Conrad Cummings, 5-0 (2), get run outs and both are very definitely future British title prospects.  McCullough is already knocking on the door and, after Lee Selby and Josh Warrington, who are both primed for bigger things, is probably the best of the rest in Britain at his weight.  Both young Northern Irishmen should get comfortable victories on this showcase card.
Just one sour note to end this piece.  In ITV's advertisement for the fight, which was shown during the Champions League football match this week, the ITV logo was coloured in the green, white and orange tricolour of the Irish flag.  Of course, Frampton is British.  I found this to be highly insensitive and ignorant and an almost unforgivable error.
Twitter: @RachelAylett1