Will Klitschko's worst nightmare come true against Fury?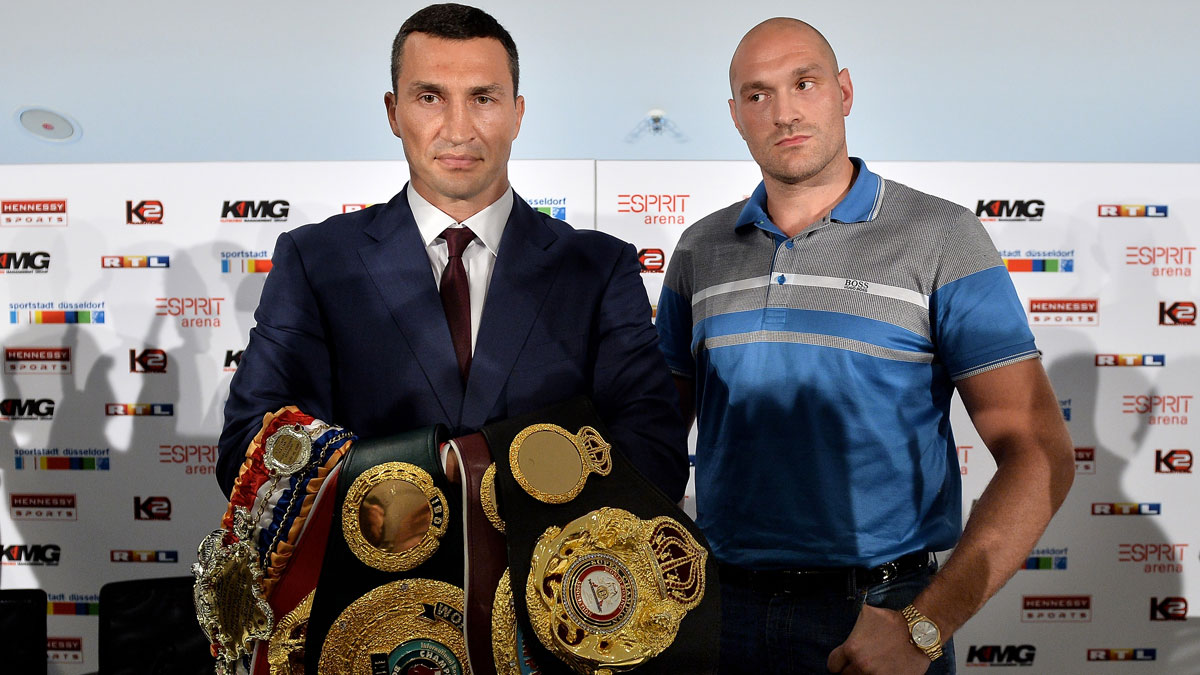 Tyson Fury and Wladimir Klitschko face off on October 24th in Dusseldorf, Germany for the undisputed heavyweight crown. And even though many are expecting the fight to be a formality win for the big Ukrainian, there are a few points of concern that Klitschko will need to be aware of.
It is not often that the champion has faced an opponent that has a height advantage. Fury is 6'9 compared to Wladimir, who is 6'6, and so he does not have much experience fighting taller boxers. If people cast their minds back to 2012 when Mariusz Wach became the then latest mandatory challenger Klitschko wanted to make a statement by being more aggressive but Wach gave him all he could handle, even rocking him in the sixth. It is still new territory for Klitschko to fight somebody who is as tall as Fury.
The second matter of importance is that Tyson has a four inch reach advantage. Of course, he will need to use that effectively. But if we examine his past two or three fights then you may notice that his style has matured. In the rematch with Dereck Chisora, Fury opted to use the jab effectively and use power punches sparingly. He looked like a totally different fighter than when he faced Steve Cunningham. Chisora had no answer and finally quit at the end of the tenth. Fury also turned it on against Kevin Johnson, who was seen as a major threat at the time and chose to box rather than slug it out. Using the Cunningham fight as a measuring stick, it is impossible to see how Tyson can overcome Klitschko. But perhaps he was too sure of himself. It may be that in his mind he was facing a cruiserweight and could blast him out with ease. If that was what was going through his mind then he made a, what should have been a relatively easy win to secure, a hard one.
As a fighter approaches his late 30's, age always becomes a concern. Wladimir has not been hit concussively for over ten years, thanks to the tutelage of the late renowned trainer Emmanuel Steward. But as age becomes more imperative the older we get, attributes like stamina shorten. And we know that Klitschko takes his time to dismantle challengers. Might he need to speed up his work in October? It's not likely, but that day will come when there will be a noticeable change. A shortage of something.
One thing that is peculiar about Tyson Fury is that he has always been able to turn things around when he is genuinely harmed. That moment will come when Wladimir is able to catch him with something, but he will still need to be cautious when Fury decides to go for broke, as his past opponents have seen. There is no deficit of heart in the British boxer, even if one likes to claim that he has next to, or no skill at all. Fans will recall that when Tyson was put down heavily by Cunningham he rose and kept walking forward, always stalking his man. It's doubtful that will change should he be put down again unless Klitschko's right hand lands on the button.
In the end, it is hard to imagine a scenario where Tyson Fury will win in whichever manner. If both decide to box, and Wladimir definitely will, then it may be play out like an intense game of chess. And the more experienced Klitschko will surely have more tricks up his sleeve should the fight play out that way. When the adrenaline kicks in, maybe Fury will choose to go for broke and try to have a slugfest with Wladimir much in the same way he did with Cunningham. Again, opponents have tried that in the past and have mostly been caught by huge right hands, resulting in them staring up at the ring lights and the counting fingers of the familiar man wearing the white shirt and bow tie.
It is the prediction here that Tyson Fury will find himself doing just that after putting on an unrivalled performance. And fights with Anthony Joshua, and maybe with somebody like Dillian Whyte, will beckon.