The Bowe/Holyfield Trilogy: Will We See One Like It Again?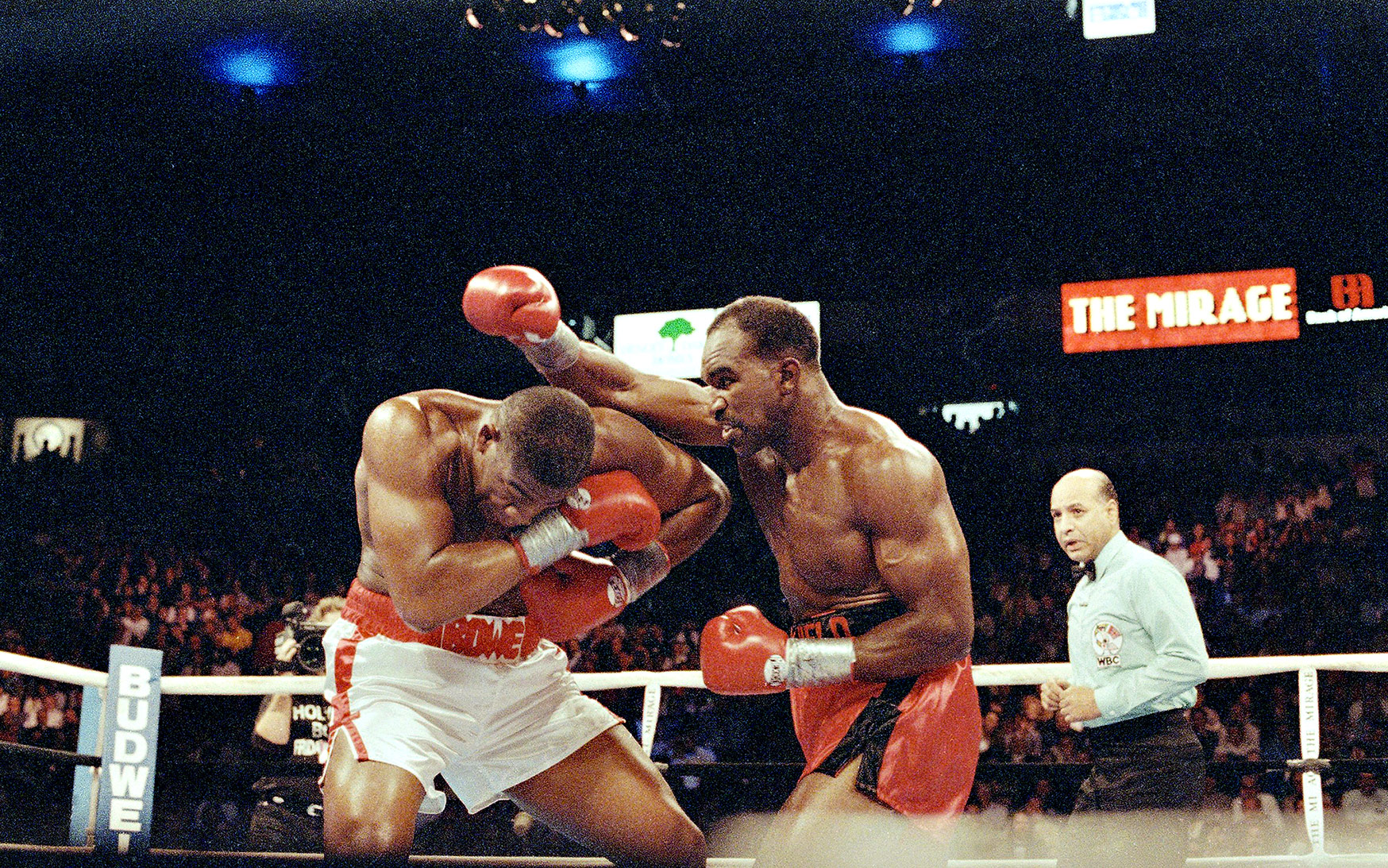 The list of trilogies in heavyweight boxing is a short one. It is also a very special one. Muhammad Ali vs Joe Frazier is the first one that instantly comes to mind followed up with Ali vs Ken Norton. Ezzard Charles and Jersey Joe Walcott split four fights whilst there was also Floyd Patterson's series with Ingemar Johansson. But the one that holds its place in the hearts of modern fans is the tremendous rivalry between Riddick "Big Daddy" Bowe and four time heavyweight champion Evander "Real Deal" Holyfield. Between 1992 and 1995, their names became linked forever and part of boxing folklore.
The early 90's produced a deep and talented pool of heavyweights, second only to the golden generation of the 1970's. Mike Tyson's upset loss to Buster Douglas and his subsequent incarceration, opened the division up for a new lease of contenders. With Holyfield on the throne, the contenders consisted of Olympian's Bowe, Lennox Lewis and Ray Mercer, power punchers Razor Ruddock, Michael Moorer and Tommy Morrison, veterans George Foreman and Larry Holmes, and fringe contenders Bruce Seldon and Bert Cooper. Holyfield had defended his titles three times but was struggling to convince the sceptics that he was a legitimate heavyweight and not just a blown up cruiser. Points wins over Foreman and Holmes sandwiched an unconvincing seventh round stoppage of Cooper, who was not only a second choice substitute for an injured Tyson, but also gave Holyfield his first professional count when he caught him with a stinging right hand with only the ropes kept Holyfield upright. That Holyfield through everything but the kitchen sink at Cooper but couldn't knock him down with head shots had the experts doubting Holyfield's power and left many with the opinion that Tyson would destroy him. He needed redemption in a way that he could silence his critics. Enter Mr. Bowe.
Bowe had put himself in place as the best young heavyweight out there. He had disappointed at the '88 Olympics where he was stopped in two rounds by Lennox Lewis. He turned pro with the consensus opinion that he wasn't serious or dedicated enough. But his manager Rock Newman had a huge ace up his sleeve: He convinced the professor of trainers, Eddie Futch, to train him. And it certainly paid off. He rose through the ranks in impressive fashion. Working his way through a string of journeymen and fringe contenders, he put himself in pole position with knockouts of Tyrell Biggs, a second round win over the aforementioned Cooper, a highly impressive first round demolition of Seldon and a seventh round victory over Pierre Coetzer in an eliminator for the WBA title. He had developed in to a top, all rounder and was about to present Holyfield with the biggest challenge of his career. A four man tournament was set up. First up would be Lennox Lewis vs Razor Ruddock in a final eliminator for the WBC title. The winner of that would meet the winner of Holyfield vs Bowe for the undisputed championship. Lewis impressively destroyed Ruddock in two rounds, flooring the man who pushed Tyson hard, on two occasions, three times. Now the world waited to see who the man from Great Britain would get his chance against.
Bowe/Holyfield I
The night of 13th November 1992 will stay forever in the memory when discussing the great heavyweight title fights. It was the night a boy became a man. And the beginning of a man becoming a boxing legend.
Bowe entered the arena wearing white with red trim. Weighing 235 Ibs, he was in his best condition ever. Holyfield, with his championship belts held aloft by his team, entered wearing red with black trim. At just 205 lbs he, as always, was in pristine shape. The size difference between them as they received their instructions was highly noticeable. But, as Holyfield said himself beforehand, bigger isn't better, better is better. On this night though, would his best be enough to ward of the challenge of this young contender?
Holyfield opened with the strategy laid out by George Benton and Lou Duva. He worked behind his jab, using his speed to get in and out, not letting Bowe get set to let go of his shots. For the first round this worked like a treat. But in the second the warrior in Holyfield shot to the surface. Stung by a big right, he instinctively dug his toes in to the canvas and started to fire back. Bowe's strength and power advantages were obvious but, wounded by his critics words, Holyfield wanted to show he could beat Bowe in every way. It was the wrong decision. Round after round he was drawn in to Bowe's fight, staying in the pocket too long, retaliating after Bowe worked him over. Bowe pounded away on Holyfield's lithe physique, digging right hooks around his ribs and long rights to the head, looking to wear down the defending champion. The toe to toe action was fought at a furious pace, but Bowe's thirty pound weight advantage was being allowed to become an issue, especially as it went in to the second half with Bowe having a very strong seventh, visibly hurting Holyfield for the first time. Then in round ten, what was already an exceptional fight, joined the list of the greatest fights in history. Once again both combatants met in ring centre. Holyfield was swelling around both eyes and Bowe had already dismissed any claims about his heart and desire. With around thirty seconds gone, Bowe connected with a vicious right uppercut. Holyfield sagged and his legs buckled, uncontrollably taking him sideways. Seeing his moment, Bowe pounced, slamming Holyfield in to a corner with a powerful straight right. Punch after punch landed as Bowe threw everything he had at his wounded opponent, looking for that final definitive blow that would hand him the heavyweight championship of the world. Holyfield took a pounding but would not fall. Amazingly, as Bowe tired, Holyfield's head started to clear. Landing jarring uppercuts, stinging left hooks and follow up right hands, he started driving Bowe back. It was an incredible comeback. When the bell sounded, the crowd roared with approval at three of the greatest minutes ever seen in a boxing ring. However, that round had taken an awful lot out of both men, more so Holyfield. Early in the eleventh, an exchange of left hooks saw Holyfield come off worse. He wobbled back to the ropes where a combination, topped off with a right behind the ear, sent him sinking to his knee's. Arising from only the second knockdown of his career, it looked only a matter of time before his title was ripped away from him. But Bowe was just as tired and couldn't muster the punches needed to finish his wounded foe. Holyfield survived the round and the twelfth was similar, with both too exhausted to really stamp their mark. At the end, Bowe was awarded a wide unanimous decision to achieve his pinnacle. The world had a new heavyweight champion. In defeat, Holyfield had gained enormous respect from his peers. It was a win win night for boxing.
In the aftermath of the fight, Bowe chose to relinquish his WBC title rather than face Lewis, the title subsequently being awarded to Lewis on the strength of his eliminator win over Ruddock. Bowe's reasoning was that he wanted to choose his opponents and not be dictated to whom he should fight. This choice became apparent when he lined up former WBA holder, Michael Dokes, as his first defence. This did not go down well with the establishment and fans alike. Dokes was heroically stopped in ten rounds back in 1989 against Holyfield in a fantastic contest, where he had been ranked as high as number three in the world beforehand. But he was then brutally knocked out in four by Ruddock, and ballooned in weight, fighting sporadically up to this unexpected shot. Bowe, predictably, stopped him in the first. Keeping his standards low, Bowe then defended against fringe contender Jesse Ferguson. Ferguson had upset Bowe's original choice, former WBO champion Ray Mercer, when Mercer showed up in less than decent shape, allowing Ferguson to outwork him and take a ten round decision. Bowe duly stopped Ferguson in two. By this time, Bowe was getting heavier and his training habits were becoming more lax. The lifestyle of a champion was certainly being embraced.
Holyfield initially retired after the fight, but it didn't take him long to announce a return, with his goal being to regain his titles. He parted company with his long term trainers, Benton and Duva, and hooked up with Kronk guru, Emanuel Steward. Much criticism had been levelled at his lack of true heavyweight power. Steward was the professor of breaking down the miniscule mechanics of developing a stronger punch. Adjusting Holyfield's stance, moving the back foot to a more 45° angle for better leverage, plus fine tuning his technique, would result in him punching his weight more. A weight that was also increased, with the aid of Holyfield's strength coach Tim Hallmark, turning Holyfield in to more of a bigger, stronger fighter without losing speed. Alex Stewart, a former opponent who had given Holyfield a tough fight before being stopped in eight back in '89, was chosen for his comback fight. The idea was to get Holyfield to stick to a game plan and not get drawn in to a slugging match, a strategy he would need if he was to have any chance of turning the tables on Bowe. He passed with flying colours, outpointing Stewart unanimously, but it lead to a fairly dull contest, giving the critics more ammo to dismiss his chances in a rematch. Nevertheless, almost a year to the day, 6th November 1993, the rematch was set.
Holyfield/Bowe II
"Repeat or Revenge", was the tag attached to the promotion. However, after both fighters weighed in, it could easily have been "Train or Not trained". Holyfield weighed in at a superbly conditioned 217 Ibs and looked strong and a lot more like a natural heavyweight. Bowe, on the other hand, weighed in at a svelte looking 246 Ibs, and had the look of a man that either dismissed his opponents chances or really was finding the motivation to train hard, having reached the mountain peak and the fortune that came with it.
Holyfield entered as challenger, dressed in yellow with black trim. Bowe entered in white, trunks pulled up high to conceal his girth. Holyfield looked calm and very relaxed during the introductions, wearing a confident smirk, like he knew this was going to be his night.
Bowe came out fast. Buoyed by two quick wins, he launched right handers at Holyfield, looking to take him out early. But Holyfield weathered the storm and, more importantly, refused to get caught up, sticking to Steward's gameplan of boxing early and letting Bowe punch himself out. Bowe swept the first three rounds, working behind his jab, but Holyfield started to close the distance in round four, timing Bowe's jab with counter rights and following up with left hooks. There was an exchange of blows at the end of the round and both had to be pulled back to their respective corners. The fifth was a big round for Holyfield. Dominating early as Bowe's output dropped, he teed off with jabs and combinations, avoiding Bowe's counters. With thirty seconds to go, he displayed his new found heavyweight power, rocking Bowe with a big right before driving him to the ropes with several flurries. He continued this pattern in the sixth, outworking Bowe as chants of "Holyfield" started to gather from the crowd. As they came out for the seventh, Bowe came out strongly, looking to take back control of the contest. Then, in one of the most bizarre incidents in boxing history, the fight was abruptly halted as a paraglider hurtled towards the ring before hitting the ropes and falling in to the crowd, where they showed their welcome with more than a few heavy blows of their own. It was a twenty minute wait while the parachute's cables were cut from the lighting rigging. Only in boxing!! Once the fight resumed, Holyfield seemed more refreshed after the break as he once again took control of the round. The next five rounds were close and gruelling. Fighting mostly up close, the pair exchanged heavy blows, taking turns to stun the other. It was fight of the year stuff and a tremendous performance by both. It went to the scorecard's. A majority decision was announced, along with the winner, and once again heavyweight champion of the world, Evander Holyfield. The crowd called for a rubber match whilst WBC title holder Lennox Lewis called for a unification. Good times all round. Or so we thought.
Holyfield's second reign was brief as he lost the title in his first defence against former WBO heavy and light-heavyweight champion Michael Moorer. Even though he managed to floor Moorer with a left hook in round two, he looked flat and listless throughout. With a bit more urgency and authority, Moorer could well have stopped him but instead took Holyfield's two belts by majority decision. Holyfield was diagnosed with a largened heart afterwards, a condition that likened him fighting in a state of "cardiac arrest". He promptly retired. But after being "cured" by a faith healer, he announced he was returning. He passed all the necessary tests and he was back in the ring a year after he retired against former WBO holder Ray Mercer. It was a tough opponent but Holyfield wanted to know what he had left. It was a gruelling ten rounds but Holyfield prevailed on the scorecard's, even flooring the iron chinned Mercer for the first time in his career with an eighth round left hook. He was back and chasing titles again.
Bowe's path back was interesting to say the least. First up was unbeaten Buster Mathis Jr. Their fight ended up a no contest after Mathis went down to one knee and Bowe caught him knocking him out. The fact Mathis went down without being hit caused the controversy. Next up was another unbeaten fighter, Larry Donald. The press conference got so heated that Bowe thumped Donald twice. In the ring though, Donald showed a lot less willingness and Bowe cruised to a one sided decision. With the other title holder's busy, Bowe turned his attention to Britain's WBO champion, Herbie Hide. As it turns out Herbie should have "hid" as he was bounced off the canvas seven times, losing his title in six rounds. Bowe had now become the first heavyweight to hold all titles from boxing's big four organisations. A defence against one time amateur rival, Jorge Luis Gonzalez, was made and he took apart the big cuban for a win in six. Talk turned to the inevitable rubber match between the two. But Holyfield didn't want to fight for the WBO title, the title not carrying the level of recognition it does now. Bowe agreed to not put the title on the line, the decider being a non-title twelve rounder.
Bowe/Holyfield III
On the night of 4th November 1995 and in a fight billed as "The Final Chapter", Holyfield entered first, weighing 213 Ibs and wearing gold with black trim. Bowe followed in his customary white with red trim, weighing 240 Ibs. It was his lowest weight since their first fight. Holyfield made the better start. Working behind his jab, he doubled it up followed by the right hand. He took the first and the early part of the second. Then Bowe started to edge closer, connecting with his right hand over the top. Round three set a different pattern. Holyfield, for what ever reason, stopped moving and stayed in front of Bowe. Bowe, being a tremendous inside fighter for such a big man, took pure advantage of this, pounding Holyfield's ribs before drilling right uppercuts to the head. Round's four and five were Bowe's as he took firm control as Holyfield offered little in return. There was a huge shock at the start of the sixth though as Holyfield exploded a left hook on to the jaw of Bowe. Bowe toppled back, like a tree falling in slow motion, before ending up flat on his back. He arose from the first knockdown of his career, but his eyes were glassy and he was struggling to get his legs underneath him. He was "gone". He backed in to a corner, waiting for the following onslaught of punches. But Holyfield did little. It was as if he could see the opening but couldn't pull the trigger. It appeared to all that he had gotten old right before their eyes. Bowe survived the round and took over again in the seventh. It was a hard battle, but it was plain to see that neither was the fighter they once were. Holyfield went at Bowe at the start of the eighth, looking to end matters. But, in an exchange with the bigger man, he walked on to a big right hand that left him flat on his face. As the referee counted over him, he bravely rose, but the strength had been drained from his legs. Two more right hands sent him in to the ropes and on to his knee. It was waved over. The "Final Chapter" had indeed come to a conclusive ending. It appeared the same had happened to the career of Holyfield too, while for Bowe it looked like he would make another run at regaining his former titles. But, as we know, things for both worked out very differently.
It's been twenty years since their trilogy came to an end and during that time no heavyweights have come close to achieving those glorious nights these two men gave the boxing world. With the division slowly changing, then maybe something similar could happen. Let's hope so, because they really were the best of times.
Read more of Deans work on his Site: Blue Corner Boxing