A Time to Flush: Floyd Mayweather vs Andre Berto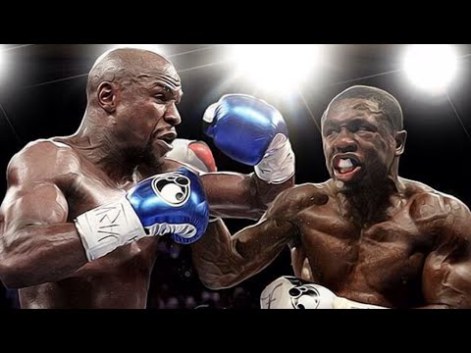 This scorching, boring, simmering summer has spawned yet another canned Floyd Mayweather Jr "event," this time with Andre Berto in perfect metronomic sequence as befits the stupendous Mayweather Showtime contract. As always, to be "contested" within the climate controlled confines of MGM Floyd in Las Vegas on a Mexican Independence Day weekend, September 12th this year. To be officiated by the usual well stuffed cabbages who will manfully tuck in Mayweather's bib and cut up his steak into teensy bits before bowing and scraping to all his majesty as they spoon feed him the most ethereal, nothingness points wins in history.
Toddlers in a game of tiddly winks generate more explosive action than a Mayweather fight. If he were a baseball team, every game would be in his home park and in every scoreless innings he would be automatically awarded a run, 2 if need be. If a football team, he's always playing at home and in every scoreless possession he'd be automatically awarded a touchdown. In a tennis match on his personal court, every time a deuce score came up he would be awarded the game. Everytime absolutely nothing happens in the ring as in the first round against Manny Pacquiao @ MGM Floyd, his cheerleaders burst out of their shorts with, "Mayweather wins the first round EASY," as one silly putty scribe tried to convince us in his report. That's why we have to see the "events" to better place in context where all this phoney Haymon/Golden Boy News of the Ring World baloney comes from. I'll guarantee that if boxing ever goes to scoring even rounds 10-10, or better yet, 0-0, the unceasing scoring outrages Boxing self-creates every fight week would be reduced by a factor of 10. The unwashed public could better see who really wanted to fight and who really wanted to run and duck and cry, but then Boxing would lose that extra control of the fight results and subsequent rewards. We likely won't see that happen as they continue to dumb down the fight game near to zero relevance with the public because they can still make their silly money as they have done with Pacquiao and Mayweather and now projected to do with Canelo.
Three judges are supposed to have scored the last "event" for Mayweather in the red corner when he was really in the blue corner. Manny was in the red corner, so Manny in the red corner wins the fight, right? So the question arises who ever really wins in Vegas when these commish anointed clowns can't even fill out their cards correctly not to mention historically adding up their scores "wrong" requiring "recalculations" after the fact along with other gross errors that would shame an 4th grader? Conveniently, they have no shame. Circuses are run better than boxing because when they make mistakes, people get chewed up by lions and tigers or quashed by elephants. Las Vegas gets away with it because they're part of the untouchable gaming industry that always ensures the odds favor them before the rubes ever set foot in their casinos. My previous musings regarding the irredeemable ills of modern scoring here:
https://roberto00.wordpress.com/2010/09/20/boxing-101-how-to-score-ugly-or-mora-vs-mosley-the-no-win-non-fight-of-the-year/
https://roberto00.wordpress.com/2013/10/02/boxing-101how-to-score-ugly-part-iialvarez-vs-mayweather/
Sure, Mayweather knows to dole out just enough warm, squishy mush for the punch monkeys to swoon over much like he tosses out $100 dollar bills at his strippers. Once in a blue moon he might even score a showy direct hit, but it's mostly running around with his back turned, twisting and ducking down below his waist before arm locking or choking fighters while lacing their faces in between displaying his patented Hopkins upperbutt, and so much more if we include his patented hitting on the break and the rest of his monkeyshines. It's been an interesting odyssey watching him morph into a quitting, bawling, superannuated Bernard Hopkins in his later years. I can't ever think of a pair of lessor "American greats" but it is what it is, a new American era of posing and crotch grabbing that produces non-fighters posing like Tarzan, yet not even able to put up a fight so much as Jane.
How did American boxing ever come to stink so much as this after so much glory with Sugar Ray Robinson, Jack Dempsey, Joe Louis, Marvin Hagler, and so many other great fighting champions? You could write an biographic encyclopedia of a hundred and twenty years of the most wondrous American fighters known to mankind.
In hindsight however, it does seem apt that Mayweather's biggest events befit our new millennium that has now seen the US Supremes overturn in one fell swoop tens of thousands of years of world history to rewrite the marriage contract between men and women to also include same sex and presumably other alternative sex marriages. Such turns out to be the perfect national backdrop as Al Haymon and Floyd Mayweather in cahoots with the Nevada commish have gone even further by redefining boxing rules of scoring without even needing to rewrite the existing rules…BRILLIANT!
When Mayweather enters the ring, he has no need for any definitive offensive effort which is why so many fighters want to be his next dancing partner, it's the easiest work they'll ever have and quite lucrative as we know. His new game of winning is by not playing, leveraging his defense of refusing to fight that has replaced the 100+ year history of the sweet science to usher in a new type of American stink science. He claims victory by making everyone look as stink as him, except his stink don't stink according to Vegas officials who always hose down his cards in rosewater. His fans claim preeminence by use of punch monkey numbers as they endlessly troll out the ol' platitude of "hit and don't be hit," except with Mayweather it's more like a toddler's game of tag with him posing a single punch one at a time that almost never makes an impression on the pillows he wears as gloves because he's at full extension at the furthest distance he can safely maintain, the most minimal if any contact possible before he takes off on a duck and run. It's no wonder that little UFC girl Ronda Rousey challenged him, he can't dent a gummy bear to save his life. He's afraid of gummy bear being too close and might hit him. Unless of course Mayweather decides to foul by grabbing, choking, and lacing until the ref can break them up and warn Mr. Gummy Bear that he's in danger of being disqualified.
Andre Berto, ahem, was ranked 22nd by Boxrec less than 6 weeks out from the fight, the 13th rated American if we want to really be technical. No need to beat up on him as the latest Mayweather TBA chosen on short notice since he's already being terribly savaged as worse than unworthy by antisocial media misanthropes. Of course this always happens in every Mayweather event. According to Mayweather's diehard subjects, none of Mayweather's opponents are ever worthy to fight him until he records a win over them, and then poof, they suddenly become some of the best ever fighters that he's beat, "beat" of course being the nonoperative word here. Look up featherduster in the dictionary and see his gloved hands pictured. He missed his calling as a housemaid me thinks what with his speed afoot combined with his featherdusters, but housemaids don't make his kind of money, so can anyone blame him for making free money that they throw him for showing up to pose, foul, duck, and run?
Where else can Mayweather opponents make that kind of easy noncombatant money in such luxurious air conditioned facilities with all those glittery ladies of the night hanging out at the ready for post fight fun?
One trend about Mayweather continues that is inescapable, some of his judges and many of his fans have started to turn against him for poor performances. We've seen this before when he emotionally melted down over the pressure of his fans constantly haranguing him as to why he wouldn't fight Manny. Predictably, his Mayweather genes took his frustration out against defenseless women that resulted in his 2012 incarceration. In 2014 he had consecutive Majority Decisions against Canelo and Marcos Maidana where he was marked down with a draw scores after some judges officially failed to see his ring genius that his minions insist upon. In particular he clowned away the last round against Canelo that turned out to be relatively close on the cards. He lost that final round on all the cards that his loyal subjects subsequently cried about, but the canned nature of his fights has so stroked out his ego that he now tends to act out in nonprofessional ways that his loyal subjects project as "dominance."
Moreover he always needs his usual performance boost with cortisone injections for his fragile hands as authorized by the Vegas commish, something they denied Manny for his fragile right shoulder that was operated on a week after their fight. That was never ever going to be a fair fight as I first noted in my lead up to their grossly mislabeled "Fight of the Century." At one point Manny landed 3 consecutive right hands in a row that knocked him well backwards. With the injections in a fair contest, that sequence might have resulted in Mayweather going down and so on. Mayweather was widely derided by most fans after that nonperformance, and now, he, through his sugar daddy Al Haymon, is currently being sued for $300 million by Golden Boy and $100 million by Top Rank for illegally trying to take over boxing. Additionally, thirty two separate lawsuits have been filed against Pacquiao for not disclosing his injured shoulder that Team Mayweather and the USADA knew about. Mayweather is also listed in most of those suits, so now the stink of boxing's greed is being booted up the shark chain of civil lawyers for a good ol' fashion turkey carving.
Will Mayweather clown away this fight against Berto? Here's a compilation of some of the more recent athletic boners in track, football, soccer, biking, and baseball from lessor athletes.
http://www.npr.org/sections/thetwo-way/2015/08/25/434585015/not-over-til-its-over-runners-early-celebration-costs-her-the-bronze
Bookies have Mayweather as the favorite variously listed as a range from a cartoonish 80 to 1 down to 40 or 50 to 1 over Berto as he looks to "smash," re: tie Rocky Marciano's 49-0 record which of course he could never do because Rocky also had 43 KNOCKOUTS packed into some of the most violent 8 year careers of boxing history, his last fight being just after turning 32. Mayweather has languidly feathered in his 49 over a 19 year span with 26 KO, in his 9th year of posing his last of 12 "events" at the MGM Floyd. That's 9 years of averaging a meek 1.3 fights a year, but hey, ho, it's all about the money stupid. That's really all that really counts to his loyal subjects when they talk about him, his PPVs and purses.
No surprises with officiating.
Kenny Bayless was chosen as the ref, now in his 4th out of the last 5 "Mayweather events." Judge assignments went Adalaide Byrd in her 3rd run of Mayweather's 12 consecutive "events" at MGM Floyd, and Dave Moretti in his 9th of those 12 "events." Steve Weisfeld of New York is the imported rookie Mayweather likes to use for his 3rd judge to ostensibly keep everything "fair." Each judge officially earns $8,000, but unofficially?
Mayweather is saying he'll retire after this, but he said that a few times already and always came crawling back to Golden Boy and HBO before finally landing his Showtime contract, so his word is about as good as the drug tests his team has failed and he has alleged to have personally failed. Not once has his team or the unholy alliance with the USADA and Vegas commish ever officially answered the allegations against him to the public. As it turns, Berto is also the 2nd fighter having used PEDs in the past that Mayweather will give a big payday in spite of vowing to "clean up" boxing.
How could Floyd ever cope with eternal life in the Great Pantheon of Boxing? In Valhalla where all the greats go, mo' money has no value. Greats lust to fight the best every day, so they're still waiting on Floyd Mayweather's little pinky to man up to fight Manny Pacquiao. Even his own daddy refuted him for running from Manny. That he essentially refused to fight in his most signature career moment may well turn to be his lasting legacy in the ring. Now any correction may be too late for him, but like the now broke Mike Tyson, he earned all that money.
My guess is that Berto's has been daily watching one of the few truly dynamic upsets this year when Krzysztof Glowacki rose from certain death off the canvas to utterly obliterate the record setting Marco Huck. Lord knows the shaky boxing Berto's confidence is in desperate need of stoking these days, so his time is now or never.
Americans do so love to prop up their "special" fighters at the end of their careers like Ali who was finally embarrassed one time too many by a crazed amateur lightheavy novice, Neon Leon Spinks. Larry Holmes managed to straggle to a disputed 48-0 before Leon's younger brother, Michael Spinks, slapped him upside his noggin with Rocky Marciano's big jock strap. Anything is possible in boxing, especially if officials decide to stage a fair fight, but, nahhh, probably not this time. Next year's silly money is already in the queue…