David "The Hayemaker" Haye – Who does he have to impress?
David 'The Hayemaker' Haye – Who does he have to impress?
26-2-0 (24 KO)
So… I received the news a couple of days ago that my ring idol Frank Bruno (Who would've known!) was no longer going to attend the charity dinner in Lincoln this evening and was to be replaced by David Haye.
After my initial disappointment waned I quickly realized that I'd still be meeting one of my favorite fighters, one I'd still like to see fight again.
Background
Haye hails from Bermondsey and previously trained under an old railway bridge not far from where my brother-in-law lives.
He had a decent amateur record taking the silver medal in the world amateur championship in the heavyweight division, being beaten by the unfulfilled potential that is Odlanier Solis.
Career
Haye turned pro in 2002, fighting in the cruiserweight division. His brutal KO power saw him take the British title after only eight fights, stopping Tony Dowling in the first round. Haye hadn't had to fight past four rounds in any contest so far. Two more quick victories followed against Hastings Rasani and Arthur Williams.
In what proved to be a temporary blip Haye's next venture ended in disaster when the veteran Carl Thompson stopped him in five. Thompson withstood a barrage of punches in the early rounds, taking out a jaded Haye in the fifth.
Five fights later after yet another series of TKO/KO victories Haye claimed his second title, this time at European level conquering the hardy Alexander Gurov in a first round KO. The Hayemaker was back.
Another KO victory followed, this time in eight against the Dane Lasse Johansen, followed by a win against German Ismail Abdoul. This was a points victory over 12, for me showing that Haye had learned a great deal from the earlier loss to Thompson, ensuring that if the power didn't do the job the boxing skills and fitness were there to finish the task.
World Champion
Two more KO victories followed then it was Jean-Marc Mormeck for the WBA, WBC and Ring magazine world crowns. Despite being down in the fourth round Haye put on a cracking performance to take multiple world crowns at the first time of asking, stopping Mormeck in round seven.
Up next was the big unification fight against the Welshman Enzo Maccarinelli. I remember watching this one on Setanta Sports, huge build-up and an explosive, devastating victory against a very dangerous opponent.
Haye felt like he had achieved everything in the cruiserweight division. I would have to agree.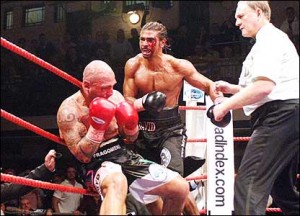 Heavyweight
The decision was made to move up to heavyweight in 2008 and after a good TKO victory over Monte Barrett Haye moved up to face man-mountain Nikolay Valuev for the WBA title.
Now, there are heavyweights and then there is Valuev, An absolute giant of a man. Standing at seven foot tall and being born with an abnormally thick skull this wasn't going to be an easy night's work. Haye at 6'3 looked like a toddler trying to slap his older brother. For me, Haye fought a superb fight. In and out using his speed and reflexes to baffle the giant. Haye landing a huge bomb late in the fight, nearly knocking the big man over. Haye was awarded the victory, 116-112 on two cards, 114-114 on one. Haye was now a two-weight world champion.
Next up was John Ruiz, the only time I've seen Haye fight in person. This was a destructive one-sided affair, one which Ruiz should have given up on long before the fight was stopped in the ninth.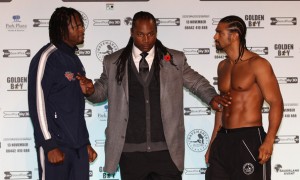 Audley Harrison up next, a fight that indeed turned out to be "As one-sided as gang rape". Third round TKO.
Next up was Wladimir Klitschko, a 12 round UD loss to the big Ukrainian. Haye didn't look himself to me and despite the huge amount of negativity Haye received I do believe that he had a foot injury and couldn't utilise his main advantages in this fight, that being his speed and explosive power. The typical British/US media and casual fan seemed to take great pleasure in the defeat of one of Britain's biggest boxing talents.
The last time we saw Haye in the ring was against a game Dereck Chisora. Personally I found the build up quite amusing, although perhaps going overboard at times. Haye stopping the fellow Londoner in five.
Aftermath
Following Chisora, Haye had bouts arranged with Manuel Charr and Tyson Fury (x2) fights I had tickets to, but unfortunately never happened due to injuries suffered by Haye. Was he really injured? Yes I think so. Why would he pull out the Charr fight? Although decent I don't for a second think that Haye would have been concerned by a bout with him. Fury? Fury wasn't the same lean, hungry, media savvy fighter he seems to have become in recent months. Again, I don't see Haye having ducked Fury. The negative voices always seem to be the loudest though.
Next?
The heavyweight division is starting to hot up once again. For me Haye's biggest problems would be caused by his size. Crazy to say so but being 6'3 and fighting around 16 stone is likely not big enough in the modern heavyweight division, at least not when comparing to Deontay Wilder, Klitschko, Fury (now) or the up and coming Joshua. However, I do believe that (Assuming the shoulder injury has left little or no trace) Haye does possess superior speed and extreme KO power. I believe that Haye would still trouble any heavyweight. I would see him KO Wilder, no problem, the others could go either way.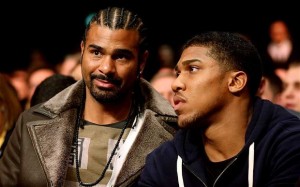 Haye
David Haye is one of the best boxers Britain has produced in recent times. His power, his speed, his entertainment value and his household appeal (Something to do with the jungle?) put him right up there for me. Forget the heavyweight division, Haye is a great in the cruiserweight division, who happened to push himself and take another world crown at heavyweight.
Due to injury and not taking out Klitschko (Few have, especially someone coming up from cruiserweight), Haye has had a relentless bashing from many areas of the media. I doubt he cares. Yes, he said he would retire at a given age, yes he said x, y and z but that's called selling a fight, that's called entertainment.
David Haye has nothing left to prove, to anyone.