Major moves in the lightweight division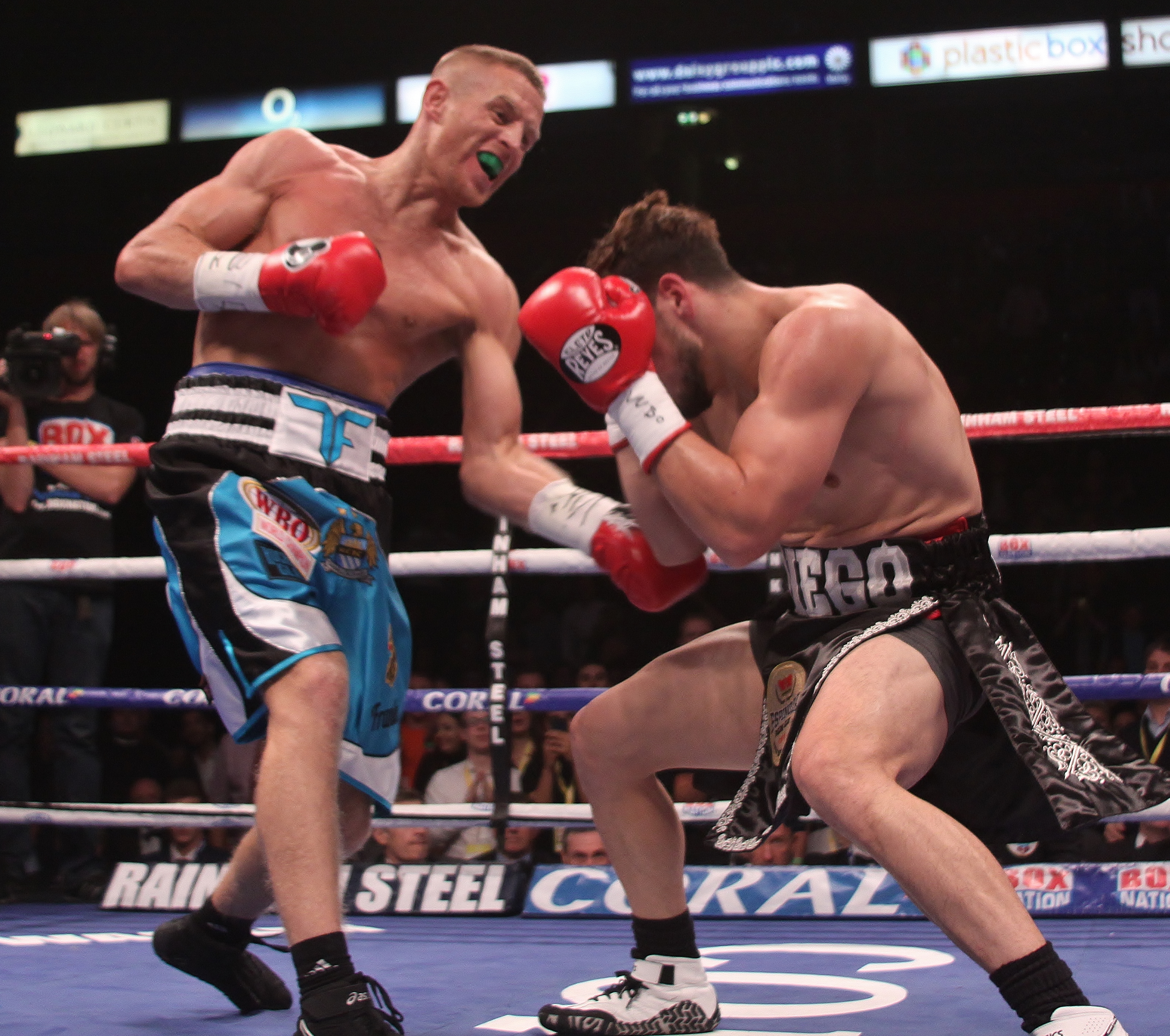 The Lightweight division remains up for the taking, but after Saturday night's action in Manchester and Caracas, we now know the two front-runners to occupy the top spot of the 135-lb weight class.
We haven't seen Terry Flanagan such until quite recently. Calling him a world champion before Saturday would've been on the basis of formality. He was crowned by the WBO after Jose Zepeda popped his shoulder out back in July, but had yet to do anything to earn the plaudits given to him by the British media. Already the holder of a world title belt, all Flanagan really had to do on Saturday was make us believe he was, indeed, a champion.
Diego Magdaleno has fought under promotional powerhouse Top Rank since his professional debut in 2007. He arose as a contender in the early part of the decade, was only narrowly defeated in a 2013 title challenge, and, on a five-fight win streak, looked to be what Flanagan had not yet proven himself to be — a world class boxer.
Attired in his trademark open-sided short-shorts, Magdaleno looked to use his legs to avoid punches and create openings of his own. It could have been a disastrous night had the bout taken that direction. Instead, the 26-year-old Flanagan stepped in and roughed out a quick win; silencing the critics with a second-round knockout. Magdaleno lacked the punching power to to hurt Flanagan, but his punches were never a factor as the champion's confidence, in front of his home crowd, kept him out of reach. Magdaleno got caught thinking too much and acting too little, again, in the biggest moments of his career, while "Turbo" Terry made a statement with his win.
Far away in Caracas, Venezuela fought a familiar face. Jorge Linares we know as one of the best boxers today. He can throw straight punches, body shots, move, and box strategically for 36 minutes.
Linares is geared with respectable punching power, making so not many are able to work their way in close, but if they can, trouble will lie ahead for the WBC lightweight champion.
Jorge lost three times in his career. Two out of three times, the defeat came due to cuts. Against Antonio Demarco in 2011, he was ahead by by at least six points and as much as eight on the judges' scorecards when he was stopped by a cut opened by a surging Demarco. It only took a couple of rounds for Demarco, a fighter with significantly less skill in every considerable department, to stop Demarco once he began to pierce his armor. Sergio Thompson never let Linares get his punches flowing, and instead cut, dropped, and stopped him on the gushing gash in round two when they fought in what was supposed to be Linares' comeback fight.
Seven bouts later, Linares was learning to avoid punches better and tolerate pressure fighters without losing his own effectiveness. Against Kevin Mitchell, he fought a fighter who, unlike Demarco or Thompson, could had good boxing skill to match his toughness and infighting. Not quite as big of a puncher, but with more of a chance to get his gloves on you. Linares did get off the floor, managed to regroup, and pick away at Kevin Mitchell to a point where the match to be stopped due to a cut over his left eye.
Over the weekend, Linares had his homecoming against a Mexican scrapper in Ivan Cano. Cano showed little resistance to a superior fighter and was beaten down by round four in an impressive reminder of what WBC lightweight champion Jorge Linares carries into the ring. If given the chance to nip and scratch for a few rounds, Jorge Linares can break just about any fighter's will and ability to carry on.
Does either Flanagan or Linares have what it takes to be the best in his weight class, to reach the summits of world-level boxing? Maybe so.
(But) Brawny Montenegrin Dejan Zlaticanin, the mandatory challenger for Jorge Linares' WBC title, argues not with his 21-0 record and recent wins over Ivan Redkach and Ricky Burns. Petr Petrov and Dante Jardon are on win streaks, and nearing championship territory. WBA titlist Darleys Perez isn't all that bad, although some feel Britain's Anthony Crolla bested him in his most recent defense. Luke Campbell is moving up in a hurry, despite being just 12-0. 36-1-1 Denis Shafikov and 23-0 Rances Barthelemy will box for the IBF lightweight title in December, and the winner of that match-up enters this discussion at the top of the weight class. Do you remember Yuriorkis Gamboa?