Rob Brant, Jarrell Miller and Samuel Clarkson get the wins
On a night when five of the six fighters were making their debuts on ShoBox: The New Generation, newcomers Rob "Bravo" Brant and Jarrell 'Big Baby" Miller remained undefeated and the one ShoBox returnee, Samuel "The Main Event" Clarkson, won his seventh in a row Friday live on SHOWTIME at the Celebrity Theatre in Phoenix.
Brant (18-0, 11 KOs), of St. Paul, Minn., withstood a late, sustained rally from Louis "The Unknown" Rose (13-3, 5 KOs), of Los Angeles, to win a close, hard-fought 10-round majority decision in the ShoBox main event.
In a pair of explosive matches in the scheduled eight-round co-features, undefeated heavyweight Jarrell "Big Baby" Miller (15-0-1, 13 KOs), of Brooklyn, N.Y., knocked out Ahror "Aha" Muralimov (14-2, 11 KOs), of Houston, Texas via Uzbekistan in the third round and southpaw Samuel "The Main Event" Clarkson (17-3, 11 KOs), of Cedar Hills, Texas, dropped Lavarn "Baby Bowe" Harvell (15-2 8 KOs), of Atlantic City three times en route to an impressive second-round TKO.
Brant, who won the majority of the early rounds, triumphed by the scores of 96-94 twice and 95-95. There were no knockdowns in the close, competitive match that could have gone either way. In the toughest fight to date for both boxers, Brant was more accurate while Rose was much busier and more active.
"Credit to Brant for taking a fight that virtually everyone thought would be close and competitive, and it turned out to be exactly that,'' ShoBox analyst Steve Farhood said afterward. "And credit Rose for coming on in the second half of the fight and being a threat to yet another undefeated prospect. Both fighters fought well, and in the case of Brant he needs to learn from this experience, throw a few more left hooks and grow as a prospect. And only time will tell if he grows from this experience."
Brant, making his fifth start of the year, went 10 rounds for the first time in a pro career that began in November 2010.
"I knew it was going to be a tough fight,'' said Brant, the 2010 National Golden Gloves champion at 178 pounds and a member of the U.S. national boxing team who'd won his previous five fights by knockout. "Every time I thought I had him hurt he would come back. I had to keep my composure in there and stick to the game plan. I think my jab was key tonight. It really helped me keep the pace and set up my punches.
"In the second half I slowed the pace and picked my shots to win the fight. It was a great learning experience. I need to get right back in the gym and continue to progress."
The defeat was a bitter one for Rose, who rose from being homeless six years ago into a legitimate prospect at 160 pounds.
"This is very disappointing, I really don't feel like talking,'' said Rose, who had beaten six undefeated fighters in a career that began in November 2011. "I thought I did enough to win. I had him backing up and hurt from the sixth round on. Obviously, I want a rematch."
Miller, making his fifth start in 2015, stopped Muralimov with a single, devastating right hand to the chin at 1:03 in the third round of a fast-paced slugfest that featured give-and-take action during the first six minutes. Muralimov seemed to be getting the better of the exchanges in the first and Miller was getting off better during the second.
"I'm a warrior,'' said Miller, a former professional kickboxer. "I want knockouts. I don't want decisions. This was a tough guy tonight. Anybody that can take a smash in the mouth like he did and keep coming back shows that he came to win.
"I am willing and ready to fight any of the top heavyweights.''
Muralimov, who got in his fair share of heavy shots, had success boxing and moving side to side. He worked the body well. Then, he got caught and that was that.
"He just beat me, what can I say. Of course, this is disappointing,'' said Muralimov, who lost for a second straight time. "I was in great shape and thought I was ready. I know I should have continued to work the body more. ''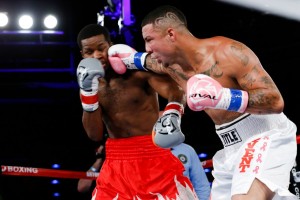 In the opening bout of the telecast, Clarkson dropped Harvell twice in the last minute of the first with right hooks before decking and finishing him with a left-right combo at 0:48 of the second.
""I knew the knockout was coming, I just didn't know when,'' Clarkson said. "I think my straight left was the difference – it set up the big rights for me. We've been working on throwing straight shots instead of looping punches and it came together tonight.
"I take it one fight at a time, but I'm ready to get back in the ring and fight whoever they put in front of me."
Harvell, who was fighting his first scheduled eight-rounder, had a two-fight winning streak end. "I feel fine. I'm good,'' he said. "But this is very disappointing. Just to lose makes it hard.''
The event was presented by Greg Cohen Promotions and Roy Jones Jr. Boxing Promotions in association with Iron Boy Promotions, GH3 Promotions, Fight Card Promotions, Salita Promotions and Winner Take All Productions.