Terence Crawford vs Dierry Jean in Omaha tonight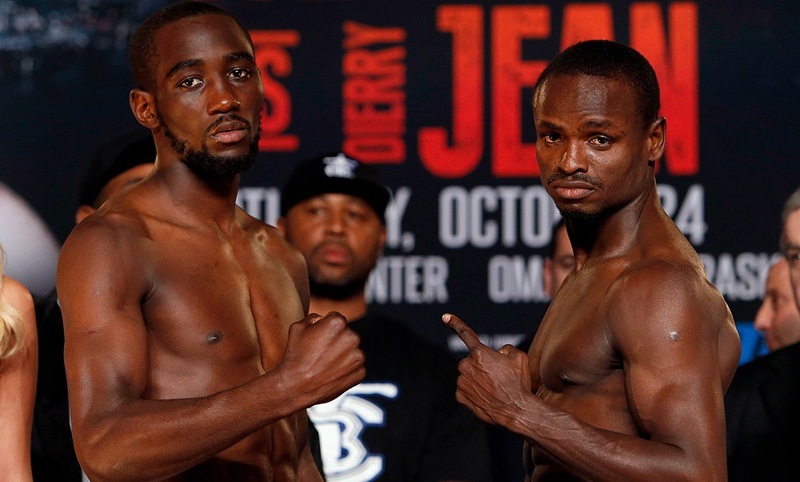 Terence Crawford, now 26-0, 18 KO, defends his freshly minted WBO junior welterweight title against Dierry Jean, now 29-1, 20 KO, Saturday, October 24th at the CenturyLink Center, Omaha, Nebraska.
The 33 year old Jean is a native of Haiti based in Montréal, Québec as are many other Haitians and other foreign fighters. I haven't seen much of him, but clearly he comes to fight with 20 knockouts. He's also quick handed and fast afoot, so this looks like a solid, game matchup for true fighting fans who enjoy not only the sweet science of true fighters, but also fast action and those virtuoso moments of impact when the drunken chicken dances start.
The 28 year old Crawford, who is promoted by Top Rank, has obviously been enjoying his hometown development by Bob Arum who has traditionally grown local followings first even as he is following the path of big fights in big venues down the road. Already on the table is a projected fight with Manny Pacquiao in March of 2016, as big a fight as there is. I personally think that's way too much for Crawford who is still gaining experience at the higher levels, but then again we don't know if Pacquiao's shoulder problems have been corrected by his recent surgery. Regardless, be a good fight to take if offered not to mention exceedingly lucrative, but it's not a done deal yet as Top rank mulls over other offers and projected PPVs for Manny, most prominently Amir Khan.
Still, not shabby pickin's in store for the po'boy out of Omaha, but first things first, so now we got a certain mean Mr. Jean wanting to lay his keen hands on Crawford. Should be an interesting fight that I obviously favor Crawford in…enjoy…