Hobson looks back on 2015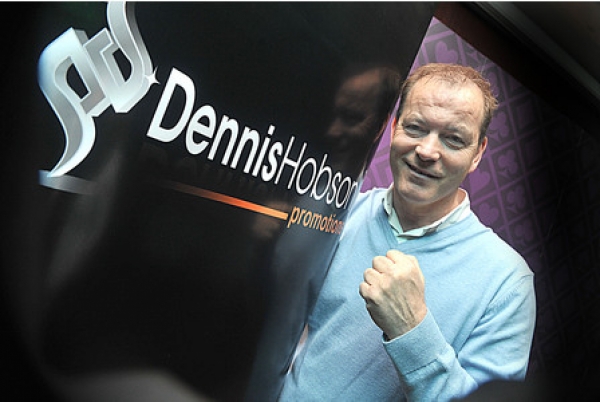 With a number of successful shows this year in the bag, Dennis Hobson is eyeing big developments in 2016.
Teaming up with digital broadcaster Spike TV in 2015 was a boon for the Sheffield-based fight figure, and with a growing stable of talented fighters – the future looks increasingly exciting.
Here Dennis reviews the last 12 months, and gazes ahead to future scenarios:
Best performance by a Dennis Hobson Promotions fighter in 2015?
There's been a few, but I'd possibly say Muheeb Fazeldin when he beat Uzair Najib [May 2015 for the Central Area super-bantamweight title].  Sam Sheedy against Nav Mansouri is another contender, although he controversially lost, but if I had to pick just one I'd probably say Muheeb, even though it only lasted a round.  It was a big local fight, they both came in all guns blazing and it was so exciting.  The hype around the contest, because they were both local, gave it real meaning too.
We're looking to rearrange Muheeb's Commonwealth bantamweight title shout again Klaas Mboyane for our next show on February 6 at the Magna Centre in Rotherham.  Obviously Mboyane beat Ross Burkinshaw in 2015, so there's a bit of history there and we want revenge.  I'm looking forward to it because there'll be drama.  Mboyane can punch, and Muheeb has started knocking kids over, so it'll be interesting to see who comes out on top.  And it's the Commonwealth title, so it's a big one.
Dennis Hobson Promotions fighter of 2015?
I'd say Lewis Taylor because he travelled away to Northern Ireland, put in a great performance and was on the end of a controversial decision [against Eamonn O'Kane], but he's come back and won and defended the English middleweight title.  We're hoping to release some big news about him fighting for a bigger title very shortly.
Best fighter of 2015 (not from the Dennis Hobson Promotions stable)?
It has to be Tyson Fury because he's won the ultimate prize.  Like him or loathe him, you have to say Tyson because he's won the biggest prize in the sport, and he's done it against the odds too.  He went into the backyard of a dominant champion like Klitschko and beat him. It doesn't matter how he won, he beat someone who'd been a solid champion for the last 10 years.  The king is dead, long live the king!
Which fight would you most like to make in 2016?
Realistically for next year, I'd like to see Sam Sheedy in with Liam Williams (British and Commonwealth light-middleweight champion], but the ultimate fight I'd like to make in a few fights time would be Sam Sheedy versus [WBO world champion] Liam Smith.  Liam Williams is the one we're going after though for this coming year.
What changes to boxing would you like to see in 2016?
I'd love to see more boxing on terrestrial TV.  Boxing is so popular, and I think people would like to see fighters developing, rather than just seeing them in title fights on Sky.  If we could see the fighters developing on terrestrial TV, then it means kids become household names.  There's a market there, it's been proved before, and boxing has never been as popular.
Any message for the fans?
I just hope people respect what we're trying to do, and what we try to do with regards to developing fighters.  We try and do it for the right reasons, and you can never please everybody.  We've shown in the past though that we're good at maneuvering kids into title contention and long may it continue.  If we continue to get the backing of fans and boxers then who knows what we can achieve together.  We've taken unfashionable fighters, not naming names, onto title fights including world title fights, and hopefully we can keep doing that.