Eric Armit's The Past Christmas Week In Action 2015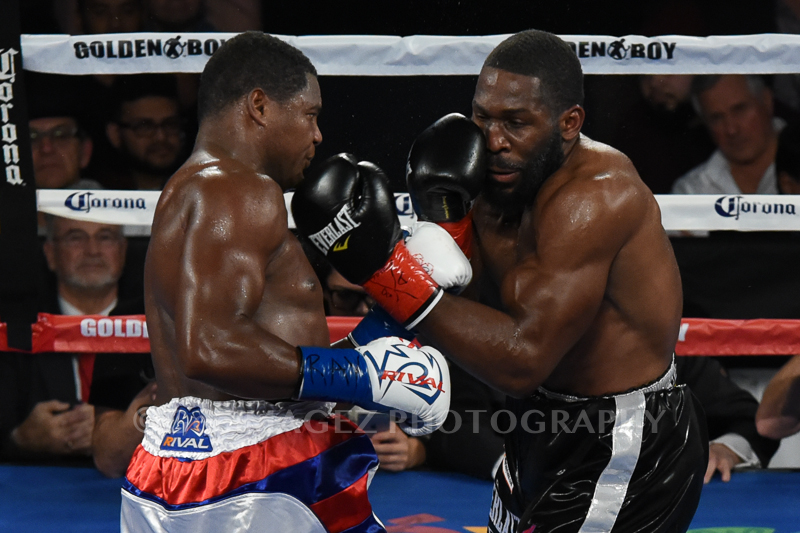 A comprehensive round-up of results from boxing rings around the Globe. From the UK to USA and Japan to Finland and all inbetween.
December 16
Tokyo, Japan: Bantam: Marlon Tapales (28-2) W TKO 2 Shohei Omori (15-1). Light: Kota Tokunaga (17-2) W PTS 10 Kazuhiro Nishitani (15-4-1).
Filipino southpaw Tapales lives up to his "Marandin Nightmare" nickname as he destroys unbeaten local fighter Omori in two rounds of an all-southpaw battle. After some brief skirmishing during which Tapales just missed with an overhand left Omori threw a lazy jab and this time Tapales landed his overhand left to the top of Omori's head. The Japanese fighter staggered back and his glove briefly touched the canvas but he was up immediately and took the eight count and did not seem badly hurt. Tapales began to track Omori around the ring looking to nail him again. He landed a powerful ramrod right jab and Omori tumbled back into the ropes and down. Again he was up immediately and took the eight count. When the action resumed another right sent an off-balance Omori back into the ropes. He landed on the bottom rope which stopped him going to the canvas but as the ropes were holding him up he was given a third count in the round, Although he looked shaky he was moving and jabbing for the rest of the round but showed his inexperience by not coming inside and holding to smother Tapales's punches. In the second Tapales tried a couple of wild lefts and Omori made him pay with a couple of sharp hooks on the inside. Omori was getting the better of the round working behind his jab with Tapales hiding behind a high guard just looking for one big punch. Omori fired a couple of punches whilst in the pocked but Tapales nailed him with a right hook that put him down heavily. Omori was up immediately but his legs wobbled. However he convinced the referee he was okay. Tapales chased Omori across the ring and after a glancing shot had Omori's legs shaking the referee stopped the fight. The 23-year-old Tapales has 11 wins by KO/TKO and is now the mandatory challenger for WBO champion Pungluang as he was rated No 2 and Omori was No 1. Japanese champion Omori had won 7 of his last 8 fights by KO/TKO.
Tokunaga vs. Nishitani
Lanky local Tokunaga retains his title with unanimous decision over Nishitani. Tokunaga used his height and reach to get off to a good start working the jab and slotting home accurate rights. However Nishitani began to get into the fight as he scored with some good right hook counters and after five rounds it was close at 48-48 twice and 48-47 to Nishitani. Over the second half of the fight the champion's higher work rate and accuracy edged him in front but Nishitani was always dangerous and made it a close fight to the end. Scores 97-94 twice and 96-95 all for Tokunaga. The 26-year-old Tokunaga was making the second defence of his JBC title and has 9 wins in a row. Nishitani, the JBC No 4 was 9-1-1 in last 11 fights.
December 17
Paris, France: Super Welter: Cedric Vitu (43-2) W PTS 12 Roberto Santos (23-8-3). Super Light: Franck Petitjean (15-4-3) W PTS 10 Renald Garrido (15-12-1). Light: Marvin Petit (17-1-1) W PTS 10 Sylvain Chapelle (15-22-2). Cruiser: Arsen Goulamirian (13-0) W TKO 6 Isossa Mondo (6-9).
Vitu vs. Santos
Vitu retains the European title with a majority verdict over Spaniard Santos. The pattern of the fight was decided by the styles of the fighters. Southpaw Vitu had the better boxing skills and Santos had an all-out aggressive approach. Vitu was able to score with his jab and block punches from Santos but it was always close. Santos got through with some good punches in the second and despite his skills Vitu lacked the punch to keep Santos out for long. As long as Vitu stayed off the ropes and worked in centre ring he was winning the fight but Santos was constantly marching in behind a high guard and working inside. Vitu kept out of trouble long enough and was the more accurate puncher doing just enough to deserve the decision. Scores 116-112 twice and 115-115. Vitu, 30, was making the first defence of the title he won with an impressive eleventh round stoppage of previously unbeaten Orlando Fiordigiglio in June. He lost on a spliot decision against Sergey Rabchenko for the same European title in 2012, his only loss in his last 26 fights. He is rated IBF 11(10)/WBC 12. Santos, 34, "The Benidorm Tiger", a former Spanish super middle and EU middle champion had added the EU super welter title with a win over Frenchman Zakaria Attou in April.
Petitjean vs. Garrido
Petitjean makes it three defences of his French title and by coincidence his third win over Garrido. No time for study here as being used to each other's style they started straight in with all-out war which suited Garrido. Southpaw Petitjean had his jab working in the second and despite constant pressure from Garrido he was picking up points with his mobility and smart boxing. Over the late rounds as Petitjean tired Garrido was able to take him to the ropes more but never quite able to do enough to catch up on the lead Petitjean's skills had built. Scores 97-93 twice and 96-94 for Petitjean. The 27-year-old Petitjean is 4-0-1 in his last 5 fights and had previously outpointed Garrido over four and six rounds. He is domestic level but will struggle if he moves up. "Le Lion" Garrido had beaten Brit Bradley Saunders on a disqualification in September but is now 4-5 in his last 9 fights.
Petit vs. Chapelle
Petit wins the vacant French title with unanimous decision over experienced Chapelle. Petit had height and reach over Chapelle but was often forced to stand and trade. Petit was able to use his jab to stem Chapelle's attacks over the early rounds and and scored with hard left hooks in every round. Chapelle had a good seventh round as he landed with clean punches from both hands but Petit boxed his way to a convincing win but it was closer than the decision he scored over Chapelle in the final of the French Boxing League in 2012. Scores 98-92 twice and 97-93. Petit, 24, becomes French champ[ion for the second time. He lost his title to Yvon Mendy on a close decision in 2013 with two judges giving the decision to Mendy 96-94 which looks a good performance in view of Mendy' s win over Luke Campbell. Chapelle, 29, is 1-6 in his last 7 fights but the opposition has been tough. This is his fourth unsuccessful attempt to win a French title.
Goulamirian vs. Mondo
Goulamirian uses his superior strength and punch to wear down game Mondo. Goulamirian was forcing the fight but Mondo showed good defensive skills. Goulamirian was winning the rounds with his aggression and pressure and had Mondo under fire in the sixth when the referee stopped the fight but it was a disputed stoppage. The 28-year-old Armenian-born "Fire" Goulamirian now has 7 wins by KO/TKO. Mondo, 36, is 2-4 in his last 6 fights.
Panama City, Panama: Super Welter: Shane Mosley (49-9-1,1ND) W TKO 10 Patrick Lopez (23-6). Super Fly: Luis Concepcion (34-4) W PTS 12 Herman Marquez (39-7-1). Super Feather: Jezreel Corrales (19-1,1ND) W RTD 11 Juan Antonio Rodriguez (28-6). Super Bantam: Liborio Solis (23-3-1) W PTS 9 Jonathan Baat (30-7-4). Feather: Bryan De Gracia (17-0-1) W PTS 9 Alejandro Palmero (7-3-1).
Mosley vs. Lopez
Mosley gets stoppage in the last round but shows his age. In the first round a clash of heads had Mosley complaining to the referee and dabbing at a cut over his right eye. Mosley was pressing the fight throwing power punches with southpaw Lopez showing some slick skills and good upper body movement but their heads clashed again before the end of the round. In the second the referee stopped the action to have the doctor examine Mosley's injury but the fight continued with Mosley probably worried about the cut firing a salvo of punches and flooring Lopez with a left hook. Lopez was up immediately but was shaken badly again just as the round ended. In the third and fourth Lopez started to get into the fight scoring with long straight lefts as Mosley already looked to be tiring and was getting caught with punches he would have blocked at his peak. Mosley showed he still has the punch as he shook Lopez again at the end of the fifth. They action slowed in the sixth but the seventh, eighth and most of the ninth were won by Lopez. He was getting through with his right jab and long lefts and had Mosley backing up and looking tired. Just before the bell to end the ninth Mosley landed two big rights but Lopez, although shaken, took them well. Lopez made the better start to the tenth sending Mosley staggering back with a right to the top of his head and again he had Mosley backing up. The beginning of the end was a short left to the chin inside which sent Lopez staggering back into a corner and down. He was up quickly and Mosley pounced on him landing a series of head punches which put Lopez down on his knees. He was up quickly but a left hook again floored him. He made it to his feet and the referee had a long look at him making him walk out of the corner and along the ropes before wiping his gloves but another attack from Mosley saw Lopez slump to the canvas for the fourth time and the fight was waived off. The 44-year-old former world champion shows he still has a punch as he moves to 41 wins by KO/TKO. Mosley had one fight in 2011, one in 2012, 2 in 2013, was inactive in 2014 and just had the one fight this year in August when he beat Ricardo Mayorga. He may have power but he was slow and looked vulnerable. Venezuelan Lopez, 37, was having only his second fight in three years and his first for 13 months but once he was rolling he was in this one until he got nailed.
Concepcion vs. Marquez
Home fighter Concepcion gets wide unanimous decision over Marquez for a measure of revenge for two stoppage losses. The was to be a defence of his interim WBA title but Marquez failed to make the contract weight and it went downhill for him from then. Although both started cautiously it was a one-sided fight with Marquez doing well to last the distance. Concepcion was in command from the start and won every round. He floored Marquez in the fifth but the bell came to the Mexican's rescue. Marquez had rocky spells in other rounds but lasted the distance. Scores 120-107 twice and 120-109. The 30-year-old "Nica" lost twice inside the distance to Marquez in WBA flyweight title fights, the first a wild eleventh round slug fest and the second saw Concepcion down three times and out inside a round. so sweet revenge. He feels he has added some skills to his power and is looking for a fight with Kohei Kono for the full WBA title. Marquez, 27, said he had only nine days notice for the fight and thought they should clash for a fourth time but recent inside the distance losses to Giovanni Segura, McJoe Arroyo and Juan Francisco Estrada shows he may no longer be the force he was.
Corrales vs. Rodriguez
Corrales continues to impress and looks to be the coming fighter in Panama as he wins the interim WBA title. His skills, hand speed, accurate combinations and solid defence meant that Mexican Rodriguez was never in with a chance in this all-southpaw contest. Even though not winning any rounds Rodriguez was competitive until the fourth round and then was gradually beaten down and retired at the end of the eleventh round. The 24-year-old "El Invisible" is a highly skilled fighter with great moves and great hand speed. He lost his second pro fight and is 18-0 with one No Decision. The ND was a fight he won but the ND came about because he tested positive for Marijuana. Rodriguez, 27, had lost just 2 of his last 14 fights on points to Billy Dib and Javier Fortuna, and had wins over Marco Antonio Lopez (22-1) and Yenifel Vicente (15-1-2). Corrales is one to watch.
Solis vs. Baat
Former undefeated WBA super fly champion Solis gets wide unanimous decision over Japan-based Filipino Baat. Both fighters were giving their best but the dominance of Solis meant it did not really spark and the crowd were disappointed in the match. Scores 90-81, 89-82 and 89-83 for Solis who wins the vacant WBA Fedecaribe title. Now 13 wins in a row for 33-year-old Solis. His term as WBA super fly champion came to an end in 2013 when he beat IBF champion Daiki Kameda in what was to be a unification match but fell apart when Solis failed to make the weight. He is WBA No 3 and bantam looking for a fight with either full champion Juan Carlos Payano or secondary title holder Jamie McDonnell. Southpaw Baat, 35, was 5-1-1 in his last 7 fights with the loss being to former IBF super fly champion Rodrigo Guerrero.
De Gracia vs. Palmero
As far as Panamanian prospects are concerned De Gracia is next in line behind Corrales. The Panamanian champion comprehensively outpointed Mexican Palmero winning a wide unanimous decision and retained his WBA Fedecaribe title. The 22-year-old De Gracia was held to a draw in his first pro fight so now has a 17 bout winning streak including a sixth round kayo of former world title challenger Manuel Vides and is rated WBA No 9. Scores 90-81 twice and 90-82. Palermo really just a Mexican prelim fighter.
December 18
Las Vegas, NV, USA: Light: Rances Barthelemy (24-0,1ND) W PTS 12 Denis Shafikov (36-2-1). Cruiser: Isaiah Thomas (15-0,1ND) ND 3 Murat Gassiev (22-0,1ND). Light: Gervonta Davis (14-0) W KO 9 Luis Sanchez (17-5-1). Middle: Brian Castano (11-0) W PTS 8 Aaron Garcia (15-5-1). Light: Mickey Bey (22-1-1,1ND) W PTS 10 Naim Nelson (12-1-1). Super Welter: Ishe Smith (28-8) W PTS 10 Tommy Rainone (24-7-1). Super Welter: Eric Walker (12-0) W PTS 8 Chris Pearson (13-1,1ND). Super Middle: Ronald Gavril (15-1) W TKO 3 Mariano Hilario (13-5)
Barthelemy vs. Shafikov
Barthelemy wins the vacant IBF light title with unanimous decision over Shafikov. The physical size of the boxers, Barthelemy 5'11" (180cm) and Shafikov 5'5" (165cm) dictated the tactics as Shafikov had to get inside the Cuban's reach advantage. It is something that the little Russian is used to and he employed his usual tank-like approach rumbling forward to try to start a brawl. Over the first six rounds he had quite a bit of success as Barthelemy chose not to use those advantages but to fight the fight Shafikov wanted. That made it a close contests but Barthelemy introduced a game-changer when he opened a bad cut over Shafikov's right eye. The cut bleed profusely with Barthelemy targeting it and Shafikov had to survive a doctor's inspection in the eighth. Barthelemy's confidence grew and he boxed more and by the ninth was starting to showboat winding up his punches but Shafikov kept pressurising and had a good round. Over the tenth and eleventh Barthelemy was finally using his longer reach to pop Shafikov with jabs and hooks and the Cuban danced through the last round to a clear victory but one that was closer than the scores indicated. Scores 116-112 twice and 119-109. The 29-year-old "Kid Blast" had relinquished the IBF super feather title due to problems making the weight and had established his lightweight credentials with a win over former champion Antonio DeMarco. "Djingis Khan" Shafikov loses in a world title fight for the second time having been outpointed by Miguel Vazquez for the WBC light title in February last year. He had scored three wins since then including a victory over Rustam Nugaev in an IBF eliminator.
Thomas vs. Gassiev
No real benefit to either Thomas or Gassiev in this technical draw. Neither fighter landed a real punch in the first which saw the taller southpaw Thomas backing around the ring with Gassiev just tracking him but not cutting him off. Gassiev was more aggressive in the second getting inside and trying to land some rights but Smith was tying him up. They both scored with some shots Gassiev with rights and Thomas with southpaw lefts. In the third Gassiev was getting past Thomas's jab and working inside. As the round came to an end Gassiev had taken Thomas to the ropes. He landed two thudding rights to the head but he had been swinging them on the bell and the second landed late. Thomas decided he could not continue and as it was ruled that Gassiev had not intentionally hit late and there had only been three rounds completed the fight was ruled a No Decision. Russian "Iron" Gassiev, 22, looked to be getting on top at the stoppage with Thomas lacking the power to keep him out. It broke Gassiev's run of inside the distance wins at seven. Detroit's Thomas, 26, was coming off a good win over Jordan Shimmell.
Davis vs. Sanchez
Davis marches on with ninth round win over Sanchez. Davis had his manager Floyd Mayweather Jr. leaving his seat and coming to his corner in the fight shouting advice. Davis had the power and made a good start hurting Sanchez in the third but the gutsy Sanchez hung in there taking the punishment and fighting hard to stay competitive. Davis broke his resistance in the eighth with an uppercut that put Sanchez down. The Mexican got out of the round but Davis jumped in with a short left hook in the ninth putting him face down on the canvas and the fight was waived off before the count was completed. The 21-year-old "Baltimore Tank", a former NGG and PAL champion, has 13 wins by KO/TKO and this is the first time he has had to go past the sixth round for a win. He was coming off a win over former IBF feather champion Cristobal Cruz. Sanchez had won a decision over unbeaten Adan Mares in April but was knocked out in six rounds by Michael Perez in July.
Castano vs. Garcia
Argentinian prospect Castano gets wide unanimous decision over Garcia. Castano was giving away height and reach but fought in his usual all-out aggression tactics. He had Garcia in bad trouble in the second but injured his right hand in the third and was only able to make limited use of it. Garcia took advantage and was more competitive but Castano's aggression was forcing Garcia to fight toe-to-toe and left hooks to the body from Castano helped him keep control of the fight. Scores 79-73 twice and 80-72. Castano, 26, a former South American Championships gold medallist and WSB fighter, is considered the best prospect in Argentina. Chicago-born Mexican Garcia, 22, had lost only one of his last eleven fights but against modest opposition.
Bey vs. Nelson
Bey has his first fight in 15 months and registers a wide unanimous verdict over Philadelphian Nelson. Bey was much too good for Nelson and won by the wide margins of 100-90 twice and 99-91. Bey, 32, the former undefeated IBF light champion relinquished his title rather than fight his mandatory challenger Shafikov. He has dropped out of the ratings due to inactivity so this was one fairly easy step on the way to a championship fight. Nelson, 25, was having his first fight since September 2014.
Smith vs. Rainone
Smith was another former champion working his way back. Rainone was a good opponent on paper but Smith was just too quick and skilful and won every round. Scores 100-90 from all three judges. The 37-year-old for IBF super welter champion is No 10 with the WBC but dropped out of the other ratings after losing a majority decision to Vanes Martirosyan in September. New Yorker Rainone has yet to lose inside the distance and his only loss in his previous nine fights was to Dusty Hernandez Harrison.
Walker vs. Pearson
An upset here as Walker just proved too tough for unbeaten southpaw Pearson. Walker knew he did not have the skill to match Pearson so he set a high work rate and just kept the pressure on Pearson all of the way making for an exciting scrap. Walker had Pearson in trouble in the fourth only for Pearson to survive and bang back hard in the fifth. Walker was going for quantity whilst Pearson seemed to be looking for one big punch to turn things around but it never came. Walker had another impressive round in the seventh to stall any attempt from Pearson to stage a strong finish and Walker was a clear winner. Scores 80-72, 79-73 and 78-74 all for Walker. A huge contrast in how these two boxers got where they are. Pearson came through the amateur ranks winning various titles including the US national Championships and a spell in the WSB. Walker 32, leaned to box in prison during a 13 year sentence which saw him inside from the age of 16 to 29 and been very much under the radar. This was both his first eight round fight and a big step up in the level of opponent. Pearson, 25, can learn from this and come again.
Gavril vs. Hilario
Gavril too young and strong for Dominican-born Hilario. Gavril took the first two rounds before cornering Hilario in the third and putting him down with a quick combination rounded off with a body punch and the referee stopped the fight. The 29-yeart-old Romanian gets his eleventh win by KO/TKO and his fourth victory since losing his unbeaten record to Elvin Ayala in March. Spanish-based Hilario, a former EU champion, has now lost 3 of his last 4 fights.
Malvern, Australia: Super Bantam: Jason Moloney (5-0) W TKO 6 Markquil Salvana (9-1). Bantam: Anthony Maloney (5-0) W TKO 4 Roberto Lerio (16-23-1).
Moloney vs. Salvana
Good night for the Moloney twins as they both collect titles. Jason used his jab to control the fight and it also had the unbeaten Filipino's right eye gradually closing. By the end of the fifth round Salvana was fighting with his vision severely restricted and his corner retired him. Jason, 24, wins the vacant WBA Oceania title and gets his fifth win by KO/TKO. He is rated No 3 by the ANBF and was a quarter-finalist at the 2010 Commonwealth Games. Salvana, 19, needs more experience but can only improve.
Maloney vs. Lerio
Andrew wins the vacant Australian title with fourth round stoppage of experienced former Australian champion Lerio. Third win by KO/TKO for Andrew who was a gold medallist at the 2014 Commonwealth Games. Now six losses in a row for Australian-based Filipino Lerio
Cartagena, Colombia: Feather: Miguel Marriaga (22-1) W TKO 3 Luis Zambrano (10-8,1ND). Super Bantam: Luis Melendez (45-10-1) W TKO 4 Yurley Barrios (0-5).
Marriaga vs. Zambrano
Easy win for Marriaga. He spent two rounds just boxing with Zambrano but when he let his punches go in the third a body punch followed by a right to the head ended the fight. The 29-year-old local "Scorpion" gets his second victory since losing to Nicholas Walters for the WBA feather title in June. Fellow-Colombian Zambrano now has six losses in a row by KO/TKO.
Melendez vs. Barrios
Disgraceful match sees Melendez halt poor Barrios in the fourth. The 36-year-old former WBA super fly and IBO bantam challenger has won 11of his last 12 fight and there is a mixture of matches as bad as this and some much more competitive. Barrios now has 4 losses by KO/TKO.
Le Mans, France: Middle: Patrice Sou Toke (22-4) W PTS 12 Nordine Arik (14-4-2).
Visitor Toke wins vacant ABU and WBC Francophone titles with unanimous decision over Le Mans–based Moroccan fighter Arik. In a close fight a knockdown scored by a Toke left uppercut in the fourth which put Arik down heavily for the first time in his career made the difference. Scores 114-111 twice and 113-111 all for Toke who finally wins the ABU title at his third attempt. Arik, 34, a Frenchman based in Qatar was trying to rebound from a split decision loss to Damien Martin for the national title.
Ratingen, Germany: Light Heavy: Avni Yildrim (8-0) W KO 1 Janne Forsman (21-3). Welter: Selcuk Aydin (28-3) W RTD 5 Nodar Robakidze (15-16-3).
Yildrim vs. Forsman
Yildrim destroys Finn Forsman inside a round. After some brief sparring Yildrim dug a left hook into Forsman's side and the Finn went down in agony writhing on the canvas and the referee just waived the fight off. Turk Yildrim, 24, wins the WBC Eurasia Pacific title and retains his WBC International Silver title. He goes to 5 wins by KO/TKO and is No 14 with the WBC. Forsman was halted in two rounds by Brit Ovill McKenzie but that was his only loss in his last 10 fights.
Aydin vs. Robakidze
Aydin gets win on his first bout for eleven months. From the outset he was forcing the young Georgian onto the back foot with a stiff jab. Robakidze tried to counter when he could but he did not have the power to push Aydin back. In the second Aydin was using hooks and uppercuts on the inside and tracking the retreating Robakidze around the ring fighting at a walking pace. Robakidze was trying to come forward in the third and stay off the ropes and as a result did a bit better. Aydin was back in control in the fourth thumping left hooks to the body and thudding rights but ended the round with a small cut on his right eyelid. The fifth was brutal as Aydin just marched Robakidze around the ring landing left hooks to the body and clubbing head punches and Robakidze retired at the end of the round. First fight for the former WBC Silver champion since losing in eleven round against Viktor Postol in April last year. Robakidze, 21, showed real guts but gets his seventh loss by KO/TKO.
Mexicali, Mexico: Super Bantam: Hanzel Martinez (23-2) W KO 4 Jose Silveria (16-19).
Martinez overcomes a bad start to kayo Silveria in a short war. In the first round Silveria went on the attack and had Martinez on the back foot and to add to Martinez's problems a clash of heads saw Martinez suffer a bad cut. In the second a right from Martinez put Silveria down only for Silveria to get up and score a knockdown of his own and when the eight count was completed Martinez was again hurt and only just survived to the bell. In the third Martinez took over with a series of body punches and in the fourth a combination put Silveria down and he could not beat the count. The 24-year-old "Rude Boy" from Tijuana won his first 19 fights before losing to Alejandro Gonzalez (17-0-2) in 2013 and his second loss was on points against Alexis Santiago in 2014. This is his third win since then and win No 18 by KO/TKO. Silveria, 36, has now lost 10 of his last 11 fights
Budva, Montenegro: Super Middle: Nikola Sjekloca (30-4) W KO 1 Ivan Jukic (22-7).
Serb-born local Sjekloca gets this one over early. A right hook to the head followed by a body punch put Jukic down and he did not beat the count. The 37-year-old Sjekloca won his first 25 fights but is 4-4-1 in his last nine including a loss to Sakio Bika in a WBC eliminator and defeats against Arthur Abraham, Callum Smith and unbeaten Tyrone Zeuge. Croatian Jukic, 34, now has six losses by KO/TKO including one round blowouts by both Chris Eubank Jr and Frank Buglioni.
Tlalinepantla, Mexico: Light: Sergio Torres (26-8-1,1ND) W PTS 10 Ivan Lopez (5-9).
Torres gets majority decision but is a given a tougher than expected fight by less experienced Lopez. This was a typical second level Mexican fight with both fighters parking their defence in the corner and just fighting hard for round after round. Torres was looking to wear Lopez down with straight lefts and left hooks to the body. Lopez surprised by taking the punishment and just firing back hard in every round keeping the verdict in the balance to the last bell. Scores 96-93 and 96-95 for Torres and 95-95. The 28-year-old "Tama" a former interim WBC Fecarbox champion, is 6-2 in his last 8 fights. Lopez, having his first ten round fight put on a good show.
Uitenhage, South Africa: Minimum: Siphosethu Ncisane (8-1 W KO 11 Ndikho Magadaza (6-7). Local fighter Ncisane wins the vacant World Boxing Federation International title with late stoppage of Magadaza. The fight was close until Ncisane's power brought the end. Fifth win by KO/TKO for Ncisane who jumped straight from six round fights to twelve. He was rated No 6 by the SABC. "Mini Cooper" Magadaza was having his first fight since September last year.
East London, South Africa: Super Fly: Gideon Buthelezi (17-5) W PTS 12 Makazole Tete (14-2-1). Light: Mzonke Fana (37-9) W TKO 8 Xolani Mcotheli (13-3). Bantam: Lwandile Sityatha (21-3-1) W PTS 12 Ernesto Saulong (18-2-1). Super Fly: Zolani Tete (22-3) W PTS 12 Jether Oliva (23-4-2). Welter: Ali Funeka (37-5-3) W TKO 4 Gideon Agbosu (12-3). Super Feather: Aphiwe Mboyiya (12-2-1) W TKO 7 Abraham Osei Bonsu (10-1-1).
Buthelezi vs. Tete
Buthelezi takes the unbeaten tag from Tete and wins the vacant IBO title to become a three division champion. Tete had weight problems and it showed as he was tentative and after a decent first round allowed Buthelezi to boss the fight. Buthelezi simply outboxed a sluggish Tete being too quick of hand and foot and Tete never seemed to have a plan for dealing with Buthelezi's southpaw stance. The fight was one-sided with Tete unable to raise his game despite the exhortations from his brother at ringside. His performance was so insipid that despite fighting in front of his own crowd over the late rounds it was Buthelezi who was getting all of the cheers. Scores 119-109, 118-110 and a very strange 116-113 which was way too generous to Tete. Buthelezi, 29, is one of the lower profile boxers in South Africa despite having won IBO titles at minimumweight and light flyweight and being the only fighter to have beaten Hekkie Budler. When he challenged for the WBC fly title in 2011 he was destroyed in two rounds by Adrian Hernandez and he lost his IBO super fly title with a one round kayo loss to Edrin Dapudong in 2013. He bounced back in December 2014 with a win over world rated Namibian Immanuel Naidjala, but lost a split decision to Lwandile Sityatha for the IBO super fly title in July. Tete, the brother of Zolani, was unbeaten going in but may have been weight weakened so he can bounce back from this.
Fana vs. Mcotheli
Former IBF super feather champ[ion Fana gets his career off the rocks with a stoppage of Mcotheli in eight rounds for the interim WBO Africa title. The 42-year-old "Rose of Khayelitsha" won the IBF title twice but on the second occasion just gave it up without making any effort to defend it. He had scored a good domestic win over Sipho Taliwe in October but last month was beaten on points by Tunisian Hedi Slimani for the ABU title in Belgium so could not afford another loss. Local fighter Mcotheli, the SABC No 4 lightweight had won his last two fights inside the distance and his other losses had been to very good opposition in Jasper Seroka and Malcolm Klassen.
Sityatha vs. Saulong
Sityatha wins the vacant WBO International title with unanimous decision over Filipino Saulong. The South African was shaken by a big right hook in the first round but quickly recovered and took control with a stiff, accurate jab and plenty of lateral movement leaving the aggressive Filipino swishing air. After that brief success in the first Saulong was never really in the fight and when a straight right to the jaw dropped him in the seventh it looked like the end but he survived. Saulong came out swinging in the eighth but in vain as over the remaining rounds the defensive skills and fight controlling jabs from Sityatha made it one-sided. Scores 118-109 twice and 119-109 for Sityatha. The South African gave up his IBO super fly title due to problems making the weight. He is 11-1-1 in his last 13 fights. Saulong had won the WBC International title in May and was No 13 with the WBO.
Tete v. Oliva
Tete saved the night for the family with a comprehensive unanimous verdict over Oliva to win the vacant WBO African title. The brilliant former undefeated IBF champion won ever round as he outboxed and out fought a good level opponent all the way. He had Oliva down from a left hook in the fourth but the Filipino has only lost inside the distance once and had taken Moruti Mthalane to a split decision for the IBO fly title last year. There was never a chance he would get anywhere near a share of the decision here as he took a one-sided beating but stayed the course although he was probably helped in that achievement by the fact that Tete was carrying a shoulder and hand injury into the fight. Scores 120-107 twice and 120-108. The 23-year-old Tete gave up his IBF title rather than defend it for a small purse and has been removed from their ratings and is rated WBC 6/WBA 12 and would give either Carlos Cuadras or Kohei Kono a tough night. This was the first time the Tete brothers have appeared together on the same show. Oliva, 28, was unbeaten in his first 18 fights until he lost to Ulises Soto for the IBF light fly title in 2011
Funeka vs. Agbosu
Funeka gets another inside the distance victory as he halts Ghanaian Agbosu in four rounds. For the vacant WBO Africa title. The former IBF/WBA/WBO lightweight title challenger now has 30 wins by KO/TKO. It seems incredible to think that the 37-year-old 6'1" (185cm) fighter was a flyweight when he turned pro in 1995. He had no luck in three world title fights losing a majority decision to Nate Campbell for the three titles, fought a draw with Joan Guzman for the IBF title and in the return match lost a split decision. Plenty of controversy as well of course as Campbell failed to make the weight for their fight and Guzman failed to make the weight in their second fight with Funeka also serving a ban for using a banned substance. This wins saves his career which looked over when he lost his IBO welter title being floored four times and stopped in five rounds by lowly rated fellow-South African Tsiko Mulovhedzi in July. Records show Agbosu was having his first fight since November 2013 but a problem with records from Ghana means that not all results are being reported widely.
Mboyiya vs. Bonsu
Former South African feather champion Mboyiya gets his fourth victory in a row with stoppage of unbeaten Ghanaian fighter Bonsu and wins the vacant WBO Africa title. The Eastern Cape southpaw now has six wins by KO/TKO. Only the second fight in two years for Bonsu.
Indio, CA, USA: Feather: Joseph Diaz (19-0) W TKO 2 Hugo Partida (21-7-2). Feather: Andrew Cancio (16-3-2) W TKO 8 Rene Alvarado (23-6).
Diaz vs. Partida
Diaz crushes Partida inside two rounds. The unbeaten southpaw put pressure on Partida from the first bell scoring with good body shots and keeping on top of Partida who was too busy fending off Diaz's punches to mount any offensive of his own. In the second Diaz caught Partida early with a right that had the more experienced Mexican hurt. He slammed home a series of southpaw lefts and with Partida caught on the ropes and shipping punishment the referee stopped the fight. The 23-year-old "JoJo" wins the vacant NABF title and although not yet rated he is ready to step up to much tougher opposition. Fourth loss by KO/TKO for Partida and third loss in a row.
Cancio vs. Alvarado
Cancio continues his seesaw series of fights with stoppage of Alvarado. Over the first four rounds Alvarado was doing the better work being more accurate with his punches and blocking most of those coming from Cancio as they fought toe-to-toe. In the fifth a left hook from Cancio unhinged Alvarado's legs and he floundered around the ring with Cancio in pursuit but when Cancio was unable to capitalise on his success Alvarado was banging back at the end of the round. The intensity dropped in the sixth and seventh with Alvarado recovered and Cancio looking to have tired himself with his attacks in the fifth. In the eighth Cancio again landed a heavy left hook and again Alvarado was badly shaken and as more punches from Cancio landed the referee gave Alvarado a standing count. When the count was over Cancio again unleashed a volley of punches and the referee stepped in to save Alvarado. Cancio, 27, was having his first fight for 20 months. In a four-fight sequence he had beaten Rocky Juarez, lost to Rene Gonzalez, beaten Jerry Belmontes and then lost to Ronnie Rios so this win sees him on the top of the seesaw sequence. Nicaraguan Alvarado, 26, a former WBC Silver champion loses by KO/TKO for the first time having gone ten rounds with Diaz in July. He is also on a switchback going W,L,W,L,W,LW,L in his last 8 fights.
Las Palmas, Canary Isles, Spain: Welter: Nabil Krissi (10-0) W KO 1 Ignacio Mendoza (40-12-2). Light: Jerobe Santana (10-0) W PTS 6 Kakhaber Avetisian (42-34-1).
Krissi vs. Mendoza
Krissi finished off experienced Mendoza in first. After shaking Mendoza with a head punch late in the end of the round he ended the fight with a body punch that put Mendoza down and he was unable to beat the count. The local "Sultan", 31 has five sins by KO/TKO. This was supposed to be his first ten round fight. Colombian-born Mendoza who has mixed in good company in the past drops to six losses by KO/TKO and is 2-5 in his last 7 fights.
Santana vs. Avetisian
Santana makes it a local double with a unanimous verdict over Georgian Avetisian. Santana won every round and had Avetisian in trouble a few times but lacked the power to finish the fight early. The 23-year-old Santana gets his seventh win in 2015. For Avetisian it is his twelfth fight of the year, 5 home wins and 7 away losses.
December 18
Manchester, England: Middle: Billy Joe Saunders (23-0) W PTS 12 Andy Lee (34-3-1) W . Super Welter: Liam Smith (22-0-1) W TKO 7 Jimmy "Kilrain" Kelly (16-1). Super Welter: Liam Williams (13-0-1) W TKO 2 Kris Carslaw (22-6). Super Fly: Paul Butler (20-1) W TKO 6 Silvio Olteanu (15-9-1). Super Light: Jack Catterall (14-0) W TKO 3 Noe Nunez (15-3-1). Middle: Tommy Langford (15-0) W TKO 5 Robert Swierzbinski (15-5-1). Light Thomas Stalker (10-1-3) DREW 10 Craig Evans (14-1-2). Super Feather: George Jupp (13-2) W PTS 10 Mitchell Smith (13-1). Super Feather: Vijender Singh (3-0) W TKO 2 Samet Hyuseinov (7-8).
Saunders vs. Lee
Saunders wins the WBO title with majority verdict over champion Lee. Both started cautiously probing with their southpaw jab. Lee landed a long range right but at the end of the round Saunders made Lee's legs quiver slightly with a sharp right hook. Lee had height and reach over Saunders but it was thought it would be his power that would divide the fighters so that right hook was a significant sign saying that Saunders was also a puncher. Both were cautious in the second each looking to draw the other into an error and capitalise with a hard counter. Both managed to get home good lefts with Lee holding his right lead glove higher than in the first round looking to pull the trigger. A confident Saunders did a little dance at the end of the round. Lee missed with two big lefts in the third and when he missed with another one he left himself open and Saunders came up inside with a right hook that sent Lee crashing to the canvas. It was a heavy knockdown but Lee was up at six and ready to go on after the eight count. He tried to get inside and hold but Saunders pushed him off landing four punches none of which connected cleanly as Lee dropped down on his haunches putting his gloves on the canvas to stop himself going all the way down. Lee got up whilst Saunders was baying to the crowd thinking he had the fight won but Lee got up and although Saunders landed some more punches he ducked and dived and lasted to the bell. In the fourth and fifth Lee had recovered and it went back to some cagey sparring with neither taking any chances both being wary of the others power and it was tense but not exciting. The sixth saw hardly any action with Lee probing with his jab but usually falling short. He threw and landed few punches and Saunders did even less. Saunders had a much better seventh out-jabbing Lee despite the Irishman's edge in reach and getting through with some lefts. Lee was more active in the eighth but the respect each had for the others power meant neither was committing himself and it was a case of both jabbing and feinting with only the occasional punch landing which made it hard to score the rounds. Both did a bit of dancing in the ninth to show they were still full of energy and when Lee managed to land a rare left clipping Saunders on the jaw Saunders mimicked being hurt. Again you could count the punches landed on one hand but Lee probably did just enough to edge it. Saunders was letting the champion back into the fight but was still well in front. Saunders took the tenth landing a good left early and then a right and snapping out his jab. Lee landed a body punch on the bell which was the first real body punch of the fight. There was a little more action in the eleventh but even though Lee must have felt he was behind there was little real fire and an absence of any heated exchanges. The tactics in the last round said it all with Lee throwing more lefts than he had all fight, but missing with most of them, and Saunders constantly moving and just looking to stay out of trouble. Scores 115-113 and 114-112 for Saunders and 113-113 which seems to indicate that the third round, be it 10-8 or 10-7, was the difference between the fighters. Not a great fight but an important one and a huge win for the 26-year-old Saunders. Also a great few weeks for the traveller community with two world champions in Tyson Fury and Saunders. Saunders is not ready for Gennady Golovkin but as he was the mandatory challenger he can pick his next opponent and see how things develop but has ruled out a return with Chris Eubank Jr saying Eubank needs to earn the chance. Lee, 31, obviously wants a return. This was really his first defence as a defence against Peter Quillin turned into a non-title bout when Quillin failed to make the weight. Lee might have to wait for a chance for revenge
Smith vs. Kelly
As expected Smith proves too strong for Kelly and retains his WBO title. Kelly was competitive early but the strength of Smith and his thudding body punches finally proved too much for the challenger. Kelly's only chance was to keep Smith on the outside and he had some success with good work with his jab, but Smith was waging a war of attrition inside. The champion turned up the heat with each successive round and since Kelly could not keep him out with his jab and was out-powered on the inside it was obvious just a matter of time before Smith broke down the Manchester-born fighters resistance. In the sixth a desperate Kelly was deducted two points for a blatant butt. He was on the floor in the seventh and although no count was given he had no resistance left and his corner sensibly threw in the towel to save their man. The 27-year-old "Beefy" was making the first defence of the title he won with a victory over John Thompson in October. Whilst a total of 12 wins by KO/TKO in 23 fights may not seem impressive Smith has now won his last seven bouts inside the distance which shows a growing power even against tougher opposition. Kelly is a good young fighter with talent but was not really in Smith's class and jumped from nowhere to No 8 with the WBO for winning their Inter-Continental title against a fighter who had won only one of his previous five fights. Kelly can come again.
Williams vs. Carslaw
Williams makes this look easy as he halts Scot Carslaw in two rounds, Williams indicated he did not intend sticking around for long as he floored Carslaw with a combination in the first round. Carslaw came out in the second trying to take the fight to Williams but ran onto a ramrod stiff jab which had enough power to put him down and the referee waived the fight off without a count. Williams was having his first fight since November 2014 having been side-lined with an injury. The victory gives the 23-year-old Welshman 8 wins by KO/TKO and the British title to go alongside his Commonwealth title. The draw on his record was a technical one due to his opponent being cut. Carslaw, 31, had been in with some good class opposition and won his last four fights. This is the first time he has been beaten on KO/TKO.
Butler vs. Olteanu
Butler stops game little Romanian Olteanu in six rounds to win the vacant WBO European title. The "Baby Faced Assassin" was in charge from the beginning and only the bravery of Olteanu kept him in the fight as Butler was just too quick for the aging Romanian. Butler had Olteanu in trouble a couple of times but Olteanu stayed in the fight although he soaked up a lot of punishment in a one-sided fourth round. Despite that he actually seemed to have recovered in the fifth and was able to land some nice counters on the young Brit. In the sixth a wicked left hook to the body put Olteanu down. He was up and ready to continue after the eight count but another series of punches saw the referee stop the fight. Olteanu protested but Butler is a finisher and this fight could not have lasted much longer. The former undefeated 27-year-old IBF bantam champion now has 11 wins by KO/TKO. His only loss was an inside the distance defeat against Zolani Tete in a challenge for the IBF super fly title. Tete has also joined Frank Warren but it would make sense to keep them apart. Olteanu, 37, a former European Champion, lost a controversial split decision to Daiki Kameda for the WBA flyweight title in Japan in 2010 and suffered majority decision losses to Wilbert Uicab and Armando Santos in Mexico so breaks have been hard to come by for the little Spanish-based craftsman.
Catterall vs. Nunez
Catterall continues to do the business but Mexican Nunez came to fight. Catterall looked comfortable winning the first round behind his southpaw jab and straight lefts. That changed in the second as Nunez came storming forward and landed some good punches which split open a cut on the lip of the Chorley fighter. Nunez tried to take the fight to Catterall again in the third but Catterall had found his range and a straight left forced Nunez back into the ropes. Catterall followed-up with some brutal head punches and the referee halted the fight to save Nunez. The 22-year-old local "El Gato" was making the second defence of his WBO Inter-Continental title and makes it 9 wins by KO/TKO. Nunez, 28, had won 6 of his last 7 fights and this is first loss by KO/TKO.
Langford vs. Swierzbinski
Langford also makes a successful second defence of his WBO Inter-Continental title. Langford took the first round impressively with the use of his jab, uppercuts and hooks to the body. He looked to have scored a knockdown with a right in the second but it was not counted but his body work was weakening the Pole. Langford dominated the third with more damaging work with his jab and body punches. In the fourth further pressure from Langford saw Swierzbinski forced to go down on one knee to get a break from the punishment. Langford went straight back to the attack and his eagerness saw him catch a couple of punches from Swierzbinski but he shrugged them off and put Swierzbinski down with a right. The Pole made it to the bell but was wilting under body punches from Langford in the fifth when the referee stopped the fight. Langford continues to impress and gets his fifth win by KO/TKO. Third loss by KO/TKO for the Pole but the other two losses have been to David Lemieux and Chris Eubank Jr so no shame there.
Stalker vs. Evans
A second draw shows how well matched these two are. Last time the feeling was that Stalker may have been unlucky not to walk away with the victory but this time although it was close a strong finish from Evans seemed to have turned things his way. Stalker had built a lead but despite suffering a cut over his right eye in the ninth round Evans did enough to close that gap and put his nose in front but it was even closer than their first fight. Scores 96-94 for Evans, 96-94 for Stalker and 95-95. Stalker, 31, a long-time top amateur just has not been able to get any traction as a pro and this is his third draw in a row. Blackpool-based Welshman Evans, 26, lost a decision to Scott Cardle for the vacant British title in May and is prone to cuts but is a talented boxer who can come again.
Jupp vs. Smith
There are no certainties in boxing as Jupp proved with hard-fought win over WBO rated Smith. Jupp had his jab working effectively from the outset and it was the fight winning punch for him as with Smith being unable to out-jab Jupp he had to get inside to work the body. Smith kept the bout close with his inside work but Jupp was busier and more active with Smith not really letting his punches go and too often loading up on his punches whereas Jupp was constantly scoring with his jab and also with left hooks. The middle rounds were all close with Smith trying to up his work rate but Jupp was edging them on accuracy and using good footwork and a solid defence to block many of Smith's punches. By the last Smith needed a knockout but he had never come close to having Jupp in trouble in the fight and Jupp ran out a comfortable winner. Scores 98-94, 97-93 and 96-94. The 25-year-old Jupp has now won his last 9 fights and has twice had experienced of full ten round fights but he is not a noted puncher and the opposition had not been strong. This is a huge win for Jupp as he lifts Smith's WBO Inter-Continental title and as Smith was rated a much too high No 4 with the WBO it will be interesting to see what they do with the ratings of both fighters. This will get Jupp some good paydays which is the least he deserves. Smith, 23, had wins over much better opposition on paper in Cristian Palma and Dennis Tubieron but they were both coming off loses so Smith's rating is based on his winning the WBO Inter-Continental title rather than the quality of his opposition and if you ignored the daft WBO rating this was a contest between two promising young largely untested fighters and on that basis was perhaps not a huge upset. Smith is just 23 so he can and will rebound from this.
Singh vs. Hyuseinov
Singh gets his third win with stoppage of reluctant Bulgarian. Singh worked him over in the first round and at the start of the second round he cornered Hyuseinov and unloaded a series of punches that saw the referee halt the fight. Three wins by KO/TKO in three fights for the 30-year-old former star of Indian boxing. Hyuseinov is 2-5 in his last 7 fights.
Verona, NY, USA: Heavy: Luis Ortiz (24-0,2ND) W TKO 7 Bryant Jennings (19-2). Super Feather: Nicholas Walters (26-0-1) DREW 10 Jason Sosa (18-1-4). Super Welter: Gabriel Rosado (22-9,1ND) W PTS 10 Joshua Clottey (39-5). Light Heavy: Vyacheslav Shabranskyy (15-0) W PTS 10 Yunieski Gonzalez (16-2). Middle: Steve Martinez (16-2) W TKO 2 Jorge Melendez (29-6-1). Light: Yuriorkis Gamboa (25-1) W PTS 10 Hylon Williams Jr (16-2-1).Super Middle: D'Mitrius Ballard (11-0,1ND) W PTS 6 Fabiano Pena (14-4-1). 19
Ortiz vs. Jennings
Ortiz stops Jennings to retain his interim WBA title and put himself in line for fights with the other title holders. Both started fast with Jennings looking to get inside and work the body of the older southpaw. Ortiz scored with a good right hook and that was followed by a left that saw Jennings retreat to the ropes where Ortiz worked him over with body punches. Jennings managed to get off the ropes but Ortiz knew he had him hurt and was stalking Jennings. Near the end of the round a left again had Jennings hurt and in trouble and Ortiz landed two hard left hooks to the body just before the bell. Jennings had a better second round as he moved inside to deny Ortiz punching leverage and although rocked by a right inside he probably edged the round. Jennings was using the same tactics in the third but was hurt by a left uppercut and then sent reeling into the ropes by an overhand right and a left hook and momentarily had his back turned to Ortiz. He again managed to escape off the ropes but was having trouble getting past the right jabs of Ortiz. By the end of the round Jennings had found his way inside and landed some good punches of his own with Ortiz not working inside and getting a warning for pushing Jennings back but it was Ortiz's round. In the fourth Jennings was able to get inside again and was throwing uppercuts and hooks of his own. In the fifth Ortiz came out dancing on his toes ad stabbing out his jab and inviting Jennings to come forward. Jennings was doing well until he did come forward walked onto a left uppercut which shook him but Ortiz did not press his advantage. Ortiz was boxing again in the sixth dominating the action with his jab and Jennings was not able to work inside. Ortiz had taken the fifth and sixth rounds but Jennings had the better of the first two minutes of the seventh bulling forward against a retreating Ortiz and scoring with a thudding right to the chin. That all changed when Ortiz landed a wicked right uppercut followed by a left uppercut that put Jennings face down on the canvas. Jennings got up but Ortiz staggered him with another left that had Jennings tumbling into the ropes and the referee stopped the fight. Cuban Ortiz "The Real King Kong" showed good skills and impressive punching power. Every time he landed cleanly with his left Jennings was hurt and the punch that marked the beginning of the end was an equally impressive right uppercut. Where the 36-year-old Ortiz goes from here I am not sure. Tyson Fury is tied into a return match with Wlad Klitschko and the secondary WBA champion Ruslan Chagaev has a defence lined up against Lucas Browne in March. Deontay Wilder is making yet another voluntary defence this time against Pole Artur Szpilka and then hopefully the WBC will finally stop screwing Alex Povetkin and insist Wilder makes an overdue mandatory defence. The vacant IBF title is to be decided between Vyacheslav Glazkov and Charles Martin next month. Because he is the interim WBA champion none of the other bodies have Ortiz rated and with WBA No 2 Browne and No 3 Klitschko tied-up who knows No 4 Shannon Briggs might get a title shot-unfortunately. Jennings, 31, just met a better fighter on the night. He has an inside the distance win over Szpilka and a points victory over Mike Perez with his only losses being on points against Klitschko and this one to Ortiz. He is a possible opponent down the line for any of the other champions or even Anthony Joshua in late 2016/2017.
Walters vs. Sosa
Walters has his first fight at super feather and looks very unlucky to have to settle for a majority draw against Sosa. Walters had the skill to win this on boxing alone but he seemed to want to prove he was just as strong at the new weight and spent more time than he needed to do fighting inside. After a feeling-out first round there were constant exchanges making it an exciting fight and although many rounds were close and Sosa was throwing lots of punches the sounder defence and the cleaner, more accurate and heavier punches were coming from the Jamaican. This was not a battle of jabs but of hooks and uppercuts inside. Sosa was setting himself a fast pace with his busy, busy style but that and the body work from Walters eventually had Sosa fading a bit over the last three rounds. Walters landed a sharp right inside in the fifth which had Sosa stumbling a couple of steps but he banged back with a couple of rights to the head but his punches lacked the power of the Jamaican's. Walters landed some thudding body punches in the seventh and scored with a hard right to the head at the end of the eighth. They battled toe-to-toe in the ninth and Sosa landed some nice rights as they just threw caution out of the ring and banged away. It was the same in the tenth as two tired warriors slugged it to the bell. Walters seemed to have the edge in the last round and the fight but the judges saw it differently. Scores 95-95 twice and 96-94 to Sosa. The former unbeaten WBA feather champion looked to have won this one clearly and although Sosa was the busier the CompuBox statistics had Walter landing 281 punches to 168 for Sosa. He may need a couple more fights but the 29-year-old Jamaican is a big threat to any super feather. Camden's Sosa, 27, is now unbeaten in his last 17 fights but against a much lower level of opposition. However, he showed he belonged up with the rated guys in the division and this showing will have given him a much higher profile.
Rosado vs. Clottey
Rosado outworks Commey to win a fight which neither fighter could afford to lose if he was to remain in with a chance of a title fight somewhere in the future. This was close over the first three rounds with Clottey being more aggressive and probably just getting the better of the action but then Rosado started to edge the rounds. Clottey was methodical with Rosado more fluent and fluid. Neither was capable of hurting the other but Rosado was making use of his strength to force the fight. There was never much in it with Rosado just doing enough to cancel out the early work of Clottey and with a strong tenth round doing enough to be a deserving winner. Scores 97-93 twice and 96-94 all for Rosado. The 29-year-old "King" had lost three tough fights in a row against Peter Quillin for the WBO title, Jermell Charlo and David Lemieux and this was his first fight since losing to Lemieux in December last year. Former WBA welter champion "Grand Master" Clottey, 38, is not the force he was in 2008/2009 when beating Zab Judah and taking Miguel Cotto a split decision. He showed he was still a player last year with a win over Anthony Mundine but if continues his role may just be that of a scalp for the up and coming prospects.
Shabranskyy vs. Gonzalez
With both fighters having a high percentage of inside the distance wins this one might have been expected to end early but after ten close round of action they both showed they also have a good chin. These two went straight to it with Gonzalez rumbling forward throwing sweeping hooks focusing on the body and the taller Shabranskyy using his extra reach working behind his jab slotting in straight rights and mainly head hunting. Gonzalez was wild with his swinging punches early with Shabranskyy finding openings but a solid right in the first did not even make Gonzalez blink. Neither fighter was interested in fighting inside and they were both willing to stand in the pocket and let their punches go with huge shots flying in both directions. In the third Shabranskyy had Gonzalez on the ropes and looked to have hurt him with a series of head punches with Gonzalez again swinging wildly in furious spurt of action. Gonzalez worked his way off the ropes only for a left jab and a right cross from Shabranskyy to send him back there and for a few seconds it looked as though Gonzalez might crumble. Instead he banged back but again was mainly swishing air. Just before the bell they again just stood and pitched bombs. No one was interested in digging trenches. Shabranskyy seemed to have tired himself in that frantic third round and Gonzalez was able to get into the fight with a bit more success and was blocking Shabranskyy's jab with a high guard. Shabranskyy was still doing the cleaner scoring with his jab/straight right and working the body a bit more but Gonzalez kept coming. The Cuban landed a big right in the sixth but Shabranskyy took it well and in the seventh Shabranskyy was given recovery time after a low punch from Gonzalez. The Cuban scored with some clubbing shots before they again ended the round like a couple of Friday night drunks swinging away. An amazing last round saw Gonzalez scoring early with a four punch combination but with 20 seconds left Shabranskyy landed a thunderous right and Gonzalez was almost out on his feet as Shabranskyy piled in more punches only for Gonzalez to stagger forward swinging to the bell. Scores 98-92 and 97-93 for Shabranskyy and 95-95. For me the middle score was the most accurate but it was a pity either had to lose as these two gave everything for the full three minutes of every round. Ukrainian Shabranskyy, 28, lived up to his "Lion Heart" nickname and although Gonzalez marked a big step up from his previous victims he showed he is ready to face some tough opposition. Gonzalez, 30, had shown his quality in losing to Jean Pascal in July with all three judges scoring it 96-94 to spark some controversy. With a little bit more composure and accuracy he might just have won this one.
Martinez vs. Melendez
This was a case of the biter bit as big puncher Melendez is blown away inside two rounds. Despite it being his first fight for a year Martinez was sharp and landed a hard combination at the end of the first round that had "Destroyer" on shaky pins. Martinez knew he had shaken Melendez and went right after him in the second. A left hook put Melendez down. He was up quickly but in a bad way and a succession of unanswered punches brought the referee's intervention. The 25-year-old from the Bronx has 12 wins by KO/TKO and made the perfect recovery from a loss to Chris Pearson in his fight last December. Puerto Rican Melendez, 26, was in the ratings when he had a 13-0 run with 12 wins by KO/TKO but is now 3-4 in his last 7 fights.
Gamboa vs. Williams
Gamboa and Williams had rust to shed as Gamboa returns with a win. The Cuban was just that bit quicker and more accurate and within the first ten seconds of the fight he made Williams stumble with a short left hook. Williams recovered and showed a good jab to keep himself out of trouble for the rest of the round. Williams scored with a sharp right in the second but Gamboa was showing plenty of head movement and lateral shifts with Williams often swishing air. Williams was the one coming forward but Gamboa's movement was making it difficult for Williams to find the target and meanwhile Gamboa was shifting about changing angles and getting his punches off first. There were some wild exchanges in the fourth but Gamboa was in charge. Over the late rounds Gamboa's work rate dropped and Williams had a bit more success but never enough to endanger Gamboa or change the pattern of the fight and Gamboa got in ten good rounds of work. Scores 98-92 twice and a too close 96-94 all for Gamboa. The 34-year-old former IBF and WBA feather and interim WBA light champion was having his first fight in 13 months and although he is not the force he was he is still a class fighter who needs to be more active. He was 133lbs for this one so he could go up or down. Williams, 25, won his first 15 fights before losing to Rances Barthelemy in 2012. He had almost three years out before returning with a draw against Jason Litzau in August.
Ballard vs. Pena
Ballard remains unbeaten as he wins every round against Pena. No real excitement as Ballard outboxed the Los Angeles-based Brazilian but never really had him in any trouble. Scores 60-54 from all three judges. A flat end to the year for the 22-yeear-old from Maryland but he does not need to be rushed. Pena is 3-3 in his last six fights but has usually been stopped quickly by the prospects he has faced.
Charleroi, Belgium: Cruiser: Ryad Merhy (18-0) W KO 6 Sylvera Louis (7-4). Heavy: Herve Hubeaux (23-1) W PTS 10 Gogita Gorgiladze (26-10). Welter: Mouhamed Sder (9-2-2) W PTS 10 Imad Azaroui (8-1).
Merhy vs. Louis
Merhy continues unbeaten as he lifts the vacant WBC International Silver title with kayo of Canadian Louis. Merhy made a good start scoring with a long right to the head and following that up with a succession of body punches making it an uncomfortable first round for Louis. Merhy kept up the pressure in the second with hooks and uppercuts and used double and triple jabs to take the third. He had Louis shaky in the fourth with the Canadian only just lasting to the bell. Louis had good spell at the start of the fifth but by the end of the round he was again taking hard punches to head and body. It was all over in the sixth as Merhy took Louis to the ropes and finished him with a right to the head that put Louis down and out. The 23-year-old Ivory Coast-born Marhy makes it 15 wins by KO/TKO including 6 quick finishes in his last 7 fights. Louis, 33, had a good win in October last year over Didier Bence for the Canadian title but lost his title as he was then inactive for a year before returning with a low level win.
Hubeaux vs. Gorgiladze
Belgian Hubeaux has no trouble outpointing young Georgian. Scores 100-90, 99-90 and 99-91. The 23-year-old Hubeaux has now won his last 12 fights and reversed his only loss. His opposition has not been strong so he is not in the EBU ratings but is No 19 in the EU ratings. Gorgiladze has a typical Georgian record-wins at home loses away and he normally fights at cruiser.
Sder vs. Azaroui
Sder overcame a slow start to win the decision in a close fight which could have gone either way. Azaroui took the first two rounds but Sder floored him with a body punch in the third which proved to be the defining moment in the fight. The remaining rounds were all close with the knockdown just making the difference. Scores 96-95 and 95-94 for Sder and 95-95 giving Sder the vacant WBC Francophone title on a majority decision. The 28-year-old Sder is 4-0-2 in his last 6 fights. Both fighters were in their first ten round fight and they could go again.
Helsinki, Finland: Heavy: Robert Helenius (22-0) W PTS 12 Franz Rill (11-1).
Helenius wins the vacant European title with wide points victory over late substitute Rill. This was a poor match on paper but Rill was available when champion Erkan Teper suffered a hand injury (or his drug test failure was known) and could not go through with the defence of his title so to save the show standards were allowed to drop. Helenius nearly made it an embarrassing match when he floored Rill after just 11 seconds. The German had scored with a good jab that snapped Helenius's head back but as he moved inside Helenius landed a chopping right which put him down on his knees and threw one whilst Rill was down. Rill got up and with Helenius just looking to land a big punch. Despite giving away a lot in height and reach Rill was able to score repeatedly with his jab and looked safe until the last ten seconds of the round when Helenius forced him to a corner and unloaded heavy punches to head and body. In the second Helenius was again not using his jab but just looking to land a fight finishing punch and Rill was finding it easy to get through the Finn's guard with jabs. Helenius lets hands go more in third and every time he landed he shook Rill, but too often his rights were telegraphed and again he was open time and again to Rill's jabs. Helenius was walking Rill down in the fourth actually using his jab on occasion but Rill stayed out of trouble until the end of the round when a right to the head put him down. He was up quickly but the bell went just as the referee completed the eight count The pattern of the fight stayed basically the same until Rill tired and Helenius was able to score with some of heavy punches. A left to the head hurt Rill in the seventh and over the closing rounds Rill went into survival mode and he never really looked to be in trouble again in the fight. Scores 117-109 twice and 118-109. The 31-year-old Swedish-born Finn also wins the vacant IBF International title. Hand and shoulder injuries saw Helenius inactive from March 2013 until March this year which cost him his European title and this is his third win since returning. The absence of any injury is this fight is a bonus but he did not look impressive not letting his punches go, getting caught with too many jabs and looking slow. However he had been unwell leading up to the fight and had breathing difficulties due to his flu-type symptoms and he retains his power but will need better tests than this. With the news of a positive test by Teper after the David Price fight that opens the door for Derek Chisora to step into the mandatory position and get a chance to gain revenge for a controversial split decision loss to Helenius in a European title fight in 2012. Rill did his best and used a sharp jab early to be competitive but he came in at short notice and had never even been in a ten round fight let alone a twelve round one.
Labasa, Fiji: Light Heavy: Joseph Kwadjo (22-10,1ND) W TKO 3 Opeti Tagi (17-13).
Kwadjo gets second win in his adopted home. Tagi made a promising start in the first but Kwadjo put him down at the end of the round. In the second Kwadjo again got through with his punches and in the third a straight right floored Tagi again and the fight was stopped. Now 18 wins by KO/TKO for the 30-year-old Ghanaian. Eleven losses by KO/TKO for FijianTagi.
Caltanissetta, Italy: Super Middle: Valerio Rinaldi (9-1) W TKO 3 Luciano Lombardi (19-13-4,1ND). Rinaldi wins the vacant Italian title with stoppage of Lombardi. Rinaldi opened fire in the first landing to head and body and already had Lombardi on shaky pins. In the second Rinaldi was landing heavy rights with Lombardi's attempts at counters wide of the target. In the third Lombardi had a brief moment of hope as a right had Rinaldi dipping at the knees but a punch from Rinaldi sent Lombardi stumbling into the ropes. The referee started to give Lombardi and eight count but then had a hard look at Lombardi and stopped the fight. Now six wins by KO/TKO for 28-year-old Rinaldi. Only one win in his last five fights for Lombardi and his sixth unsuccessful attempt to win the national title.
Tlalnepantla, Mexico: Super Welter: Pablo Cesar Cano (29-4-1,1ND) W PTS 10 Silverio Ortiz (34-16).Light: Cristian Mijares (53-8-2) W KO 7 Cristian Arrazola (18-10-2). Bantam: Edgar Jimenez (21-11-2) W KO 6 Humberto Morales (14-13-4,1ND). Welter: Ivan Alvarez (22-5) W PTS 8 Juan Orozco (7-1-2).
Cano vs. Ortiz
Cano gets unanimous decision in an exciting and eventful scrap. The bout was a catchweight with Cano being the naturally bigger man and Ortiz fighting above his usual weight division. Cano was also more accustomed to fighting in the thin atmosphere with his home town being 2,000 mts above sea level. Cano edged the first and in an exciting second a low punch from Cano had Ortiz down who was given time to recover but Cano was cut on his right eyebrow by a butt for which Ortiz lost a point. It looked all over in the third as Cano put Ortiz down twice but this is Mexico and Ortiz got up each time and continued to exchange punches to the bell. In the sixth blood was seeping out of the cut over Cano's right eye and although under pressure he got a break as he slipped on a wet area of the canvas and Ortiz landed a punch whilst Cano was down which cost the Yucatan boxer another point. The seventh was a desperate round for Cano as his cut was bleeding and affecting his vision. Ortiz attacked again and again with a bruised and battered Cano in trouble at the bell. Ortiz seemed to have punched himself out and Cano was able to regain control in the eighth and overhand right put Ortiz down. He claimed it was a slip but Cano had him in trouble before the bell interrupted his attacks. Cano had Ortiz retreating in disarray in the ninth landing heavy rights to the head with Ortiz ducking and diving to avoid the fire storm. The moment the bell went Cano turned away but Ortiz threw a punch as Cano had his back turned. He was not punished but litter was thrown into the ring by the home fans in protest. Still bleeding heavily Cano boxed defensively in the last to emerge a clear winner. " El Demoleder" Cano, 26, a former interim WBA super light champion who lost a split decision to Paul Malignaggi for the WBA welter title was having his first fight since tested positive for a banned substance after outpointing Juan Carlos Abreau in February. The 33-year-old "Chamaco III" Ortiz, yes there were two other Chamaco's from the clan who fought as pros, was 14-2 in his last 16 fights and can give anyone problems on his night.
Mijares vs. Arrazola
Fighting up at lightweight Mijares just too much for modest Arrazola and scores knockout in the seventh. The agreed contract weight was 132lbs (60kg). The 34-year-old former IBF/WBA/WBC champion has 26 wins by KO/TKO and has won 5 of his last 6 fights with the loss being to Leo Santa Cruz for the WBC super bantam title. Fellow-Mexican and fellow-southpaw Arrazola was 9-0-1 in his last 10 fights
Jimenez vs. Morales
Jimenez gets win with sixth round knockout over reasonable level opponent Morales. The 23-year-old from Mexico, a former national flyweight champion, was coming off a career best win on points over unbeaten Ivan Morales (28-0) and had gone from five losses in a row to
6-1-1 in his last 8 fights. Morales, 26, was 4-1-2 in his last 7 fights but was coming off a seventh round kayo loss to Alejandro Hernandez for the Mexican super bantam title.
Alvarez vs. Orozco
With unanimous decision over Morales southpaw Alvarez makes it 9 wins in a row mostly against good level opposition but too big a step up for Orozco.
Merida, Mexico: Super Feather: Miguel Berchelt (28-1) W TKO 3 Rolando Giono (17-7,1ND). Super Welter: Juan Macias Montiel (19-2-1) W TKO 3 Ivan Montero (19-1). Super Feather: Eduardo Torres (19-0) W TKO 3 Miguel Angel Gonzalez (22-7-1).
Berchelt vs. Giono
Bechtel blows away Panamanian Giono in three rounds. Berchelt was scoring well to head and body in the first. In the second Giono launched wild attacks trying to get into the fight. He forced Berchelt onto the back foot but was leaving himself open to counters with Berchelt finishing the round strongly. In the third Berchelt was getting through with hooks to head and body but Giono tried hard to fight back. That resistance ended when a hook put Giono down. The Panamanian got up but Berchelt took him to the ropes and unleashed a barrage of punches with the referee stopping the fight. The 24-year-old "Scorpion", the WBO No 1, makes it 25 wins by KO/TKO. Giono, 28, lost last time out on a tenth round stoppage against Emanuel Lopez for the interim WBA title and has twice taken Jezreel Corrales to a split decision.
Montiel vs. Montero
Montiel springs a big surprise as he stops unbeaten Montero. There was plenty of action in an even first round. In the second after Montero scored with some hard punches Montiel sent out the danger signals to Montero with a punch that shook him. Early in the third a right cross from Montiel crashed into Montero's head and he went down heavily. Montero made it to his feet and was allowed to continue but after a couple more punches from Montiel the referee decided that was too shaken to continue. "Juanito" Montiel now has 19 wins by KO/TKO. His only loss in his last 18 fights is a split decision against Alejandro Barrera (26-2). "Terrible" Montero had scored good wins this year over Michael Rosales and Ramses Agaton.
Torres vs. Gonzalez
Torres remains unbeaten with impressive stoppage of Gonzalez. In his first fight for ten months Torres was not really rolling over the first two rounds and Gonzalez was using his experience to outbox the local fighter. Torres exploded in the third taking Gonzalez to the ropes and putting Gonzalez down with a head-snapping uppercut. The referee immediately stopped the fight although it looked a too hasty stoppage Gonzalez was badly shaken. The 28-year-old "Lalo" Torres makes it eleven wins by KO/TKO. Gonzalez had won 5 of his last 7 fights and this is only his second loss by KO/TKO.
Moscow, Russia: Super Feather: Vyacheslav Gusev (21-3) W Cosmas Cheka (15-4-4).
Gusev wins the vacant IBF International title with unanimous decision over Cheka. The Russian was a good winner but Cheka is a skilled fighter and the fight was closer than the scores indicated. Scores 118-110, 117-111 and a more reflective 115-113. The little 30-year-old Gusev has only lost to good opposition including Juan Carlos Burgos and Gary Russell. Tanzanian Check, 25, was 11-1 in his last 12 fights including an upset victory over Thai Thewa.
Managua, Nicaragua: Light Fly: Felix Alvarado (22-2) W TKO 2 Yader Cardoza (18-8-1). Alvarado finishes Cardoza in this all-Nicaraguan contest. Alvarado was winning the fight all the way and in the fifth round a left hook to the body put Cardoza down and he could not recover. Alvarado goes to 19 wins by KO/TKO. After winning his first 18 fights he then lost back-to-back contests against Kazuto Ioka for the WBA light fly and Juan Carlos Reveco for the WBA light fly title. This is his fourth win by KO/TKO since then. Cardoza must feel he is improving as he only lasted three rounds with Alvarado in 2010.
Bilbao, Spain: Welter: Kevin Lejarraga (13-0) W TKO 2 Kim Poulsen (27-3).
Lejarraga was coming forward behind a stiff jab with Dane Poulsen on the back foot and just throwing an occasional light jab. Lejarraga moved in quickly and a left hook to the head saw Poulsen stagger and then go down on his knees. Lejarraga tried to finish it scoring with left hooks to the body but Poulsen made it to the bell. In the second a right to the head put Poulsen down again. He tried to fight back but when another a left and right and then a left hook put Poulsen down again the fight was stopped. Hometown fighter Lejarraga just punched too hard for Poulsen and now has 10 wins by KO/TKO including 7 in his last 8 fights. After an early career loss the Dane then had a run of 23 wins before being stopped by Anthony Yigit in February.
Nykoping, Sweden: Light Heavy: Erik Skoglund (24-0) W PTS 10 Derek Edwards (27-6-1). Super Light: Anthony Yigit (16-0-1) W RTD 3 DeMarcus Corley (42-26-1). Super Middle: Oscar Ahlin (13-0-1) W KO 1 Varazdat Chernikov (10-4). Heavy: Otto Wallin (14-0) W PTS 6 Samir Kurtagic (12-8).
Skoglund vs. Edwards
Skoglund gets wide unanimous verdict over Edwards. From the outset the Swede tried to use his height and reach to keep Edwards out and that worked for the first round. Edwards determinedly bored his way inside in the second and had some success but Skoglund showed he could fight inside as well and was getting the better of the exchanges. Skoglund continued to boss the action scoring with counters and had Edwards badly hurt with a right uppercut in the sixth. Edwards clung to Skoglund and dragged the Swede down with him so that it was not registered as a knockdown. Skoglund kept control of the fight outscoring Edwards the rest of the way scoring well with both hands and having Edwards in trouble on a couple of occasions on his way to a wide decision. Scores 100-90, 99-91 and 99-92. With Edwards win over Badou Jack this counts as the best win so far for the tall 24-year-old Swede who is rated IBF 4 (3)/WBO 9/WBC 12 but is by no means ready for Sergey Kovalev and Adonis Stevenson. Edwards "The Black Lion" , 36, is still a name even though since his shock first round win over Badou Jack in February last year he has now lost three in a row to Andre Dirrell, Gilberto Ramirez and Skoglund.
Yigit vs. Corley
Yigit continues to progress as he forces Corley to retire after three rounds. The youth and speed of Yigit was just too much for Corley as he moved around changing angles and firing home southpaw right leads and hard lefts. Corley was able to get through with enough punches to show that Yigit still has some work to do. The Swede continued to score freely in the third but it was a surprise when Corley retired at the end of the round as he had not seemed to be badly hurt. After an early career draw with Brit Tony Pace Yigit has now won 11 fights on the bounce including victories over fellow Scandinavians Kasper Bruun and Kim Poulsen. He is No 14 with the WBC but right now more relevant might be his status as mandatory challenger to Spanish EU champion Sandor Martin who is 15-1 and has his own ambitions. At 41 Corley is way past his best and this is his fourth loss in a row but he is still a "name" and can teach the young guys a few things.
Ahlin vs. Chernikov
Swedish "Golden Boy" Ahlin gets back in the winning column with a one punch kayo of Chernikov. The Russian came out hustling and forced Ahlin into a corner. As he tried to attack the cornered Swede he was hammered by a wicked left hook to the chin and was put down and out after just 94 seconds. Last time out in May Ahlin, 26, lost his unbeaten label when he was outpointed by modest Bernard Donfack but now has 11 wins by KO/TKO. Chernikov, 24, was 5-1 in his last six bouts the last fight in that sequence saw him knocked out in ten rounds by Gevorg Khatchikian in October.
Wallin vs. Kurtagic
Wallin wins an uninspiring fight over Austrian-based Serb Kurtagic. Wallin made a promising start and looked as though he might even get Kurtagic out of there in the first but Kurtagic is a survivor who has yet to lose a fight by KO/TKO and a low punch from Wallin gave him time to recover. Wallin won every round but anytime he had Kurtagic hurt the Serb held or found another way to stay in the fight and as Wallin got frustrated there was little real action. Wallin did have Kurtagic unsteady in the fifth but the Serb again held to get out of trouble. The referee finally took a point off Kurtagic in the last round for holding. Scores 60-53 from all three judges. The 25-year-old Swedish southpaw will have better nights than this. Kurtagic, 39, was having his first fight since losing on points over eight rounds to Mariusz Wach in October last year.
Santa Fe, Argentina: Super Feather: Jonathan Barros (40-4-1) W PTS 10 Pablo Barboza (24-8).
Former holder of the secondary WBA feather title Barros returns to action with a win. Over the first five rounds Barboza did enough to keep the fight fairly even but from the sixth the fitter and stronger Barros took control using his jab and body punches to erode the resistance of Barboza and sealed the win by flooring Barboza with a right in the ninth. Barboza managed to get up and last out that round and the tenth but was a clear loser. Scores 97-92 from all three judges. The 31-year-old "Yoni" from Mendoza lost his WBA title to Celestino Caballero in 2011 and then in 2012 lost successive fights to Juan Carlos Salgado for the IBF super feather title and to Mikey Garcia. This was his first fight since October 2014. "Bad Boy" Barboza, 30, the Argentinian lightweight champion has now lost 4 of his last 5 fights.
Thabong, South Africa: Super Fly: Doctor Ntsele (18-8-1) W TKO 1 Teboho Setseke.
Ntsele retains his provincial title with first round kayo of Setseke. A body punch did the business for the former South African flyweight champion who breaks a three bout losing run and gets his twelfth win by KO/TKO.