Greg Cohen begins 2016 with high hopes, bolstered roster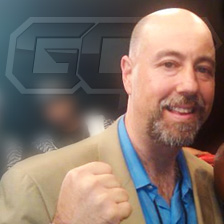 Greg Cohen, a fan of boxing all of his life, was introduced to the business side of the sport in the late 1980s by his cousin, Marc Roberts, who employed him to his boxing management company. He eventually branched off on his own as a manager, namely guiding Jesse Ferguson, a then 17-5 journeyman-type heavyweight, to many lucrative bouts, including an upset win over Ray Mercer. Later, he turned to promotional end, buying into Cedric Kushner Promotions, one of the strongest players in the promotional market in the early 2000s. From there, he would be a mainstay behind the scenes of the heavyweight division, leading action stars like Hasim Rahman and Shannon Briggs into terrific match-ups.
Today, he's the CEO of Greg Cohen Promotions. His own company, which held its first show in 2010, has celebrated the art of good matchmaking and kept a sharp eye for new clientele — pieces which fit with their principles — since they got started.
Cohen's fighters aren't afraid to travel overseas. Ismael Barroso, the Venezuelan banger, went to England to crush Kevin Mitchell last month, and will go back again to box WBA titlist Anthony Crolla. Larry Durodola, who was largely written off following a loss to Thabiso Mchunu, went to Russia to fight a ferocious puncher in Dmitry Kudryashov, and sprung a massive upset about a month earlier.
Over the past year-and-a-half, Dennis Hogan and Tony Luis both boxed in Europe, too. Neither came out with a win, but did leave fans clamoring for more, and that's the aim of Cohen's venture, and what made 2015 an especially good year for GCP.
The "big idea" is to sign young talent, to gear up for the future, while putting on great fights today. Being a good promoter is not all in the prepossessing peddles you use — such as unblemished records and knockout ratios — but in giving boxing fans something to talk about in the ring.
Next Friday's show will do just that. Greg Cohen's promotion hits Tucson, Arizona, to host a night of fights on ShoBox which showcases middleweight Rob Brant, a fighter Cohen feels will be ready for a title shot very soon, and Jarrell Miller, the newest heavyweight to associate with Cohen. "I would be supremely confident in Jarrell if he were to fight Wilder right now," said the promotional tycoon.
"The Rob Brant vs. DeCarlo Perez bout is a terrific Shobox main event. Both guys are coming off of career wins on Shobox and this is a great test for them. The winner will be the WBA NABA champion and will break into the world ratings. Rob Brant is a great young man who is a pleasure to work with and I believe inside the next 12-18 months he will be more than ready for a world title shot," he declared.
Recent signings Harmonito Dela Torre and Bakhtiyar Eyubov appear in by far their toughest bouts against Rafael Guzman and Jared Robinson, respectively, before the GCP poster-boys step into the ring. Cohen spoke highly of them: "(21-year-old) Harmonito Dela Torre is a special young man from the Philippines. He appears to be the real deal and will be in extremely tough against Rafael Guzman. I am very excited to see him fight in person. This kid can be something terrific.
Eyubov is an all action fighter who lets his hands go from the opening bell to the closing bell each and every round. No one has been able to go the distance with him thus far and Jared Robinson will be by far his toughest test to date. The fans are in for a treat with this kid."
This is the first show by GCP in 2016, and it looks promising. Cohen wants to remain active in 2016, his primary goals being quarterly showcases for his stable on ShoBox, a strong continuation of his new series on CBS Sports Network (which should air monthly), and a date on either HBO Championship Boxing or Showtime Championship Boxing, which he feels his stable warrants. He will also co-promote events with his fighters overseas, and collaborate with the likes of promotional partner Vito Mielnicki (GH3 Promotions), Adam Wilcock's Fight Card Promotions, and Keith Veltre of Roy Jones Junior Promotions in an effort to produce high-level boxing continuously in 2016.
A new signing which Cohen is particularly excited about, 126-lb contender Eric Hunter, is on the verge of a world title shot as Welshman Lee Selby's mandatory challenger. If he should come home from Wales victorious, Cohen will have another strong talent to sell to the aforementioned networks. It is certain that if he is to land dates with HBO and Showtime in the near future, the weight probably lies on the shoulders of boxers like Hunter, and Ismael Barroso. But for the more distant future, Cohen depends on a keen eye for young talent, like 20-year-old amateur sensation Malik Hawkins.
"Malik is a great signing for us and is the future of the welterweight division. He is built like a young Tommy Hearns and is a bona-fide blue chip prospect. Like all young fighters he needs to gain experience and 2016 will be a very busy year for Malik. It is my intention to have him fight at least eight times this year."
In the end, success comes down to the ability to groom young talent while keeping big names in the picture, and in entertaining fights. Cohen echos these sentiments.
"Boxing is a tough business and its quite often feast or famine. We have chosen to forge ahead and sign and develop talent. At the end of the day, if you have the talent, the premium networks will eventually give you an opportunity. We will continue to stick to our guns and stay active promoting our fighters while securing them television exposure. The cream rises to the top and we believe we have some of the best talent and fan friendly fighters in the business signed to GCP."
The next year will see how far the minds and, more importantly, the fighters behind GCP can take them. They are a player on the promotional side to keep an eye on in 2016. Check out their next ShoBox event on January 22 and their next CBS Sports Network card on February 19.