Strong undercard makes up for Pacquiao-Bradley deficiencies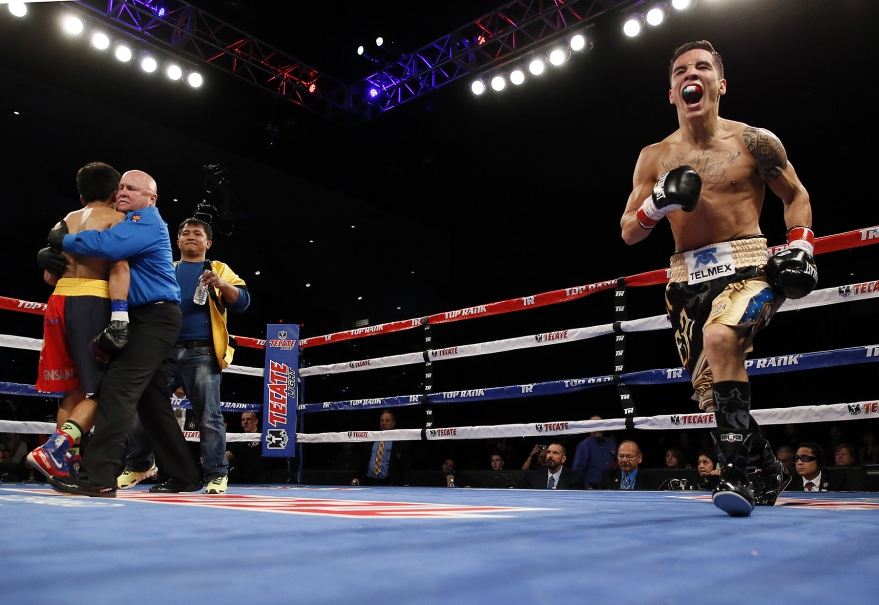 No one was asking for the third meeting between Timothy Bradley and Manny Pacquiao before it was announced a few weeks ago. This is mainly because neither of their first two bouts produced much in terms of excitement, nor were they competitive, and not enough has changed since those took place to necessitate a rematch.
Pacquiao has ticked a few years north in the age bracket, been thoroughly outboxed by arch-rival Floyd Mayweather Jr., and reelected to the Philippine congress. All of these events indicate a shift from a career in boxing to a new life. But you must hear it from the horse's mouth before drawing conclusions.
"Helping my people and my country, that is the most important thing. There are so many things that need to be done and I feel it is more important to serve my people and do it honestly, not in a corrupt way, than to continue boxing," Pacquiao confirmed, again, on Tuesday.
So, there's the first storyline to be pushed over the next three months. The second is Timothy Bradley's move under the guidance of effervescent trainer and ESPN commentator Teddy Atlas, who recently led him to a knockout win over Brandon Rios.
Bradley earned that knockout, but the win was never in doubt for a boxer with more talent on his worst night than Rios on his best. Because of the low level of opposition, we really don't know if he's improved technically under his new driving force, so this will need plenty of spin by promoter Top Rank.
For the educated observer, none of this matters. It's the same fight, with the scales ostensibly balanced by Bradley's strong form and Pacquiao's poor one. The reasons behind the rematch aren't convincing enough to make the informed observer buy in. The undercard must make up for it.
So far, the following bouts have been announced:
Arthur Abraham Vs. Gilberto Ramirez, Super Middleweights
Oscar Valdez Vs. Evgeny Gradovich, Featherweights
Jose Ramirez Vs. Manuel Perez, Junior Welterweights
Arthur Abraham is the current WBO Super Middleweight champion. Regressing, he is, but the slump has come slowly. Over the past six years, Abraham has only scored three knockouts compared to twenty-six over his first thirty-five bouts, but is 11-1 and remains capable of changing a fight with his power. Gilberto Ramirez, 24, is one of Top Rank's most valued assets. He'll have a five and a half inch height advantage but not nearly as many tough, revealing fights under his belt as does Abraham. It all comes down to if he's ready to bank enough body work, swivel and return with enough hard counters to break Abraham and make April 9th his night.
Oscar Valdez and Evgeny Gradovich are two outliers in the featherweight title picture. Valdez is an Olympian from Mexico with eighteen wins, no losses, and sixteen KO's. As a prospect, he wants to break through and become a contender. Gradovich is a fighter with tremendous stamina, a suffocating, in-your-face style, but he can be defeated by a fighter with either mobility or enough punching power to make him move, and Valdez has both. Gradovich was knocked off by Lee Selby, but has put together a couple wins since then to earn a chance to validate himself at world level. Safe to say that Valdez has the qualities it takes to overcome Evgeny, but can he keep him off for ten rounds?
Jose Ramirez, 23, can become a ticket seller anywhere. He's fun to watch fight, and can be a serious contender a few years. He'll get some exposure against Manuel Perez, a journeyman on a three-fight winning streak, but probably won't be pushed too far. No one can say, at least if they've seen him fight, that he doesn't belong on TV.
To conclude, April 9th is a chance to see some of boxing's best young fighters in competitive match-ups. Gilberto Ramirez can become a world champion. Valdez and Jose Ramirez can take a step up and impress a large audience. Timothy Bradley can be vindicated. On the basis of one fight alone, considered on standard grounds, this isn't worth the price of admission as a boxing pay-per-view, but the promoter has built a solid foundation with this undercard for us to reconsider.