Rob Brant, Decarlo Perez, Jarrell Miller and Donovan Dennis Final Quotes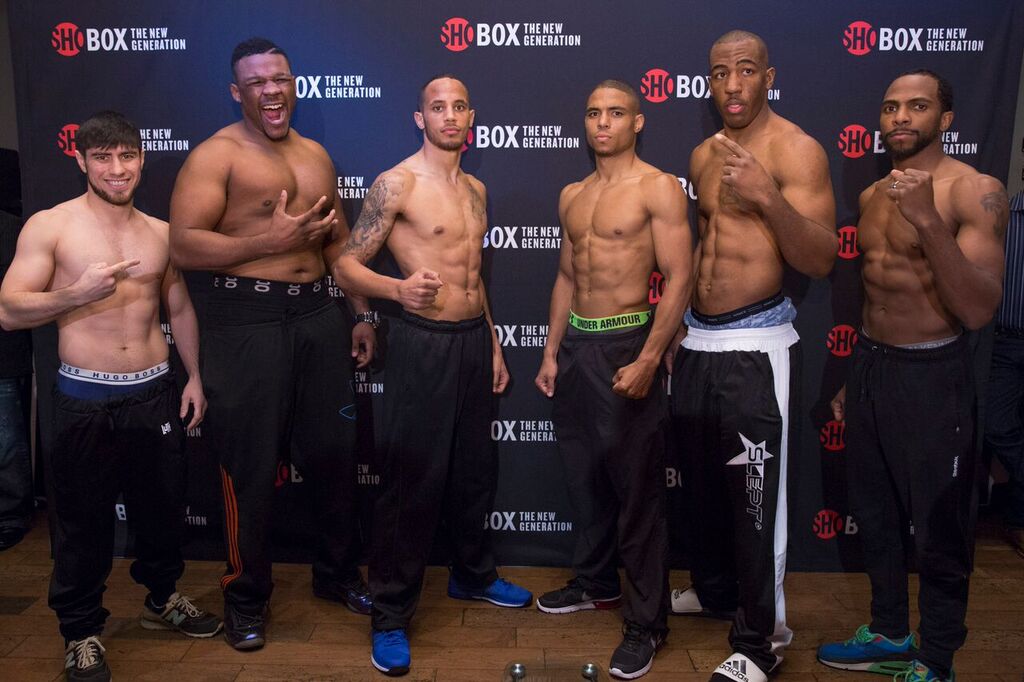 The six fighters who'll be fighting on ShoBox: The New Generation tomorrow/Friday, Jan. 22, live on SHOWTIME® (10:35 p.m. ET/PT) at Casino Del Sol in Tucson, Ariz., made weight Thursday.
Undefeated middleweight Rob "Bravo" Brant (18-0, 11 KOs, 0-3 in World Series of Boxing) of St. Paul, Minn., faces Atlantic City's Decarlo Perez (15-3-1, 5 KOs) in the 10-round main event.
In co-featured bouts, unbeaten heavyweight Jarrell "Big Baby" Miller (15-0-1, 13 KOs) of Brooklyn, N.Y., meets southpaw Donovan Dennis (14-3, 11 KOs, 2-1 in WSB) of Cleveland, Ohio, in a 10-round scrap and undefeated Bakhtiyar Eyubov (9-0, 9 KOs), of Brooklyn, N.Y. by way of Kazakhstan, meets Jared Robinson (16-2-1, 7 KOs), of Sumter, S.C. in an eight-round welterweight bout.
The Weights: Brant weighed 159 pounds, Perez 159; Miller tipped scale at 274 ¼, Dennis 218 ¼; and Eyubov weighed 143 ½ pounds, Robinson 143 ½. The event is promoted by Greg Cohen Promotions.
NOTE: A scheduled fight between super featherweights Harmonito Dela Torre and Rafael Guzman was cancelled earlier this week.
Here's what the fighters had to say prior to the weigh-in:
ROB BRANT
"This is a good test for me against a guy that likes to bring pressure. It's my time to show what I've learned and how I've grown. I'm here to show I'm ready to take that next step.
"Perez is good at everything, so I need to be ready to beat him on the inside and outside.
"I'm looking to show that I've grown as a fighter since my last fight. I need to show that I'm getting better as a prospect and growing into a contender. I'm getting closer, but you're only as good as your last fight. I need to put on a great performance against a prospect on my level.
"I know he likes to jab, likes to have his opponent in front of him. I know what I need to do to beat this guy.
"It's a great matchup style wise. It should be a great fight."
DECARLO PEREZ
"I feel that I'm a better fighter than his last opponent (Louis Rose). I'll be in his face the whole time. I won't let him breathe, come at him with pressure and take the fight deep.
"I've been working my butt off for a moment like this for a very long time. I'm ready. I know my conditioning. Superman couldn't catch me right now if he tried. We're ready to be the more active fighter in there. We're ready to push the action.
"For Brant to beat me, he'll have to lay me out on my shield. I'm going to be on top of him.
"I've finally had a full camp. You'll see the difference that a full camp can make. I put in the work. I've come up the hard way. I've faced the tougher opponents. He's had an easy route to his undefeated record.
"My job is to pressure him. We're ready for the long haul, but we'll look to make it a short night."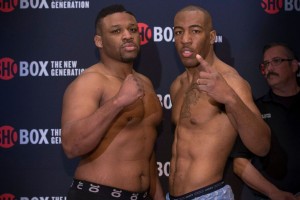 JARRELL MILLER
"Once I hit him and he hits me, that's when we'll see who the real warrior is. My face lights up when I get hit. Every lefty I've faced, I've knocked out, so I'm not worried about fighting a lefty.
"My punch output for my size is unheard of. I throw 80-90 punches a round. No one else is doing that. I'm all about pressure.
"People say if the knockout comes, it comes. That's bull. I'm looking for the knockout. Every single round, I'm looking for the knockout.
"I'd spank (IBF champion) Charles Martin, I know I would. Any place, any time. If Charles Martin and (WBC champion) Deontay Wilder still have a belt when I get there, then I'll knock their heads off. I'm looking to get a title shot by the end of the year.
"I want to face all of them; I want to face the best. It doesn't matter to me. We train for 10 rounds, but that doesn't mean we want to go that long. The shorter the better. I'm predicting a second-round knockout."
DONOVAN DENNIS
"Anything can happen with one punch. That's what you get with heavyweights. I think I can outbox him, outwork him. Make him fight my fight and outwork him.
"We sparred with Dominic Breazeale and it was good work while I was there. It was solid training
"Miller is a big guy, but his power isn't anything I haven't seen before. You can't listen to what other people say or get intimidated by records. Later rounds, early rounds, we're ready for a 10-round fight. I've faced the tougher opponents, I've had the harder route.
"You're going to see a different Donovan. I feel like I've matured from my last fights. The Boxcino Tournament matured me mentally as a fighter.
"I'm the better boxer, the more experience fighter. I'm going to take over the fight."
BAKHTIYAR EYUBOV
"Jared is a tough guy and an experienced fighter. We know he is going to be a tough test for us.
"We're ready if he doesn't go down like all the others. We won't be surprised. I'll react and look for different ways to get him out. If the head doesn't fall, I'll go for the body. My goal is to break him down.
"I'll come forward and I'll break you."
JARED ROBINSON
"I've improved a lot over the past few years. My defense is much better, my awareness of where I am in the ring. I'm better suited for a fight like this than I was a few years ago. I feel like I'm in my prime now.
"He may have a lot of knockouts on his record, but he's never faced a guy like me, a guy with experience like me.
"We know he's going to come full blast, but we've prepared for that type of fighter. He's going to try to throw bombs and hope for the best. I'm going to teach him control and use his aggression against him. It will open up shots for me.
"It can't be a close decision. I can't lose. This is going to put me and my family on the next level. It's just two guys getting in the ring. I hope he's ready."
Barry Tompkins will call the ShoBox action from ringside with Steve Farhood and former world champion Raul Marquez serving as expert analysts. The executive producer is Gordon Hall with Richard Gaughan producing and Rick Phillips directing.
# # #
About ShoBox: The New Generation
Since its inception in July 2001, the critically acclaimed SHOWTIME boxing series, ShoBox: The New Generation has featured young talent matched tough. The ShoBox philosophy is to televise exciting, crowd-pleasing and competitive matches while providing a proving ground for willing prospects determined to fight for a world title. Some of the growing list of the 65 fighters who have appeared on ShoBox and advanced to garner world titles includes: Andre Ward, Deontay Wilder, Erislandy Lara, Shawn Porter, Gary Russell Jr., Lamont Peterson, Guillermo Rigondeaux, Omar Figueroa, Nonito Donaire, Devon Alexander, Carl Froch, Robert Guerrero, Timothy Bradley, Jessie Vargas, Juan Manuel Lopez, Chad Dawson, Paulie Malignaggi, Ricky Hatton, Kelly Pavlik, Paul Williams and more.