Why Canelo Alvarez vs Amir Khan You Ask?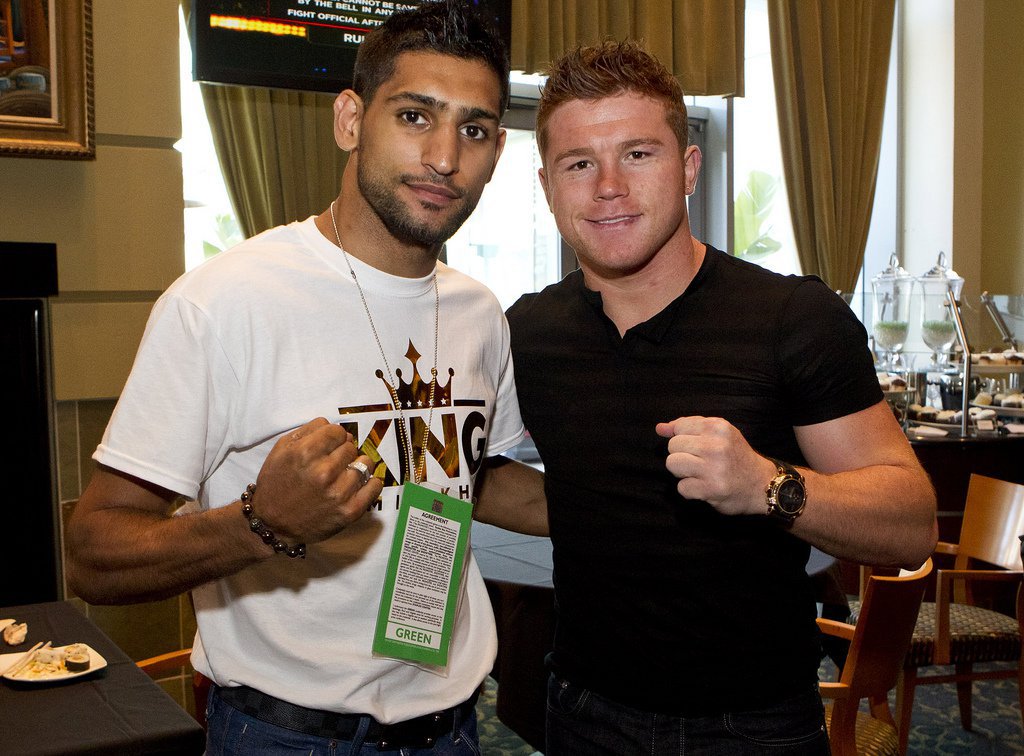 Roughly equivalent to a Boeing 747 crashing into our rooftops, Golden Boy Promotions dropped a big video from the infinite internet cloud in the sky upon boxing this Tuesday by announcing the inexplicable, Canelo Alvarez vs Amir Khan fighting May 7th in Las Vegas in a venue to be determined, likely the newly constructed T-Mobile Arena. And yes Virginia, this will be Canelo's first title defense of his WBC title he won over Miguel Cotto at the end of the year as well as his magic 5th 155 lb catchweight fight, now officially known as the Caneloweight class. Who ever said there was no Santa Claus in May?
Big Stars can do such things, and yupsir, slobbering yelps, squawks, squeaks, and pulpy profanities exploded when antisocial media misanthropes responded in collective kneejerk fashion as brain cells short-circuited and neurons took to spontaneous combustion, all part of the orchestration of the unwashed rubes in advance.
I agree completely, most of us are disappointed, but me thinks this will slowly grow on folks as they consider the alternatives. First off, Canelo has history of fighting opponents associated with TUE who clearly ducked Khan after a well publicised promise to fight him, so here we are with Canelo and Gennedy Golovkin needing full in bouts before kicking off their fall fistic classic that everyone is salivating over. Canelo makes more money for this fight, thus claiming an even bigger % of the Golovkin purse when they do fight and the beleaguered Khan gets yet one more crack at the big time.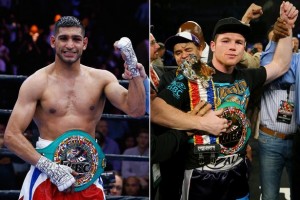 We need to take a full view of the heritage and critical habits of boxing to appreciate this development. If you go to the boxrec middleweight rankings link below, it sure looks like kiddies playing hopscotch on the gravestones of great middle champs and contenders of the past. Boxing is currently at it's lowest ebb ever in the US. There is nobody of note save a few prime middles locked up with Al Haymon, a complete nonstarter in the Khan negotiations as Oscar De La Hoya asserted that made this fight possible. Welters moving up to middle for title shots are as common as any other kind of fight in boxing history, but there are few moderns understanding boxing history much less knowing much about it. Perhaps they'll be better educated after this bout when it becomes part of their historical memory.
http://boxrec.com/records?sex=m&division=Middleweight
Photos can give an idea of size even in this example where the 29 year old Khan is slightly in front of the 25 year old Canelo, giving Khan more size than in a perfect side by side shot, probably the intent of the photographer. That's a big fist he sports, certainly nothing to sneeze at. Don't know what his traditional fight night weights at welter were, but I'm guessing somewhere in the high 150s, so he has 3 months to pack on some additional size and strength, no biggie as clearly like most prime aged fighters he's been starving down to make weight and most certainly walks around at more than the 155 lb contract weight for the fight.
Golovkin and Canelo are expected to win these spring bouts, so then what a perfect time to transform the congenial Canelo into boxing's bad guy that everyone wants to see beat down. Not many big PPVs left in boxing these days, so isolated promoters like Oscar really need to scramble to reclaim market share from Golden Boy's heyday before the Schaefer/Haymon meltdown that left GB impoverished in talent. Gonna be an interesting year as new talent attempts to fill in for the retiring generation of great fighters.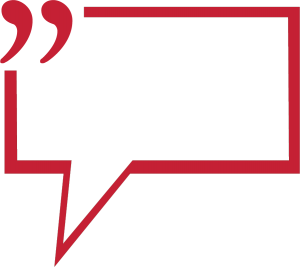 Click Here, If you wish to add a COMMENT to the above article or any of the Ringnews24 boxing articles.