Ringside Report: Santa Cruz and Ruiz Annihilate Their Opponents to Take Home Titles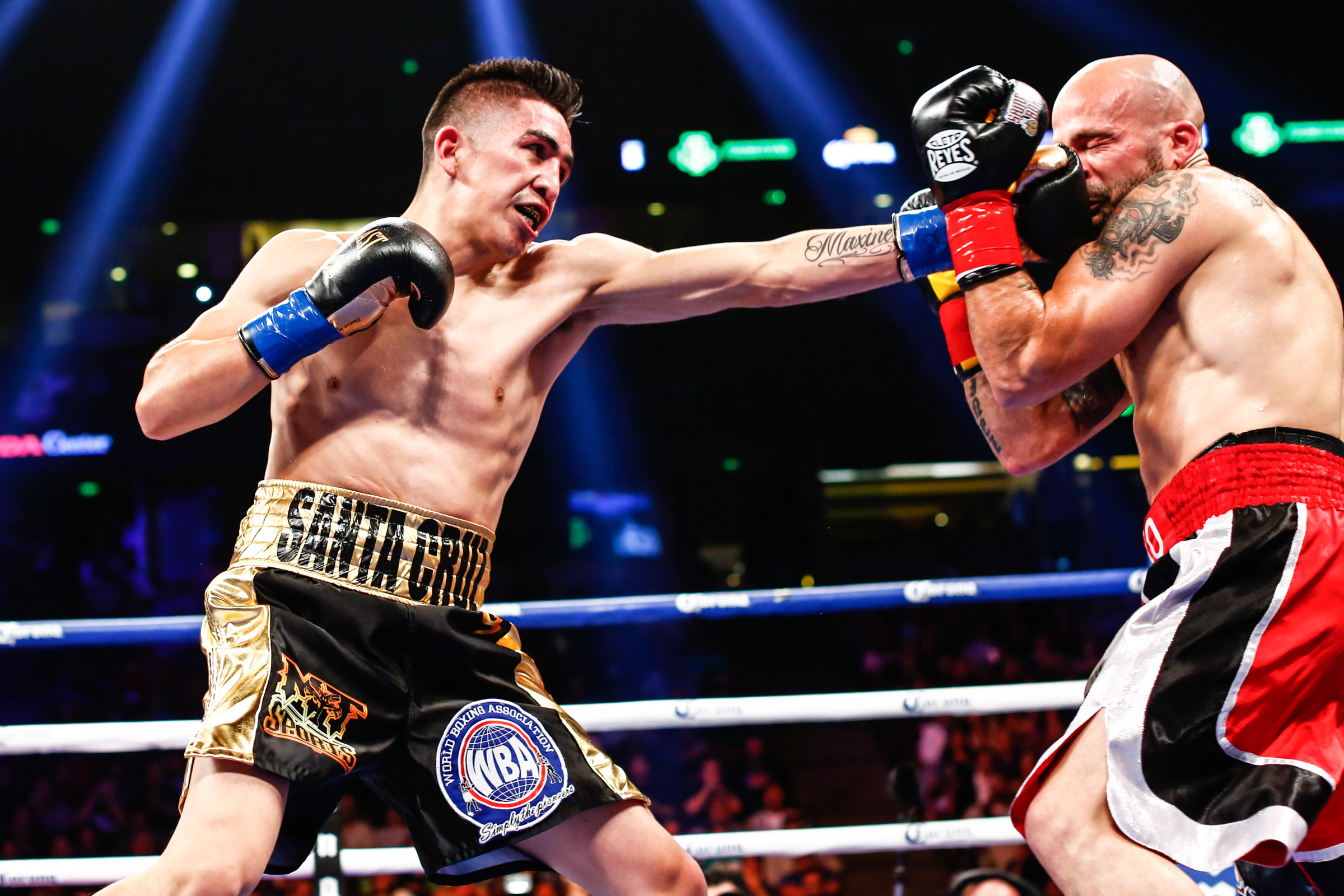 There were five fighters tonight that were looking to keep their win streaks alive. That of course, included the WBA featherweight champ Leo "El Terremoto" Santa Cruz (32-0-1, 18 KOs). He was in the main event, facing off against Kiko "La Sensacion" Martinez (35-7, 26 KOs) in a fight that was scheduled to go 12 rounds.
Santa Cruz dropped Martinez in the opening seconds of the first round, and shortly thereafter Kiko went down again. Both those knockdowns came by way of big right hands thrown by Leo.
Martinez really came back in the second round, landing a lot of his punches and proving to Santa Cruz that he was not out of the fight. The third round was a good back-and-forth battle throughout, with Kiko again trying to be the one on the attack, which was the only way he had a hope of winning.
The fourth was a good one for Leo, but if you could mentally throw out the first round (which is hard to do with two knockdowns against Martinez), this was a competitive fight. Well, until Santa Cruz just unloaded on Kiko. Referee Raul Caiz, Sr. was ready to jump in if Martinez didn't answer back, and ultimately he had to step in and wave the fight off at 2:09 of the fifth round.
"The fans love it when two fighters go toe-to-toe," Santa Cruz said after the fight. "I wanted to give the fans a great fight. I knew I cold hurt him with a right hand. He's a fighter and when he's knocked down, he's going to come back. In the fifth round I knew I had to finish him off and I did.
"He was throwing good punches and I was throwing out good punches and the crowd was loving it. Then my dad told me to slow down and be smarter so we started boxing.
"He was like a bull coming forward really strong," Leo continued. "He has definitely been one of the strongest fighters I've been in the ring with yet. Towards the end I said, 'This is it, this is my opportunity to take him down. If I don't finish him right here, it's going to make it a really tough fight.' So I said I was going at it with my all and thankfully it turned out the way it did."
With regard to who Santa Cruz would like to fight next, he said, "I'm up for anyone. I want the rematch with (Abner) Mares. Since Frampton won, if he's ready to go up in weight, I'm ready for him. I challenge him to a fight whenever he's ready."
Martinez had this to say after the fight.
"I want to thank Leo Santa Cruz for being a great fighter. He was really game tonight. I feel alright. The second round I was getting looser and I was starting to feel much better. He started to move a lot and he broke my strategy and he fought a great fight."
The co-main event was between Julio Ceja (30-2, 27 KOs) going up against Hugo Ruiz (36-3, 32 KOs). This fight was for the WBC Super bantamweight title and was scheduled for 12 rounds. This one was slated to be a barn-burner, but it had no chance at all to develop.
Ruiz jumped all over Ceja, dropping him with a big right hand. The fight continued, but not for long, as Hugo went right back on the attack, and the referee Thomas Taylor waved the fight off at a mere .51 seconds! This was a good win for Ruiz, since last August he lost by knockout to Ceja.
Sadly, Ceja was taken out of the arena on a stretcher. When he went down he landed awkwardly, bending his right ankle. He got up limping and could not defend himself, which was why the fight was stopped. He was taken to the hospital, where he was diagnosed with a fractured right ankle.
Ruiz became the new WBC Super bantamweight champion, and was quite emotional after his victory. When interviewed however, he was composed.
"I was very prepared to knock him out, but I was prepared to go 12 rounds tonight also if I had to. I was happy to knock him out in the first round. Ceja is a very good fighter and I know he'll come back.
"I saw that he got hurt with the first punch and I saw his leg wobbling and so I said, 'Let's finish.' And I did in that round."
Ruiz also said that for his next opportunity he is looking for the best fighters and the best money out there.
Featherweights took to the ring as Claudio Marrero (20-1, 14 KOs) and Jonathan Arellano (16-7-2, 4 KOs). This fight was scheduled for six rounds. Marrero was the one who did the best work in the first round, and the second. A short right dropped Arellano in third round.
Jonathan tried to rally back, but throughout the remaining rounds he was no match for the aggressive Marrero. Arellano kept letting himself get pushed to the ropes, and each time he wound up there, things went badly for him.
The fight did go the distance and we went to the scorecards. All three judges saw the fight the same, 60-53, all for Claudio.
In a fight in the featherweight division that was scheduled for 10 rounds, Rey Vargas (26-0, 21 KOs) stepped in the ring with Christian Esquivel (28-9, 21 KOs). Vargas was very fast and accurate, and demonstrated that in the opening round. He went on the attack from the get-go.
Vargas was by far the star of this fight, something that was not lost on the Esquivel corner. After watching their fighter take a beating for three rounds, his corner waved the towel and the fight was stopped at 1:01 of that third round.
Cereferino Rodriguez (21-1, 11 KOs) went up against Edgar Riovalle (37, 20, 2, 26 KOs) in a welterweight that was slated for six. This might have looked like a back and forth battle, but the entire fight was all Rodriguez. He was the more skilled fighter and it showed.
In the end, the face of Rodriguez looked to be unmarred, while Riovalle's face showed the battle scars of war. We went to the scorecards, and all of the judges saw the fight the same, 60-54, easily giving the victory to Rodriguez.
In a super lightweight bout that was scheduled for eight rounds, South Korea's Min Wook Kim (14-1, 11 KOs) took on Alvaro Ortiz (7-7-1, 5 KOs). The very fast Kim was all over Ortiz in the opening round. Even when Alvaro would try to hold him, Kim was able to get in some punches with his free hand.
Ortiz had a good second round and landed a lot of punches, but they didn't seem to have a lot of effect on Kim. Both men scored points in the third, with the nod probably going to Kim. He had more power on his punches.
Ortiz was trying and was aggressive, but he just didn't have the talent or speed to compete with Min Wook. Kim was declared the winner by unanimous decision. But kudos to Ortiz for staying in the fight and making it go the distance.
Michael Hunter (11-0, 8 KOs) faced off against Phil Williams (15-8-2, 14 KOs) in a bout scheduled for eight rounds in the cruiserweight division. This fight did not come close to the allotted rounds, as a flurry of punches thrown by the 2012 Olympian Hunter sent Williams to the mat in the first round. Phil got up, but was unable to continue, and the fight was waved off at 2:44 of that opening round.
We saw a bantamweight bout that was scheduled for four rounds between Antonio Santa Cruz (2-2, 1 KO) and Jorge Perez (2-1, 1 KO). These two men fought in close quarters for 12 minutes and each of them dished out punishment.
We had to go to the scorecards, and all of the judges saw the fight the same, 39-37, giving Santa Cruz the unanimous decision.
Anthony Flores (10-0, 6 KOs) faced off against Carlos Aguilera (10-16, 4 KOs) in a super lightweight fight that was scheduled for eight rounds. Flores didn't need all eight, however.
Anthony was in total control of the fight, sending Aguilera to the canvas in the second round, but Carlos refused to stay down and was able to get out of the round. Flores was relentless however, and continued his round-by-round punishment of Aguilera. Finally the referee had to interfere, stopping the fight at .26 seconds of the fifth round.
I mentioned at the beginning that five fighters came into the night with an '0' in their loss column. Four of those were able to continue that trend; Santa Cruz, Flores, Hunter, and Vargas. We saw one successful title defense and one new belt won.
Many of the fights allowed some of the men to show that they ready for more, and the fans seemed to go home happy. You can't ask for more than that.
Congratulations to Leo and Hugo, and fast healing wishes for Julio Ceja.