Ringnews24 Interview: Chris Jenkins on changes and future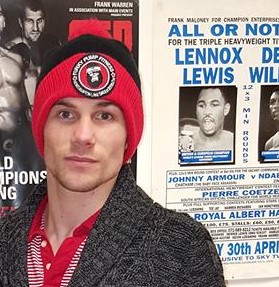 27-year-old Chris Jenkins (16-1-1, 8 KOs) has been a professional since February 2012. the light-welterweight from Garnant, West Wales has had a successful career so far, having won the Prizefighter Tournament, at York Hall, Bethnal Green, in 2013 and winning the WBC International super lightweight title, in Cardiff, in 2014.
In 2015, Chris twice fought Tyrone Nurse for the British title. Both fights ended in controversy. The first declared a draw and the second being awarded to the Yorkshireman. Having long been under the guidance of trainer Ronnie Morris, at Cwmgors ABC, Chris took the decision to move to Gary Lockett's Gym in Cardiff in 2016.
I spoke with Chris at his new gym to get his thoughts on the Nurse fights, the move and the future.
Ringnews24.com: You had two fights in 2015 against Tyrone Nurse. How did you think the fights went?
First fight I was inactive for nine months. In a year, I'd only done one round. I thought I had a good camp, I thought I won the fight but they (the judges) gave it as a draw.
I went back in the gym, I upped my sparring. I was going to different gyms, Leeds, Bristol – I was going all over the place; to get sparring for the second fight. I boxed a different gameplan and I thought I definitely won the fight, including the knockdown. He's tricky, probably the trickiest boxer in the weight division. He doesn't hit hard, as I proved, he caught me a few times flush and it didn't bother me. I knew I won the fight but what can you do.
Ringnews24.com: How did you feel after the decisions?
I went to get stitches from the head clashes, I knew I won the fight. I was a bit angry, annoyed and pissed off. My wife was there and she just spoke to me, "Look, don't worry. I know it's your first loss but we know you didn't lose". Members of the crowd thought I won. Went back to the hotel seen my family and friends, didn't have a drink. Went to bed and woke up the next day contemplating the future.
Ringnews24.com: When did you decide to join Gary Lockett's gym?
I had a few weeks off just to get away from the sport, get away from the game. I had a nice little pay packet but not enough to live on the rest of my life. I just chilled out through Christmas, I put a few pounds on. Mid January, I had a chat with trainer Ronnie Morris and explained everything to him. He's been a good man to me; been with him since I was twelve years old. If it wasn't for him, I wouldn't be where I am now. I just thought it was time for a change. To train at a top gym, the talent is here (Lockett's Gym), everyone's winning and the saying is success breeds success. In the gym here you've got top sparring here like Mano Lee and Zack Davies at a similar weight. Also, you've got big Nick Blackwell, fatty Alex Hughes (smiles) and Liam Williams. People actually come to this gym for the sparring.
Ringnews24.com: What division will you fight in, in the future?
I'm sticking at super lightweight (140lbs) but I'll be having a chat with the nutritionist, that's based here, and try and make lightweight, I think I'll be huge at lightweight. I make the 10 stone limit good, it's not easy but I make it and feel good at it. I'll see if I can make lightweight but if it affects my performance, then I'll stick to 140lbs.
Ringnews24.com: Third fight with Tyrone Nurse?
It's not going to happen. I'm not signed with Matchroom. I'm with manager Paul Boyce, he works very well with them and they do look after me to be fair. I don't think Nurse is signed with them and he's fighting Willie Limond next. Hopefully, I can get back in the mix, have an eight-rounder now and then have an eliminator for the British or Commonwealth. I only want the big fights.
Ringnews24.com: How do you see Tyrone Nurse vs Willie Limond going?
Limond will be on him like I was, if he catches him he might hurt him but I think Nurse will just outbox him, play with him – he's too slippery.
Ringnews24.com: Date for next fight?
I don't have a clue. Just in the gym and waiting for a date.
Ringnews24.com: Are you a free agent?
I'm signed with Paul Boyce Promotions – that's my manager. My coach is Gary Lockett. I'm not signed with Frank Warren or Matchroom or anybody else out there. I just want the big fights, that's all I want. Do I have a big fight now or have an eight rounder against someone who will push for the eight rounds? One win and put me back in the mix.
Ringnews24.com: When would you like to be back out?
Mid March, end of March. Early April at the latest. Then take a few weeks off and spend it with my boys (twins) for their fourth birthday.
Ringnews24.com: Is training different with Gary Lockett?
A lot more different. Not on my toes so much, in some of the fights I was wasting energy by bouncing about, throwing an endless amount of punches rather than staying tall and keeping my feet a little bit tighter. Not boring in with my head, that's why I'm getting cut. My legs were too far apart; I was throwing the right hand and then falling in and getting cut. We're working on little things, fine tuning. Like Gary said "there's nothing I do bad but I'm a great boxer; use my attributes" and he said, "I've got a helluva long jab – use it". So, working on what's working for me and hopefully win next time (laughs).
Ringnews24.com: Message for the fans?
Obviously, I lost the last fight and hopefully I'll get the win next time. You can buy tickets but it's cheaper to watch it on the telly (laughs)