Kick Boxing Classics in Lincoln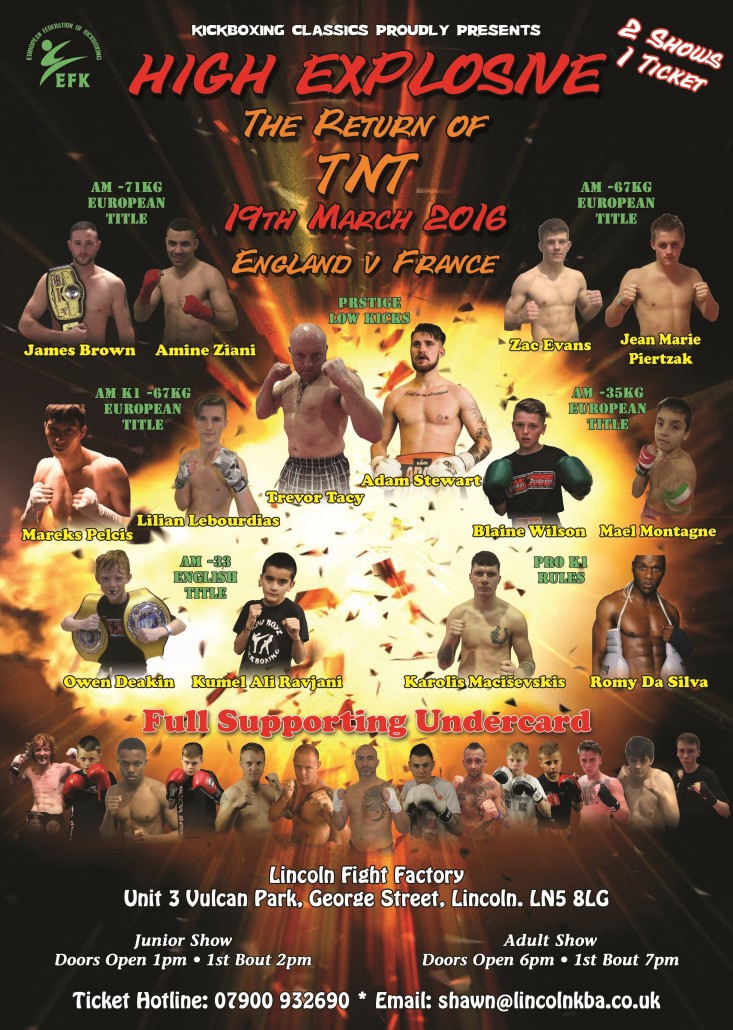 High Explosive The Return of TNT
Lincoln Fight Factory, Unit 3 Vulcan Park, George Street, Lincoln, LN5 8LG
Saturday 19th March 2015
The 19th of March brings a massive night of kick boxing to Lincoln.
The event will be covered ringside by Stuart Bruno Brown.
From www.lincolnkba.co.uk;
"The huge event will be spread over two shows – an afternoon show featuring some of the country's best youngsters from gyms across the country battling it out against a new breed of fighters coming out of the Lincoln Fight Factory.
Fighters such as Kraig Green, Keegan Roberts, Lukas Nanaz, Karl Cox, Danny Kennedy, Aidan Richardson, Lukas Ventkus, Jacob Liddle and Harry Finch will be squaring up to opponents from Motiv8 Combat Studio (Ashby), Rav Boys (Luton), Cobra Academy (Bristol), Cleveland Kickboxing (Middlesborough), Impact College of Martial Arts (Middlesborough), 3K Gym (Kings Lynn), Impact Gym (Sleaford), Apollo Martial Arts (Ipswich), Left Jab (Huddersfield), Trojan Kickboxing (Walsall), TKMA (Boston) and Mick Crossland's highly talented Combat Academy (Barnsley).
The kids at the gym have been begging for fights recently and we are finally getting a strong team who are destined for title honors – now it is time for them to showcase their skills in front of the home crowd.
The evening show is mouthwatering. We have a team of 5 fighters travelling over from France, 4 European title fights and the return of the legendary Trevor 'TNT' Tacy fighting Scotland's Adam Stewart in a prestige Low Kick kickboxing contest over 5×2 minute rounds at 73kg.
Trevor was one of the superstars of the spot 15 years ago, a career that saw him win and defend 3 World Titles and become one for the most feared names in the spot. A short, but successful spell in the Professional Boxing ranks really cemented his talents as the complete fighter. His return is guaranteed to thrill the crowd with his none stop, come forward style and seriously heavy hands and leg kicks.
Professional Lithuanian K1 rules fighter Karolis Maciševskis is making his debut for the Fight Factory when he looks to take his record to 6 straight wins when he meets Romy Da Silva, a formidable foe with over 50 fights to his name on some of the sport's biggest promotions, we certainly haven't taken an easy route for Karolis' first fight for the club in this 3×3 minute battle set at 85kg.
Boston's James Brown will be looking to add to his EFK English title that he won on the last Kickboxing Classics show in August when he challenges for the vacant European crown against French star Amine Ziani.
James has been on a great run and remains undefeated, picking up wins in Norway and New York in the Fight Factory's recent trips overseas, but we know first-hand that the fighters from Thierry Tamas' camp are always skilled in all areas so we expect an extremely competitive fight here.
Zak Evans from Chris Bladon's Addrenaline Gym looks to take his record to 13-0 when he fights France's Jean Marie Piertzak (17-2) for the 67kg crown over 7×2 minute rounds under full contact rules. This fight has got promoter Shawn Burton extremely excited having previously worked with both fighters – this has the potential to be fight of the night and a bout that could top any promotion in the UK and we only have it as heading the undercard.
The third European title fight is a K1 rules bout between Barnsley star Mareks Pelcis (10-2) and Lilian Lebourdias (20-0) from France. This is a great bout between two teenagers at the very top of their games and a fight worthy of the EFK 67kg European crown.
The final European title is between to 13 year olds – Blaine Wilson (Combat Academy) and French sensation Mael Montagne (25-5). These are 2 of the best juniors in Europe and have a host of titles between them, both stylish, explosive fighters who more than hold their own on the adult shows.
Other Lincoln Fight Factory fighters on the card include Luke Kennedy, Brandon Gregory, Michael Buckthorpe, Phil Robbins, Brian O'Neil, Bradley Swinburn and Craig Tinker.
Tickets for the show are priced at £25 for adults and £15 for kids. The junior show kicks off at 2pm and the evening show 7pm. Tickets will sell out (300 were sold in the first week) so please don't delay in getting yours.
Title fights and international fights will be having a public weigh in at the gym at 6pm on the Friday and the rest will be weighing in from 9am on the day of the fights."
Stuart Bruno Brown
Read more articles about: