Al Haymon Ships Charles Martin Down Big River For Anthony Joshua?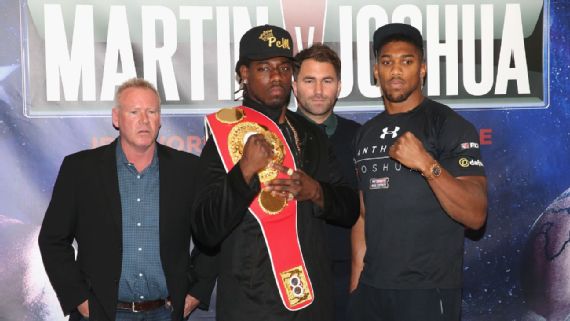 In a surprise move by the always hidden under ground and out of sight of daylight, garlic, and holy crosses, Al Hayman, he has struck a landmark deal to ship his freshly crowned IBF heavyweight champ, Charles Martin, across the pond to defend against Anthony Joshua, Saturday, April 9th at O2 Arena Millenium Dome, Greenwich, London.
BTW, noted boxing scribe Thomas Hauser after his wonderful expose of the Floyd Mayweather TUE drug testing debacle, has compounded that seminal work with another 5 part series on the mystery of Al Haymon here: What we know about Al Haymon: Part V
Why is this fight so surprising you might inquire? Well, Hayman has proven to be the antithesis of a bold, high risk promoter as far as the fights he makes, generally preferring his large stable of fighters to fight each other in "shooting fish in a barrel" type productions where the favored fighter takes little risk against the lesser. Charles Martin scored big time when in spite of doing next to nothing in the ring for his title shot, the hapless opponent, Vyacheslav Glazkov, ended up mysterious collapsing in a severe knee tear. Probably it was a long time disability that his team hid hoping to last long enough to make the scratch line for a rare opportunity to go up against the raw, untutored Martin for a bogus title that was stupidly stripped from Tyson Fury.
The diminutive chap behind beltholder Martin above is a long time personal chef to the wealthy now turned boxing manager, Paul Cain, a scouser from Merry Olde England in another very odd couple type of pairing for boxing. Martin is the rawest of the raw type of talent with little amateur background to speak of, but here he'll be, blinking in disbelief at his career high purse and media frenzy most fighters could only dream of. The highly credentialed Olympic Superheavy Gold Medalist, Joshua, has already been able to parlay his accolades into gobs of high level pro sparring and fights for stellar pro development and big purses. It's almost an unfair fight save for the unknown X factor that Charles may have hidden deep with his wellspring, just waiting for the right moment for greatness to emerge.
Both Martin and Joshua seem likable, hardworking gents overall compared to the many bad apples in boxing, so my take is that win lose or draw, each should grow further into the division. Joshua of course is the overwhelming favorite as the local hero in a hometown environment for him. Few fights this year will ever be as big and raucous with the potential to sell out this high end sports and entertainment centre, so Martin will certainly be starstruck, a big handicap to overcome, but the adrenaline rush come first bell should wash away those stars. Americans have traditionally been reluctant to travel because their dominant boxing history allowed them to control the venues and officiating, but it's a new, softer American era now as the easy going Martin represents with his doughboy profile in the ring. Joshua will look like Hercules in comparison. No matter, these are two, really big, modern superheavyweights, so Martin being a little tubby is not a big deal in the 12 round title era, but for now rather more indicative of his relatively new entrance into boxing. He was a carpenter and shipping clerk as recently as 2012 if I extrapolate his background correctly.
In a Big Boy fight like this, both around the 6-6, 250 lb mark, one punch is more likely to completely change the argument more than any other division. Stay tuned to the local channel near you come fight night as it will be widely available in the UK, Europe, and US.