Wins in Wales for Lee Haskins, Craig Kennedy & Andrew Selby
Cardiff, Wales: Bantam: Lee Haskins (33-3) W PTS 12 Ivan Morales (29-2). Fly: Andrew Selby (5-0) W PTS 12 Louis Norman (11-2-1). Cruiser: Craig Kennedy (15-0) W PTS(SD) 10 Joel Tambwe Djeko (9-2-1). Welter: Paddy Gallagher (10-2) W TKO 1Tony Dixon (7-0). Super Light: Josh Taylor (5-0) W KO 1 Miguel Gonzalez (13-12). Middle: Conrad Cummings (9-0-1) W TKO 6 Frankie Borg (9-6).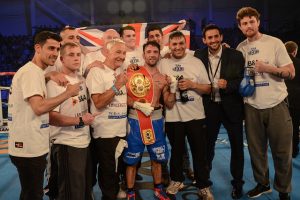 Lee Haskins vs. Ivan Morales
Haskins retains his IBF title as he gives the limited Morales a lesson in tactics in this all-southpaw contest. Haskins is a difficult fighter to face. He has lots of movement, is very quick with his hands and his reflexes, fires punches from different angles and can duck and dive with the best. Morales never came close to figuring out a winnable Plan A but what was even worse is that was evident that he had no Plan B. Morales was very predictable as he tried to march forward with his southpaw right jab then try to score with long straight lefts and right hooks. He had some early success but not much as Haskins was constantly using fast upper body movement to lean back from the jab and leap inside with counters. Haskin was smaller and giving away a lot in reach but he was quick enough to get inside with his own jab and his life was made easier as Morales stood upright and came forward in a straight line. For one round Morales decided not to go forward and that worked as Haskins' whole strategy was based on counter-punching but Morales soon reverted to his forward march again. Haskins was out-throwing and out-landing Morales. There were a couple of rounds where Haskins' work became a little untidy under pressure from Morales but other than that the fight was one-sided with the challenger's corner failing to give Morales any useful advice on how to get into the fight with the result that what was expected to be a testing defence almost became a walk in the park for the talented. Bristol "Playboy" . Scores 118-110 twice and 119-108 all for the champion.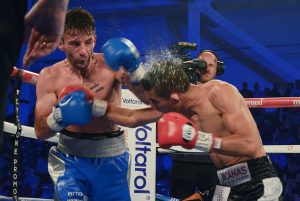 The 32-year-old Haskins seems to be improving with age and growing into the title. He had gone from IBF interim champion to full champion in November when champion Randy Caballero came in a long way over the contract weight and was stripped of the full title. Fellow-Brit Stuart Hall is the mandatory challenger for Haskins which will be a big fight for British fans. Haskins outclassed Hall to win the European title in 2012 but Hall went on to win this same IBF title before losing it in 2014 to Paul Butler and then again in the same year losing to Caballero for the vacant title. Hall's win over IBF top rated Rodrigo Guerrero last month clearly re-established his credentials as a challenger. Morales was a huge disappointment. The IBF had manipulated their ratings to enable them to sanction the fight only for Haskins to make him look one-paced and limited.
Andrew Selby vs. Louis Norman
Selby wins the vacant British title in only his fifth fight. This was truly great little fight. Selby was a huge favourite to win this one and he did but the scores don't come anywhere near reflecting a scintillating display from Norman who whilst not being able to win a round played his part in twelve rounds of constant action. Selby oozes talent. He has outlandish skills and real power but over the early rounds he had to work hard to pin down a very mobile Norman. Selby was stalking Norman and scoring with shots from both hands as he effortlessly switched guards and landed hooks to the body and straight shots to the head. Norman was using every inch of the ring and constantly slotting home punches as Selby was unloading his own. The pace never slackened with Selby going all out for a finish in the fifth putting Norman under pressure for the whole three minutes only for Norman to bounce back in the sixth and have his best round so far. Norman completely changed his tactics in the seventh and eighth standing in ring centre and trading. He was getting the worst of the exchanges but also caught the eye with some hard one-punch counters. Selby upped the ante in the ninth staggering Norman with a straight left and then hurting him again with a flashing combination but Norman recovered. A left hook had Norman in trouble again in the tenth as Selby hunted him down and fried home punches from both hands. It was a pity to see Selby go back to the ropes and then drape his two arms across the top rope and signal Norman to come in. Norman deserved more respect than that. Selby again had Norman hurt in the eleventh and he took the last as they both stood and traded punches with Norman hanging on at the end to a standing ovation from the crowd.Scores 120-109 twice and 119-110.
Selby, 27, the brother of IBF feather champion Lee Selby, is hugely talented. The TV pundits got carried away talking about him being ready to challenge for a world title right now- Roman Gonzalez, Juan Francisco Estrada, Amnat Ruenroeng – somehow I don't think so. Thankfully his manager Chris Sanigar talked sense as usual making it clear that the plan is for Selby to get more fights under his belt before taking that leap. Norman, just 22, had lost on points to Charlie Edwards for the English title in September. He has constantly had to give away weight to get fights but after his outstanding showing here hopefully will get more jobs.
Craig Kennedy vs. Joel Tambwe Djeko
Kennedy gets off the floor twice to win a split decision over huge Belgian Djeko. The visitor had height and reach over Kennedy and his upper body was heavyweight plus proportions. He showed his power with a Sonny Liston-like left jab but in the first Kennedy kept on the outside and just did enough with his jab to edge the round although a clash of heads left the Welshman with a bad cut just below his right eyebrow. The second was a terrible round for Kennedy as Djeko drove Kennedy to the ropes and nailed him with a huge right that put Kennedy down and he only just got up made it to the bell. Over the third, fourth and fifth Kennedy outworked Djeko scoring again and again with jabs. It did not help Djeko's case that he clowned and showboated in the fourth and was caught by a hard right to the side of the head in the fifth. Djeko threatened danger every time he had Kennedy on the ropes and he had Kennedy down in the sixth. It was a controversial knockdown as it looked as though Kennedy was off balance when Djeko pushed him back with the inside of his arm and not his fist. Kennedy protested and finished the round strongly . Kennedy's corner had done a great job of controlling the cut and Kennedy stuck to his boxing in the seventh eighth and ninth and edged those rounds. Djeko put in a big effort in the last as they were two tired boxers and it was a close enough round to have gone either way. Scores 95-93 twice for Kennedy and 95-93 for Djeko. Kennedy, 31, won this one on heart, by working hard in every round and being more accurate but it was nearly a disaster. Instead he wins the vacant IBF International title. The 6'6" "Big Joe" Djeko, 30, probably felt he was unlucky but he fought only in bursts and the two knockdown rounds were the only ones I though he won. He has a very curious build. His upper body is as big as that of Anthony Joshua but his legs would look more suited to Jimmy Wilde. He was always dangerous but just did not work hard enough.
Paddy Gallagher vs. Tony Dixon
Gallagher wins vacant BBB of C Celtic title with one punch kayo of local fighter Dixon. The Welshman had height and reach but boxing on the outside is not his style and he was looking to trade with Gallagher. Dixon had a better start as he quickly had Gallagher's face red from a series of jabs and scored with a couple of sharp uppercuts inside. Gallagher looked dangerous with some hard hooks and suddenly as they traded punches out of the blue a left hook from Gallagher sent Dixon down to the canvas face first. Dixon got to his feet but was staggering back across the ring even as the referee followed him counting and the referee had seen enough and abandoned the count. The 27-year-old from Belfast, a former Commonwealth Games gold medallist, gets his sixth win by KO/TKO. His two losses came in a Prizefighter Tournament 2014but he has now won his last 5 fights. Dixon looked sharp and was mixing his punches well until being nailed by that left hook and at 23 he will come again.
Josh Taylor vs. Miguel Gonzalez
A pity that on such an excellent show there had to be one piece of farcical rubbish. Taylor, yet another outstanding British prospect, knocked out Honduran Gonzalez after 93 seconds with a right jab. He had softened Gonzalez up with a hurtful body shot and the jab was a powerful one but Gonzalez was pathetic and made no effort to get up. The 25-year-old "Tartan Tornado" has yet to have to go past the second round for a win. He has the talent to make it having won silver and gold at the Commonwealth Games and represented Scotland at the European Championships. When he qualified for 2012 Olympics he was the first Scottish fighter to do so since the great Dick McTaggart back in 1956. Gonzalez has now lost ten fights in a row. There was talk of the difficulty of finding suitable opponents for Taylor. Well BoxRec lists 104 British super lights but if you match a boxer with Taylor's talent with pathetic imports who have lost their last nine fights you are going to get a farce like this.
Conrad Cummings vs. Frankie Borg
Cummings made it a good night for boxers from Belfast as he floored Welshman Borg in the fifth and halted him in the sixth. Fourth win by KO/TKO for the 24-year-old former World Cadet Championships representative, Irish Youth and Ulster Champion who fought for the Mexican Guerreros in the WSB. Borg, 35, has now lost his last 4 fights but has a win over Kerry Hope on his record.
Rest of the card results:
Light Heavyweight: Morgan Jones WTKO3rd Richard Harrison
Light Heavyweight: Nathan Thorley WPTS4th Elvis Dube
Super Lightweight: Mitch Buckland WPTS6th Mohamed Larabi
Check-out more photos from Sophie Merlo here: Sophie Merlo