Bellew vs Makabu undercard report from Goodison Park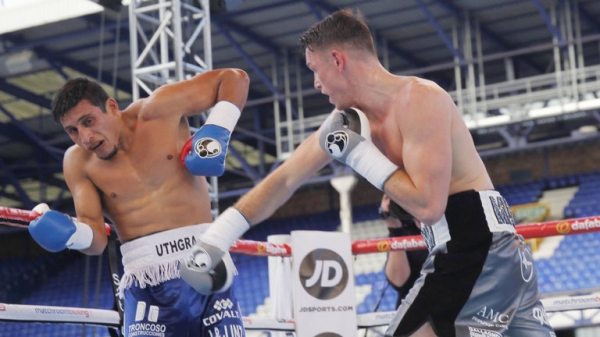 Date: Sunday, 29th May, 2016 Venue: Goodison Park Stadium, Everton Football Club, Liverpool, UK. Promoter of the show was Matchroom Boxing
Cruiserweight David Glover beat a very game but limited Darren Snow via 3rd round stoppage. Glover put his combinations together superbly and at times Snow showed some good defence. It was obvious from the opening bell, the power Glover possesses would end this fight at any moment. Showing great body to head combos Glover had his man down three times – twice in the second round and a final time in the third. The referee made the decision to wave the fight off after the final knockdown. A great warm-up fight for the fans and a fantastic debut for Glover.
Steve Brogan was next up and easily outpointed Dean Evans over four rounds to extend his unbeaten record (8-0). Apart from a big right uppercut in the first from Evans – Brogan was in control throughout the fight and boxed wisely. Evans showed he was willing to make the fight ugly by swinging wildly at times hoping to land the money punch.
The eldest of the Smith brothers was up next. Paul Smith was made to work for his pay tonight against talented Polish contender Bartlomiej Grafka. Everything that Smith did Grafka appeared to do a little better. With utmost respect to Grafka, Paul should've been able to get his man out of there, this fight was meant to be another stepping stone following his stoppage of Bronislav Kubin in his last outing. However, Grafka demonstrated that he could work well, on the inside, and put a world title challenger on the back foot. Ultimately, it was Paul that walked away with a six round decision under his belt.
Next was the super lightweight contest between Tom Farrell and Kofi Yates. This ten rounder was thrilling from the opening bell. Yates landed some crisp shots in round one that had Farrell worried, for a moment, but he overcame that adversity to see the round out and re-group. The next nine rounds can only be described as a, somewhat, tactical slugfest both staying in the pocket the whole of every round but it was Farrell that was able to the land the more telling shots. As the rounds went on and the stadium started to fill it was a mix of Farrell's excellent conditioning and the cheers of the crowd spurring him on. Both men looked ready to go in the final round, but both men showed great heart and grit by staying on their feet, biting down on their gumshield and fighting to the final bell.
British heavyweight David Price bounced back from his knockout loss to Erkan Teper in his last fight with a second round TKO of limited Vaclav Pejsar. One must point out Teper failed a post-fight drugs test. Always exciting to see Price in the ring as he has one punch knockout power in both hands, but his chin is constantly called into question. The size difference was telling in this fight and Price was in control with some lovely jabs from the opening, putting his man down once in the first. Pejsar came out swinging hoping to land a big right hand on Price and that was ultimately his undoing. After being knocked down again he did well to make it to his feet but moments later Price bum-rushed him and timed him with a right uppercut to finish him off.
Callum Smith was taking a stay busy fight against Cesar Hernan Reynoso. The battle between the two super middleweights was off and Callum stayed cool, calm and collective in picking his shots and staying patient from the off in this scheduled eight round contest. He was in there to work on what he's been practising in the gym and he put it together to perfection. At times, he covered up and appeared to let Reynoso try and hit him through his tight guard. However, most of the time Callum was on the offensive and Callum put him down in rounds one, four, five and finished him off in the sixth.
Now a fight many fans had been waiting for Birkenhead's Sean 'Masher' Dodd was looking to finally fulfil his dream against Italy's Pasquale Di Silvio for the WBC International Lightweight title. This ten rounder had the crowd roaring at times as Dodd landing big shots. When Dodd was taking rounds off the crowd fell almost silent when Di Silvio was landing. Over the whole ten rounds, it was back and forth but Dodd appeared to have that extra gear once he had taken some time to recover from punching himself out in rounds five-six. This proved to be invaluable in the later rounds. One thing's for sure and it was that both men had their moments and it was difficult to split them at times, but Dodd picked up the decision. Di Silvio will bounce back from this loss and he will have picked up invaluable experience against the lionheart that is Sean Dodd. We look forward to seeing Dodd fight for world honours in the near future.
Steven Smith then fought for the WBC Silver Title against Daniel Brizuela next, in what was really a one-sided beatdown. As Smith piled on the pressure he showed that he was too swift (pun intended) for the Argentine. Smith was going to work all the way through this fight and didn't have to overcome any problems that he thought Brizuela may bring with him. It was telling that Brizuela seemed hesitant to engage and looked like he wanted to hang on for a decision but it was Smith's fantastic body punching that stopped Brizuela in 7th.