Bob Arum vs Al Haymon: Who You Got?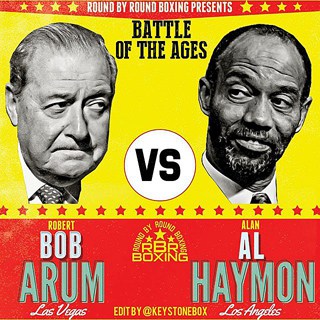 Top Rank Boxing through the direction of former US Department of Justice Attorney and long time boxing promoter, Bob Arum, filed a $100 million lawsuit last year in the U.S. District Court in Los Angeles on the basis of Al Haymon's monopolistic PBC series that violated federal antitrust laws and the Muhammad Ali Boxing Reform Act. Haymon, financed through an investment hedge fund, basically bought out most all the boxing programing  of the television networks, in effect leaving the rest of boxing promoters pretty much high and dry in making their own TV deals. Golden Boy Promotions was the first to file suit that is still pending for a much greater sum due to greater damages, a staggering $300 million.
It seems Haymon recently settled with Arum out of court a couple of weeks ago according to latest media releases, but what this means for boxing's shaky future is unknown. Boxing futures today as seen by young kids and their parents are pretty much a no go investment, this after a long storied era in the US where boxing was the "go to" sport and part of the amateur athletic competition of  higher education along side baseball, football, ect. That status started dying somewhere between the 1950s and 60s when boxing finally started falling out of favor with the public due to the long time mob influence in pro boxing and general exploitation of fighters. In other words, the educated classes no longer saw a future need for boxing with it's subsequent punch drunkeness, so they largely abandoned it.
Needless to say, this recent settlement sees the litigants sworn to silence regarding the terms, but I'd guess Arum netted $20-30 million along with in number of concessions regarding the way boxing business will go forward.
The much bigger hurdle for Haymon is still in the queue, and it's a doozy with Oscar De La Hoya of Golden Boy still waiting for his pound of flesh after Haymon colluded with former Golden Boy CEO, Richard Schaefer, to gut the company from within, taking away most all his fighters. Schaefer has settled with GB out of court already, so now it's just Haymon still swimming in shark infested waters as GB and Haymon's investment fund are looking for compensatory justice in the civil courts.
Boxing will survive no doubt, but it's just a matter to what degree. It would seemingly be in it's twilight years by the large decline in the numbers of participants, both amateur and pro, but that could change with a better, more productive business model that wasn't filled with so much skulduggery…
…And the beat goes on…
Read more articles about: