Kovalev-Ward; Who is pound for pound king?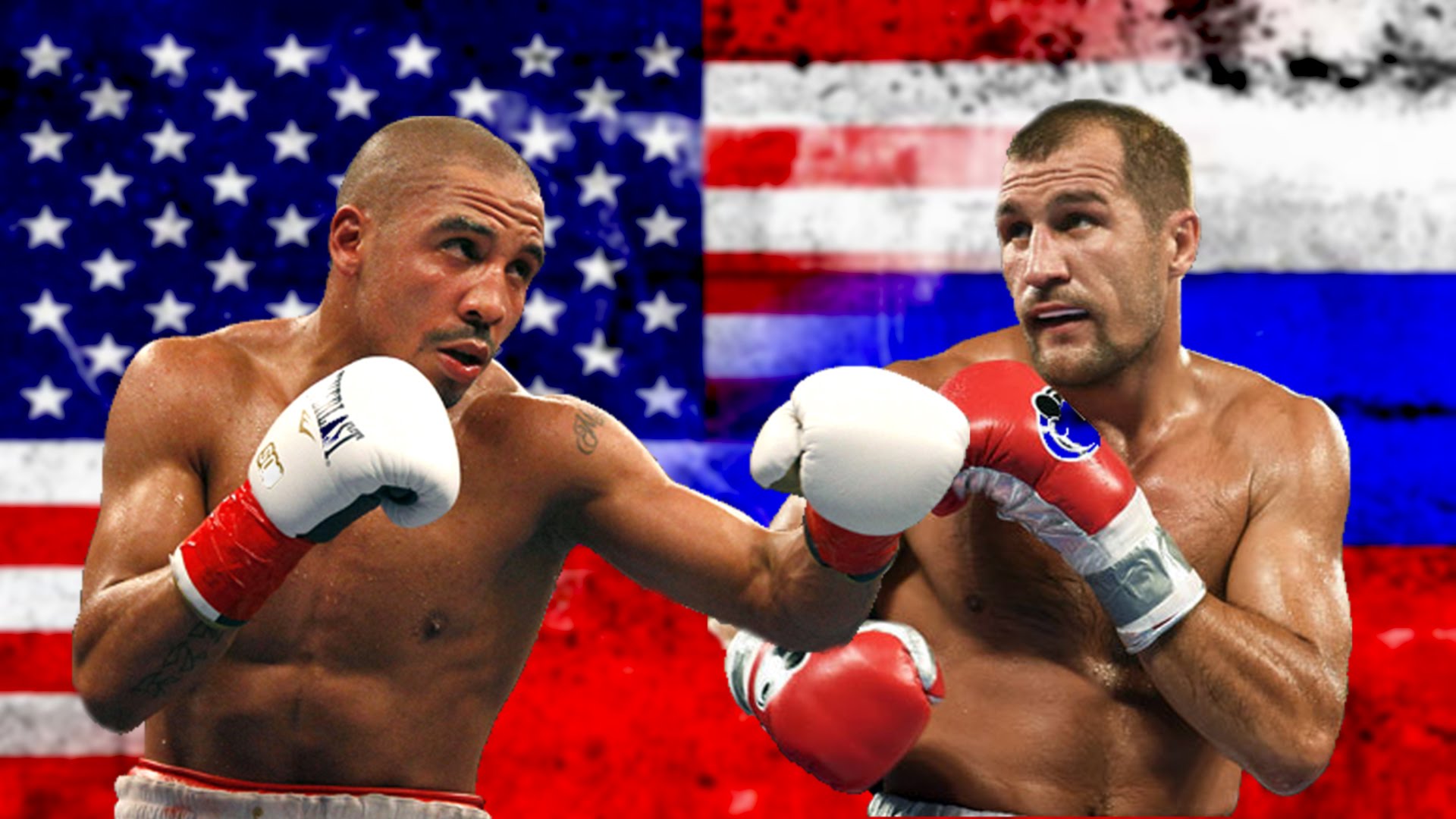 KATHY DUVA: We are here mostly for you to get a chance to talk to Sergey Kovalev and to get a better sense of where his head is right now leading into the fight we all want to see. Knowing from experience, the most fun anyone in my position could have is to be in the position to announce that the biggest fight of the year that everyone wants to see, between two of the top five pound-for-pound fighters that everyone wants to see, with undefeated records – usually it's a lot of fun. I do hope that at some point during this promotion it will become fun. I am here to tell you that we are planning to have the fight on November 19 and we expect that the fight will be taking place somewhere, and where that is we will let you know. I will hand the mic over to Michael and we will proceed.
MICHAEL BUFFER: Ladies and Gentlemen, we have here the fighter that is universally recognized by most as the true, undisputed light heavyweight champion of the world. That is with no disrespect to Adonis Stephenson – the man the fans and most pundits would agree is definitely the most universally recognized light heavyweight champion of the world is Sergey Kovalev, so let me turn the mic over him and we will take questions.
SERGEY KOVALEV: Thank you everyone for coming. I am really happy about the fight that is coming up against Andre Ward on November 19th and I am really excited. I am really excited because the two best boxers in the light heavyweight division will fight. It is three months before the fight and I will just take my time and it will happen. I will answer any questions you have.
We don't see two five pound-for-pound fighters fight each other that often – what makes this fight worth the risk for you?
SERGEY KOVALEV: This fight for me is dangerous. Any fight is dangerous but this fight is really important for my career and for the boxing world because it is a really high level for both of us. When I was a child I was just dream to be on this level so this fight for me really means a lot. For me this fight means everything in my boxing career and after this fight we will find out who is the best pound-for-pound.
Are you disappointed Andre is not here? Was he supposed to be here and why is he not here?
SERGEY KOVALEV: I am not disappointed that he is not here – it will be much better if he was here but if he is here it is no problem. We can speak without him. The most important thing is that he will be in the ring on the 19th.
KATHY DUVA: He felt that it was too close to his fight to have to travel.
What is going on with the site? Apparently it was supposed to take place at T-Mobile and now there is some talk of it going to Barclay's in New York or MSG?
KATHY DUVA: We have an agreement with the T-Mobile as far as I am concerned.
Do you think you can outbox Andre Ward?
SERGEY KOVALEV: It is my goal. I like to have goals in my life and this makes my goal, yes.
Could you imagine yourself as being the best pound-for-pound fighter in the world? Is this something you dreamed of when you were a kid?
SERGEY KOVALEV: I never dreamed about it because I never knew about this word "pound-for-pound," so I never thought about being the best pound-for-pound. I always wanted to be the best in the light heavyweight division. But now that Andre said this is the fight for the best pound-for-pound, yes it is now my goal.
Sergey has proven him self on the road, he is kind of a road warrior – does it even matter to you where the fight is?
EGIS KLIMAS: We just didn't want to get to the point where we say it doesn't belong there. To Andre Ward it belongs there. Right now he is a top level guy in the light heavyweight division – there is no doubt about it. We never wanted to fight guys that we didn't know about. They are going to step in the ring and the winner will be the pound-for-pound guy. Sergey Kovalev deserves to fight for the pound-for-pound.
This will be only the third time since the inception of The Ring pound-for-pound that two of the top 5 pound-for-pound were undefeated and fought each other. The first one was in 1990, a Main Events fight, Chavez-Taylor, with Don King; and in 1999 when Trinidad and De La Hoya fought and set all kinds of box office records. Leading up to that, we have Kovalev's trainer two-time world champion John David Jackson – so J.D., why don't we see fights like this more often?
JOHN DAVID JACKSON: One of the problems making these types of fights is the promoters can't get along. The fighters for the most part will fight each other. Sometimes it is not within their powers to make the fights and that's why sometimes you don't see these big fights. Sometimes one TV network has one fighter and another TV network has another fighter. There are a lot of reasons the fights are not made but I am glad this fight is made for the fans – they get to see a world class fight between two world class fighters on a world class level.
Does your current status being in the top-pound-for-pound, have status, or is it appreciated in Russia?
SERGEY KOVALEV: I don't know because I don't hear any opinions about that from Russian fans. After a while people are thinking that I am the best, yes, and in my hometown for sure.
MICHAEL BUFFER: I can vouch for that. We had a fight in Russia a few weeks ago in Ekaterinburg, Russia and Sergey literally could not go anywhere. He was attracting hordes of people. He is so admired in Russia. There are so many great fighters coming out of Russia. They don't think of him as the light heavyweight champion or a pound-for-pound champion, they think he can walk on water in the world of boxing. He is definitely a fan favorite.
Do you plan on changing any part of your training regimen for this fight?
SERGEY KOVALEV: I don't think that that we are going to change anything but we can add something.
JOHN DAVID JACKSON: Yes. Exactly what Sergey said. There is not much to change but we can add certain things. And we will try to capitalize on the mistakes that Andre makes. Camp is going to go according to plan and we are going to get the work in that needs to be done.
How do you rate Andre Ward as an opponent? Do you expect a hero's welcome in your home country if you are victorious?
SERGEY KOVALEV: I cannot rate Andre Ward because I have not fought him yet. After the fight I can make some points about that. All of my Russian fans and all of my family – I will dedicate this fight to all of them. I want to bring my belts and victory to Russia.
Were you happy with your fight in Russia and your performance?
SERGEY KOVALEV: I was happy with the victory over Chilemba. This guy was not a punching bag. He was very uncomfortable for me. The show was great and thank you very much to the Russian Copper Company that helped promote the show in Russia – they made it similar to a show in the USA. I was happy with my last fight and it was good preparation for my next fight for November 19.
JOHN DAVID JACKSON: I was happy with the victory. Could he have done some things differently? Yes and he realizes he will be more prepared for the Ward fight. You cannot take any fighter lightly. There is always room for learning and with each passing fight you learn more. And now it's time to move on and be better prepared for that fight.
Where can I get the shirt you were wearing in the ring Saturday night doing the post-fight interview?
SERGEY KOVALEV: (laughing) I got the shirt in Las Vegas.
How do you think the negotiations will end?
KATHY DUVA: There is always a sticking point. There will be a sticking point until they get in the ring. Then I will be able to sit back and watch how these months of hard work and in this glorious moment, that I have been looking forward to more than anything in the world, because at that point Roc Nation isn't going to be able to do anything for Andre Ward any more.
Do you think Andre Ward has more power as a light heavyweight to hurt you and do you think you can knock Andre Ward out?
SERGEY KOVALEV: I think so, yes. He was power – he will be a lot heavier and has been in his last two fights. He has been fighting twelve rounds to get enough experience for November 19. We saw the power when he fought in the super middleweight division. Sure, I will try to knock him out because I am Krusher and I try to live up to my nick-name. Let's do it.
Do you look forward to the challenge that Andre Ward brings to your fighter?
JOHN DAVID JACKSON: Yes, of course. He is an intelligent, very smart fighter. Anyone that has gone undefeated as an amateur and then undefeated as a pro, that is something you've got to respect. Having said that, he does like a challenge. He is difficult and he is good at what he does. We have to break him down systematically and beat him at Sergey's game. He may do some things that he gets away with, but we will break him down and the fight will go our way. It is a dangerous fight because he is a boxer – he is not a puncher – he has a tendency to be more crafty. So it is a great challenge for me and I welcome the challenge – to prove that I am one of the better trainers in boxing, one of the better teachers in boxing. That's why I love the challenge of an Andre Ward fight.
Would watching Saturday's Ward fight help or because his style is so different than Sergey's is it something you can throw out the window?
JOHN DAVID JACKSON: I couldn't watch the fight. There was a bad thunder storm and knocked the cable out. But I'll watch it. Brand is a different fighter than Sergey, way different, and he represents a different challenge for Ward. Ward couldn't even look good in that fight and he didn't. Come November 19, it will be a different mind-set for Sergey and for Ward.
Ward said he is a combination of Floyd Mayweather Jr. Roy Jones Jr. and Bernard Hopkins…
JOHN DAVID JACKSON: No, he is far from Roy, and Floyd and he has a little bit of Bernard in him. Listen, Ward is good at what Ward does. His style is different from everybody else's and he has mastered that. It is not the most exciting style in the world and it's not fan favorite, but it works for him and it got him to be as good as he is today and you can't take him lightly. So it works for him and whatever shortcomings he has we have to expose that in this fight. So for him to say he like Roy, no. Floyd? No. A little like Bernard? Yes. But he is not them. He is Ward and that works for him. He should be happy with what he's done and not compare himself to those fighters. He should be happy with what he's done but he can't do what they did.
You have been at ringside for a Ward fight. Do you see a weakness in Ward?
SERGEY KOVALEV: What I would like to say, that in my case and I will use what I learned in my training camp.
Who was your toughest opponent? How does Ward compare?
SERGEY KOVALEV: I have some fights when I fought really hard. The hardest was I think the first fight against Darnell Boone from who I got the knockdown and also Andre Ward got a knockdown – it really was a tough fight for me. I didn't have enough experience for him at that point. I won't know how tough Ward is until I fight him.
How were you treated in Oakland?
SERGEY KOVALEV: This was my second time in Oakland. My first time in Oakland was when Andre Ward fought Barrera. The first time was really good – it was nice. But this time it was "Booo" and I understand why – it is Ward's home. But it is OK – it is supposed to be like that.
Now you are focused on November 19. If you win do you think you will fight Adonis Stephenson, or do you think he will run away again?
SERGEY KOVALEV: If you understand that I am focused on this fight, why would you ask that question? It would be up to him. I am ready for him but it is not my decision to fight against Stephenson, I am fighting Ward and he is Chickenson.
You seem like a nice guy always smiling. Andre Ward seems like a nice guy, always smiling. Can two guys fight without any trash talking?
SERGEY KOVALEV: I can fight without trash talk. I have huge respect for Andre Ward. Yes I am ready to fight without any trash talking but if my opponent is going to start saying stuff then I will answer but never start trash talking myself.
Should you win this fight, will you fight Adonis Stephenson?
SERGEY KOVALEV: Yes
John, how would you fight Ward?
JOHN DAVID JACKSON: Since I am not the puncher Sergey is, it would be a boring fight. It would be a masterful type of fight and not the type of fight you would want to see.
How excited are you to have your first pay per view event?
SERGEY KOVALEV: I am very excited and I understood a long time ago I give a lot of thanks to Egis, and Main Events and Kathy Duva personally. Dreams come true in America.