Six sets of unbeaten boxing brothers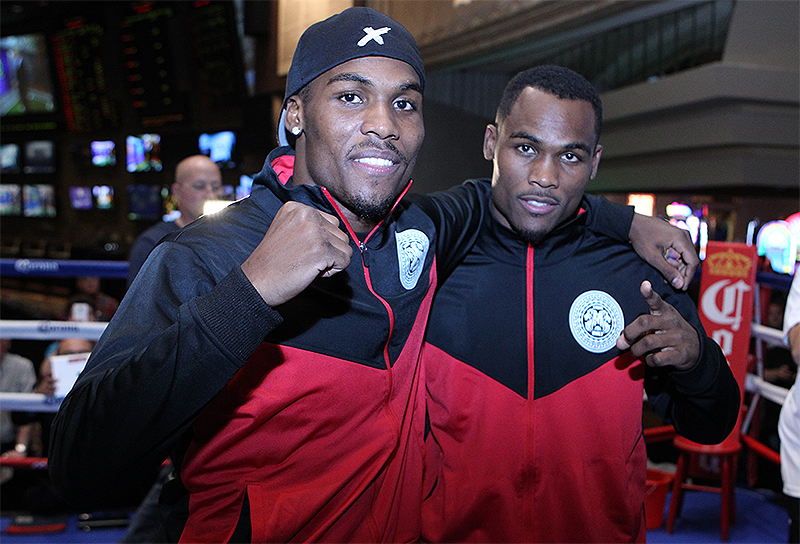 Through the history of boxing we've seen numerous notable boxing brothers. Sibling's like the Marquez's, the Galaxies, the Kameda's, the Klitschko's, the Dundee's, the Curry's and the Spinks's.
Not only have we had great boxing brothers through history but we also have some now. Here are with 6 notable pairings who have a 100% winning record and with both brothers expected to go a long way before they call a halt on their careers.
The Inoue brothers [Japan] Naoya Inoue (10-0, 8) – 23 Y/O and Takuma Inoue (7-0, 2) – 20 Y/O
One of the most successful of the active and unbeaten brothers are the Inoue brothers from Japan who, between them, have 2 world titles, 2 Oriental titles and a Japanese domestic title. They are only 17-0 (10) combined and come to a combined 43 years of age but have achieved much more than any of the other pairings on this list.
The older of the two brothers, and the more well known, is 23 year old Naoya who has claimed both the world titles along with the Japanese title and one of the Oriental titles. He is, of course, known as the "Monster" and has been one of the stars of bother Japanese boxing and the lower weight classes with his incredibly power, speed and combinations.
The younger of the brother's is Takuma, a former Oriental Super Flyweight champion who is widely tipped to become a world champion in the near future. Although yet to reach the summit he is widely regarded as being in the top 10 of the Super Flyweight division and looks like a fighter who is maturing into a man, though is still an incredible talent at just 20 years old.
Interesting fact-
The Inoue's are trained by their father Shingo who also trains their unbeaten cousin Koki (4-0, 3 as a professional)
Titles-
Japanese 108lbs, OPBF 108lbs, OPBF 115lbs, WBC 108lbs, WBO 115lbs
The Charlo brothers [USA]
Jermall Charlo (24-0, 18) – 26Y/O Jermell Charlo (28-0, 13) – 26 Y/O
The Charlo's are first of two sets of twins twins on the list and the only pairing that are both current world champions, and both have very similar profiles which have been built in the US under the PBC banner. Although identical twins, with almost identical names, they are very different fighters and both starting to really establish their own identities in the Light Middleweight division.
The more exciting of the two fighters is Jermall, who appears to be a genuine puncher, with a bit of aggressive attitude inside the ring, making him more exciting than his brother and he has high quality wins against the likes of Cornelies Bundrage and Austin Trout. He has been the IBF champion for close to a year and is looking to make his third defense shortly.
Jermell is probably the better pure boxer and has wins against Gabe Rosado, Vanes Martirosyan and John Jackson, but has proven to be a frustrating man to watch at times, fighting behind a long jab and a lot of movement. He can punch but he appears to be a safety first fighter which has began to wane with some fans who expect more fireworks from him. Talented but frustrating.
Interesting fact-
They are the first twin pairings to both be holding worlds titles at the same time at the same weight.
Titles-
IBF154lbs, WBC 154lsb, WBC Continental Americas 154lbs, USBA 154lbs
The Benavidez brothers [USA]
Jose Benavidez (25-0, 16) – 24 Y/O and David Benevidez (16-0, 15) – 19 Y/O
Another pair of American brothers are the Benavidez brothers, with these two being on different footings in regards to profile and style. One is a high profile boxer with a frustrating style whilst the other is a lower profile banger, who is starting to catch the attention of fight fans with his aggression and power, which could make him one to watch in the Super Middleweight division.
Jose turned professional at 17 and was ear marked as a potential star of American boxing following a great amateur run. He was compared to all the greats early in his career though sadly he has failed to live up to that expectation and now, more than 6 years on, his best achievement is a short reign as the WBA interim champion and he has shown several major flaws, including a laziness in the ring.
Younger brother David lacked the early career hype of Jose but actually turned professional at a younger age, just 16. Since turning profession he has impressed, stopping 15 of his 16 foes and gradually stepping up in class. He lacks big wins but has stopped the likes of Felipe Romero, Francy Ntetu and Denis Doughlin in recent fights and is making waves at Super Middleweight.
Interesting fact-
Due to their ages Jose had to get special dispensation to make his debut on US soil at 17 whilst David got around that by debuting in Mexico!
Titles-
NABF 140lbs, WBA interim 140lbs
The Yafai Brothers [United Kingdom]
Khalid Yafai (19-0, 13) – 27 Y/O and Gamal Yafai (10-0, 4) – 25 Y/O
The Yafai brothers are the latest boxing brothers from the UK, following the likes of the Hatton's, the Finnegan's, the Minter's and the Smith's, and some people expect these two to become the first British pairing to become world champions, though they are racing the Smith Brother's with Callum expected to follow Liam to world level in the near future.
Super Flyweight hopeful "Kal" is a man who has long been ear-marked as a potential British start at 115lbs, a weight class where Britain has never had a world champion. Unfortunately his career has been stop and start, but at his best he's sensational with power and speed. He has the ability to go a long way but so far his team hasn't made the active steps for him to face the best in the world.
Younger brother Gamal is a Super Bantamweight who has looked incredibly impressive so far whilst slicing through the British domestic scene. We are waiting to see him face decent international competition but he passes the eye test and could well find himself following promotional stablemate Scott Quigg to the top of the division in the coming yeats.
Interesting fact-
There is a third boxing Yafai brother, Galal, who recently competed in the 2016 Olympics in Rio.
Titles-
-Commonwealth 115lbs, IBF Inter-Continental 115lbs, British 115lbs, WBA Inter-Continental 115lbs, Commonwealth 122
The Gevor brothers [Germany/Armenia]
Noel Gevor (21-0, 10) – 25Y/O and Abel Gevor (11-0, 5) -23 Y/O
The Gevor brothers are two of the rising stars in Europe and although relatively unknown outside of Germany, they have fought in Romania, Denmark, Belgium and the Czech Republic. The two are at different stages in their relative careers but both are rising swiftly and it'd not be shocking to see both in the title mix in the coming years.
At 25 years old Noel is the old of the brothers and the more experienced. He's a Cruiserweight hopeful who already holds a notable win over Valery Brudov and will be looking to add a win over Mirko Larghetti later this year. Technically he's well schooled and although lacking in real fire power he is a promising fighter with a lot of time to mature.
Younger brother Abel is a Light Heavyweight who debuted about 3 years ago and has been moved slow with his career being hampered recently, and he's not fought since last October. He'll be returning to the ring shortly in a step up bout and it seems likely that he'll be hoping to move from being regarded as novice prospect to regional contender in 2017.
Interesting fact-
The Gevor brothers, originally the Mikaelyan brothers, are the step sons of former world title challenger Khoren Gevor who has been their step father for more than a decade!
Titles-
WBO Youth 200lbs, WBO International 200lbs
The Moloney brothers [Australia]
Jason Moloney (9-0, 8) – 25 Y/O Andrew Moloney (9-0, 5) – 25 Y/O
The second set of twins on this list are the Moloney brothers of Australia, who are both burgeoning prospects and regarded as two of the best youngsters "down under". One of the brothers, Andrew, was a stand out amateur but his brother appears to fit the professional better with his heavier hands and slightly more exciting style.
Having mentioned Andrew's amateur pedigree it's worth mentioning that he won a Gold medal at the 2014 Commonwealth game, beating world ranked Pakistani Muhammad Waseem in the final. As a professional he has impressed with his power, scoring a recent blow out against Markquil Salvana, whilst also showing good stamina having already gone 10 rounds.
Whilst Andrew has the better wins Jason is coming through the ranks himself and has either dropped, or stopped, every opponent he has faced so far. He's in need of a step up in class but has looked very promising so far with genuine raw power. He's less polished than his brother but has the time to improve and the management to help.
Interesting fact-
Whilst Jason is known for his 2014 Commonwealth games, Andrew actually competed at the 2010 Commonwealth games in Dehli, reaching the semi-final!
Titles
-Australian 118, Victoria State 118, WBA Oceania 122lbs, WBA Oceania 118lbs
Scott Graveson covers the Asian boxing scene for AsianBoxing.info