Olympian Professionals – Part 1 of 3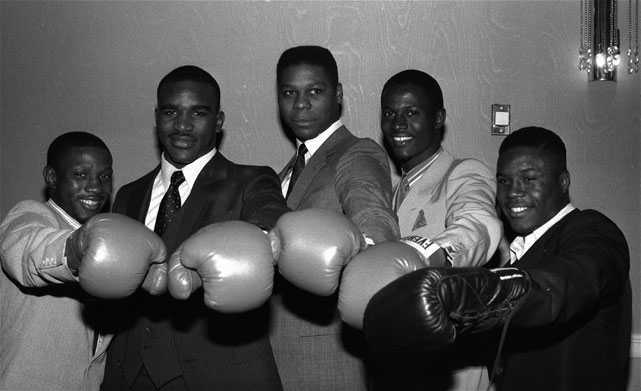 Now that the marathon Olympic boxing tournament has come to an end and we no longer have to consider "the man in blue" or "the man in red", thoughts of all serious boxing fans are already turning to which of the participants are likely to turn professional over the coming months and years. Of course, AIBA, the governing body for Olympic-style boxing, already has its own forms of professional boxing, with the World Series of Boxing (WSB) and Association of Professional Boxing (APB). Try telling dyed-in-the-wool fans that this constitutes the pro game though and you will get short shrift.
Therefore, as a potential guide to what we might expect, I have carried out some research on the past three Olympic boxing tournaments and compiled some figures which may be of interest and may also give us some idea of what could take place with regards to the aforementioned transitions of boxers into the professional version of the sport.
The first part of this article focuses on the Olympic tournament in Athens in 2004. I have prepared three categories into which I have placed all the boxers who took part in the games and subsequently turned professional. These are as follows: Category 1 is for success stories – this will obviously comprise of fighters who turned over and won major championship belts in the pro game, and perhaps some others of whom little was expected but who went on to become contenders. Category 2 is what I will call the "so-so" group, those who did okay in the pro game but never really amounted to that much. This group will also include boxers who were highly touted when switching codes, but ultimately had relatively disappointing careers. Category 3 will be the "flops and no-hopers" grouping. In this section will be placed touted future stars who completely failed to live up to expectations, along with fighters who had no great aspirations and who virtually disappeared without trace.
The overall figures are as follows: 285 boxers competed in the 11 weight classes in the 2004 Athens Olympics, of which 109 turned professional. However, 15 of those 109 went on to compete in subsequent Olympics before switching codes, so I will not include those boxers here, but rather wait until reviewing Beijing and/or London. That leaves a figure of 94 boxers who turned professional after Athens. On review, my breakdown of these places 27 in aforementioned Category 1; 35 in Category 2; and 32 in Category 3. This represents a fairly even spread between success stories and also-rans.
Obviously, Category 1 is the one which carries most interest and it is immediately apparent that amongst that group of 28 names are three fighters who are all still active and who could all eventually go down as all-time greats in the pro game, namely Andre Ward, Gennady Golovkin and Guillermo Rigondeaux. All three fighters have dominated their respective divisions and still look untouchable. They have a combined pro record of 82-0. Without looking through the entire history of the event, can it be that a single Olympics has produced three such massive talents? Perhaps only the 1984 Los Angeles games, which gave us Evander Holyfield, Pernell Whitaker, Meldrick Taylor and Jeff Fenech, is on the same level.
Just a step down from these three notables are several others who went on to fame and fortune as professional boxers. For British readers the most famous is Amir Khan, who has been a champion and/or leading contender for over seven years now. Despite his crushing defeat against Canelo, Amir is not finished yet and we await news of his future exploits. A heavyweight champion is included in the list, in Russian Alexander Povetkin, who despite coming up short against Wladimir Klitschko in the biggest fight of his career, has otherwise been highly successful, winning the WBA belt, and is still one of the leading contenders in the division. Next we come to one of the most exciting fighters to have emerged during the last 20 years, in Puerto Rico's Juan Manuel Lopez, a thrilling puncher who in 2008 looked like being the next big star from that island. Unfortunately, or fortunately some might say, the skillful Juanma had a proclivity for getting involved in the most brutal slugfests. His two wars with Orlando Salido will never be forgotten. He was never the same after that second fight, but has left us with indelible memories.
The Cuban team of 2004 was unique in that eight of its members later defected from the communist regime in order to pursue fame and fortune in the pro ring. We have already mentioned the star of that team in Rigondeaux and, overall, they mostly disappointed. However, two others must go down as successes, namely Yuriorkis Gamboa and Yoan Pablo Hernandez. Gamboa might have been almost as good as Rigo, but his pro career has been stunted by various disputes out of the ring and, perhaps a little, Gamboa's own personality. So despite him winning a major belt (WBA) at featherweight and two WBA interims (at super-feather and lightweight), with the talent at his disaposal his career overall has been relatively disappointing, but it must not be forgotten that he gave the much bigger Terence Crawford his toughest fight to date. Hernandez took a different route to most of the others, turning over in Germany and having a hugely successful run as IBF cruiserweight champion with the Sauerland team. He was forced to retire late last year with a persistent injury problem but never did lose his belt in the ring.
There are so many other notables in this group that it seems harsh not to name them all, but space forbids. However, the following must be included: Abner Mares, Andre Berto, Andre Dirrell, Jean Pascal, Andy Lee, Beibut Shumenov, Argenis Mendez and Alfredo Angulo simply cannot be ignored. Of these stellar names, only Angulo and Dirrell have yet to win a major championship belt. Angulo's chances seem to have gone, as the thrilling Mexican brawler seems to have suffered a major slide in form, whilst Dirrell is starting to look like the nearly man of boxing, coming up desperately short in two attempts against Brits Carl Froch and James Degale, losing both fights by wafer-thin decisions. Andre remains one of the top contenders though in a weight class (super-middle) which is now looking decidedly threadbare and Al Haymon will surely secure him a third shot sooner rather than later. A look through the names I have already listed shows that of 16 boxers, 14 of them are still active and playing a major role in the game. Where would we be without these former Olympians from 12 years ago?
So how did these fighters do in Athens? Three of them were gold medallists, Ward, Povetkin and Rigondeaux; a further two were silver medallists, Khan and Golovkin; whilst only Dirrell won bronze. Of the 16 most important Athens participants to turn pro then, only six medalled, meaning that 10 did not. A failure to reach the podium therefore is no barrier to future success as a professional, something which will be further backed-up in my review of both the Beijing and London games. In fact six of the 16 named boxers lost in their first round bouts in Athens!
Taking a brief look at Category 2, most of these were fighters who went on to have winning records in the pro game, but weren't quite good enough to reach contender status, or did not have the support and/or financial backing to take the step into the big time which some of them may have been capable of. I have placed in this group American Rock Allen, who looked to have a great career in front of him but which was brought to an end by a horrible car crash in which he suffered multiple injuries in 2011. Rock had compiled a 15-0 record but, to be honest, did not at any point seem to be taking his career that seriously in any event. These names may also be of interest: Selcuk Aydin, Willy Blain, Carlos Takam, Michele Di Rocco and Daniel Brizuela are placed in this grouping. Four of these fought most of their careers in Europe. Aydin was a rarity, being a Turk who reached contender status. However, he always fell short when mixing it with the best. Takam might actually warrant a place in Category 1, being a Cameroonian who briefly breached the world heavyweight rankings. His star is on the wane now after his recent loss to Joseph Parker. Both Blain and Di Rocco performed very well at European level, but were also found wanting when they stepped up and, of course, I had to mention Brizuela who has achieved notoriety in the UK due to his unforgettable fight with Tommy Coyle on our shores in 2014.
Now to Category 3. The two most prolific countries for producing professionals from the Athens Olympics were the USA and Cuba, with eight each. However, three of the US team and five of the Cuban team have to be considered flops. Americans Jason Estrada, Devin Vargas and Ron Siler made no impact whatsoever. Estrada and Vargas never looked the part and as for bantamweight Siler, he was one of life's bad boys, being in constant trouble with the police and spending time in jail. He eventually turned professional in 2010 and compiled a 1-1 record before suffering a gunshot wound (not for the first time) in 2011. He never boxed again.
The biggest disappointment, though, has to be that apparently star-studded Cuban team. We have already seen that three of them went on to have very successful careers – here are the other five: Odlanier Solis, Yan Barthelemy, Yordanis Despaigne, Yudel Jhonson and Luis Franco. Although Solis, Jhonson and Franco are still active, it is clear that they are going nowhere. The biggest (in every way) flop has been Solis. Although he fought Vitali Klitschko for the WBC belt, losing in the opening round after injuring his knee, that was as good as it got. This fatty simply refused to get in shape and ate away his chance of earning a fortune in a division with an extreme paucity of talent. His "efforts" in two losing fights with Tony Thompson bordered on the pathetic. Barthelemy can be excused, as he was 37 when he got the chance to go pro – and, of course, that is ancient for a small boxer. The others have proved simply not good enough.
Other notes of interest:
1. Boxers from 40 different nations turned professional after the Athens games.
2. For those who have forgotten, Andre Berto failed to qualify for the USA team and got in via the back door, so to speak, representing Haiti, the nation of his parents. Why did he bother – he lost in the opening round.
3. Britain only had one professional who emerged from these games, Amir Khan, mainly because he was their only participant – how times have changed for the better for Britain.
4. Of the five Colombian professionals from the Athens games, three have fought for the spurious WBA interim belts, namely Oscar Escandon, Likar Ramos and Juan Novoa. Of course, I am sure that this is a coincidence, rather than that the Venezuela-based WBA favours South American fighters.
5. Of the 44 medallists in Athens, only 16 turned professional.
To add an unpleasant postscript, two boxers who turned professional after the Athens games have subsequently died. Promising South African Ludumo Galada had compiled a 16-0 record in his native country before being killed in a car crash two months after his final fight in 2009. The other boxer to die was Puerto Rican Alex De Jesus, another who looked to have a promising career ahead of him. Alex had compiled a 20-1 record, with only a close away defeat to Cesar Cuenca spoiling his numbers, when he was sent to prison on a domestic violence charge. After serving four years, Alex was released and after resuming his career subsequently went 1-1 before being shot to death in April of this year following another domestic incident. Ironically, another Puerto Rican from the 2004 team who turned over, Joseph Serrano, was also shot on his home island in 2005, after going 1-0. Joseph survived but suffered terrible head injuries and never boxed again.
In my next piece I will take a look at the 2008 Beijing Olympians who turned professional.