Olympian Professionals – Part 2 of 3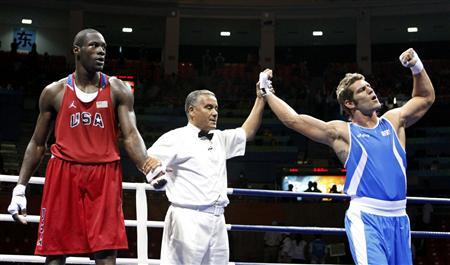 As a follow up to my look at the 2004 Athens Olympians who turned professional, here is part two of my research into the Olympic Games.  This part covers the 2008 Olympic Games which were held in Beijing, China.
In these games there were 283 participants in the boxing programme, which covered 11 weights.  Of those, 98 turned professional, although 16 of these first went on to compete at the London Olympics of 2012.  These 16 will not be included here therefore, but in my subsequent review of the London games.  That leaves a total of 82 Beijing participants who went on to turn professional.  This is 12 less than the professionals took from the Athens games.
I have used the criteria set out in my previous article, placing the 82 professionals into three categories, i.e., Category 1: those who became successful; Category 2: those who had decent, or okay careers, but never became champions; and Category 3: those who had truncated careers that went nowhere or were complete flops.  On this basis, I have placed 18 boxers into Category 1; 36 into Category 2; and 28 into Category 3.  In comparison to 2004, the same percentage (34%) of boxers went on to have negative or disappointing professional careers.  However, the percentage of fighters who went on to have stellar or championship winning careers dropped from 29% to 22%, which is quite a disappointing return.
Firstly, I set out the main success stories of Beijing Olympians, and whilst there are no Wards, Golovkins or Rigondeauxes, we find that some big names still emerged from Beijing.  Perhaps the two biggest winners came from the American team, Deontay Wilder and Demetrius Andrade, and whilst both have already won major championship belts, it is highly possible that the best is yet to come from both of these boxers.  These two have compiled a combined professional record of 60-0.  Closer to home and in comparison to our one Olympian (Amir Khan) from Athens, Britain has produced two champions to date, James DeGale and Billy Joe Saunders.  Of course DeGale was the gold medallist in Beijing and went on to become the first British fighter to subsequently also win professional gold.  Once again, it is very possible that we have not seen the best from these two either.
These are the other main entrants into Category 1.  Badou Jack not only fought at the same Olympics as James DeGale but is set to be his next opponent in the pros.  Both fighters currently hold championship belts of rival organisations and there is serious talk of a unification clash.  But whereas DeGale won the gold medal, Jack was sent packing from Beijing with a first round defeat.  Puerto Rico had a terrific team in Beijing, with the Arroyo brothers, McWilliam and McJoe, along with Jose Pedraza all going on to have excellent pro careers.  McJoe has just lost his IBF super-flyweight title in his last fight, whilst McWilliam has not yet won a major belt.  However, McWilliam has already had two shots at flyweight belts and still has time to achieve his dream.  Pedraza currently holds the IBF belt at super-featherweight and defeated Stephen Smith in his last defence.  We are still not sure just how good the unbeaten Pedraza is.  I would also mention Thailand's Amnat Ruenroeng who won the IBF flyweight belt in only his thirteenth fight.  Ironically, his first defence was against the aforementioned McWilliams Arroyo, with the Thai snatching a split decision in his home country.
Due to the dearth of Category 1 boxers emerging from Beijing, I took out poetic licence by including two fighters who I am certain will reach this category, even if they have not yet done so.  Sergiy Derevyanchenko did not turn professional immediately after Beijing.  Indeed, he went on to have an extensive run in AIBA's World Series of Boxing, where he compiled a 23-1 record, being individual champion at 73kg in 2011 and 2012.  Sergiy hoped and expected to participate at the London Olympics in 2012 but was overlooked by Ukraine in favour of Ievgen Khytrov, now a rival in the professional game.  Once this decision had been made Sergiy made his own decision to turn professional.  As yet he has only compiled a 9-0 record but has looked terrific in doing so and I am happy to predict that he will emerge as the main contender to Gennady Golovkin within the next 12 months.  The other fighter who has shown more promise than product so far is Britain's Kal Yafai.  Kal currently stands at 19-0 and although he has not yet beaten any names, he has looked very much like a future champion.  He is now ready to be let off the leash by his promoters Matchroom.  I have little doubt that he will win a major championship belt sooner rather than later.
Of these 11 boxers that I have named, only two reached the medal stages in Beijing, with Degale the only gold winner.  Deontay Wilder, of course, won a bronze medal, the only American to medal from this team – more on that later.  So out of the 11 most successful Beijing Olympians to turn professional, nine failed to reach the podium, with three losing in their first outing.  Once again proof that failure at an Olympic Games does not preclude success in the pro game.
In Category 2, are some interesting names.  Sadam Ali, despite flopping in the Games (losing in his first fight), was expected to have a hugely successful pro career.  However, despite being courted by many of the top promoters, he decided to promote himself – shades of Audley Harrison.  Sadam was about as successful in that project as had been Audley and eventually signed with Golden Boy.  Sure enough, GB brought Sadam crucial television dates, leading to a vacant WBO welterweight title shot against Jessie Vargas – which Sadam inexplicably lost.  Although Ali is still hopeful of winning a major championship he is in a division full of talent and it may be that we have already seen the best of him.  Another partial success relates to Ukraine's Vyacheslav Glazkov who was manoeuvred beautifully by his American promoter, Main Events, into a vacant IBF title fight.  Against the imposing in size (but not in talent) Charles Martin, Glazkov threw out his knee and had to retire from the fight after the third round.  Surely not even Main Events will be able to get him back in the title picture.
Two Colombians also come into this category, Oscar Rivas and Eleider Alvarez who both made the informed decision to turn over with Yvon Michel in Canada.  These two remain unbeaten with an overall record of 40-0 and it is very possible that both will receive title shots.  In fact, this was an excellent Colombian team, with Darleys Perez and Jhonathan Romero being two category 1 fighters that I have not yet mentioned.  Both won major championship belts but have since gone on to lose them.  Back to Category 2, and both Felix Diaz and Matvey Korobov have had decent careers to date.  Dominican Diaz was the surprise gold medallist in Beijing in the 64kg weight class, but has flattered to deceive as a professional, losing his first big test to Lamont Peterson.  However, he recently scored his best victory over Sammy Vasquez and has since been calling out Terence Crawford.  It is quite possible that Diaz may become a Category 1 fighter, but as it stands the jury is still out on him.  Korobov, from Russia, was brought along slowly by Top Rank but despite many unconvincing performances, when he fought Andy Lee for the vacant WBO middleweight belt, he was a warm favourite to win.  The hard-hitting Irishman put him in his place though, scoring a sixth round stoppage.  Little has been seen of Korobov since.
Also in Category 2 are the Jackson brothers from the Virgin Islands, Julius and John, sons of dynamite punching Julian Jackson, one of the most exciting light-middle and middleweights of the 80s and 90s.  These brothers are nowhere near the level that their father was, but have both had largely successful careers, particularly John, who was good enough to fight for the WBC belt in his last fight.  Two more interesting fighters appear here in the form of Taureano Johnson of the Bahamas, and Hanati Silamu who fought for China.  Johnson is 19-1 in the middleweight division, with the one defeat being a heartbreaking last round stoppage loss to Curtis Stevens with Johnson streets ahead on the scorecards.  Johnson has come back well with five victories and is the IBF's mandatory challenger to Golovkin.  Good luck with that!  You may know Silamu better as Kanat Islam, his nom de guerre as a professional.  He has moved quietly to 21-0 in the light-middleweight division and is a shoe-in to win the WBA's interim belt when he fights Ghanaian Patrick Allotey in Kazakhstan next month.
Now to Category 3, and unfortunately Britain, along with the USA, is too well-represented here.  I have put three of Britain's 2008 team in this grouping, David Price, Joe Murray and Tony Jeffries.  David was a bronze medallist in Beijing, along with a hatful of other medals he won during his amateur career.  Of course he received the big build-up in the pro game, under promoter (the then) Frank Maloney, but was left embarrassed and on the canvas twice by veteran American Tony Thompson.  David has not and will not recover from these shocking defeats.  Joe Murray has not had a bad career, fighting for British and Commonwealth belts, although coming up short so far.  However, for an Olympian this has to be considered a major let down.  As for Tony, he was forced to retire due to a nasty hand injury.  This may have been for the best as Tony had been less than impressive in compiling a 9-0-1 record and has been very successful in his post-boxing career, running a thriving gym in Los Angeles.
The Americans that failed to pass muster in their professional careers were Shawn Estrada, Luiz Yanez and Javier Molina.  Shawn was a very promising middleweight who turned pro in November 2008, weighing in at 163 pounds.  However, he proved to be the middleweight version of Chris Arreola, and virtually ate his way up to fighting on ESPN at 192 pounds just over three years later.  Shawn went to 16-0 as of his last fight in November 2014, but seems to have no appetite for the sport (pardon the pun).  Yanez, a super-flyweight, reached 7-0-1, winning a minor regional belt, but has not been seen since 2013.  So many small men have failed to make the most of their careers in the U.S. in recent years, for numerous reasons.  In this age of Chocolatito, though, things are changing for the better – too late for Yanez unfortunately.  As for Molina, although still active he seems to have plateaued out at 17-2, with his last fight being a clear defeat to the ordinary Jamal James at welterweight.  Javier's main claim to fame seems to lie with the fact that his brother Oscar later fought for Mexico in the London Olympics and his other brother Carlos, although not boxing in the Olympic Games, has fought both Amir Khan and Adrien Broner on major cards.
Three more member of the Category 3 club are Cuban.  Only three of the Caribbean nation's team defected after these games to box professionally in the U.S.  Unfortunately, none of them have had any success whatsoever to date.  Yordenis Ugas is the most famous of the three and has at least fought several times on U.S. television.  Ugas has an ordinary 16-3 record, although did perform very well in his last fight, a win over the aforementioned Jamal James.  I am loathe to banish him to this category but a man of his amateur achievements should surely have gone further as a pro.  He is due out on 27 September in a very hard crossroads fight against unbeaten Bryant Perrella, a fight he simply must win.  The other two Cubans are heavyweight Robert Alfonso and light-middleweight Idel Torriente.  It has taken Alfonso almost four years to get to 10-0 and he seems to be going nowhere fast.  Torriente is on the same train, with a record of 3-0 compiled against opponents with a 4-36 record!
An overview of these figures and an overall comparison with the Athens games in 2004 indicates a lesser quality field in Beijing.  However, with so many of the Beijing competitors still active there is still time for some of the Category 2 fighters to reach a higher peak than they have done to date and go on to become Category 1 fighters.  Only time will tell.  Incidentally, of the 82 professionals who emerged from Beijing, 58 are still active eight years later.  Of the 44 medallists from Beijing, only 12 (27%) turned professional, which is down on the 16 (36%) from Athens.
The sad story to come out of Beijing of course relates to outstanding Irish middleweight Darren Sutherland.  As you will all know, Darren was a major rival of James DeGale in the amateurs, beating James four times.  However, he lost the one that counted, the semi-final bout in Beijing.  Nevertheless, Darren turned pro in December 2008 and created huge excitement in both Ireland and Britain, with most pundits predicting a glittering future for him – even more so than DeGale, due to Darren's more professional-oriented style.  Sadly, pressures of life caused Darren to commit suicide after only four fights.  A terrible tragedy for so many people, both inside and out of boxing, who loved him.
In the third part of this article I will review the 2012 London Olympics.
@rachelaylett1
Read more articles about: