A Look At Several Of Boxing's Most Unsettling Bouts
The emotion that one feels when witnessing a boxing match is, most of the time, excitement and a sense of nervousness especially if a fan is observing one of their favourite fighters. But sadly, sometimes a contest is put together to scrape one last pound (or whatever currency you relate with) away from the punters even if the quality is below par.
This editorial is going to examine a hand picked selection of bouts that showcased just how uncomfortable viewing boxing can be as an experience, whether you a hardcore fan or not.
Jack Dempsey vs Jess Willard (1919)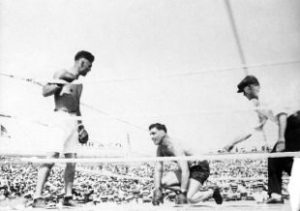 Willard was the champion but Dempsey was determined to rip the title from him. And rip it he did! With no standing 8 count rule yet in effect, Dempsey was all over the much taller and generally bigger Jess Willard, knocking him down seven times in the first round with more beatings to follow over the course of the next two. Some of Willard's teeth were punched out and he suffered facial fractures along with broken ribs. There is no doubt that this was one of, if not the most severe beating in heavyweight title fight history!
Lennox Lewis vs Mike Tyson (2002)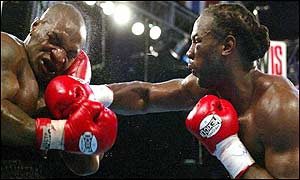 The build up had been long but the fight didn't do it justice. Tyson, after participating in several return bouts and two of which were ruled No Contests, was no match for the prime Lewis who inflicted a beating on the man who once set the record for being the youngest heavyweight champion in history. Although Lewis got down to business, Tyson lacked the the enthusiasm and drive to try to overcome the 6'5 reigning title holder and instead took his punishment in unwavering fashion, succumbing in 8 rounds. Like Ali vs Holmes before it, Tyson vs Lewis was an example of a bout that showed a once loved great boxer that had seen better days and should have been somewhere else other than in the squared circle.
Larry Holmes vs Muhammad Ali (1980)
Don King offered Ali $8,000,000 to lace up the gloves once more after becoming the first man to be champion three times after beating Leon Spinks in their 1978 title rematch. Already showing signs of what would later be diagnosed as Parkinson's Syndrome, Muhammad Ali sadly faced his first ever stoppage loss to Holmes in 10 rounds when his corner stopped the fight after putting up with 30 minutes of thumping body and head blows that the then slower and generally faded Ali could not quell.
Vitali Klitschko vs Danny Williams (2004)
Williams was riding high off his win over an injured Mike Tyson which earned him a show at the WBC title, then held by Vitali Klitschko. But the contest was to be a sharp contrast to Williams' last when he was bounced around the ring, hitting the canvas in most rounds before the fight was halted in the 8th. Williams did show fighting spirit but Klitschko's hooks upstairs must have given him nightmares for many months afterward!
Floyd Mayweather vs Arturo Gatti (2005)
Arturo Gatti was always known as a fighter who would give it 100% on any given night but often found himself exposed at elite world level. His title defence against Floyd Mayweather showed no different as he was pounded into submission after bravely trying to battle through the supreme athletic abilities of Mayweather. The man known then as "Pretty Boy Floyd" cried tears of joy afterward declaring the greatness of Gatti, as corny as that was.
Thomas Hearns vs Roberto Duran (1984)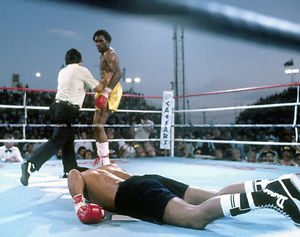 Roberto Duran started his career as a lightweight boxer, sealing his greatness at that weight for eternity. However, fighting the much taller and fearsome Thomas Hearns was surely always going to end up as a disaster for him! Giving away 6 inches in height and a staggering 12 inches in reach, after being put down twice in the first round Duran's composure was so out of sorts that he actually walked to a neutral corner and had to have assistance! The end came in the next when a famed Hearns right landed square on Duran's jaw, flattening him face first. Happily for Hands of Stone, he went on to achieve more great things that would be the icing on the cake for his legacy.
Read more articles about:
Arturo Gatti
,
Danny Williams
,
Floyd Mayweather
,
Jack dempsey
,
Jess Willard
,
Larry Holmes
,
Lennox Lewis
,
Mike Tyson
,
muhammad ali
,
Roberto Duran
,
Thomas Hearns
,
Vitali Klitschko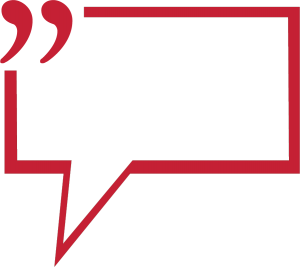 Click Here, If you wish to add a COMMENT to the above article or any of the Ringnews24 boxing articles.