Wins for Ricky Burns, Dillian Whyte and Liam Walsh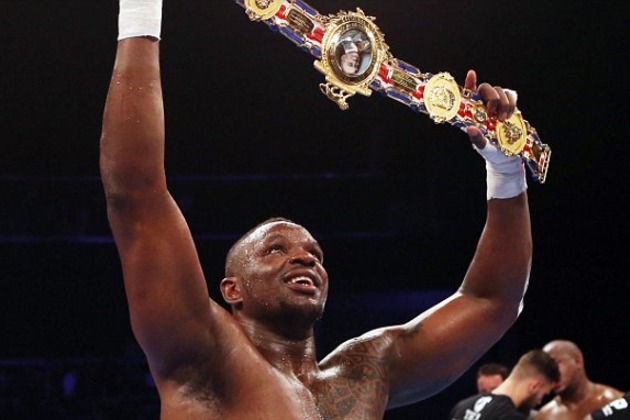 It was a busy weekend in British rings with a WBA belt on the line in Glasgow and a final eliminator for an IBF belt taking place in Harrow, Middlesex. The shows were promoted, respectively, by the two big wheels in British boxing, Eddie Hearn's Matchroom and Frank Warren Promotions. Both fights featured a British fighter against a visitor from overseas. The quality of the opposition, however, was very different.
First up on Friday came Ricky Burns' first defence of the WBA light-welterweight belt which he had been gifted in a vacant title fight back in May against inept Italian Michele Di Rocco. By way of contrast, his first challenger was 26 year old (Di Rocco was 34), unbeaten Belarussian Kiryl Relikh. Relikh came to win and expected to do so. The fact that he did not came down to one of three things, or a combination of them all. Firstly, the experience and heart of the Scottish champion was perhaps a little much for Relikh on the night; secondly, Relikh inexplicably seemed to switch off during the middle rounds after seeming to build an early lead, before finishing like a train; and, thirdly, as Paulie Malignaggi might have said, some home cooking, courtesy of the three judges who had a desperately close fight somehow scored widely in favour of the hometown fighter.
The fight was full of intrigue with changes of fortune all the way through. I scored it 115-113 for Relikh, but suspected that, as we have seen before, Burns might get a bit of help from the judges and it might be scored either a draw or closely in his favour. When the scores of 116-112 twice and 118-110 were announced, however, all for Burns, I got that horrible sinking feeling in the stomach when you know that the sport that you love is riddled with dishonesty. I am not saying that this decision was a scream up – the fight was close and is the type of fight where the home champion is often given the benefit of the doubt on the cards. It is the wideness of the scorecards which makes one ask the question: incompetence or cheating?
Prior to this fight it was widely reported that the winner would get a big Las Vegas fight with Adrian Broner. Eddie Hearn had been working on a deal with Broner's representative Al Haymon for Burns to fight Broner in December. The question has to be asked, were the three "neutral" judges officiating on Friday night going to spoil all that hard work by giving the "wrong" winner? I doubt it. Had Relikh been given the decision, I also doubt whether him against Broner would have been anything like as attractive for all involved. With Burns now down on paper as a three-weight world champion, him as the opponent for Broner would and will be far easier to sell. I have seen many people on social media stating that Burns deserves this big final payday. Granted, but what about Relikh? Does he not deserve a big payday? Does he not work and train and dedicate himself just as hard as Burns?
The chief support saw Dillian Whyte give a hugely mature performance in winning the British heavyweight title at the second attempt by stopping rival Ian Lewison after 10 rounds. Apart from the opening round in which Whyte had to see out a mini-hurricane of attacks from Lewison, he was in complete control. Johnny Nelson on Sky suggested that Whyte had been too reckless by standing in the pocket and allowing Lewison a chance to land a haymaker. It was Whyte's confidence and assurity in doing so, however, which was so impressive. He had no fear of Lewison whatsoever.
The talk afterwards was of a match against Dereck Chisora. That would be a perfect match for Whyte – one that he would win and probably look good in doing so. If he continues to improve at this rate, Whyte will find himself in the world top 10 inside the next 12 months. One point which needs to be raised – Whyte has slugged away for 20 rounds against Lewison and, previously, David Allen, without making a significant dent in either of them. This might call into question Dillian's punching power. However, who can forget that left hook which Whyte landed on Anthony Joshua's chin in the second round of their contest last year, which rocked the Olympic gold medallist to his very foundations? Was this a one-off, or an indication of a dodgy beard on Josh? Only time will tell.
Scott Cardle, the runt of the Joe Gallagher gym, successfully defended his British title against Kevin Hooper, who unfortunately proved way out of his depth. So dominant was Cardle that it is possible this was the best performance of his pro career to date. However, it will take a long time before his two life and death struggles with Masher Dodd can be forgotten, and his talk of European and World titles must be taken with a pinch of salt at the moment due to those fights. There was an interesting conversation afterwards with the Sky team, in which Cardle reiterated his desire to win the Lonsdale Belt outright. He has made three defences of the belt, which is the requirement, but one of those defences was the draw against Dodd. Apparently, the BBB of C has stipulated that he has to make one more winning defence before being awarded the belt.
The coming machinations were clear to see when Eddie Hearn suggested he would like to match Cardle with the winner of next week's Luke Campbell/Derry Mathews match. Obviously Eddie believes that his man Campbell will win that. Would Cardle want to risk his Lonsdale Belt against the far superior Campbell? I strongly doubt it. At this point Joe Gallagher stepped in and said that he would be having words with the "Board" regarding them changing their decision and awarding Cardle the Lonsdale Belt now. Since when have rules got in the way of a good match? It will be interesting to follow this plot-line and see if the Board holds firm with their current stance. If they do, rather than bring in another Kevin Hooper-type opponent, how about Cardle making a defence against Thomas Stalker? This would be dependant upon Stalker finally besting Craig Evans in their third fight (in two weeks' time), but a match between the former amateur team-mates would carry quite an appeal.
The Frank Warren show on Saturday brought its own interest with Warren's super-featherweight Liam Walsh finally getting a big fight – a final eliminator for Jose Pedraza's IBF super-featherweight belt – at the age of 30! The highly-skilled Walsh has been travelling under the radar for far too long and I find it hard to believe that it has taken him eight years to compile a record of 21-0. On paper he was up against his toughest opponent to date in Russian Andrey Klimov, who actually fought for the IBF belt in his last fight in June 2015. In that vacant title fight Klimov lost every round of the 12 against Jose Pedraza, and had not fought since. How then did he qualify for another immediate final eliminator from that same body? The fact that he is rated no.4 in the world by the IBF tells you everything you need to know about these blood-sucking alphabet organisations. Klimov was completely hopeless and offered no challenge whatsoever to Walsh. Klimov's rankiing with BoxRec is no.66. For those who watched the fight, please tell me which rankings are more honest and accurate.
Klimov's performance was along the lines of the aforementioned Michele Di Rocco, who fought Ricky Burns earlier in the year in a vacant WBA title fight. These fighters, I would reiterate, are not optional opponents – they are mandated by these horrid organisations as valid world title challengers. Klimov made Walsh look like Floyd Mayweather. Okay, Liam is good, very good, but perhaps he might have benefitted more by facing a tougher challenge before going in with champion Jose Pedraza. Pedraza is many levels above Klimov – I am sure Walsh realises this. Regardless, I believe Walsh has a good chance of winning this fight and also believe that home advantage could well prove crucial to the eventual outcome. I envisage this being possibly one of the best fights of 2017.
The horrible judging in the Burns/Relikh fight aside, the worst decision of the weekend came on Warren's show when home fighter George Jupp was gifted a blatant robbery against unheralded Jordan Ellison. This fight was much easier to score than the Burns one, with the BoxNation team all seeming to agree that Ellison had won five of the eight rounds, as did I. The score of 78-76 in favour of George Jupp was another sickener to fans who like honesty in their sport. The look on Ellison's face when the verdict was announced will live long in the memory.
Jupp was awful and it still seems hard to believe that he holds a victory over Mitchell Smith. I strongly believe that this was a fight Smith lost rather than which Jupp won. Smith made his return to the ring on this card for the first time since that inexplicable loss, weighing in at 142 pounds, way above his best fighting weight. In a pre-fight interview he said that he was now more humble following his first defeat. There was little sign of this in his comeback fight though, with an early Ali-shuffle and plenty of taunting of his overmatched opponent. Still, this is what makes Smith who he is – as long as he performs, no complaints from me.
From an early stage of Smith's career I wondered how much he was in love with boxing, with a couple of interviews on BoxNation hinting that he might not be as dedicated as necessary in order to bring out his vast talent. Perhaps the loss to Jupp brought that to light for all to see. Smith has done the best thing possible for his career though, in employing Adam Booth as his trainer. Not only is Booth one of the best and most knowledgeable trainers in the UK, he will not stand any nonsense from his charges. Any sign of Smith dropping the ball again and/or not dedicating himself sufficiently to the sport and Booth will drop him like a hot potato. If anyone can get the best out of Mitch it is Boxing Booth!
Finally, we saw a winning pro debut for Liverpool's Sam Maxwell on an MGM Liverpool show on Friday evening. Former star amateur lightweight Maxwell was given glowing reviews by those who saw his performance and will be one to watch over the next few years. Before turning pro Maxwell boxed on many occasions in the WSB and I shall never forgive him for spoiling my one chance at seeing Vasyl Lomachenko in the flesh. Sam boxed Loma at York Hall in March 2013 and, to my disappointment, Maxwell stopped Lomachenko looking great – the Ukrainian won the 5-round fight but was made to look quite ordinary on the night. I wish Sam every success in his pro career.