Floyd Mayweather Likely To Return?
It has been a little over a year since Floyd Mayweather Jr hung the gloves up, supposedly for good. Andre Berto, being his last opponent, may have appeared a little underwhelming but it was nice to see him face a boxer who had a different combative style. Nevertheless, Mayweather went on to win widely by a unanimous decision at the MGM Grand in Las Vegas.
Over the course of the last twelve months Mayweather has been working hard with his promotional company, Mayweather Promotions. His corporation is still in its infancy, and it's likely path is still unclear at this point. In the meantime, there has been more than one indication that Floyd Mayweather is waiting for the right opportunity to grab that 50th victory!
It was reported earlier this year that 'TMT 50' and 'TBE 50' became copyrighted trademarks earlier this year. Although it has been stated that Mayweather Promotions have pursued over 140 trademark names, those particular two provoke curiosity considering where the undefeated retired boxer's record stands right now.
There has been quite a consistent pattern where the 'Money Mayweather' image arouses strong emotions from fight fans all over the world before Floyd has to do business with his fists, yet the provocation dwindles once the fights have concluded. Although Mayweather has "officially" retired, the provocation still remains even though the boxer has been unswerving in denying any comeback whenever asked.
Even if he does return to the ring at some point he is not telling porkies since there is no confirmation of an opponent along with any other concrete details. A lot of people with a major business behind them always take very careful measures to vocalise what is theoretical and what they can substantiate. Therefore, any denial of a comeback at this present moment in time is not proof that he will not ever return.
Gennady Golovkin fought for the first time in London last month when he beat IBF welterweight champion Kell Brook inside five rounds. While the public has often recently paired Golovkin's name with Mayweather's, it is odd to see people from Floyd's team comfortably giving their prediction on what would happen if the two traded blows.
Mayweather Jr, himself, has been rather critical of Golovkin since the Brook win, saying that he should move up to face his stable fighter Badou Jack and that all great fighters have or should move up in weight. Particularly telling is when he blatantly said he would beat him if he was in the ring with Golovkin instead of Brook, along with stating that the Kazakhstan fighter does not possess anything special in the skills department.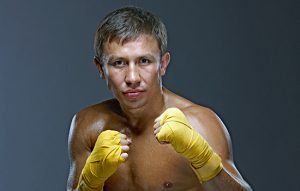 Floyd is still new to the promotions game and it could have just been a lack of experience on his part as to how to speak as a promoter of boxing. But it does make you wonder!
Another pattern that has seemingly existed in the past is when Mayweather has elected to face somebody who was at the top of their game at a particular moment. He fought Shane Mosley when 'Sugar' had just beaten Antonio Margarito in a fight that shocked most of the boxing fraternity. Oscar De La Hoya was always a huge Pay Per View draw and fighting him, also with a change of nickname made his popularity soar. Victor Ortiz vs Andre Berto (their original fight) was a spectacular welterweight championship clash that saw both fighters hit the deck and resulted in claims that Ortiz had overcame his questionable heart. And of course, Gennady Golovkin is at a very high place right now in the limelight.
You should get the picture.
The reality is that Floyd Mayweather is 39 now and will turn 40 in February and any fight will become more dangerous for him the more time goes by as his skills naturally erode. He will not want to lose to somebody who he could have easily beaten had he been ten years younger.
That is a scenario that boxing has seen one too many times.