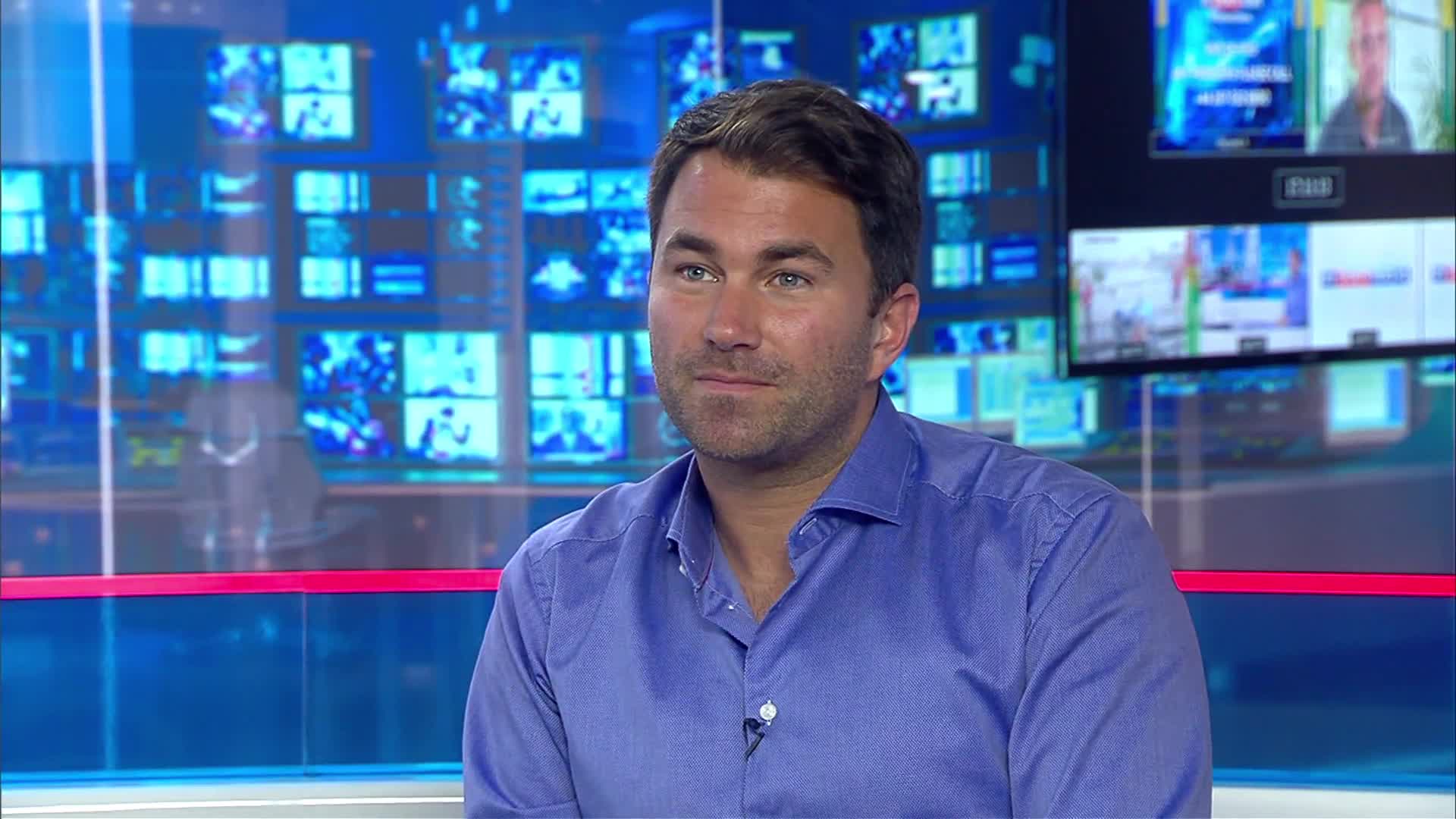 Another weekend, another Matchroom man fights for a world championship belt.  We have had four in four weeks now, with Tony Bellew's victory on Saturday over B.J. Flores being the third success of the Matchroom stable, adding to Ricky Burns and Nathan Cleverly's victories and only Anthony Crolla coming up short.  This weekend's show was thoroughly entertaining and with boxing in the USA having come to a virtual standstill in recent weeks, due to the (temporary we hope) demise of Al Haymon's PBC, the outfit run by Eddie Hearn is currently the focus of the world sport.  With the potential of Hearn putting on Joshua-Klitschko before the end of the year, his Matchroom organisation is going from strength to strength.
In the main event, Bellew predictably put away never-was Flores in the third round.  With the form that "Bomber" has shown since moving up to cruiserweight, it seems bizarre that he spent so much time boiling himself down to light-heavyweight.  Perhaps he thought there was more money to be made at the lighter weight.  That also seems to be the reason for him once again performing his WWE act after Saturday's fight and goading rival David Haye who was (conveniently) performing ringside analysis for Sky television.  Of course, we have seen this behaviour before from Bellew, both before during and after his battles with Nathan Cleverly.  The thing is, it works!  Eddie Hearn joined in with the WWE antics, asking the crowd over the microphone if this was the fight they wanted to see.  Ho hum.
There is an unofficial award on Twitter called "the BOTW" (Bellew of the week) which is given for the most ridiculous and/or outlandish comment or tweet seen during that period and named after Tony for obvious reasons.  Bellew may well be this week's award recipient, with any of the numerous insults that he threw at Haye being the likely prizewinner.  I say this because he will surely regret raising the ire of the Hayemaker if and when they do battle.  I can only see a similar outcome to the one which occurred the last time a top British cruiserweight took on Haye, when Enzo Maccarinelli was handed his head in the second round back in 2008.  Haye is still one of the most dangerous fighters in the sport – be careful what you wish for Tony.
Just under a year ago, Olympic gold medallist Luke Campbell's career looked to be in tatters after he was beaten by unheralded French import Yvan Mendy.  So effective has Campbell's response been to that loss, however, that it may prove to be a blessing in disguise.  He certainly looks a more polished and confident fighter since linking up after the Mendy debacle with Cuban trainer Jorge Rubio.  The two came up with a terrific game plan for latest opponent, Derry Mathews.  The idea was to attack the body, something of an Achilles heel for Mathews in the past (see his defeat to Marsili), and it paid off to a tee.  After boxing three very competitive rounds, LC's hard digs to the body paid off in the fourth as he nearly tore Derry in half with left hands downstairs, flooring him twice, the second time for the full count.
With Campbell's baby face, people tend to forget that he is already 29 and does not have a great deal of time to lose.  I would strongly urge his team to bring back Mendy for a rematch, to enable Campbell to remove the blot on his record.  A convincing victory against this opponent would surely indicate a readiness to challenge for a championship belt.  Luke's only ranking with the alphabets is currently in the WBC, which, handily, has the weakest champion in Dejan Zlaticanin.  Not saying that this would be an easy fight, but one more decent victory should be enough for Eddie Hearn to try and make that match for Campbell by next spring.  Campbell definitely has the skill and experience to outbox the little buzzsaw from Montenegro.  At this point, I would advise Luke and his team to avoid Robert Easter and Jorge Linares, two of the other beltholders.
The comparisons that have been mentioned throughout Ryan Burnett's career, between him and fellow Belfast fighter Carl Frampton, seem to have dried up.  This is a good thing for Ryan. Frampton is a phenomenon and  despite having many similar attributes to him, Ryan has to be considered on his own terms.  The little Irishman was involved in a thoroughly entertaining vacant British title fight on Saturday against Ryan Farrag.  Burnett dominated most of the action and was great to watch, showcasing his back foot skills in the opening few rounds before going into all out assault mode in the later rounds, trying to get the stoppage.  The one drawback for Ryan as he moves up the rankings appears to be his shortage of one punch power.  Despite Farrag being destroyed in three rounds by European champion Karim Guerfi just four months ago, Burnett could not budge him in 12.  So skillful is Burnett that this might only affect him when he reaches the very top of the world rankings, as he surely will.  It will probably stop him matching Frampton's achievements however.
Meanwhile, over in Denmark on Saturday night, they experienced an invasion of farmers.  Firstly were "The Farmy Army", being the supporters of Ryan Walsh, there to fight local boy Dennis Ceylan for the vacant European title.  Prior to that though they had "Cotton Eyed Joe" in the form of Joe Murray, who skipped to the ring dressed in his now famous dungarees and straw hat for his fight with another local, Rashid Kassem.  At the end of the night the score was locals 1, farmers 1.
At the weigh-in on the day before the show, unbeaten (11-0) Rashid Kassem had aggressively put his head into Joe Murray's and was just as quickly pushed off by Joe.  There was still bad blood as the two entered the ring, with Kassem showing real arrogance on his ring entrance, walking threateningly towards Murray with a sneer on his face.  Both fighters seemed to have lost their heads as they went for each other throughout the thrilling six rounds which followed.  After knocking Kassem down heavily in the opening round, Joe seemed to have lost his chance as the unbeaten local prospect clawed his way back into the fight.  It looked as though it could finish at any point though as both fighters completely eschewed defence and tried to put hurt on their opponent.  In the end, it was the experienced ex-Olympian who pulled out the stunning one punch finish in the sixth round to send Kassem back into obscurity.  In another article, I recently described Joe Murray as an Olympian who had flopped.  I stand by that, as he has seriously underachieved.  At least he has kept his career alive with this victory.
To the discerning eye, it has been clear for a long time that there is only one world class fighter in the Walsh family from Cromer – and it is not Ryan.  This school of thought was supported by the life and death struggle Ryan had about a year ago when scraping past Samir Mouniemne to win the British title.  It was confirmed once and for all on Saturday as Ryan just failed to take the vacant European title against Dennis Ceylan.  The fight was not a thriller but was absolutely absorbing all the way through as the fight edged from one to the other.  It was no surprise when a split decision was announced and even less of a surprise when it ended up going to the local boy.  What was clear from this fight is that neither man will progress past European level.  It was not a great quality fight and the feeling was of frustration that Walsh could have done that bit more and come away with the belt.  Ceylan is a decent boxer but very beatable and his European reign will not be a long one.  Walsh's promoter Francis Warren's petulant outburst in the ring, complaining about the decision, left a bit of a sour taste – the fight was so close and could not possibly be seen as a robbery.
@RachelAylett1