4 Of George Foreman's Greatest Career Moments!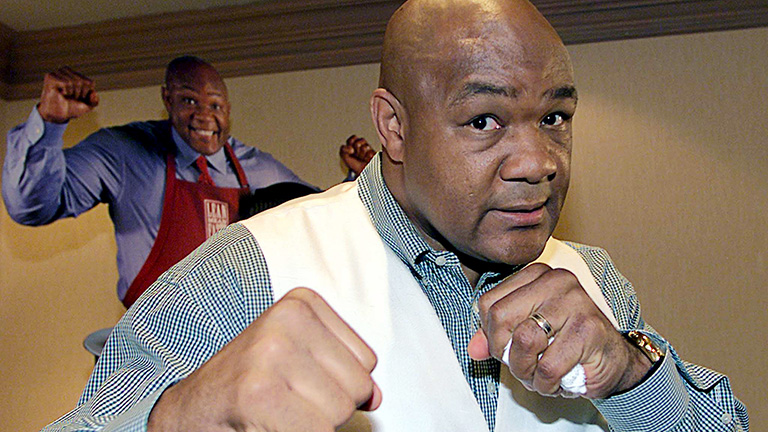 Legendary former heavyweight champion, George Foreman is in the UK and will be talking about his career to the fans at Arsenal football club on Saturday evening. The man, known as the oldest heavyweight champion in history, will also be signing autographs and taking pictures with fans earlier in the day at Worldwide Signings in Romford, Essex from 11-2pm.
Details about that event can be found here: https://www.facebook.com/events/551447668374786/
Most remember Foreman for his scary punching power that easily ran over the likes of Ken Norton and Joe Frazier, but few remember that he had a decent jab and the grit to get through some hard fights that evidently showed during the later part of his career when he came up against the likes of Evander Holyfield. Foreman was the type of boxer that was willing to walk through the heaviest of what his opponent had in his arsenal in order to try and halt him which all made for the type of heavyweight fighter that the general public tend to crave for!
To honour his presence on British shores, this article is going to pick out the main high points of his career that came in two intervals from 1969-1977 and 1987-1997, respectively.
George Foreman vs Joe Frazier – January 21st, 1973
Frazier may have given Muhammad Ali hell in their own individual three bouts but Foreman had no trouble when he bounced Frazier all over the ring to claim the heavyweight championship. Frazier was down a total of six times over two rounds before being rescued from a further beating. George Foreman claimed the WBC and WBA heavyweight titles which he would go on to eventually defend against Muhammad Ali.
His win over Joe in their first bout was a little chucklesome consdiring that he admitted that his legs were literally shaking during their staredown during the referee's instructions!
George Foreman vs Muhammad Ali – 30th October, 1974
Foreman had already made two defences, crushing Ken Norton and Jose Roman in early stoppages. But Muhammad Ali was about to be the smartest opponent that Foreman had yet faced in the ring!
Heavily publicised as a fight that was for the people of Africa, promoter Don King fought tooth and nail to get the fight on in Congo. He succeeded. The then current title holder suffered a cut in sparring, leading to the superstitious belief that a curse had been placed upon him. When the fight was rescheduled for October 30th, Ali didn't help to doubt those beliefs when he caused a shocking upset, knocking Foreman on his back and out in the eighth round after letting the monstrous puncher tire himself out.
George Foreman vs Ron Lyle – January 24th, 1976
This heavyweight five round thriller was one that the fans would remember Foreman by, probably next to the Ali bout when recalling the 1970's segment of his career. Both fighters hit the deck in an amazing fourth round but it was Foreman that would go on to stamp his superiority, stopping Lyle in the next three minutes.
The contest would be remembered as 'Fight of the Year' for 1976 in Ring magazine.
George Foreman vs Michael Moorer November 5th, 1994
Understandably, Michael Moorer was the favourite to retain his IBF and WBA titles against the 45 year old veteran.
The contest was looking to go the way the betting odds thought it would when a thunderous right hand landed on the skull of Moorer in the 10th round. He failed to rise and Foreman set a new historical record in the history of boxing, shocking the world as his former nemesis, Muhammad Ali once did when he defeated Sonny Liston for the first time. Foreman would go on to make one successful title defence before calling it a day three bouts later in 1997 on what was a prestigious and groundbreaking career.