Oscar Valdez: Taking on the World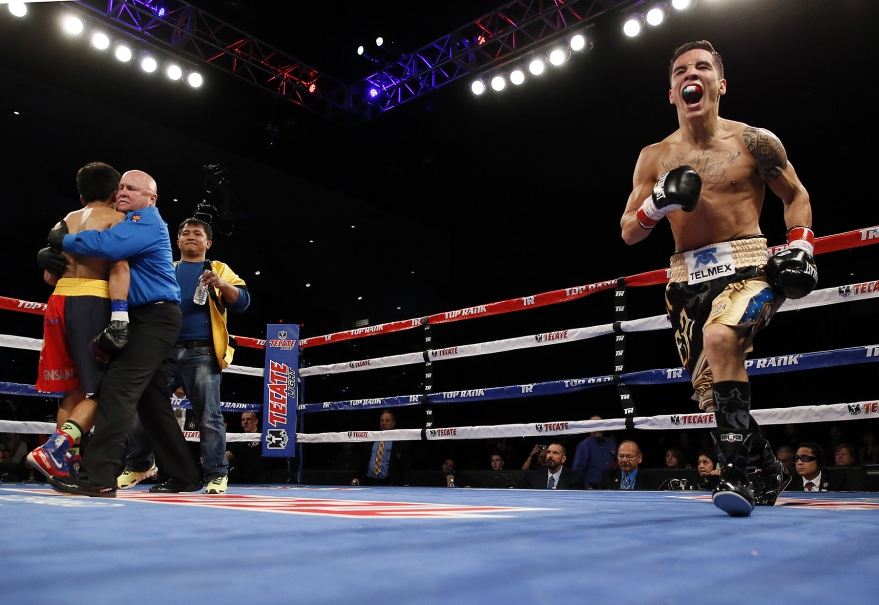 Some kings wear easily the crown. Or, in the case of boxing, the title belt.
ÓSCAR VALDEZ, a Mexican marvel, is doing exactly that these days. And he has had to be a quick learner.
In April, on the undercard of the third Manny Pacquiao-Timothy Bradley fight at the MGM Grand Arena in Las Vegas, he destroyed a once-beaten and former world champion in Evgeny Gradovich. It only took him four rounds to leave Gradovich rubber-legged and finished.
That got Valdez a title shot in July in the same ring, even though he wasn't even certain it would be a title shot until mid-week of the fight. In that match, on the undercard of the Terence Crawford – Viktor Postol title unification fight, he went up against another unbeaten tough guy, Matías Rueda. This time, it took just two rounds and was, for all intents, finished when Valdez rendered Rueda helpless with a kidney shot. Replays of the punch brought tears of empathy for Rueda to your eyes.
It is about to become November. And there will be Valdez again, on the Nov. 5 Pacquiao-Jessie Vargas pay-per-view undercard, making his first defense of his World Boxing Organization (WBO) 126-pound title. His opponent will be No. 1 contender Hiroshige Osawa, a 31-year-old with a 30-3-4 record and eight wins in a row, all by knockout.
Valdez's world tour continues. Gradovich is from Russia, Rueda from Argentina and Osawa from Japan. Top Rank's Bob Arum, who is promoting this Nov. 5 card at the Thomas & Mack Center in Las Vegas, has been talking recently about boxing as a truly global sport. Now he has a poster child in Valdez, who spent his childhood in Tucson and eventually moved back to Nogales, Mexico, where he lives now.
It was just seven months ago, at least as far as U.S. boxing fans were concerned, that Valdez was a poster child mostly in Lake Elsinore and The Rock Gym in Carson. That's where he lived and made the daily two-hour commute to Carson to train. Then came the hoped-for title shot, thanks in part to the move from 126-pounds to 130 by Vasyl Lomachenko just prior to Valdez's fight against Rueda. Vacating that 126-pound WBO title, opening the door for Valdez's development, was perhaps a move that could, inadvertently, come back some day to haunt the talented Lomachenko.
More on that later.
Prior to his recent flurry toward stardom, Valdez was best known as Mexico's only two-time boxing Olympian. He won no Olympic medals, losing in the first round in Beijing in 2008 and losing in a controversial quarterfinal in 2012 in London to Irishman John Joe Nevin, whom Valdez knocked down in the last round. But in his extensive international amateur career, Valdez was a medalist 12 times, seven of those gold.
As a professional, at age 25 now, he has won 20 times, 18 of them by knockout. His trainer, Manny Robles, when asked to describe Valdez's closest call as a pro, wrinkles his brow and runs his hand through his beard and concludes, "He really hasn't had any close calls. There was one, against a lefty, that went to a decision, but, well, not much else…"
Appealingly, Valdez is walking quietly and smartly in the limelight. There are two ways to go, after years of sweat and pain in a smelly gym, when a boxer finally gets that title, the grand symbol that says he has made it. One is to trash talk an attitude of "I told you so." The other is to retain the perspective that you needed to get you there. Valdez is the latter.
In a recent interview, he said things such as:
"The day we say we've made it is the day we start going down."
"I like to hang around hard-working, competitive people. If I see somebody else in the gym throw 100 punches at the heavy bag, I will go throw 102."
"I don't have a nickname. I'm just called Óscar Valdez."
When Arum referred to him as a "big star" before the Rueda fight, Valdez took the "aw shucks" rout. "I think he was exaggerating," Valdez said.
Of course he was. He is a boxing promoter. That's his job.
Lots of the perspective and self-effacing starts with Robles, who makes the daily commute with Valdez from Lake Elsinore to Carson and seems to be a student of both humility and sound strategy. When asked about his fighter's recent lethal body shots, Robles said, "As good as they are, they can get better."
As for sound strategy, Robles says the best piece of boxing advice he ever learned was during a commentary on a televised fight by Teddy Atlas, longtime trainer as well as TV personality.
"When he said, 'Never abandon defense for offense,' it just stuck," Robles said.
An even higher level of perspective comes from Brad Goodman, a Top Rank matchmaker, whose survival, and that of his company, depends on not going overboard on prospects and not falling in love with possibilities, rather than realities.
Goodman knows that a Mexican star who speaks English well and comes out swinging first and saves the dancing for later can be a huge attraction. He also knows it is too soon to be sure there are no potholes in the road ahead.
"Only time will tell," Goodman said. "If he keeps dominating like he has the last two fights, then we've got something. I like the way he goes out each fight and makes a statement."
The ultimate statement might involve Lomachenko, who stepped up to 130 and opened the door at 126 pounds for Valdez. Valdez estimated he fought more than 200 amateur fights, and many of those he lost, especially in international competition, were marred by the general incompetence and stupidity of international fight judging. But in one, the semifinals of the 2009 world championships in Milan, he had no quibble with the decision. He lost to Lomachenko, who is as fast a rising star as boxing has these days. Valdez got a bronze medal and a boxing lesson.
There was no question," Valdez said. "He beat me. He is a special fighter.
"But maybe someday, when my body allows me to move up another division, maybe I can fight him again, and maybe…"