10 Of The Best Pay Per View Events To Have Been Screened In The UK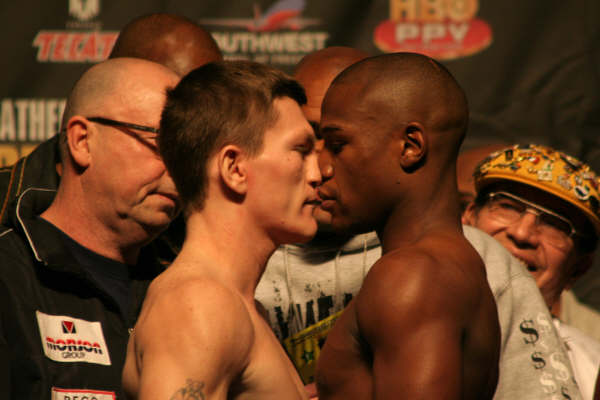 Anthony Joshua will be making the second defence of his IBF title against Eric Molina on PPV on December 10th. The contest has already raised controversy after it was announced that the public will have to pay more than their monthly SKY subscription to view it.
The criteria for a PPV event has considerably changed in comparison to the 1990's, it would be fair to say, especially in terms of what is sufficient quality and what is not.
This article will be going back down memory lane to explore ten of the best British PPV cards to have ever been screened in the United Kingdom.
Do you disagree or wish to add to this collection? Sound off in the comments!
Frank Bruno vs Mike Tyson II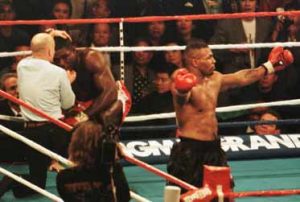 Factually the first ever boxing event to be shown on Pay Per View in the UK, Bruno vs Tyson II left a lot of the British public sore after Bruno let his anxiety get the better of him and almost froze in the ring while Tyson worked him over for a 3rd round KO.
Names such as Bernard Hopkins and Michael Carbajal shared the undercard in what was largely forgettable to mainstream British audiences who were just waiting for a Bruno victory.
Lennox Lewis vs Evander Holyfield I
Lennox Lewis was already the holder of the WBC portion of the heavyweight championship having reclaimed it when he beat Oliver McCall in their infamous 1997 rematch when McCall emotionally broke down in the ring.
Holyfield had the IBF and WBA crowns and had already made several successful defenses before the organisations came to an agreement for this unification match. If Lewis came out the winner then he would be the first British heavyweight fighter to unify the titles in 100 years since Bob Fitzsimmons. Unfortunately that wasn't to be when the decision to call the fight a draw was shockingly announced by Jimmy Lennon Jr.
The result caused a media frenzy for months until a rematch was scheduled for near the end of 1999. Lewis would win a much closer but clear decision.
Mike Tyson vs Evander Holyfield I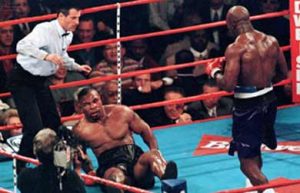 It was recommended by many that Evander Holyfield hang up the gloves after he got stopped by Riddick Bowe in 1995, so imagine the fear in the boxing community when this belated fight was announced for November, 1996! But Tyson was stopped in 11 rounds in another shocking upset. His first loss was to Buster Douglas in 1990 and Douglas was 40/1 against.
Although there were five title fights on the undercard virtually none of them were of much substance. It is a good thing then that the main event made it a night to remember!
Evander Holyfield vs Mike Tyson II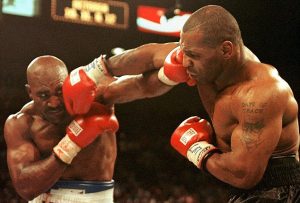 Known now as the "bite fight," the hype tag for the mega rematch was "The Sound and the Fury." The bout definitely contained a heavy amount of the latter when Tyson bit a chunk off Evander Holyfield's ear in the third round after being cut in the second after what was called an unintentional butt by referee Mills Lane. He was then disqualified, causing a riot in the MGM Grand hotel where gambling tables were overturned and gun shots were heard!
It was a frustrating conclusion for viewers who bought it on PPV. The contest raised over $100,000 in ticket sales and was known as the richest fight in history at that point in time until Mayweather vs De La Hoya came along in 2007.
Naseem Hamed vs Kevin Kelley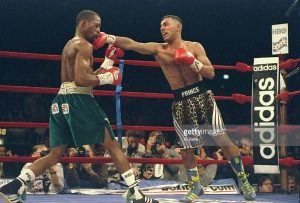 Hamed may have been known as one of the most cockiest British boxers but he had the tools to back it up! He showed how good he can be when he was forced to fight with a determined Kevin Kelley. The contest only lasted 4 rounds but in that time both boxers were knocked to the canvas several times. It was a huge right hand that finally proved too much for Kelley in the fourth, and although he tried to make his way up he failed to beat the count.
Kennedy McKinney was involved in a decent chief support bout against Junior Jones and Danny Williams and Ricky Hatton again all participated.
Naseem Hamed vs Tom Johnson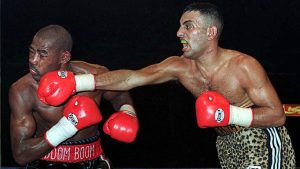 Tom Johnson came to Britain to make the twelfth defence of his IBF crown against the flamboyant Naseem Hamed but was made to regret it when he lost in the eighth. He shipped many heavy power punches from Hamed and surprised even him that his chin was as sturdy as it was.
The fight shared an entire night's showcase of British talent including Robin Reid, Steve Collins, Danny Williams and Jason Matthews.
Mike Tyson vs Julius Francis
Mike Tyson's presence caused mania during his stay in the UK when he came over to take on Julius Francis. He crushed Francis inside two rounds, flooring the brave former British champion five times.
The undercard consisted of some high profile British names including Joe Calzaghe and Ricky Hatton, who was then still on the way up. All in all, it was another bill that became more of a spectacle than anything. However, it contained that cringe worthy moment when Chris Eubank tried to stick up for Tyson in regards to his rape conviction in the SKY studio. It was neither the time or the place to discuss a topic and is known as one of the most awkward moments in British sports commentary history.
Lennox Lewis vs Mike Tyson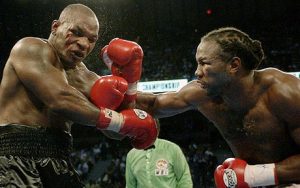 Lewis was making a defence of his WBC, IBF and IBO titles against Tyson who made his way back into challenger position despite racking up wins against subpar opposition. But now taking medication for his mental issues, Tyson's head appeared elsewhere as his desire to win clearly evaporated after making an effort in the first three minutes. Lennox would go on to beat a shell of the man who once frightened the likes of established champions such as Michael Spinks, and proceedings came to a stop in the eighth when Tyson was saved from a further beating.
Future champion Jeff Lacy appeared on the bill as well as future octuple champion, Manny Pacquiao.
Lennox Lewis vs Vitali Klitschko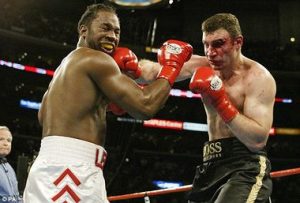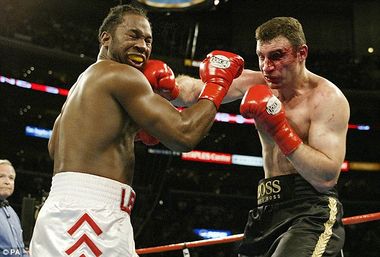 Vitali Klitschko stepped in as a late replacement for Lennox Lewis after Kirk Johnson pulled out. The Brit was riding high after unifying and defending his titles, even getting movie roles which must have distracted him since he entered the ring out of shape. This spelled trouble for him as Klitschko was determined to win at any cost.
For six rounds the fight went back and forth, but a severe cut opened by Klitschko's eye which resulted in a corner retirement causing a heated exchange between Lewis and Klitschko post fight.
Lennox Lewis would never fight again despite media rumours of his ring return that would persist for years after.
Floyd Mayweather vs Ricky Hatton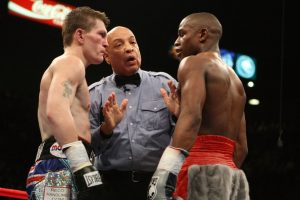 Ricky Hatton would be the only fighter to make more money than the champion, Floyd Mayweather from the PPV British revenue. But money was sadly all he would make after Mayweather would stop him in 10 rounds after a gutsy performance.
Jeff Lacy was about the only notable name on the event in what would have been a lacklustre occasion had Hatton not had such a passionate following that drank Las Vegas dry!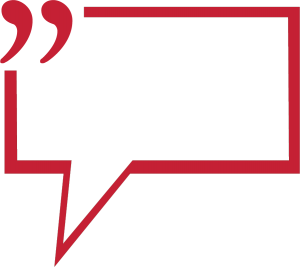 Click Here, If you wish to add a COMMENT to the above article or any of the Ringnews24 boxing articles.