Kovalev vs Ward – Ringnews24 Writers' Predictions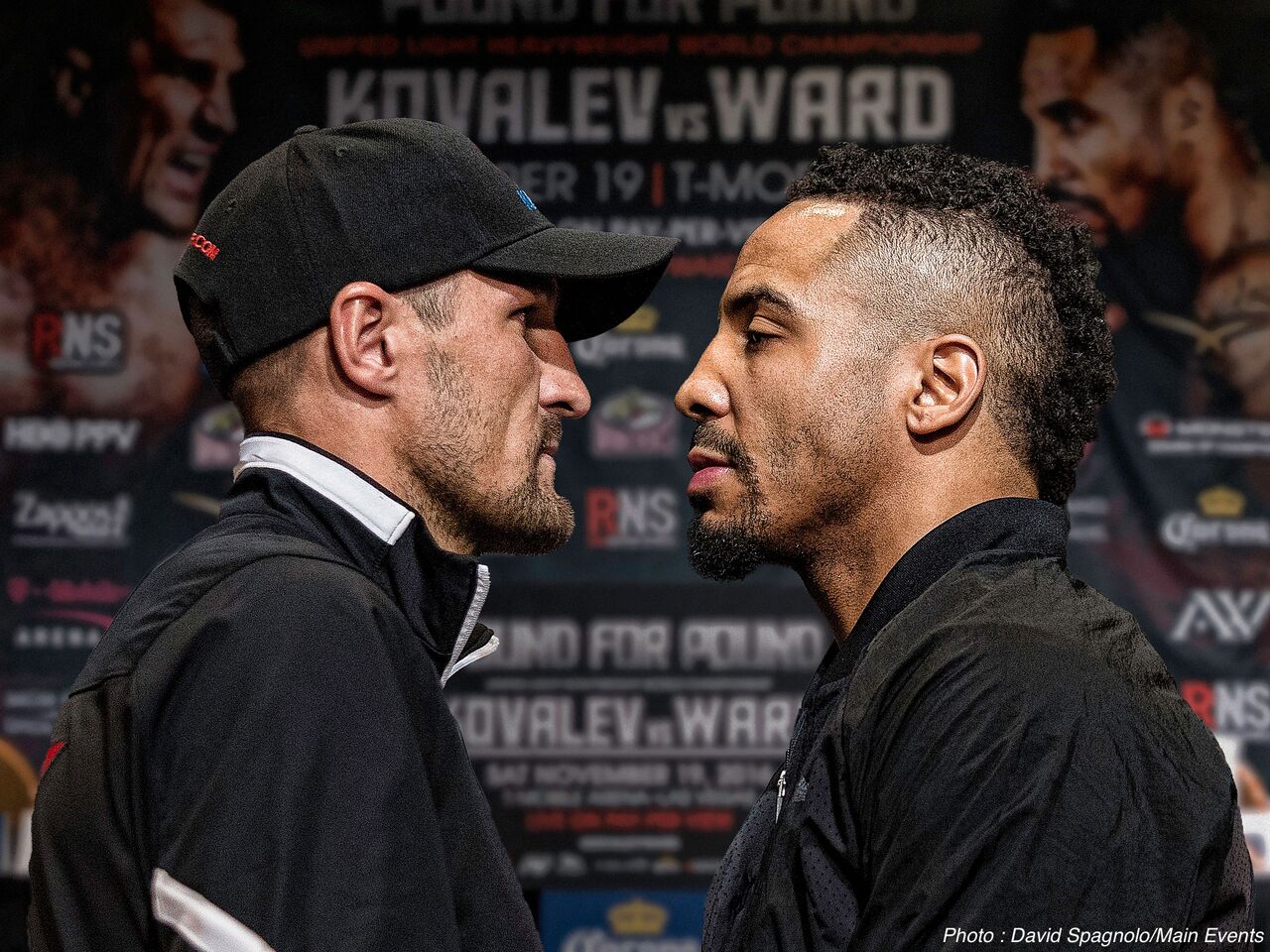 Intro: Ladies and Gents, gals and guys, quickly, go grab up your children for safety's sake as a moment of impending doom looms over us. Yes, the most anticipated superfight of 2016 is finally loaded in the breech with the fuse just waiting to be lit this Saturday when the consensus #1 Lightheavy, Sergey Kovalev, defends his many belts and undefeated record against the new interloper in his division, the former Supermiddle #1 champ and still undefeated Andre Ward. Here resident Ring News 24 boxing writers variously weigh in on how this fight breaks down in Las Vegas for your personal perusal, amusement, or outrage as they may strike you.
My personal breakdown of the fight:
We have an ex-patriot Russian ring assassin who lives and fights with La Joie de Vivre against an entitled American, their last Men's Olympic Gold Medalist who has spent more time building his Imelda (Marcos) shoe collection than fighting of late and had to be dragged out of his home in Oakland for this moment. There's always the threat of "hometown stink" in this terrible political year featuring rising US/Russia tensions, but I expect Kovalev power early on has Ward wishing he was taking a nap in his newly expanded shoe closet. Kovalev by late KO.
Rob Day
The fight is billed as 'Pound for Pound' and takes place at the T-Mobile Arena, Las Vegas, Nevada, with the Russian's WBA 'super', IBF & WBO World light-heavyweight titles on the line. Defending champion Sergey Kovalev (30-0-1, 26 KOs) comes into the contest as a slight betting underdog due to the calibre of his opponent, Andre Ward (30-0, 15 KOs).
This is the biggest fight of the year and the outcome is far from certain though I believe that it will be Andre Ward who suffers a first career defeat. Kovalev will hunt and Ward will set traps and artfully spoil but it's Sergey's power that will be the key to victory. I'm expecting some cagey and uneventful rounds mixed in with a dramatic finish down the stretch, as Kovalev punishes and stops Ward late on. Kovalev by late KO.
Barbara Pinnella
Andre Ward against Sergey Kovalev should end up being a good fight. Both men are 30-0, and both have fought twice this year. For me, the most important thing about all the stats are those 26 knockouts that appear under Sergey's name compared to the 15 for Ward.
And let's face it, it is Kovalev who is holding all the cards, or should I say belts. He is the one who has the WBA Super World light heavyweight title, the IBF World light heavyweight title, and the WBO World light-heavyweight title. And he is the one with everything to lose.
When the dust clears in Vegas, I think it will be Kovalev's hand that is raised in victory. I think Ward will try to wear Sergey down mentally, but in the end, it will be the power of Krusher that prevails. Predict a late-in-the-fight knockout for Sergey. Kovalev by late KO.
Dave Murphy
The step up from Super-Middle to Light-Heavy has traditionally not been difficult and Ward, although far removed from serious competition, possess the stronger natural skillset. Although technically sound, Kovalev is somewhat methodical and his defence is not his strong suit (although it's never been exploited other than the first Pascal fight).
Kovalev's relentlessness will pose interesting challenges for Ward and his power is far better than anyone on Ward's resume. However, Ward is seldom anchored to one spot like many of Kovalev's past opponents and has enough sting to force Kovalev to constantly reset and not simply load up on a stationary target. It's doubtful he can do that for the full twelve rounds, but I do think he'll weather the occasional storm and dictate the timing and the space of the fight to take a close but unanimous decision. Andre Ward by decision.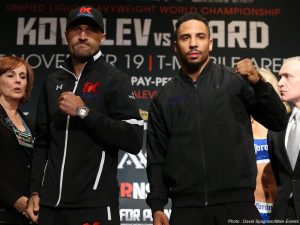 Martin Theobald
Kovalev has been underrated by many as a technician, the power in both hands hides how well he judges timing and space. That said, I don't think we have seen a better ring technician that Andre Ward over the last ten years. It's going to be very hard for Kovalev to let those heavy hands go when Ward is able to spoil him on the inside. Chilemba exposed some flaws in the Kovalev game plan and skill set. He upset the pace and didn't let Kovalev bully him in the fight, which is when he has his most success. It will be interesting to see if Ward fighting less frequently has an impact, but with his third fight in 2016, this is a relatively active year for the Oklahoman. Ring rust should be well and truly blown off. I can see Ward negating the Kovalev power throughout this fight, make the fight less of a spectacle than many are hoping then run out a relatively clear points winner. Andre Ward by Decision.
George Jimenez
Just when you thought the Light Heavyweight division was doomed and there were no meaningful fights, the boxing Gods give us Kovalev vs Ward. For years there has been talk of Kovalev fighting Adonis Stevenson, but for some reason or another, the fans have been denied of this explosive fight. Ward, who sat out for many years due to promotional disputes with his former promoter, decided he would venture up one. division to test himself against the best fighter available in Kovalev. Both Kovalev and Ward are putting their unblemished records on the line in order to be crowned as the best fighter in the division, and probably the best fighter in the sport of Boxing.
So who wins? This is one of those fights where you need to analyse all the "ifs". If Kovalev is sharp and can penetrate Ward's defence, he will not only win but could be the first guy to stop Ward. If Ward can use his great defence, pick his spots, and counterpunch Kovalev, he can come away with the victory. If Kovalev can take advantage of Ward's inactivity and outwork him, then he takes the W. If Ward can outsmart and frustrate Kovalev then he can get the W. I really can't decide on a winner but if you twist my arm I would go with Kovalev via decision. I give Kovalev the edge based on activity and his power. I don't think Ward has enough power to give Kovalev a reason to be afraid and it will be hard to keep the Krusher off him for twelve rounds. I am fortunate to be able to be present for this fight and it is one of those rare occasions where we get to see two great fighters with contrasting styles go toe to toe. Kovalev by Decision.
Chris Glover
I think Ward vs Kovalev is a classic showdown of the puncher vs the boxer. I wouldn't label Kovalev as just a puncher. His boxing skills are underrated in my opinion. He can box. This is boxing however and skills pay the bills – You can't hit what you can't see and Andre Ward is not the easiest fighter to land a punch on, arguably having the second best defence in World boxing to that of Floyd Mayweather's.
Andre Ward in my eyes has the one of the most if not the most well-rounded skill set of all of the world's elite fighters. I rate Ward in the P4P top 3. I like Kovalev but I don't see his excellent ringcraft being superior to that of Ward's that will prevent him walking him down and landing power shots like he has done with the rest of his opponents. Kovalev can't outbox Ward he has to go for the stoppage. Ward's impregnable defence, slick movement, superior footwork and sharp counter punching will win him this fight. Wards all round adaptable skill set is better than Kovalev's and I feel that Ward moving up will make no difference as he's always been a natural Light Heavy since the amateurs. Ward by Decision
James Tonks
I can see this fight being an ugly fight as it's the only way I think Andre Ward can stop Kovalev's power from shining through; something 31 opponents have yet to find the answer to.
Andre Ward has the ability to land punches and look pretty doing so before tieing his opponent up. Repeat and rinse is the key to victory for Ward. But, can he avoid Kovalev's power punches for 12 rounds? – That is the question I keep asking myself and one I am thoroughly looking forward to finding out.
My money would be on Kovalev as he is the active fighter and has progressed fight after fight and he has momentum going into the fight. But, my head says Ward will win on points. Ward is a very smart fighter and he sticks to a game plan, he's a very intelligent fighter and something Kovalev hasn't come up against yet. Ward by Decision.
Jeremiah J. Preisser
I'm going with the Oakland native by decision here. Ward, for all his recent inactivity against top-level opposition, seems to possess the greater all-around ability and I haven't seen much slippage since his jump to 175. Also, his knack for preparing and making the necessary adjustments is one of the best in the fight game, and I reckon if he can't win a particular battle in the war against Kovalev, he will switch tactics until he can make something stick. Ward by Decision.
Odhran Crumley
I'm going with Kovalev as I believe he is the best 175 pounder in the world right now. I can't see anyone out there even Ward that can beat him. It's your classic boxer vs puncher fight..so one would believe that if Krusher can't stop Ward then the American will be victorious on the scorecards! Kovalev by KO
Alan Kindred
I think early on Ward will look to make it an inside and rough fight, with a lot of clinch work. I won't be surprised if a head clash ends up cutting Kovalev, who has had problems dealing with cuts in the past. I think as the fight goes on Ward will look to fight on the outside, and mid-range more often, but will avoid this range early on when Kovalev is at his strongest. Kovalev's best chance is to land the big right hand in the early rounds. I do think Kovalev will have his moments, but I think Ward is going to be cagey enough to survive any rocky moments, and ultimately get the better of Kovalev. Ward by Decision.
Lee Skavydis
I think Andre Ward has too many tricks up his sleeve to not win against Sergey Kovalev. Of course, the extra weight is a concern and it will be interesting when Ward is hit on the chin. Will he be able to take the Russian's power? Isaac Chilemba had him chasing him all over the ring for 12 rounds and was waiting to unload when Chilemba's back was against the ropes. Ward will be mindful of his position at all times and is adept at fighting in the centre of the ring.
But it may not be a pretty fight, as it can be foreseen that Ward will hold and spoil as much as he can in order to disrupt Kovalev's rhythm. Ward by Decision.
Matt Cotterell
A not so simple case of brains versus brawn. Andre Ward will find Sergey Kovalev a far more rounded fighter than the relentless power puncher he's labelled as by some, there's method to his marauding. By the same token, if Kovalev thinks Ward is a fancy Dan who's going to run and hide he's mistaken, Ward can bottom down with the best of them as he showed in the super six, manhandling Carl Froch when required, a fighter who trades on physicality. I fully expect Ward to control the early going and build a lead with the fight approaching half way. The middle rounds are where the fight will be won and lost, if Ward can maintain some control through rounds five to eight when Kovalev will be coming on strongest, his experience, ring IQ and underlying steel will see him over the line for a points win. Ward by Decision.
Rachel Aylett
Kovalev v Ward is probably the fight of the year – on paper. In reality, Ward's fights are rarely if ever exciting. In the manner of Mayweather, Ward has the knack of shutting down his opponents in such a way that they are not able to function as they have done to that point. The thing with Ward is that he is able to box as well up close and personal as he is on the back foot and I expect this to be his strategy in Saturday's fight. If Isaac Chilemba was able to frustrate Krusher, the Russian hasn't seen anything yet. I expect Ward to keep the fight mostly at close quarters, do the better and more effective work inside and win a clear points decision. I also expect Ward to eventually retire undefeated. Ward by Decision.
Dennis Dodge
The great thing is that we've been asked to make predictions and due to the nature of the contest, it's taken me two weeks to actually, finally, make a decision and I'm going with Ward winning on points. He's got the skills to evade and potshot Sergey but I think he also has the chin to stand up and trade when he needs to. I see it as being a very exciting early 3 rounds as Kov will try and hunt him down to get him out quickly (the only way I think he could win) before it settles down in the middle rounds to Ward picking him off using his superior footwork to befuddle the bigger man before it will explode again in the final rounds with 'Krusher' once again looking for the knockout. Both men will really come out of it winners as in an age where we constantly moan about opponents we can genuinely say these 2 put it on the line for the fans.
Another few bouts like this and Ward could (in my eyes) finish his career above Floyd Mayweather and finally, fulfil the worldwide potential that many have predicted for him since he first stepped into the ring.
On a side note Adonis Stevenson needs to take note and really step up after this, someone that I heard a lot of when he first won the belt seems to have slipped by lately with many accusing him of ducking the Krusher. Hopefully, he'll be facing the winner and we'll have another cracking matchup to discuss. Ward by Decision.
Stuart Bruno Brown
Despite the admiration shown by knowledgeable boxing fans Ward is still to excite the public. This is a make or break for him. Even in victory, if he doesn't impress his name will only remain in the hearts of the boxing faithful.
Ward the boxer, Kovalev the destroyer, the classic puncher vs boxer. For me, the same result as classically predicted is on the cards – the boxer to win. Ward victorious on points – Kovalev will have his moments, but Ward will have the greater class. The question is, will he do enough to cement a HoF legacy? Ward by Decision.
Ringnews24 writers' tally: Sergey Kovalev 5 vs 11 Andre Ward