Kovalev-Ward Scouting Report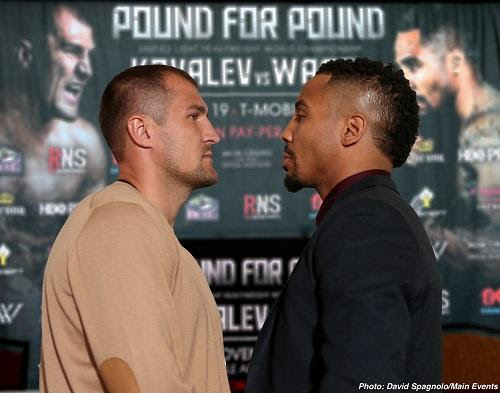 On Saturday night, live on HBO Pay-Per-View the new pound-for-pound king will be crowned when WBO, WBA and IBF Light Heavyweight World Champion Sergey "Krusher" Kovalev 30-0-1 (26 KOs) and Two-Time World Champion Andre "S.O.G." Ward 30-0 (15 KOs) square off in their much-anticipated showdown at T-Mobile Arena in Las Vegas, Nevada. Below is the scouting report for this highly anticipated fight:
Category

Sergey "Krusher" Kovalev

Andre "S.O.G." Ward

Age

33

32

Record

30-0-1 (26 KOs)

30-0 (15 KOs)

Strength

The Krusher has a stiff jab, devastating knockout power in both hands and a granite chin. He is a physically strong fighter who has also shown that he can cut the ring off.

Ward is a phenomenal defensive fighter who is incredibly difficult to hit. He is an effective counter-puncher with quick hands and moves well around the ring.

Weakness

Kovalev tends to leave openings in his guard, which causes him to get hit more than he should. He will have to tighten up his defense when facing a quick counter-puncher in Andre Ward.

He has not been nearly as active as his opponent; Ward has only fought three times over the last three years. He also lacks adequate knockout power, which could be an issue now that he has moved up to a higher weight-class to face the big puncher, Kovalev.

Experience

Sergey is well-seasoned at this point in his career. He put on a clinic in his win over future Hall-of-Famer Bernard Hopkins and has defended his titles on nine separate occasions.

Andre has profound amateur experience; he earned a gold medal at the 2004 Olympics. As a 168 lb contender, Ward cleaned out his division soundly. He defended his Super Middleweight strap on six separate occasions.

Power

The Krusher possesses tremendous power in both hands. He throws each punch with bad intentions and has the potential to end the fight with a single punch.

He will be at a disadvantage; Andre is a technically skilled fighter who relies more on his inside game and his defense, rather than power.

Speed

Kovalev has average speed but he tends turn it up a notch when his opponents go into survival mode.

S.O.G. will be the faster fighter, both with his hands and on his feet. His hand speed has posed a problem for the majority of his opponents thus far.

Endurance

Sergey has gone a full twelve rounds on two separate occasions; which were both unanimous decision wins: Bernard Hopkins and most recently in his win over Isaac Chilemba.

Andre's endurance is one of his strengths; he has been a full twelve rounds on nine separate occasions, including his two recent bouts at light heavyweight.

Accuracy

Kovalev likes to utilize a long-range aggressive style that starts with a pinpoint accurate jab. He also delivers very accurate and powerful body shots.

Ward is an incredibly accurate puncher. He times his punches well and also uses a sharp jab to help set up his shots.

Defense

The Krusher will be at a disadvantage as his opponent specializes in defense. However, Sergey's main strength is his offense, which he has established as his best defense thus far.

Andre's defense may just be his most prominent strength. He has proved throughout the years that he is very difficult to hit. He utilizes an inside fighting style that his previous opponents failed to iron out.

Chin

Kovalev has proven many times he has a durable chin. He has been knocked down twice in his career, but he has risen to the occasion both times to finish the fight and remain undefeated.

Ward has a solid chin, he has been knocked down earlier in his career, but managed to get off of the canvas and earn a decision win.

Style

He utilizes a long-range aggressive style and never takes his foot off the gas. He has one goal in mind from start to finish, which is to knock his opponents out or inflict as much damage as possible.

Andre Ward is a technically sound boxer who has an effective inside fighting style. He utilizes good defense and picks his opponents apart with sharp counter-punching.

Intangibles

Kovalev cleaned out the light heavyweight division during his reign as champion. He has an old-school fighter mentality: he only wants to fight the best. Just four months after earning a hard-fought decision win over the previously top-ranked Isaac Chilemba, The Krusher will continue his quest to be the best pound-for-pound fighter in the world.

Ward spent most of his pro career successfully dominating the 168 lb division. After being out of action for some time, he has opted make the leap to the light heavyweight division to take on the best that the division has to offer. Many would have chosen to climb the ladder in a timely manner before taking on such a challenge, but Ward hopes to be the sport's pound-for-pound best fighter.

Crowd Support

Kovalev's aggressive style and decorated punching power may win him the crowd support by the time this fight is over.

Andre Ward is very well known by boxing fans. It is likely that he will have an even share of the crowd.

The Match-up

1.       Will Kovalev be able to cut off the ring and catch Ward?

2.       Will Ward's inactivity get the best of him?

3.       Will Kovalev get frustrated with Ward's style?

4.       Will Ward be able to handle the power of Kovalev?
 Hall-of-Famer, Pernell "Sweet Pea" Whitaker, is no stranger to pound-for-pound match-ups. He faced both Julio Cesar Chavez, Sr. and Oscar De La Hoya in pound-for-pound battles during his 16-year professional career. When asked his thoughts on Kovalev-Ward, Pernell said, "The Krusher is much stronger and works the body well. He also has a good left hook. Ward has fast hands. He is quick and mixes it up with good combinations. However, I think the Russian wins. I am looking forward to this fight baby!"