Ringnews24.com Talks With Lewis Byrne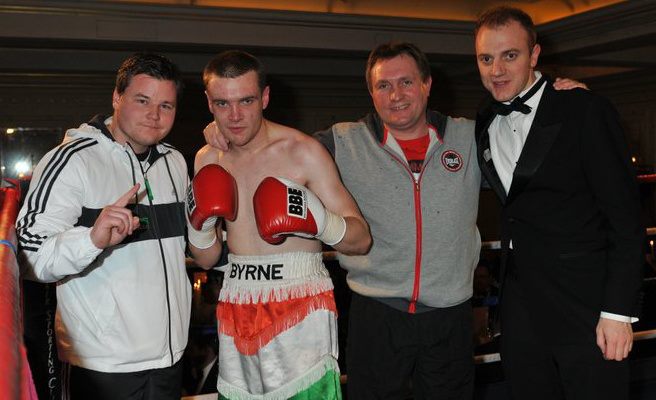 Lewis Byrne, former Guildford fighter turned BBBofC Associate and MC, talks with us about his life, career and his aspiration to form an Ex-Boxers Association for former boxers in his area as well as his views on the standing of boxing today.
What or who inspired you to become a fighter?
I started when I was about 12. I moved about when I was a kid. I was getting picked on and my dad sent me down a boxing club to toughen me up. I must have been in about 16 schools when I got to 12 (years old). My interest just basically carried on from there.
Did you enjoy training and what was your favourite aspect of it?
Well,I enjoyed sparring and later on in my career when I started working with John Edwards, who was my coach as a pro, I started enjoying the more technical stuff. It became more enjoyable. I hated running!
What venue would you say was the best you ever boxed in and why?
My favourite place in the whole world is the York Hall in Bethnal Green. When I was a kid I used to dream about boxing there. I boxed there quite a few times and I've been lucky to go back there as a spectator and a coach.
Can you tell us what caused you to finally call it a day in the ring?
Well, I had an eye problem and I saw various doctors and they advised me to give it up as a part of my eye was damaged beyond repair, and if I had carried on then I probably would have gone blind. It was very disappointing!
A lot of people would have called you a 'journeyman' but others say that term is disrespectful. What do you think about that?
I don't think being called a journeyman is particularly disrespectful, but being called names like a "bum" is. The journeyman career is pretty established and there have been some good .fighters that have gone down that way such as Peter Buckley and Tony Booth.
I think there is a lack of British, homegrown journeymen. It seems to be predominantly Eastern Europeans. I would like to see more British boxers come through.
It's known that you are still involved in boxing since you hung up the gloves. Can you tell us in what capacity you remain associated with it and what you have been doing?
I started out as a coach but I realised that I didn't have enough time to dedicate to the fighters .I was training, so I was luckily still with Guildford City gym with John Edwards and carried on with that club who took over the boys I had. I became an official with the British Boxing Board of Control, first as an Inspector and now as a timekeeper. I am now a vice chairman of the Guildford City boxing club, which is an honour.
I am starting out as an MC for amateur boxing and I am involved with the Ex-Boxers Association which I think is fantastic. I don't think enough boxers use the Ex-Boxers Association. They have meetings once a month and there are boxers from the 1960's and 1970's that go as well as some from more recent times. It's good to meet up with like-minded people and you have something in common. It's brilliant!
There are more in other areas such as in London and I'm looking to start one in my own area which is Surrey.
You have announced that you want to form a Ex-Boxers Association in the Berkshire area. Can you tell us what your objectives will be?
I want to create a monthly meeting with all ex-boxers in Surrey and Berkshire. The closest one to me right now is in London. There are many boxers that find it difficult to travel into London. Surrey has a lot of boxing history, so the aim of it is to reach out to ex fighters who are not in contact with other fighters and bring them into a group where they feel they will belong. When I went to the one in London I felt like I belonged, so I would like to carry that on.
When you are not following boxing, what other hobbies do you pursue in your personal time?
You got me there! I'm either working or associating with the boxing. I'm in the gym at weeknights. I still help the boys out with the sparring and pad work every now and again.
Who would you say is your favourite active fighter today?
My favourite fighter today would probably have to be (Gennady) Golovkin. I wasn't a fan of him at first but the more I have seen him, the more I feel like he is the best out there but I think he will have to move up a weight and fight somebody like Ward or he may not get that defining fight.
Who would you say is one of the best British or world prospect today and why?
I have two. The first British one is Thomas Kindon who is a bantamweight. He's won two minor titles so far. He's 9-0 and is the top 10 bantamweight right now. He's definitely one to watch in that division! And the other one is Dean Richardson who is 3-0. He boxed on the George Groves undercard last week. His debut was outstanding, the best I have seen.
2016 has been a pretty dire year for the sport. What is your personal view on the overall shape of boxing taking into account events from recent years?
I think it's picking back up now. We have a lot of UK promoters now. The Goodwins have bought a lot of small club fighters. Joe Pyle is picking up in the South East. Steve Wraith in Newcastle is also building up. Overall, we're in a good place. You have some good promoters now and that it's the right time for young prospects to come through. Frank Warren has his deal with BT now, hosting 20 shows a year as well!
There was a recent debate that I was involved in , in my personal life in which the sport was called barbaric by an opposing party. What do you say to that?
I think that's nonsense. I've heard it all before but if you look at other sports like motor racing and rugby, those sports have that risk of becoming severely injured. The amount of people saved by the sport of boxing is well outnumbered by those that have unfortunately been injured by it. Without boxing, God knows what would have become of me! Boxing has given me a purpose in life. I have nothing bad to say about it.
Fans have voiced many issues that is wrong with boxing like too many Pay Per View's, catchweight fights etc. What do you think the sport can do to elevate itself?
Well, as far as Pay Per View, that was only reserved for fights that were the most special like a Mike Tyson fight. Big events! They seem to be pumping out PPV's now for everything and I think that is hurting the sport a little. I think Frank Warren's new television deal is going to encourage more competition. Matchroom have dominated for too long and Warren's deal will hopefully make them think again about having so many PPV's. The catchweight fights aren't really a problem to the general fan. Only the more hardcore fan criticises those.
We just need a star! Boxing is starving for a star. We have Anthony Joshua, who is a nice guy, but we need a menace like Mike Tyson. Tyson Fury had a charismatic personality, he was like marmite! You either loved him or hated him. We just need a few more of those guys to bring back the eras that resembled the likes of Benn-Eubank.
To cap this interview off, do you have any comments to make about your future or anything else?
I'm looking forward to my future still in this sport. I'm in a good place now. I believe the sport will grow, especially domestically. I am optimistic and pleased to be a part of it in one way or another, whether working for the board or kids that are up and coming. I'm privileged to be involved!