Vasyl Lomachenko: Can He Reach Superstardom?
Hello RingNews24 readers. I'd like to welcome you to my unique brand of boxing insight, as I pen my debut article for my new journalistic home. I have been a hardcore boxing fan and historian for nearly three decades now, and have written articles and stories for a handful of boxing news websites over the last half-decade or so. Now it is my pleasure to ply my trade with RN24. I'd like to start with the hot topic of the moment in global boxing, Vasyl Lomachenko.
Last weekend, November 26th, elite jr. lightweight, and two-time alphabet world title-holder in two different divisions, Vasyl Lomachenko, 7-1, 5 KOs, took on what many thought would be his toughest test as a pro, in the then undefeated Nicholas "The Axeman" Walters, now 26-1-1, 21 KOs. Walters was a former lineal world champion at featherweight, and was attempting to become a world titlist in two weight classes as he challenged for Lomachenko's world title. He was a brutal offensive fighter who, with knockout victories over big name opponents such as Nonito Donaire, 37-4, 24 KOs and Vic Darchinyan, 42-9-1, 31 KOs, had many boxing experts considering Walters to be among the top-20 pound-for-pound fighters in the sport. Walters represented Lomachenko's first truly big fight, in many expert's eyes.
Lomachenko had faced name marquee fighters in important fights before, such as Orlando Salido, 43-13-4, 30 KOs, Gary Russell Jr., 27-1, 16 KOs, and Roman Martinez, 29-3-3, 17 KOs, but none of those fights had the buzz of this one. This fight versus Walters represented a chance to silence all but the most ardent doubters. I myself was not sold completely on Lomachenko prior to this fight. I knew he had the athleticism and skill set. Having one loss in nearly 400 fights and two Olympic gold medals as an amateur lets one know that. I had seen other Olympic gold medalists and highly-touted amateurs not meet their potential in the pros, however. What I needed to see was Lomachenko defeat a top fighter. In the eyes of many experts, that is what Walters was, despite his decision to exit early from a fight he was being dominated in versus Lomachenko. What I saw exceeded my expectations. I had hoped for a classic great fight, but what I got was a one-sided fight, as Lomachenko out-performed Walters every step of the way. Walters is one of the best inside fighters in the game, and Lomachenko did not go into Walters' wheelhouse at all, and instead stayed on the outside and the mid-range, using his brilliantly sweet feet to get angles and use his fast hands to drop blistering combinations on a bewildered Walters. After 7 one-sided rounds Walters, who had always exemplified a true warrior beforehand, shockingly quit in his corner. It was this contemporary era's version of "No Mas," which is never an event that fans meet graciously.
For all the negative flack Walters received, Lomachenko, in contrast, received extremely high praise. Some may feel such exuberant comparisons to Muhammad Ali, 56-5, 37 KOs, Ray Robinson, 173-19-6, 108 KOs, and Willie Pep, 229-11-1, 65 KOs, may be going overboard at this early stage of Lomachenko's career. But no one can deny the guy is special, and becoming an elite fighter in the contemporary era. The basic point is, while Lomachenko had believers before, this win over Walters won a lot more of them, myself included. His legitimacy as a top fighter in this era can no longer be objectively argued. What many people want to know now, is how great can he actually become, and who has the best chance of beating him. He is surrounded by many excellent fighters, from both two divisions under and two divisions over, with interesting opponents from 122 pounds to 140 pounds. We will now take a look at some of these potential match ups, moving from the lower weights upward.
Guillermo Rigondeaux, 17-0, 11 KOs, Jr. Featherweight Lineal World Champion at 122 pounds, and pound-for-pound elite. Rigondeaux is perhaps the only fighter at 122 pounds who has enough skill to give up some size to Lomachenko and be competitive. It is likely they would meet at an even ground of 126 pounds, so that neither fighter is put at too much of a disadvantage. One hindrance to the fight happening could be Lomachenko's promoter Bob Arum, who has given mixed comments regarding the fight, days apart. One day he describes it in a negative way using expletives, and the next he says it is a fight he would die to make. That reminds me of the classic Arum axiom, "Yesterday I was lying, today I'm telling the truth," or vice versa. Either way, if it were to occur, the diehard fans of the sport would be greatly anticipating what would certainly be one of the higher level match-ups in the sport's recent history. After all, how many times have you seen a fight with 4 Olympic gold medals between the two fighters? It may not catch on with the casual media market, but regardless, it is one of the very best match-ups boxing has to offer, and a fight where Lomachenko won't be an extreme favorite, despite the size advantage.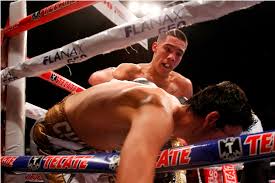 Oscar Valdez, 21-0, 19 KOs, featherweight alphabet world titlist at 126 pounds, and one of the most physical and exciting fighters in the sport. I chose Valdez as a potential match-up from the 126-pound weight class because I feel he would provide the most interesting clash of styles, and he would likely have the best chance of pulling off the upset. There are other noteworthy 126-pounders of course. Gary Russell Jr., who Lomachenko already defeated, may want a rematch at some point, although it is doubtful many would give him much of a chance, going by their first encounter. Lee Selby, 23-1, 8 KOs, is a skilled opponent who would be viable. Jesus Cuellar, 28-1, 21 KOs, should he defeat Abner Mares, 29-2-1, 15 KOs, would be a worthy opponent. Popular guys such as Carl Frampton, 23-0, 14 KO's, and Leo Santa Cruz, 32-1-1, 18 KO's, also represent viable options, should they want to face Lomachenko. Out of that group, the Valdez vs Lomachenko fight stuck out to me as the most intriguing, whether or not it took place at 126 or 130. I see that match as an Ali-Frazier style match-up, and that type never fails to entertain. There are still a lot of questions about Valdez to be answered, as to whether he has a real chance to beat Lomachenko, or even be competitive. He would have to get inside, and we know that is no easy task.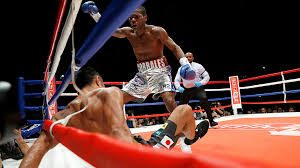 Jezreel Corrales, 20-1, 8 KOs, Jr. Lightweight Lineal World Champion at 130 pounds, fast and unorthodox. I understand this may be a bit of a surprise as my selection at 130, but despite Corrales' obscurity, he has the strongest claim to any disputed linearity which may exist at 130 pounds, courtesy of his 2-round destruction of Japanese great Takashi Uchiyama, 24-1-1, 20 KO's. This pick could change if Uchiyama is successful in their New Year's Eve rematch, but I feel Lomachenko should face the winner to clear up any linearity claims or disputes that might exist. It is likely Lomachenko will be a heavy favorite however, just as he would against all of the 130-pound contenders. An Orlando Salido rematch, to avenge Lomachenko's lone defeat, remains a strong and likely candidate for the future. Lomachenko supporters will insist Salido came in over the weight limit, fought dirty, and Lomachenko was a bit green in only his second pro fight. The odds will probably suggest that, with Lomachenko, being a heavy betting favorite in a rematch. Francisco Vargas, 23-0-2, 17 KOs, and Jason Sosa, 20-1-4, 15 KOs, also are valid opponents, although it is doubtful anyone will give them much chance of winning. It seems Lomachenko has his current division on lockdown, and to find any legitimate threats he would need to look up a division or two.
Jorge Linares, 41-3, 27 KOs, Lightweight Lineal World Champion at 135 pounds, three-division world titlist, with one of the sweetest offensive skillsets in the game. Again I go with linearity in my selection here, feeling that Lomachenko should fight Linares or the winner of the likely Linares vs Anthony Crolla, 31-5-3, 13 KOs, rematch. That may or may not be the biggest threat to Lomachenko in the division, however. The Mikey Garcia, 35-0, 29 KOs, vs Dejan Zlaticanin, 22-0, 15 KOs, winner could emerge as the biggest threat to Lomachenko at 135 pounds. Unfortunately should Garcia win that contest, a Garcia vs Lomachenko fight, as incredible as that would be, is highly unlikely due to Garcia's former financial dispute and break-up with Lomachenko's promoter, Bob Arum. It is doubtful Arum would want to risk a dangerous fight with Garcia or give him a nice payday that goes with it. Sizeable and physical fighter Robert Easter Jr., 18-0, 14 KOs, is also an interesting fight. Yuriorkas Gamboa, 25-1, 17 KOs, has had his name thrown around in the rumor mill as well, but many might feel despite having name value, Gamboa's best days are long gone now.
Terence Crawford, 29-0, 20 KOs, Jr. Welterweight Lineal World Champion, two-division world titlist, pound-for-pound elite. Finally a match up where Lomachenko is the likely underdog, having to move up two divisions to find it. As crazy as this match up might sound, I can easily imagine it coming to actuality one day. Perhaps not anytime soon, but eventually. A lot of that depends on whether or not Crawford can still make 140 or less by the time that day comes. He isn't going to be a particularly large 147 if he does move up. The biggest reason I think it has a good chance on happening eventually is that Arum promotes both of them, and they are not that far apart in weight. The current era, with Floyd Mayweather Jr., 49-0, 26 KO's, retired and Manny Pacquiao, 59-6-2, 38 KO's, on the way out, reminds me of the time right before Mayweather and Pacquiao became superstars. Oscar De La Hoya, 39-6, 30 KO's, the superstar at the time, was on the way out, and both Mayweather and Pacquiao were able to take part in passing-of-the-torch type fights, and carry over some of that star power. I feel both Lomachenko and Crawford are in position to do something similar with Pacquiao. Arum, of course, will have to time the fights precisely right. He wouldn't want Pacquiao to defeat Crawford or Lomachenko and ruin the transfer of star power. Arum will likely try to feed Pacquiao the lesser known Jeff Horn, 15-0-1, 10 KO's, -type opponents as he suggested, until he thinks Pacquiao is ripe for the picking. Then the formula is to serve Pacquiao up on a platter to both Crawford and Lomachenko to raise their star status as high as possible before an eventual match-up between the two. The actual match-up, size disparity aside, is extremely interesting. I think Crawford and Lomachenko have the two best footwork skillsets in the game, and it would be a dynamic chess match of footwork until an eventual explosion of violence occurs. A lot can happen over the course of the years all this would need to be set up. Boxing is full of surprises. I for one think it is a huge fight that could happen in the future.
So there you have it readers, a comprehensive look at all the major possible opponents that Vasyl Lomachenko may have to face in the next couple of years. The dynamic boxer-puncher has the potential to do some great things; we just have to sit back and see how it all plays out. Thanks for reading. Check me out on the RN24 KO Boxing Forum as "TheCommissioner." Also, readers are welcome to join my Facebook group, "The Commissioner's Corner: A Face Book Boxing Group," where I feature my own top-20 rankings in all 17 divisions.