5 Times Dereck Chisora Provoked Mayhem In And Out Of The Ring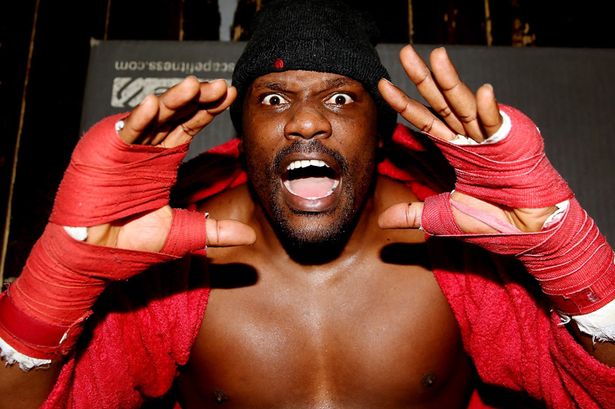 Anthony Joshua may be the headliner for Saturday night's star studded Matchroom promoted card in Manchester but it looks as if the bout between Dereck Chisora and Dillian Whyte could possibly be the one to steal the evening if the build up is anything to go by! The general consensus is that Joshua should have an easy night against Eric Molina in what will be his second title defence, but the contest between Chisora and Whyte could very well be a true 50/50 and will surely be the main reason that many will tune in on Sky Sports Pay Per View for.
Meanwhile, Chisora has got people talking again by causing another disturbance at the press conference with Whyte today when he threw a table in his opponent's direction. Luckily nobody was hurt and it is unclear as to whether the BBBoC will issue any kind of penalty as of yet. However, this is hardly the first time that the former world title challenger has landed himself in hot water, as this article is about to prove.
Dereck Chisora v Vitali Klitschko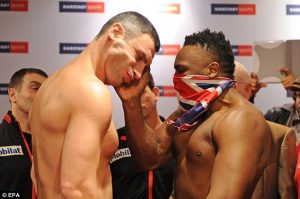 On the eve of Vitali Klitschko's 8th defence of his WBC title against Dereck Chisora, the British challenger elected to deliver a right handed slapping to the face of the champion. The two fighters were kept apart after that and Chisora went on to give Klitschko his toughest title defence which took place in Germany in 2012.
Dereck Chisora v Vitali Klitschko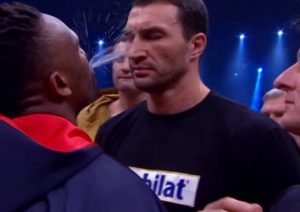 No, the title is not a typo!
The now infamous Klitschko slap was not the only controversial move made by Dereck. On the night of the fight, he climbed through the ropes and proceeded to spit water that he took a swig of in the face of Wladimir Klitschko, Vitali's younger brother. The most likely reason was probably due to Wladimir pulling out twice in a title defence against Chisora both in 2010 and 2011. Chisora congratulated Vitali in his win after the fight but the champion wasn't going to accept any of it when he and his brother grouped up together in the ring to have another confrontation. Luckily, things simmered!
Dereck Chisora v Dillian Whyte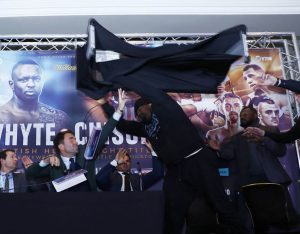 The most recent incident to date, there has always been tension between Dillian Whyte and Dereck Chisora. There had been a previous altercation between the two when they faced off on Sky Sport's Gloves Off programme and Chisora threw a glass of water over him. This time, things kicked off twice as worse when the Finchley fighter picked up a table and threw it in Whyte's direction, narrowly missing the head of promoter Eddie Hearn. Security stepped in and restrained him although it looked as if Chisora had got any anger out of his system by then.
Dereck Chisora v Paul Butlin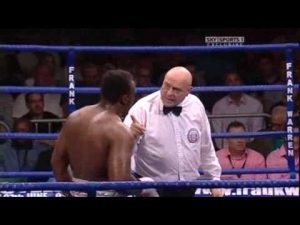 Chisora faced Paul Butlin in his 10th fight as a professional. He had already faced him previously in 2008, winning on points and did so again in their rematch, but not before doing a softer imitation of Mike Tyson's bite out of Evander Holyfield's ear! Chisora did almost the same, although he never actually took a chunk of flesh from Butlin. He was warned and it was business as usual.
Dereck Chisora v Carl Baker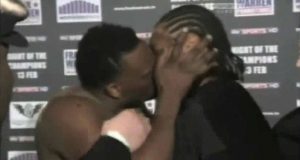 Twisted affection was the theme of the evening on the night that Dereck Chisora and opponent Carl Baker weighed in ahead of their Wembley fight that was headlined by Nathan Cleverly in 2010. When Chisora and Baker had the obligatory stare down, Chisora planted a kiss full on the lips of Baker who responded by pushing 'Del Boy' to the floor. Mayhem soon erupted before order was restored.